During these past months, everyone is trying their best to transition to an online learning environment, but we have been hearing that parents and students are very frustrated and disappointed; that they feel disconnected and alone. When we talk to students and parents, the majority tell us that they feel that the best solution is to postpone and study abroad later in life. But, why wait when we don't know when students can travel again? There are still plenty of options, including enrolling in world-class Canadian education, online.
Here are 10 reasons why it may be a good idea to consider starting your studies right now, online, with a Canadian Online Schooling Program like Merrick Preparatory School and how it can help you to overcome these challenging times:
1. Online Education Can Save You Time
You don't have to wait to start your Canadian education. You can register right away and start the next day. You do not have to wait until borders are open again; you can continue your educational pathway without delay. We can help you overcome all the uncertainties COVID-19 has created and begin your uniquely Canadian and distinctly global education right now.
2. Canadian Schools Offer a Multicultural Environment
Connect with students daily, from around the world, and establish lifelong friendships that span the globe, all from the safety of your home.  Take the opportunity to learn about other cultures, while being in a Canadian environment. Become an independent learner with the support of our team.
3. Obtain Validated Studies Through Distance-Learning Courses
When you start your semester (grade 9 -12) with MPS you can have your semester validated and recognized at home. So, if you are at home anyway, why not start your Canadian education that is validated and recognized wherever you go.
4. Become Part of a Canadian Boarding School
Once you have applied, you will receive an acceptance letter and will be enrolled in a Canadian Boarding School. It is an advantage to show that even in challenging times, you continued your education, and employers in the future will recognize that on your resume. You will be making the best out of the current situation.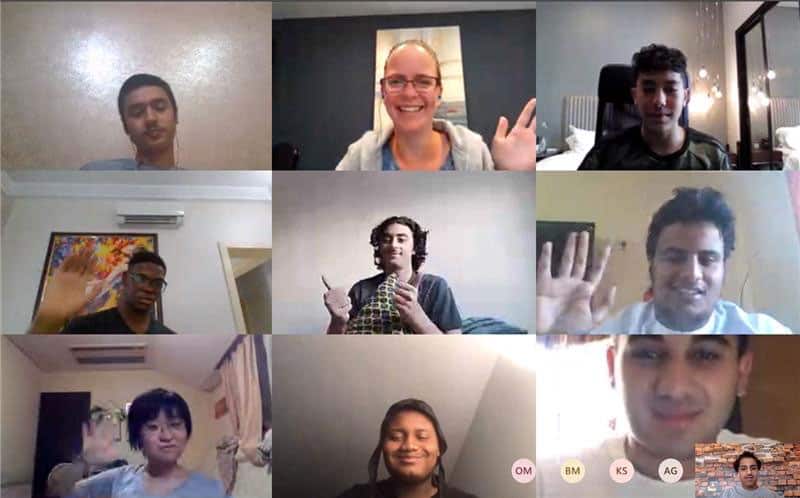 5. No Visa Necessary to Study Online
You can start classes with us without having to apply for a Canadian visa/study permit. Again, you will not lose any time. And, you can file the application for your visa and transition to on-campus learning when your visa is approved, and it is safe to travel.
6. Obtain an Official Canadian High School Diploma
All the courses you take with MPS will earn you credits towards the world-renown Ontario Secondary School Diploma, with which you can apply to any university. If you start grade 12 with us, you can finish your high school in time to continue your education at university or college in fall 2021. Our teachers will personally support you live, in real-time, to choose the right program or university, help you with the application process, and even help you prepare for the IELTS. Overall, you will be prepared and ready to study at university whether it continues to be online or in person.
7. Online Classes are Interactive, Live, & in Real-time
Our Synchronous learning platform means you are in class, real-time, with your teachers and peers, interacting and doing group work with hands-on experiential learning! You will not have to learn on your own, but in a Canadian classroom environment, connecting daily with your teachers as well as your classmates from around the world. Immediate feedback is given to ensure your educational success. And on top of this, we offer community events, an Advisor program, extra tutorial support, and a residential-life program. Parents will be kept in the loop about your progress to ensure everyone can support you.
8. Improve Your Language Skills by Studying Canadian Curriculum
All our teachers are ESL certified and will help you improve your language skills while completing your academic courses. Support to prepare for IELTS is also included and important when you want to apply to universities in Canada and other countries.
9. Canadian Education Prepares You For University Placement
During your weekly personal meetings, your Advisor (guidance counselor) will help you choose the right program, select the universities that offer it, and support you with the application process to your future college or university. During that process, we will also look into what scholarships are available for you.
10. At-Home Learning Can Help You Save Money
Our synchronous platform is at a lower price than our yearly boarding fees. So, you can start learning from home with the same result of receiving your Ontario Secondary School Diploma that is recognized all around the world. Why wait when you can start your future education now!
Learn more about us at www.merrickprep.com and sign up today to be part of our MPS family – join students from all around the world and learn from world-class teachers who prepare you well for university.
By Johanna Ziegler