At Ecole Internationale Montgomery (EIM) we implement the International Baccalaureate Programme (IB) as our exclusive curriculum along our three school sections, the Primary Years Programme, the Middle Years Programme, and the Diploma Programme.
The school year 2020-2021 is proving to be a challenging year given the ongoing pandemic crisis. Though it has not been the case in our more reduced community and small sized-classes, with a lesser level of risk, online learning has become a norm in many other schools. Going into this school year, we asked ourselves this question: How can we give our students the best opportunities to learn through e-learning if this were necessary, in order to make an opportunity out of our context? That is when our school decided to implement wider technology as a subject for the Primary level – ICT (information and communication technology).
The role of the Internet and of research at school is continuously increasing and relevant. Technology, in all types and manners, gives students greater opportunities to learn in an interactive manner. Based on the IB beliefs and values about ICT, EIM students are encouraged to discover how to investigate, create, communicate,  organise and be responsible online.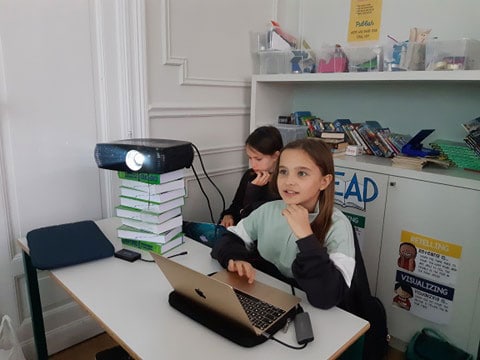 At EIM, grades PYP1-3 are given possibilities to conduct simple research with adult guidance to go deeper into their units of inquiry. The main goal is for the students to gain familiarity with the school tablets and learn how to use various applications such as Google Classroom and PowerPoint. We want to foster the development of international-mindedness of these young students through ICT – giving awareness that they are connected to the online global community through the Internet. Our commitment to collaboration with the learning community is more evident in ICT as the parents share the responsibility of helping their children practice their ICT skills and learnings outside of school, as well as guide them towards good online ethics.
The students in grades PYP4-5 mainly focus on the use of laptops for presentations and handling of data, all while keeping internet safety and privacy a priority. Through ICT, teachers help students make connections with their learning as lessons are planned in a transdisciplinary manner. The school uses ManageBac as an online tool for planning, assessment and reporting. In years 4 and 5, the students are taught and encouraged how to use the platform to gain more independence in the organization of their studies, as well as to aid in the smooth transition from PYP to MYP level.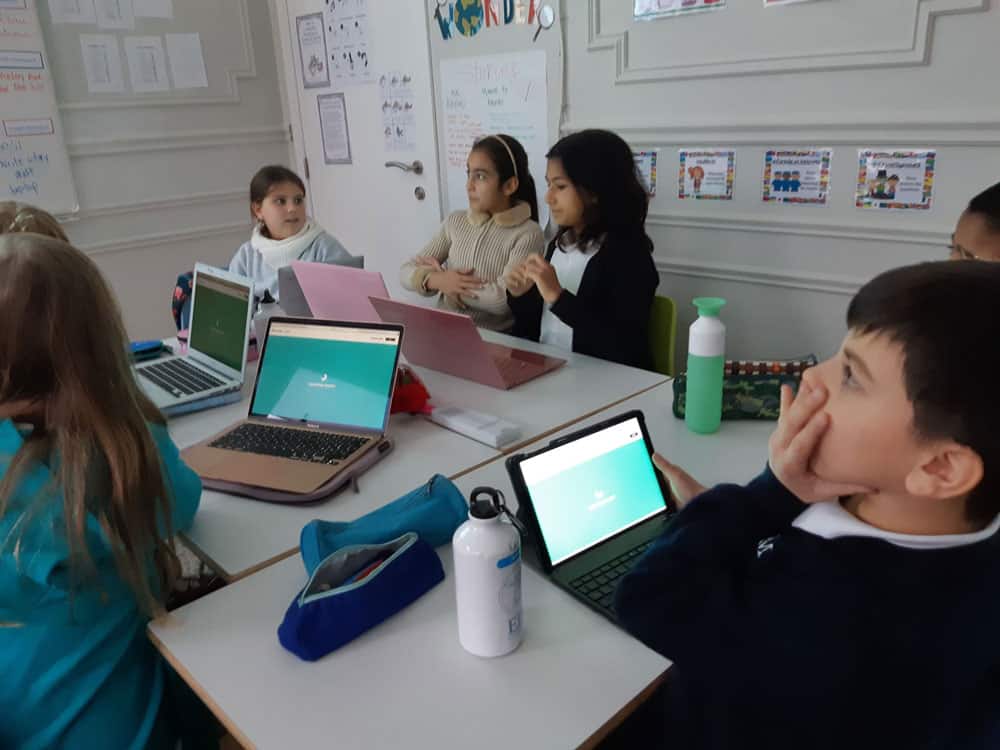 Students are being encouraged to become more responsible in their learning and to share their knowledge with others in their ICT lessons. Aleksandra, a very bright and motivated PYP5 student, chose the area of arts for her upcoming exhibition. She launched an interest in sharing her knowledge with other students through the online quiz device Kahoot! Furthermore, she prepared a quiz with questions based on her topic for the class to play and answer together. This spontaneous initiative, in turn, spurred her fellow classmates to follow suit and present their topics as well. An increased student agency of helping and solving more problems together has been observed over the months.
The first year of ICT classes is proving to be a valuable and progressive learning experience for the students and teachers alike at EIM. As a result of the ICT lessons, online learning has proven a way for students to gain more confidence and deeper understanding in their technological skills – skills that are applicable and relevant to their everyday lives.
Dominique Rubas is a
Primary Years Programme and
Middle Years Programme teacher at
Ecole Internationale Montgomery, Brussels