Eight TASIS students scored 40 or more points on the May 2021 IB exams, and the average score posted by the 44 students who earned an IB Diploma was 35—2 points above the 2021 worldwide average. Learn more about this year's results.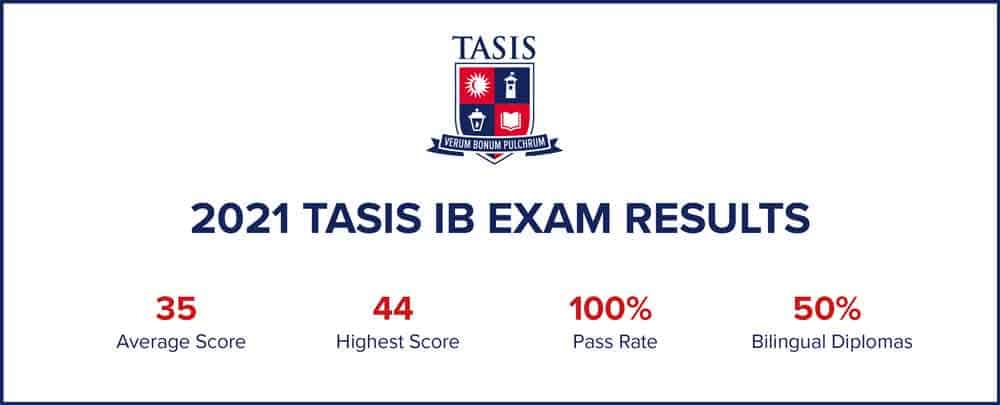 In the analysis below, we review the data and highlight the very impressive accomplishments of TASIS The American School in Switzerland students on the May 2021 International Baccalaureate (IB) exams. Congratulations are in order for the 68 students who sat for at least one IB exam this spring, the outstanding teachers who prepared them so effectively despite countless obstacles, Headmaster Christopher Nikoloff, International Baccalaureate Coordinator Katherine Anderson, High School Academic Dean Dr. Mark Abisi, Theory of Knowledge (TOK) Department Chair Dr. Tom Mauro, Extended Essay Coordinator Dan Kirsch, and Creativity, Activity, Service (CAS) Coordinator Tamara Schumacher.
"Our IB students showed their commitment to their intellectual and moral growth by persevering through all of the challenges of the past two years and triumphing on the rigorous IB exams and requirements," said Mr. Nikoloff, who has guided TASIS since 2017 and finds time in his busy schedule to deliver lectures to TOK classes each year. "We are proud of their efforts and pleased to share their exam results with the extended TASIS community."
Earlier this year, the International Baccalaureate surveyed schools around the world to determine which of two assessment pathways would work best for their current situation—traditional written examinations or a non-exam route that determines a candidate's score by using a combination of internal assessment coursework and teacher-predicted grades. All TASIS candidates sat for the traditional written exams this spring—a source of pride for Ms. Anderson, who joined TASIS in August 2020 following the retirement of veteran IB Coordinator Howard Stickley.
I was so proud of our students as they persevered and stayed focused right through the exam season. This was especially challenging when they had friends in other schools who had to move to the non-exam route. I am confident that, as a result, our students are more than ready for their next chapter at university.

Ms. Anderson
Ms. Anderson also commended all TASIS teachers for everything they've done to ensure that students remained on track throughout the pandemic, which has included a move to full distance learning last March, a brief reopening last June, and a full return to live classes—with hybrid instruction provided as needed—this fall. "They made an extraordinary pivot to distance and hybrid learning when their students needed them most," she said.
And now a closer look at the results:
Average Diploma Score Surges to 35
The average score posted by TASIS candidates who were awarded an IB Diploma was 35—exceeding the 2021 worldwide average by 2 points and topping last year's 34.1, which had been the School's highest mark since 2014.
The five-year average for TASIS students now sits at 32.9.
Average Score for Diploma Candidates (5-year trend)
| | | |
| --- | --- | --- |
| | TASIS Average | Worldwide Average |
| 2017 | 31.7 | 29.9 |
| 2018 | 31.5 | 29.8 |
| 2019 | 32.2 | 29.6 |
| 2020 | 34.1 | 31.3 |
| 2021 | 35 | 33 |
Eight Students Score at Least 40 Points
Eight TASIS students—Autumn Bachofen, Penelope Baroni, Maxim Demin, Paulina Karstens, Nadezhda Fartushnyak, Paulina Karstens, Ben Asher Marconi, and Leonid Serbinov—scored more than 40 points, an impressive feat accomplished by just nine percent of Diploma Programme candidates worldwide. (Of the 170,660 candidates who sat for exams in May 2021, 15,513 scored 40–45 points.)
In addition, 47 percent of all TASIS diploma recipients scored 35 points or higher.
IB Diploma Pass Rate a Perfect 100 Percent
All 44 candidates passed their exams and earned an International Baccalaureate Diploma, marking the ninth consecutive year TASIS students have passed at a rate of 97 percent or higher.
IB Diploma Pass Rate (5-year trend)
| | | |
| --- | --- | --- |
| | TASIS Average | Worldwide Average |
| 2017 | 98 | 78 |
| 2018 | 98 | 78 |
| 2019 | 98 | 77 |
| 2020 | 98 | 85 |
| 2021 | 100 | 89 |
Bilingual Diplomas Awarded to 22 Students
Internationalism and multilingualism remain hallmarks of the TASIS student body. Of the 44 students who passed their exams, 22 earned an IB Bilingual Diploma—meaning their first language (Language A) is not English or their Extended Essay was not written in English. Four different languages were represented in the 22 Bilingual Diplomas: Italian, Portuguese, French, and Russian.
The School's Bilingual Diploma rate of 50 percent stands out in comparison to the worldwide rate, which has averaged 23.5 percent over the past five years.
Average Subject Exam Score Rises to 5.52
Including students who took individual IB exams but did not pursue a full IB Diploma, 68 TASIS students combined for a total of 377 subject entries in 42 different subjects—with their mean scores matching or exceeding the world average in 32 of the 42 subjects.
All subject exams are scored on a 1–7 scale. TASIS students recorded scores of 4 or above 99 percent of the time, 5 or above 85 percent of the time, and 6 or above 52 percent of the time. There were 25 different subject exams in which at least one TASIS student scored a 7 (and 45 7s overall).
The average subject exam score for TASIS students was 5.52, surpassing the world average by 0.33 points.
Standout Subjects
Two TASIS students—Ben Asher Marconi and Leonid Serbinov—achieved the rare feat of scoring a 7 on the extremely challenging IB Mathematics Analysis and Approaches HL exam, helping Mr. Anthony Panontin's class post an excellent average score of 5.44. In addition, six students took the demanding Mathematics Applications and Interpretation HL exam and delivered a stellar 5.33 average. These students were prepared by Ms. Eva Nijssen.
Taking full advantage of a state-of-the-art science center and innovative faculty, IB science students posted strong scores once again, eclipsing the world average in Chemistry SL by 0.72 points (taught by Mr. Alec Ogilvie), in Biology HL by 0.37 points (Dr. Jill Sawyer-Price), in Biology SL by 0.32 points (Dr. Price), and in Physics SL (Mr. Tim Hughes) by 0.22 points.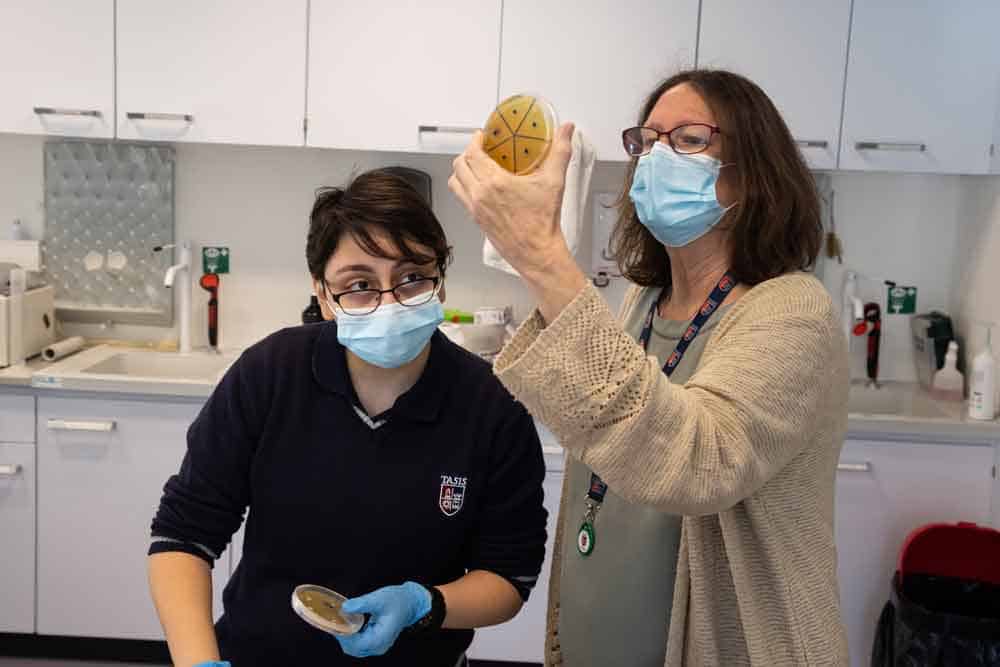 In a further testament to the School's multilingualism, TASIS students did their usual excellent work on the Italian, French, German, and Spanish exams (B HL, B SL, and AB SL). Of the 44 students who sat for exams in Italian (taught by a combination of Ms. Natalia Carretta, Ms. Geraldine Caussette, Ms. Marzia Lecci, and Ms. Stephanie Roth over the course of two years), French (Ms. Brigitte Cazebonne, Ms. Caussette, and Ms. Florence Kofler), German (Ms. Ania Barciak and Ms. Simone Meister), or Spanish (Mr. Angel Alvarez and Ms. Paloma Simona), 37 earned a 6 or 7.
Adding to an impressive track record, 12 of the 13 non-native English speakers who took the English B HL exam scored at least a 6, with the group's combined average of 6.31 outpacing the world average by 0.15 points. Credit IB English B teachers Ms. Carolyn Heard and Ms. Tamara Schumacher and the entire English as an Additional Language (EAL) Department for helping students achieve terrific results year in and year out.
Over the course of the past two years, Ms. Suzanne Du Rée prepared 12 students for the English A: Language and Literature HL exam, and the results were notable: the mean score of 5.83 exceeded the world average by 0.72 points. Valedictorian Autumn Bachofen was the only student to attempt the highly challenging English A: Literature HL exam and captured a rare 7. She was taught by Dr. Chris Love.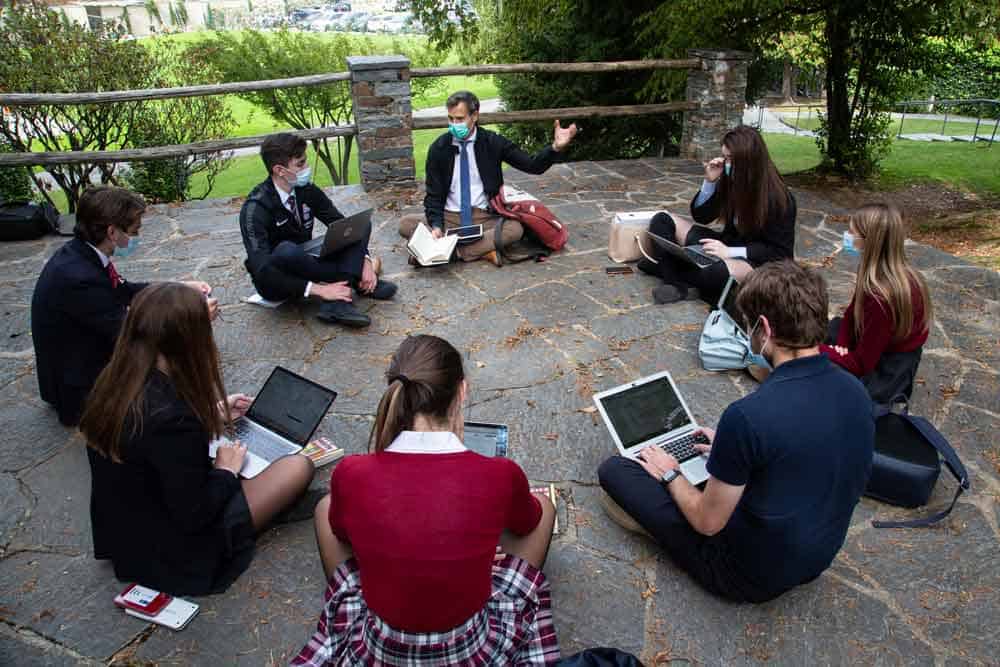 Mr. Mark Aeschliman, who has inspired countless TASIS students to pursue degrees in art history and architecture over the course of a brilliant 43-year career, guided the Art History SL class to a 5.67 average—0.72 points above the world average.
Thirty-three Business Management HL students combined to produce a mean score of 5.73, exceeding the world average by 0.21 points. They were taught by Mr. Paul Cawthorne in year one and by Mr. Paul Diviani in year two.