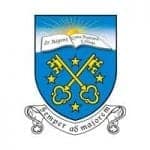 Making sure we provide an all-rounded education is one of our guiding principles, and we view music as an important part of children's education. Thus, the music department receives all our attention.A superb performance of Willy Wonka at the end of our very first school year in 2016, gave wings to the school's music department. It is now endowed with its very own choir and orchestra.
Le Régent College Choir
30 students (Year 3-10) and staff members have joined the school choir since last term. After only 10 weeks, its enthusiastic members performed beautifully Hallelujah (L. Cohen) and You Raise Me Up (Lovland and Graham) at the last Christmas concert. Although most of the students were performing for the very first time, the delivery was of high standard and extremely moving.
Le Régent College Orchestra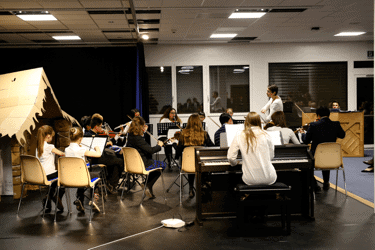 The school orchestra is open to the locals and currently boasts 16 musicians who, to our delight, work together harmoniously. As Sébastien, our 10-year-old clarinetist from Crans-Montana said: "We have a lot of fun together, it is the first time in my life that I've had the chance to play with violins!". 12-year-old trumpeter Adrien from Lens to add, "It is so much fun to play alongside a Chinese boy. We don't speak the same language but when I see him play, I realize that it doesn't matter if my friend doesn't speak French because we both speak the same language when playing the same music." The school's Christmas performance was a unique opportunity to strengthen the bond that was formed at the onset. We are now broadening our repertoire with songs such as Mamma Mia, Harry Potter, and James Bond, to only mention a few.
Clarinet Master Class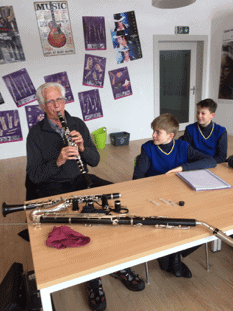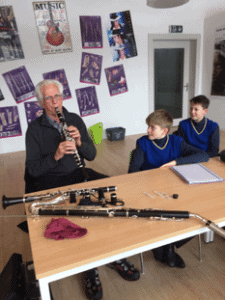 As part as their music curriculum, Y7 pupils are currently learning about woodwind instruments. On 6th February, we had the huge privilege to welcome Mr Aart Rozeboom, a Dutch clarinetist who played as first clarinet of the Swiss Romande Orchestra for over 20 years. Needless to say, our young musicians bombarded him with questions to which he answered with humility and enthusiasm. His playing was magical and so inspiring.
Private Music Lessons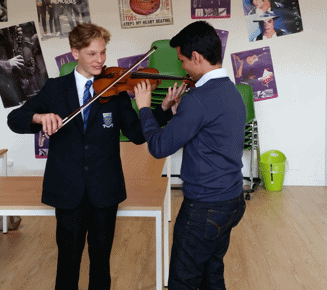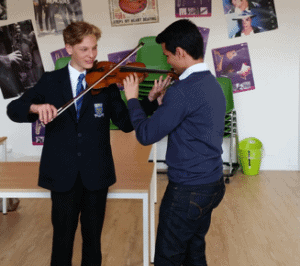 Developing talents is part of our mission and the school's Private Instrumental Lessons programme is a key component of the curriculum. Students are given the opportunity to take private lessons on their instruments of choice. Piano, drums, acoustic guitar, violin, trumpet, clarinet, bass guitar, double bass, cello, saxophone, flute and voice are currently on offer. They are also encouraged to take part in the ABRSM or Rock School Examinations. Some will sit their first examinations this year in May/June and others in November/December. Last year, Lucy Bryan (12 years old) was our first ABRSM graduate. She earned an excellent result in her Grade 2 Clarinet exam, and made us very proud indeed.A Private Instrumental Lessons evening concert will be organized just before the half-term holiday in May. Students will have the opportunity to put into practice what they have learned.
2017 End of Year performance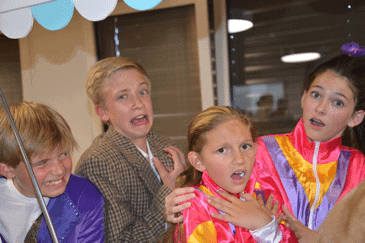 This year again, the school will put on an end of year performance – with a twist – to be performed on 5th July 2017. Instead of one single musical, the students will sing an exciting collection of songs from various musicals, amongst them Oliver Twist, Matilda, The Sound of Music and Sister Act 2. To the delight of all, rehearsing has already started.
To stop the flow of music would be like the stopping of time itself, incredible and unconceivable.
Aaron Copland