Amid the flurry of safety updates, health concerns, new strategies for continuous improvement and a greater focus on continuous learning at ISB, a commitment made by the school to incorporate social justice and anti-racism more thoroughly throughout the curriculum and school culture has been dominating the daily work of many ISB Community Members this year.
There is a team of volunteers from across the campus currently working towards developing a step-by-step plan for a thorough and purposeful school curriculum on Social Justice.
"One of the things they have done is to find a set of social justice standards that can guide our work. The standards the group recommended were written by the organisation 'Learning for Justice'. They are a set of 20 standards organised around four key concepts related to social justice: Identity, Diversity, Justice and Action. Each of the 20 standards is broken down into some indicators for what they might look like across developmental bands.
The formal implementation of the curriculum will commence next school year. The first step will be to map where and how the standards may already be part of our work and identify some easy tweaks that could embed them further pretty quickly. The implementation of some of these standards will require us to look at illustrative content through units of work in a variety of subject areas, others lend themselves more to ongoing student reflection, still, others are more likely to be met with some thoughtful reflection on the kinds of pedagogies we use in our classroom or some reflection on the ways we interact with students and colleagues in general. Implementation will need to be very multi-faceted."
– Gordon Eldridge, Director of Curriculum and Professional Development
Besides developing a Social Justice Curriculum, ISB strives to embed Social Justice & Anti-Racist Education through the creation of an (inclusive, welcoming, progressive & trusting) organisational culture that supports cohesive communication and representation of diverse voices also through Faculty, Staff & Board Professional Development & Training as well as Immediate Student-Driven Teaching & Learning.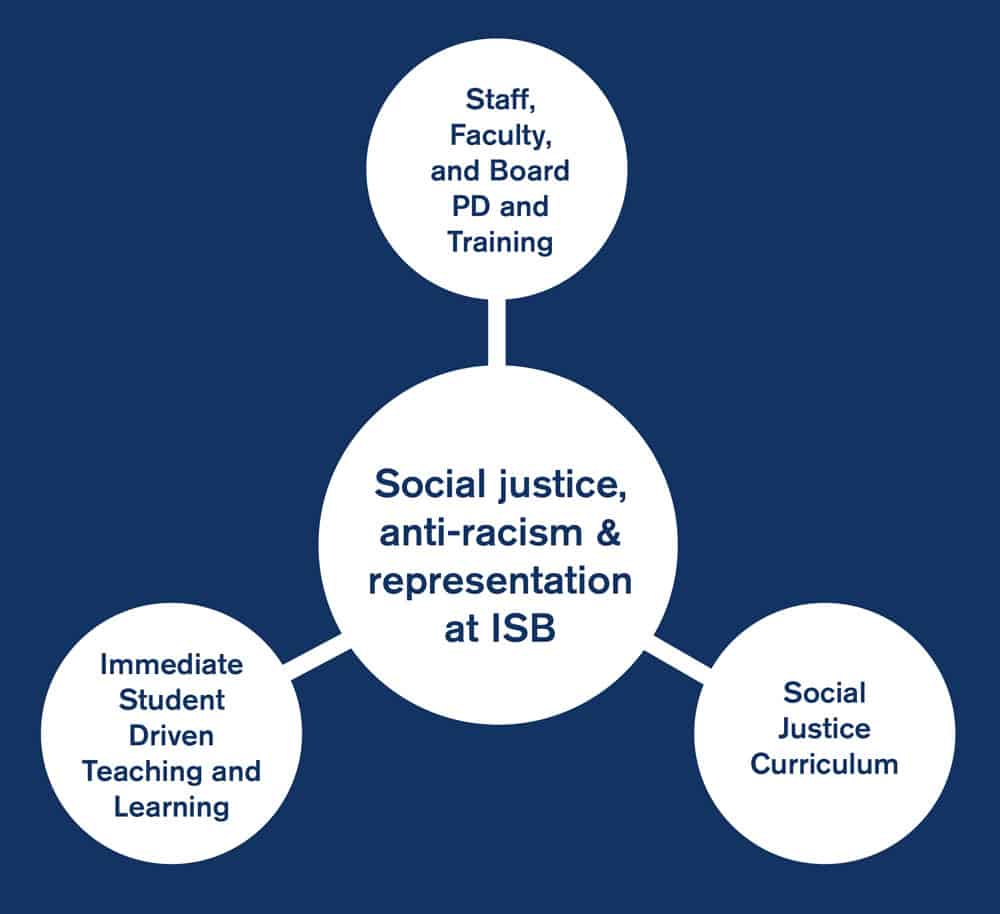 "Given the events of the past year, we've all been made more aware of the issues surrounding social justice, and the need for us to be working on these issues. It's very impressive to see our students and colleagues pushing this forward to find ways in which we can address this both as an organization and within our learning programmes, as well."

James MacDonald, ISB Director
You can go to visit our Social Justice Learning in Action issue to read stories which are a direct reflection of these areas of focus.