All around Europe, international schools are celebrating milestone anniversaries. Many of these schools were established during the years immediately following the First or Second World Wars to provide an English-speaking education for families who found themselves away from home. More than this, however, many of them were also founded as institutions designed to develop cross-cultural understanding in the pursuit of world peace.
In the years that followed, new generations of globally-mobile families began to move across Europe and around the world. International schools grew and multiplied. Where once they may have been filled with children of families from the United States, classrooms were increasingly diverse with children from all corners of the globe.
With the advent of the International Baccalaureate a little over 50 years ago, a programme was launched that was specifically adapted to students from this wide variety of backgrounds. In their own words, it was also designed to "develop resilient, self-motivated young people who have the knowledge, skills, and sense of purpose they need to thrive throughout their lives and contribute to making the world a better place."
Several decades later, some of Europe's most well known international schools have grown into places that are no longer tied to people of a particular culture or faith tradition. They not only embrace diversity but thrive on it. They are places where students can not only learn history, for example, but reflect on important questions about whose history should we teach.
These schools are also places that have always been driven more by the future than the past. Not just in their attempt to prepare students for their own future, but in the sense that they truly believe that education is perhaps our best shot at making the world a better, fairer, and more sustainable place.
Founded in 1951, the International School of Brussels (ISB) is, this year, celebrating its 70th anniversary. Like so many other schools across Europe, it has grown, adapted, and developed in so many ways over the decades. Despite these changes, however, when you listen to the stories of former students – regardless of whether they attended the school in 1965 or 2015 – the experience they talk about is always the same. They speak of a place that has an almost magical quality about it; a school in which teachers care deeply about them as individuals; a place in which they could flourish and be successful, in the classroom as well as on the stage, and on the playing fields. If you ask them if they miss their school, many of them immediately reply: Every. Single. Day.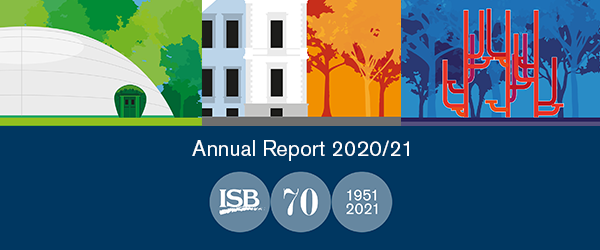 Schools like ISB were designed from the beginning to make a difference. They were designed to face the future with hope and to be a mechanism for making the world a better place. They are places where lifelong friendships are made between people from all over the world. They are places that invite students to literally see our world from multiple perspectives. More than anything, though, they are places that leave a mark on our students so that they, in turn, can make their mark on the world.
For more information about the ISB learning experience, visit isb.be.
You can reflect on our journey of the past, the present and the future, in our latest annual report.