The Western International School of Shanghai (WISS) is delighted to announce the results of our 2022 International Baccalaureate Diploma students. Our graduates continue to make us proud as they maintain a 100% Pass Rate for the IB Diploma Programme and the IB Career-related Programme.
Graduates from the class of 2022 have achieved an average score of 34, well above the world average, with an impressive mark of 45/45 amongst this year's graduates.
Their outstanding accomplishments this year can be attributed to their dedication to academic excellence. These students can reflect on their high school experience with a sense of achievement and accomplishment. The IB results are essential in enabling WISS students to take their next step into the future. With a 100% IB Diploma Pass Rate, WISS remains a top choice for students to complete their IB studies.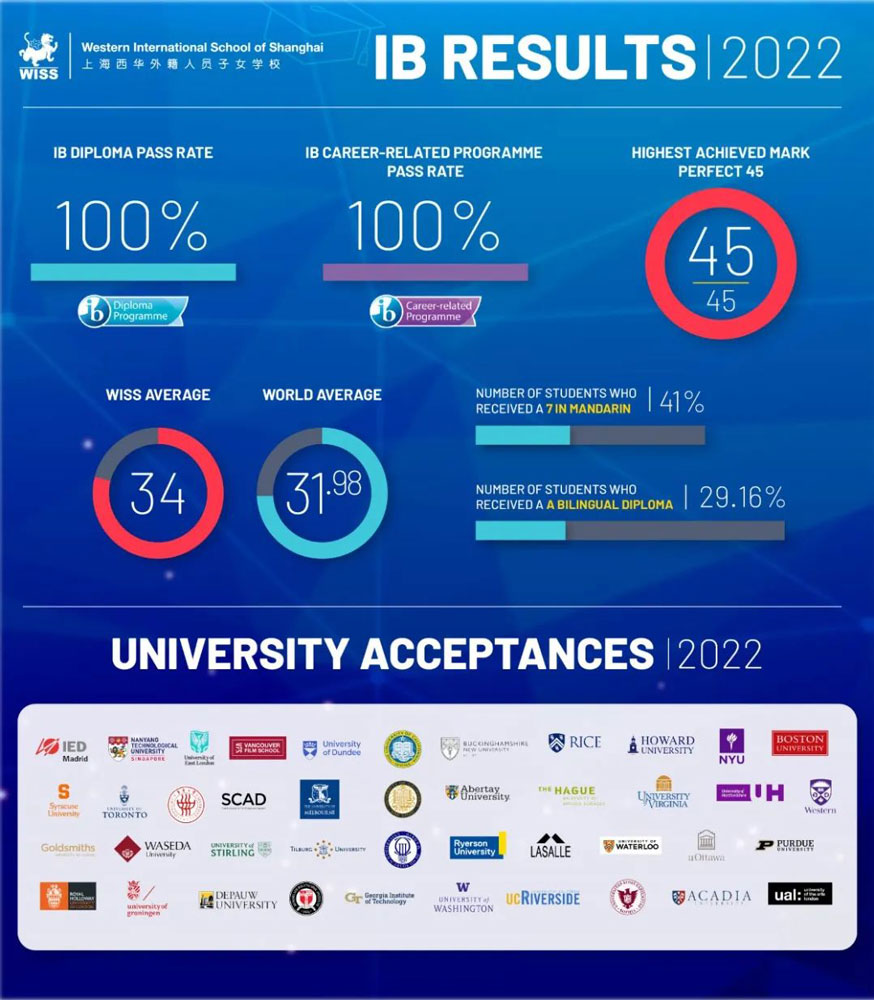 WISS offers a balanced and inclusive approach to the IB Programmes and invites all students to participate through our Diploma (IBDP) and Career-related Programmes (IBCP). Students at Western International School of Shanghai engage with a rigorous program of study that genuinely interests them while gaining transferable and lifelong skills.
WISS Multilingual Education
Language learning is a fundamental part of a student's life at WISS. With a community of over 50 nationalities with approximately 40 languages spoken, we endeavor to support students in learning a new language and maintaining their mother tongues. As a reflection of our purpose in delivering a multilingual education, it's not surprising that 29.16% of our graduates were awarded the prestigious IB Bilingual Diploma, an internationally accepted qualification for entry into higher education, recognized by the most prestigious universities worldwide.
Due to our strong mother tongue program, 41% of our graduates achieved the top mark of 7 in Mandarin. Click here to read more about the WISS Distinguished Chinese Language Program for all Ages.
WISS University Destinations
WISS Graduates have secured spots at their first-choice universities as they embark on their new journeys at prestigious universities in the United States of America, Canada, Europe, the United Kingdom, and Asia. To find out more about WISS University Acceptances, click here.
WISS graduates have shown incredible resilience, determination, and perseverance in rising to every unprecedented challenge sent their way. WISS is delighted about these outstanding results. The Class of 2022 is ready to move forward, and their future looks promising!