St. Joseph's Institution International is delighted to announce record-breaking IB Diploma results for our Class of 2021. Our largest cohort ever, comprising 198 students, scored an average of 39.3 points – our highest so far at SJI International.
Highlights:
A remarkable 54.8% of our students achieved 40 points or more, an increase of 11.1% from last year, and a result achieved by only 15.6% of students worldwide in November 2020.
Additionally, 36.0% of our 2021 cohort achieved 42 to 45 points, an 8.7% increase from last year.
Our students' 39.3 average point score at this initial release stage represents a 1.6 point increase from last year. Our average is significantly above the 2020 world average for IB Diploma students of 29.59 points.
Students who scored less than 200 in their PSLE scored an average of 36 points, a 5.6 point increase from 2019.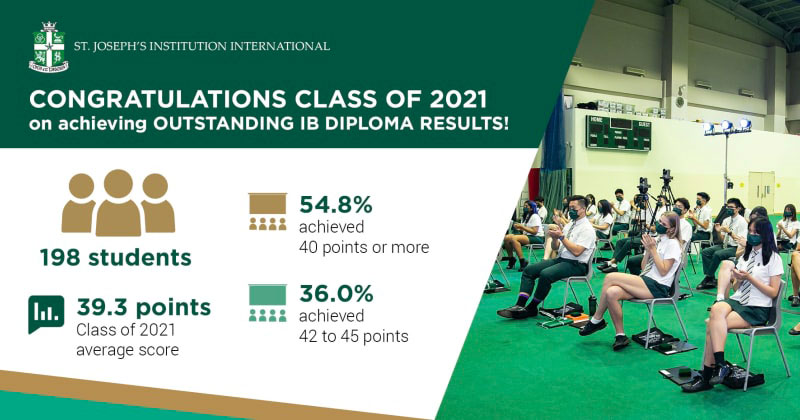 While we celebrate the results of the Class of 2021, academic achievements are only part of our holistic education that prepare our students to be people for others who contribute to the wider community. We are also especially proud of our students whose PSLE scores might not have qualified them for IB programmes in other schools, but who nevertheless went on to achieve remarkable results.

Mr Darryl David, CEO of SJI International
We take pride in each student who completed the programme and produced such outstanding results, despite having to manage two years of uncertainty and restrictions and sit their examinations in the most challenging of circumstances. These students have taken our mission to heart, using their God-given talents to excel on their learning journeys.

Brother Lawrence Humphrey, SJI International's Brother President
I am so proud of our 2021 cohort who have achieved record-breaking results despite the incredible Covid related challenges they have faced during their two years of IB studies. This is testament to our students' and staffs' dedication, professionalism and resilience even in the face of adversity.

Mrs Roisin Paul, High School Principal