Last week Korea International School welcomed students back on campus for the final weeks of the 2019-2020 school year. KIS elected to stagger grade level returns as recommended by the ministry of education, beginning with younger elementary, grade six and grade nine students last week. Remaining grades joined on campus learning this week.
In a kindergarten room on the first afternoon of classes on campus, one student gave a thumbs up to describe her day. "I get to see my best friends!" she said. Across the hall in a grade one world language class, students practiced vocabulary with a game that involved making eye contact. For many students, sharing a physical space with their peers again feels good. Grade six students taking the stairs to their physical education class joked about all the walking after months of learning from the dining table or a desk. And grade nine biology students transitioned their research from the virtual to physical space, speaking in person instead of over Zoom or chat.
Before reopening campus, KIS prepared the facilities and designed procedures to promote physical distancing. Ensuring the physical health and safety of all students and faculty is important. KIS also recognizes the mental and emotional aspect of change for our community. A school year that began as any other shifted to virtual learning at the end of February. Now families are adjusting again to the on campus school day but the familiar routine is changed. During a Zoom lesson, orchestra teacher Emily Ebrecht talked with her students about what to expect on the first day back. She closed the conversation asking for "a little bit of grace and patience" as they navigate the changes together.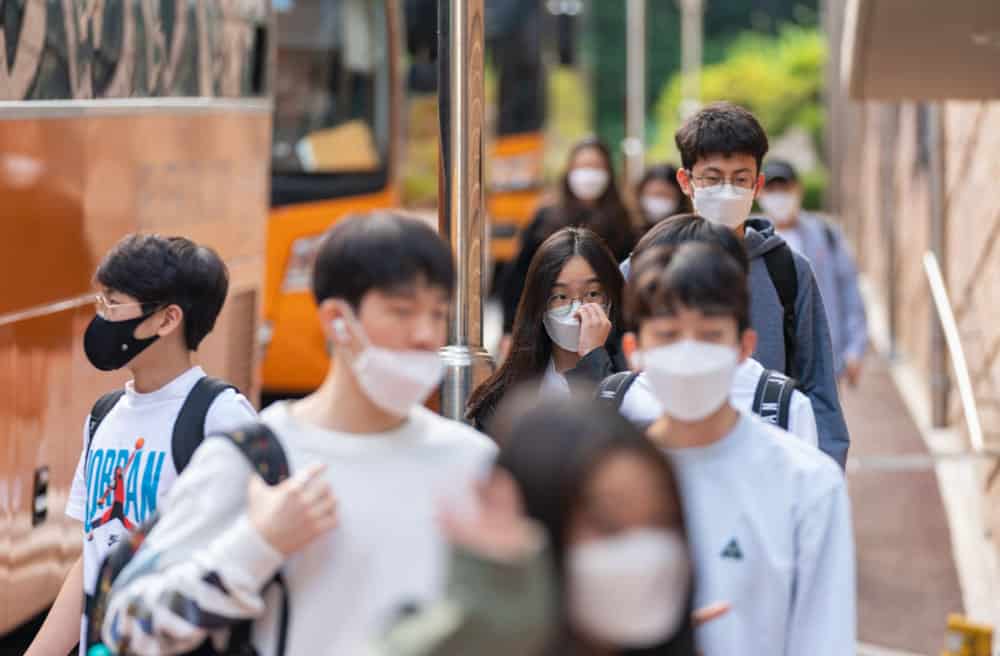 Jennifer Yoo, KIS middle school counselor, acknowledged that the return to campus is like another first day of school. Teachers give gentle reminders to establish new physical distancing routines. Ms. Yoo believes it's important to remember what we can control, like wearing a mask and washing hands, and to talk about what we cannot control. "Talking about the uncertainty of this pandemic is one way to begin accepting where we are," she said. Carla Cantrell, KIS elementary counselor, agreed. Parents can help their children process change by giving age appropriate information, listening, and answering questions. Teachers help students feel secure too. "We are looking at everything through an empathetic eye," Ms. Cantrell said.
All faculty are glad KIS students are back on campus. Junior kindergarten teacher Mike Dorn shared that his students adapted to the individual play required in the classroom, and loved exploring during an outdoor hike. Grade nine biology teacher Youngjee Kim said that her classes got to know each other better during virtual school – parents, siblings, and pets all made appearances during class. Seemingly impersonal technology promoted a sense of camaraderie that carries through the end of the school year. School administrators also noticed the renewed energy students bring to campus. High school principal Aimmie Kellar said, "Walking through the hallways, stopping in to see classrooms full of students has been amazing."
As Korea International School adapts learning strategies to meet challenges raised by the pandemic, school director Michelle Quirin is proud of the community's compassion. Students, families, and faculty know this is a unique time to learn, and that what we learn, even beyond academic work, designs our future.