Never forget where you came from, we are told in so many ways and forms. Oftentimes however many of us just dismiss that as an aesthetic we see in Pinterest boards or Instagram captions, not really thinking much about what it truly means to remember your roots.
Grade 11 student Megan, who is Filipino by birth, begged to differ.
In 2019, she dedicated her CAS (Creativity, Activity, Service) project to something really close to her heart by co-founding the non-profit organization Likhang Puso (Made by the Heart) that aims to make a difference in the lives of the Mangyan community—one of the Philippines' oldest ethnic groups—living in Mindoro, southwest of the island Luzon.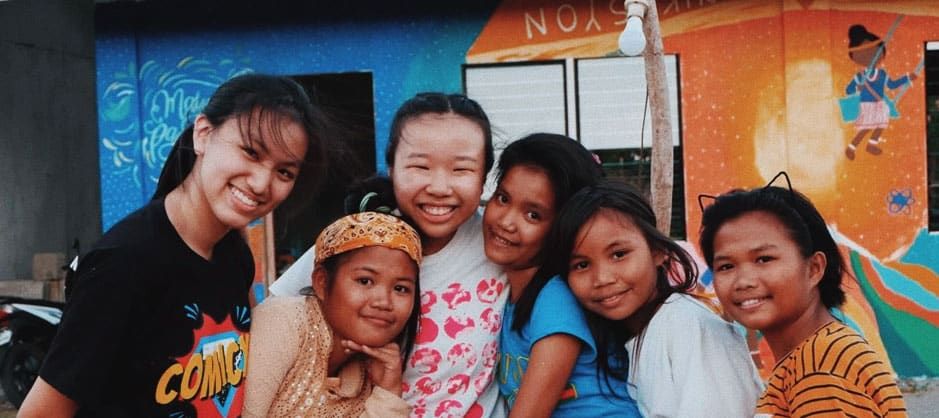 "What's so special about the Mangyans is that they are natives of my homeland yet they are amongst the marginalised. These indigenous people truly represent what it is to be Filipino and to empower them is to celebrate Filipino nationalism from its very roots"
Likhang Puso, now one of our Challenge Week partners, connects 24 Grade 11 SJI International students with a group of peers in Manila. Although current pandemic restrictions are preventing a physical journey this year, students are adapting and showing resilience and are committed to continuing their learning journey with the community remotely.
Sining ng Pangarap (Art of the Dream)
An artist at heart, Megan utilised her creativity to plan and execute Likhang Puso's first project Sining ng Pangarap (Art of the Dream) launched in April 2019 – the renovation and mural painting of the classrooms of Katutubong Mangyan High School.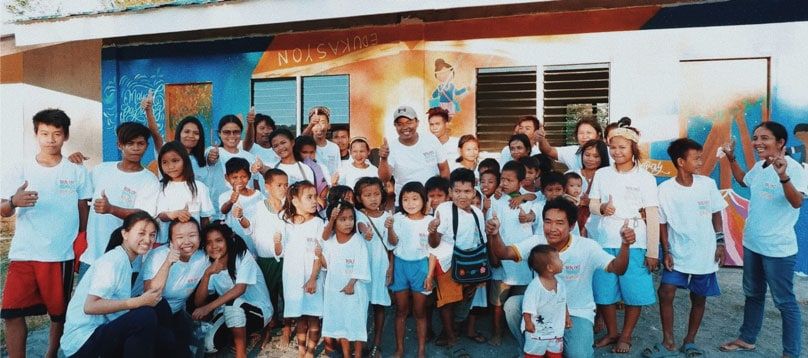 "I learned so much out of that 5-day experience that when we completed the project, I knew I wanted to keep giving back to them," she shared.
"We tend to forget to look back and give appreciation to our roots, resulting in the marginalisation of these indigenous communities. I believe that nobody should be left behind… most especially the people whom we owe our heritage to."
TULAY: Ang Ating Dugtong (Bridge: Our Connection)
On 11-12 July, Likhang Puso held an online benefit concert entitled Tulay: Ang Ating Dugtong which roughly translates to Bridge: Our Connection, symbolising the gap Likhang Puso strives to bridge between the modern society of the Philippines and its indigenous communities by organising projects that support and empower them.
While many schools have sufficient resources to carry out online classes amidst the pandemic, some others like the Katutubong Mangyan High School have a limited range of resources available to support their students. Further disruptions to the education of the Mangyan community include the lack of electricity and cellular signal in the area, and with the reopening of classes in October, modular-distance learning is the best and only possible option available for them to continue their studies. This approach requires each student to have their own set of school supplies to maximise their learning whilst being at home, as well as the school to have enough printers and paper supply for the production of learning modules.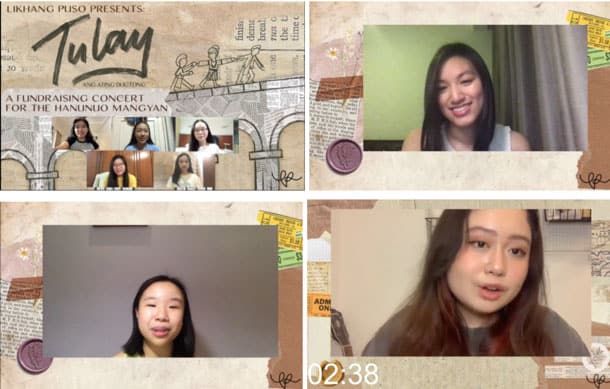 With performances from various local Filipino artists, Megan and her team raised approximately $5,200 which will be used to purchase educational supplies and equipment for the students of Katutubong Mangyan High School as they prepare for the reopening of classes in October.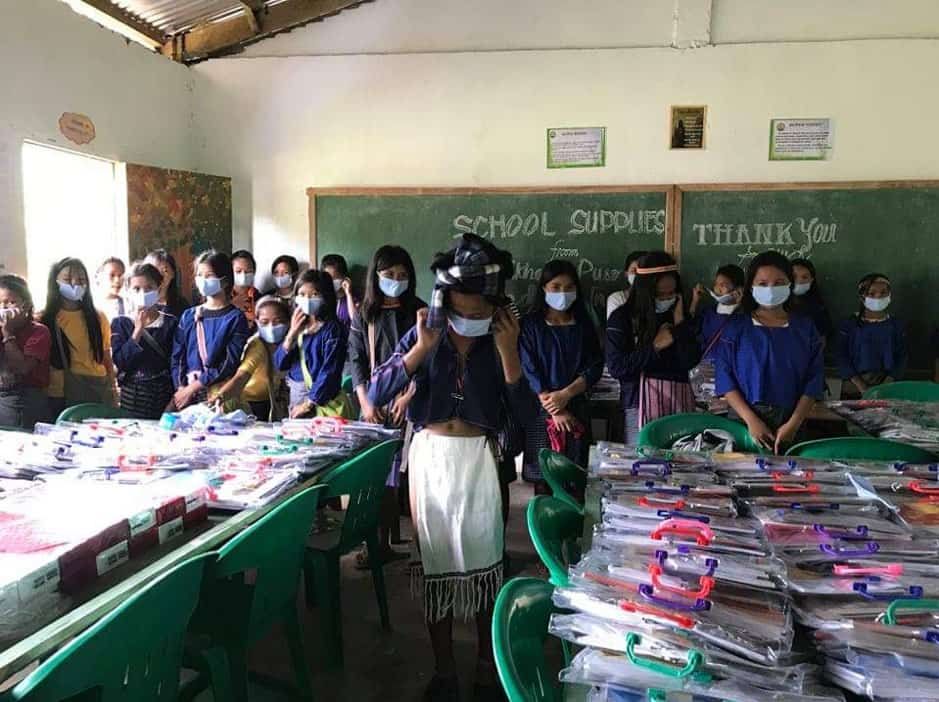 Cultural Learning Centre
During the first half of 2020, Likhang Puso hosted a few fundraising initiatives to contribute to the funding for their next major project – the construction of a Cultural Learning Centre in the school. Through their partnership with the Federation of Filipino Chinese Chamber of Commerce and Industry Inc., as well as their Valentines' Bake Sale and their ongoing online thrift store (they're @thriftedbytheheart.lp on Instagram!), they have raised enough funds needed to begin construction.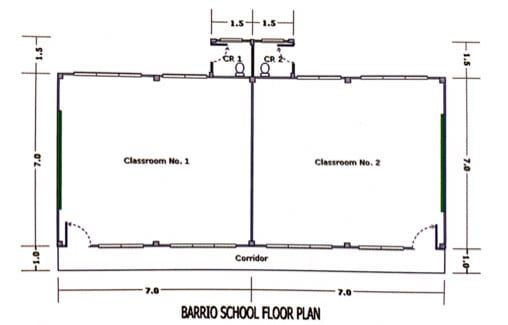 They are now on the search for sponsorships and partnerships to raise funds for the purchase of furniture and supplies needed for the Cultural Learning Centre, such as books, chairs, tables, shelves, art materials, and the like. They also plan to work with some Filipino artists for an outdoor interactive bamboo playground as well as pieces of literature that will enrich the cultural aspect of the facility.
Recognitions and Takeaways
In just over a year, Likhang Puso has already accomplished so much that they've even been recognised by Rotary International (District 3780) for all their efforts to empower the Mangyan community.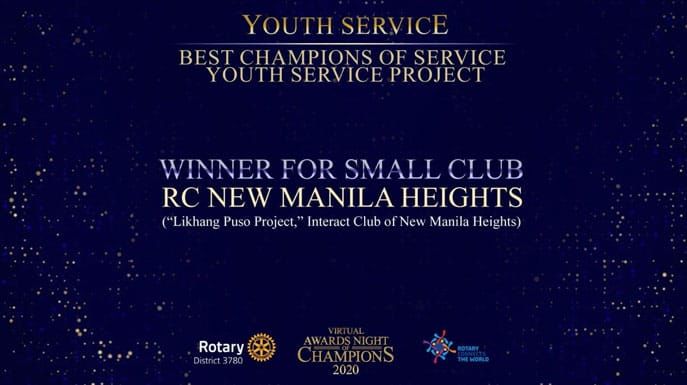 However, they've only just begun.
"My previous trip to Mindoro made me realise that service, despite what most of us think, is not simply a one-way experience," Megan said.
"Meeting the community for the first time, I had the goal of making sure that the kids I met would learn something new. What I didn't realise was that I actually left Mindoro having learned more lessons than they have – lessons that I simply would not have learned from my classes in school. The entire experience reminded me of the values of gratitude, simplicity, and joy at a completely different level and this is what ultimately makes service such a fulfilling experience."
Even with the restrictions brought about by the pandemic, Likhang Puso continues to give back.
"It may have been easier to simply give up and wait until the pandemic passes; however, it is during times like these that marginalised communities are all the more in need of our support. We simply cannot give up on them," she said in closing.
"Service knows no boundaries… We just need to be a bit more creative and open-minded in exploring the endless possibilities of giving back to those in need within our community."
To learn more about Likhang Puso or support their projects, you may reach them at the following:
[email protected] | [email protected]
Website
Instagram
Facebook