At CGA we encourage students to develop their interests outside the classroom by offering a variety of extracurricular activities. Through Crimson Community students can connect with others who have similar interests. If you want to give back to society through a variety of causes, the Volunteer Club is the place for you. Learn more about this club and how to join in on the fun!
What is the volunteer club?
As the name suggests, the volunteer club is a place where students can give back their time to society. Through the club sessions, you will learn about global issues, make an impact in your community and change lives by undertaking exciting volunteering opportunities anywhere in the world.
Who is the club leader?
The Volunteer Club is led by Audrey Damon-Wynne, who also leads Model UN at CGA. She was awarded a grant from the U.S. State Department to develop an international student exchange program, with the goals of promoting mutual cultural understanding and immersion. Over five years the program impacted more than 100 students and 25 teachers. She also launched, developed, and led a Model U.N. program in Madison, Wisconsin, which grew over 20 years to an award-winning club with 75 students participating annually in as many as four international level conferences. Audrey is a College Board-certified AP instructor with over 20 years of high school teaching experience. She holds both a B.A. in Psychology and an M.A. in Social Sciences, and her honors include both a Fulbright Fellowship as well as a Fulbright Distinguished Teaching award.
How do students participate in club activities?
Each student will choose a new volunteering project based on a global issue. Then the group will come together and decided to commit to it as whole. Then, each member can implement it in their own community and later lead club discussions on the outcome and the experience. Students will get to connect with their peers and work closely with the organization of their choice.
What type of volunteering opportunities can students participate in?
Donate old clothes or household goods to your local goodwill shelter.
Pick up some non-perishables to donate to your local food bank.
Bring new or slightly used toys and stuffed animals to a children's hospital.
Write a letter to your Congressman about an issue that you care about.
Tutor other students within your school.
Fundraising campaigns
Awareness campaigns
Will there be any international activities?
As part of the club activities, students can participate in projects, conferences and show their impact by joining organizations such as Global Issues Network (GIN).
What are the benefits of joining the club?
Learn about social issues and give back to society
Connect with global peers through organizations like GIN
Add to your admissions portfolio. Many universities need a volunteer element in an application and through the Volunteer Club you can fulfill that requirement.
Are there any prerequisites to join?
No previous knowledge is required to join the club. New students may join at any time as long as space is available. Depending on the type of activity a student chooses, there might be material required.
How do I enroll?
All you have to do is fill out a form and you will be on your way. The club runs year-round and meets once a week.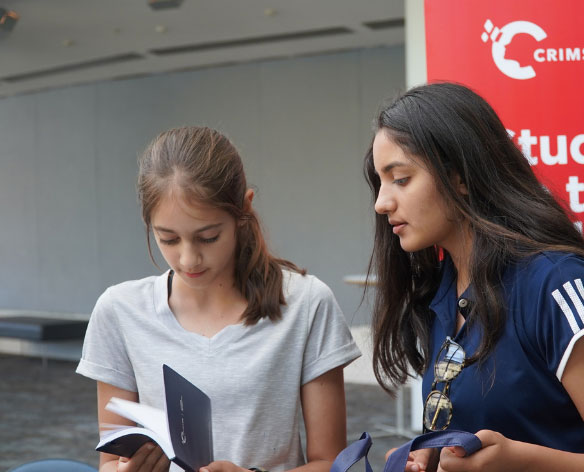 ---
Crimson Global Academy is an international, global online high school that allows students to accelerate their studies based on their ability rather than age. Learn more here.