The Western International School of Shanghai is an IB World school and offers a robust academic program in addition to its numerous extra-curricular activities. One such partnership is with the Savannah College of Art and Design (SCAD) based in the United States.
The Western International School of Shanghai offers a robust academic programme as part of the school curriculum. The WISS exclusive university partnerships are among the range of distinguishing programs offered to students. One such partnership is with the Savannah College of Art and Design (SCAD) in the United States. SCAD forms part of the WISS IB Career-Related Programme (IBCP) and offers students a plethora of university-level courses based on foundation-level Art and Design.
The selection of courses on offer affords WISS students a flexible pathway to explore their passions in the field and possible career pathways, which include: Architect, Interior Designer, Game & Software Designer, Photographer, Performing Artist, Advertising & Branding Executive, Artist, Author/Playwright, Digital Design Consultant, Sketch Artist, Sound Designer, Visual Effects Specialist, Industrial Design, Animation, and Sustainability Design.
Recently, Ms. Vivyan Lam from the Savannah College of Art and Design (SCAD) joined us on campus to address our Grade 9 and Grade 10 students. During the session, she shared information on the Art & Design Pathways available through the SCAD IB Career-related programme as students prepare for subject selections for their final years of secondary school. The WISS IBCP Art and Design pathway focus on preparing students for creative professions. The session with Ms. Lam offered students insight into the Art & Design pathway and what to expect from the various university-level courses at SCAD.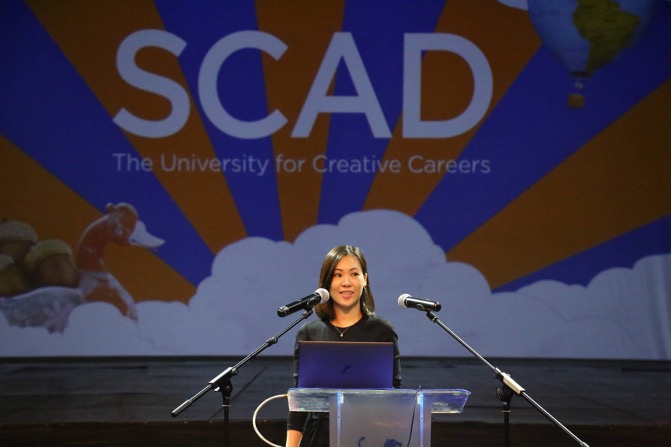 Pre-University Education at WISS
Students who choose to pursue a career in Arts and Design through the IBCP work on their SCAD courses remotely. Students will also have the opportunity to take a summer course at one of the SCAD campuses worldwide. Since SCAD courses are university-level courses, WISS students who participate in the program can receive university credits offering them a considerable advantage when applying to universities.
SCAD University is one of the most prestigious and reputable universities in the field of Art and Design. With over 75 minors and certificate programs, SCAD is uniquely qualified to prepare students for professional, creative careers.
More University Partnerships
WISS has partnered with top-ranking universities around the world, such as the Savannah College of Art and Design (SCAD), the Sustainability Management School (SUMAS) in Switzerland, and Embry-Riddle Aeronautical University (ERAU). Through our years of experience in offering tailored and personalized IBCP programmes, WISS has strong relationships with our university partners, which forms part of the support functions we offer our students as they prepare for university and success in the 21st-century workplace.
The IBCP offered as part of the WISS curriculum has a three-part framework, blending the academically rigorous International Baccalaureate Diploma Programme (IBDP) courses and Career-related Studies (CRS) with the four IBCP core components. This unique combination allows students to experience a personalized, tailored-made learning program with real-world application at its core.