Have you ever wondered what the scholarship committee awarding the scholarship wants to see?
Earning a scholarship is an honor. It shows you are hard-working and care about your education and future. A prestigious scholarship can add to your list of accomplishments making you a prominent candidate when applying to universities and the kind of recognition future employers notice.
Scholarships are usually limited, which makes them highly competitive. While the idea of applying for scholarships can initially seem daunting, exploring the scholarship options available to you and researching their requirements can help you feel better prepared.
Some students receive scholarships for their outstanding academic performance, talent, and passion for their chosen study area. Others are recognized for their commitment to their local community or sports involvement.
Applying for a scholarship is a process that requires dedication and attention to detail. The scholarship application process involves much more than simply filling out forms. The process may differ depending on the school, and a limited number of scholarships are generally available.
Therefore, the preparation leading up to submitting the application needs to be done conscientiously, ensuring that you have followed all the steps down to the last detail.
If you are considering applying for a scholarship, carefully read our list of tips that might help you prepare your application and ensure you have followed all requirements to increase your chances of securing a scholarship.
Here are our tips!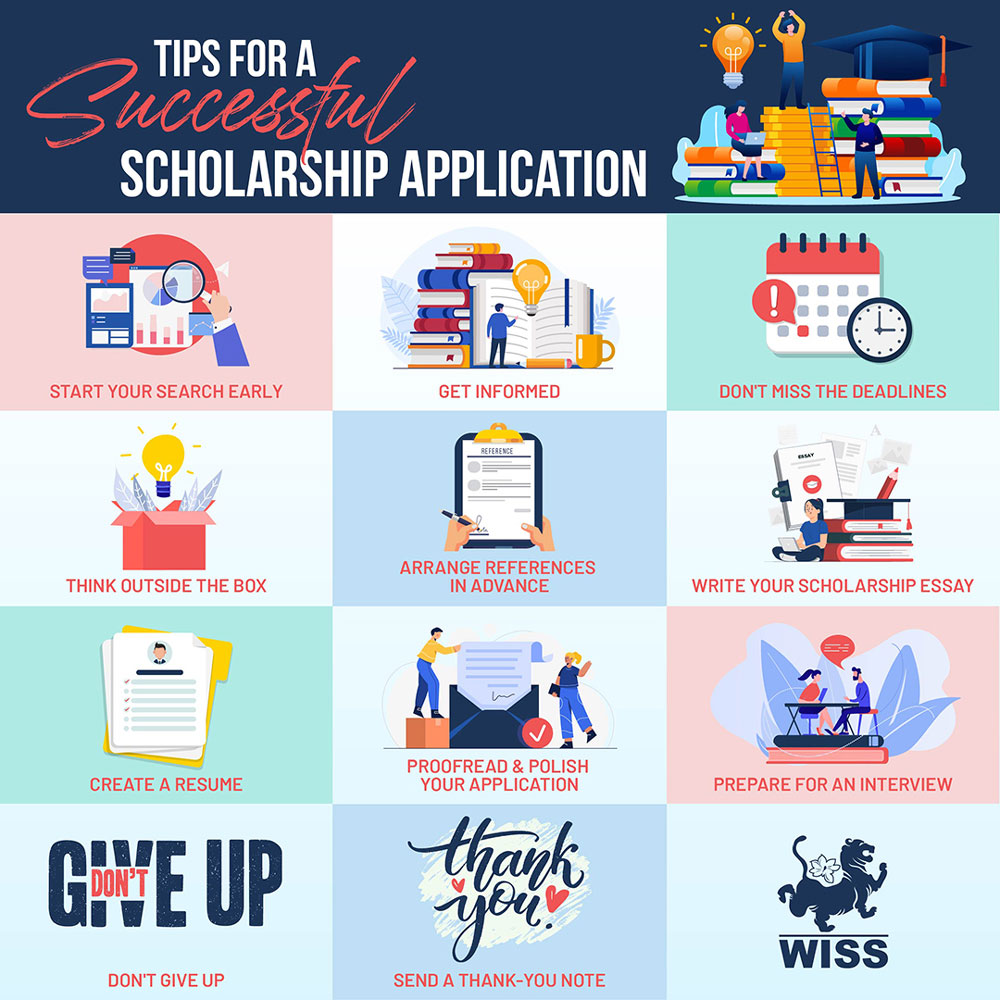 1. Start Your Search Early
It's important to know what scholarships are available and when application periods are. School websites are generally a good place to start your search.
2. Get Informed
Read the scholarship criteria carefully and ensure that you are eligible to apply.
3. Don't Miss the Deadlines
Submit your application on time.
4. Think Outside the Box
Emphasize what makes you unique and include all your achievements outside your academic studies that may merit recognition.
5. Arrange References in Advance
Include recommendation letters or other reference documents such as certificates of involvement from organizations or people who know you well.
6. Write Your Scholarship Essay
This is your time to shine! Share more than just your academic achievements and GPA scores. Think about your audience and what they would like to know about you.
7. Create a Resume
Include your notable academic and personal achievements, and don't forget to include your interests.
8. Prepare for an Interview
Present yourself professionally. Make sure your hair is neat, your fingernails are clean and trimmed, and that your choice of clothing is appropriate. First impressions are important.
9. Proofread & Polish Your Application
Be sure that there are no spelling or grammatical errors. Typos and missing materials count while considering eligible applicants.
10. Don't Give Up
If you are not successful with your first application, apply again at a later time.
11. Send a Thank-You Note
Regardless of the outcome, send a thank-you note to the scholarship provider for their consideration.
---
The Western International School of Shanghai is one of the few international schools in Shanghai offering merit-based scholarships to students. For more information on our scholarships, contact the WISS Admissions Team here and let them guide you through the process.