From the return of students and faculty and a successful start of school to breathtaking hut hikes and inspired athletic competitions, we take a photo-driven look at the past month at TASIS.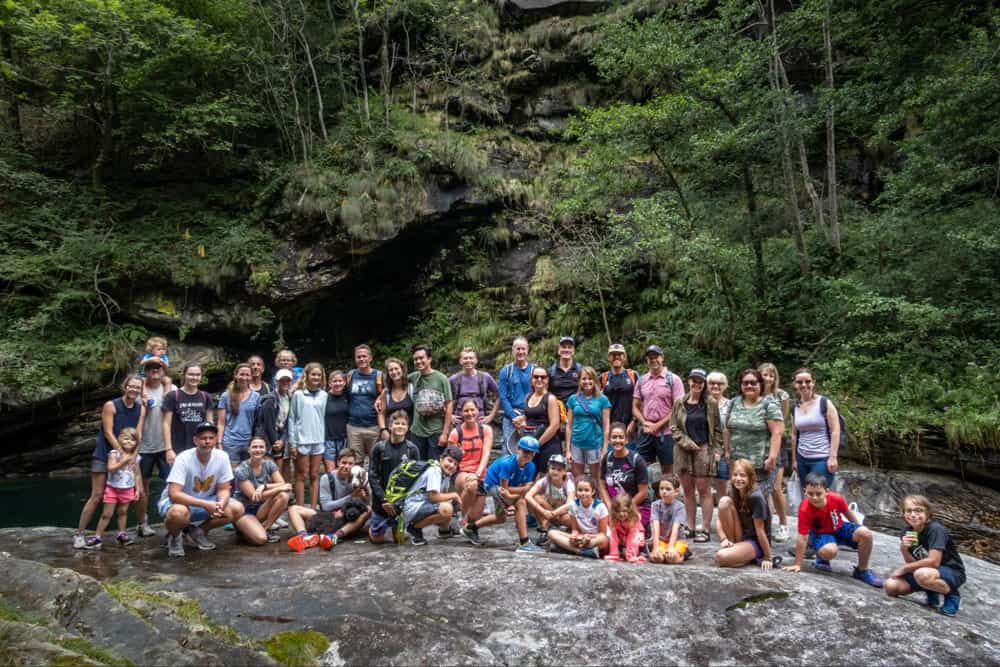 Welcome to the Team!
Our newest faculty members capped a very busy orientation week with a hike and swim in beautiful Valle Verzasca on August 22. The talented group of educators has taught in dozens of countries and adds a great deal of educational experience to the first-rate TASIS Faculty.
---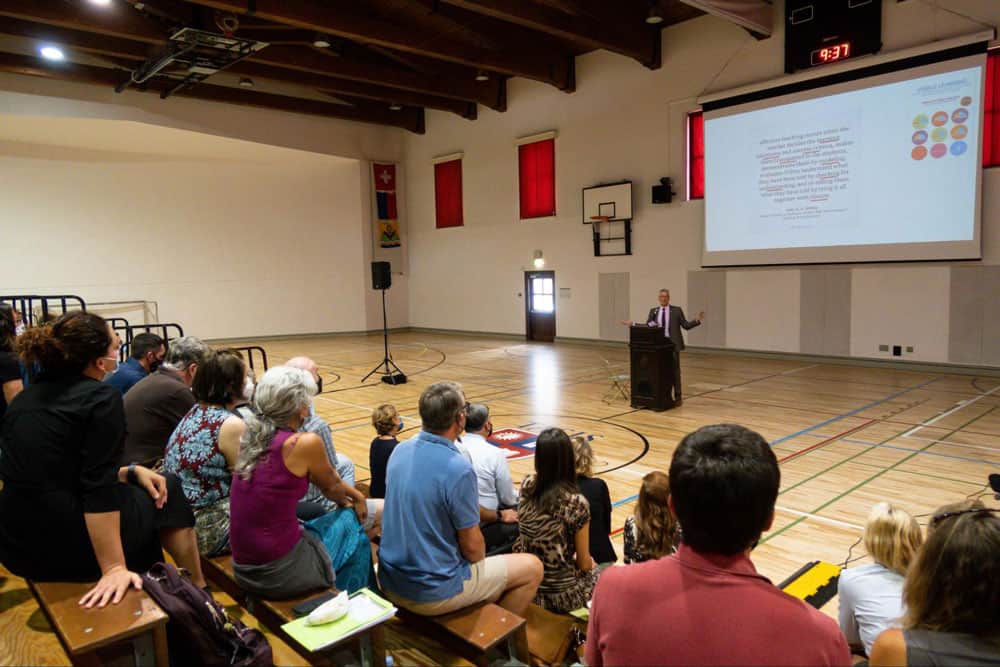 The Full Team Returns
Our entire faculty gathered in the Palestra on August 24 to begin more than a week of intense preparation for the 2021–2022 academic year.
---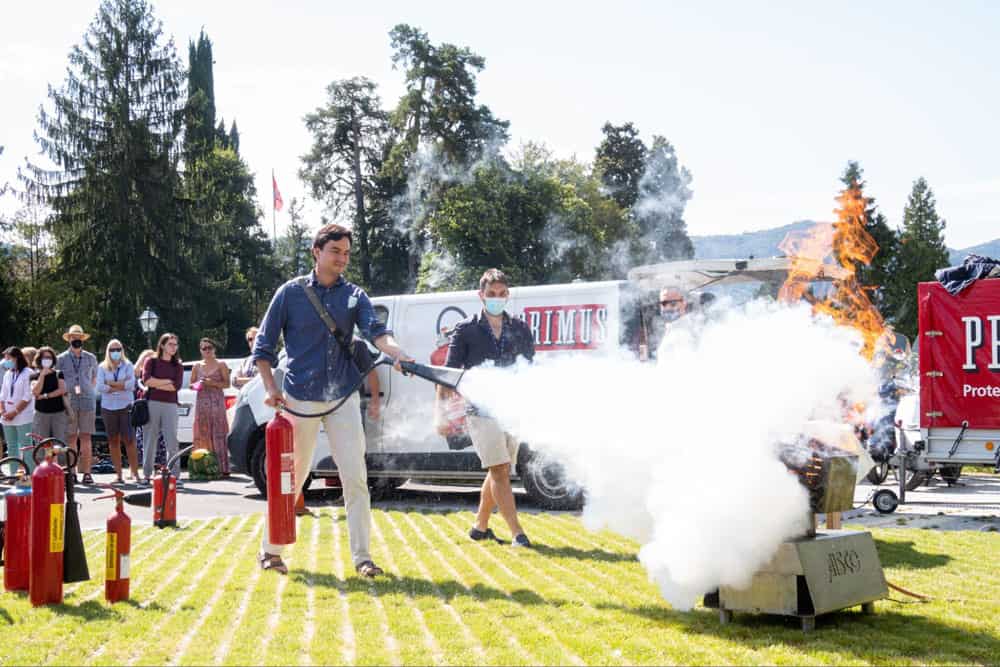 Prepared for Anything
Faculty orientation included divisional and departmental meetings, child protection and mental health seminars, institutional and individual goal setting, and refreshers on fire, safety, and security procedures.
---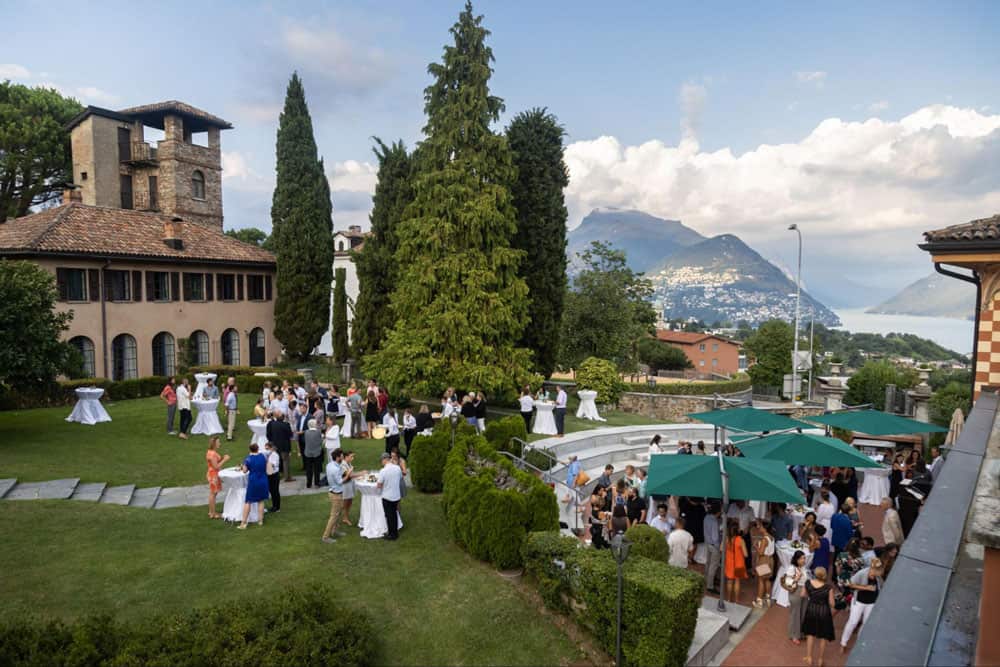 Launching a New Year
After a full week of orientation, our administration, faculty, and staff enjoyed a relaxing evening on the beautiful Villa De Nobili terrace. Colleagues enjoyed good food and drink and heard short welcoming words from Chairman of the Board Lynn Fleming Aeschliman, Dr. Michael Aeschliman, and Headmaster Chris Nikoloff.
---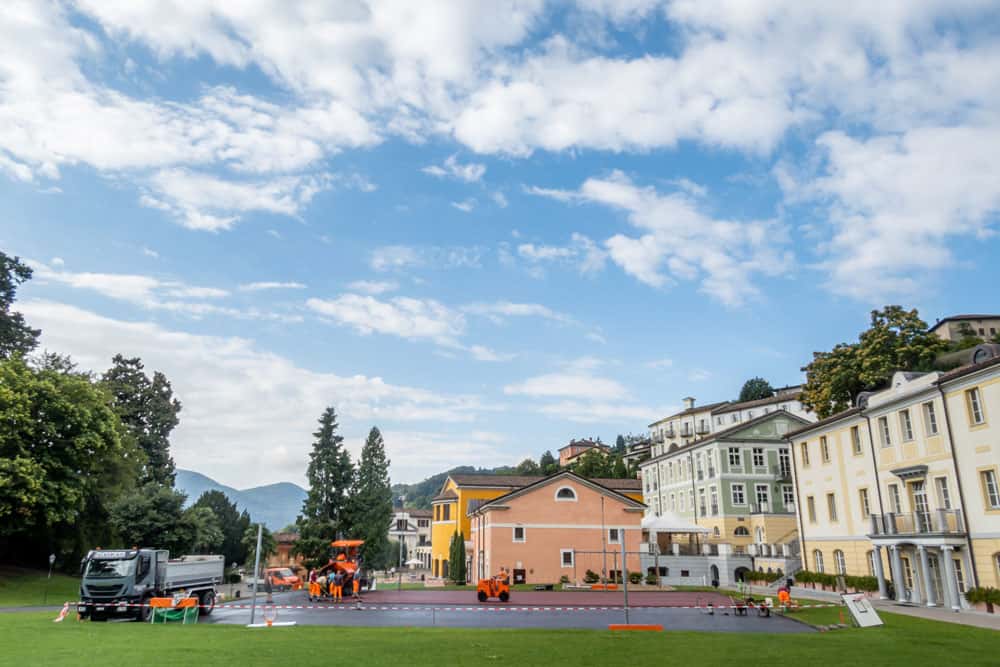 Campus Updates
Over the course of the summer, our hardworking Maintenance team oversaw many improvements to campus, including a new surface on the outdoor basketball courts, a new floor in the Palestra, updates to Villa De Nobili's reception area, expansion of the security gazebo, and enhancements to several dormitories.
---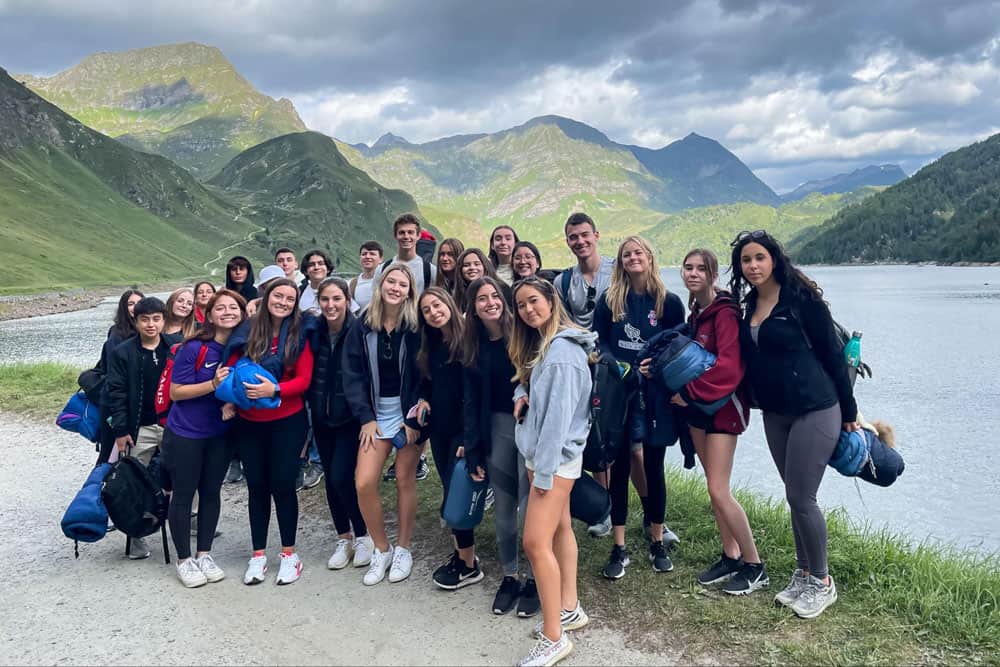 Proctor Hike
Before they helped facilitate move-in day and student orientation, TASIS proctors launched their year with an overnight trip to an alpine lodge on August 28. The student leaders hiked along beautiful Lago Ritom, bonded over team-building activities, and spent a night in Capanna Cadagno.
---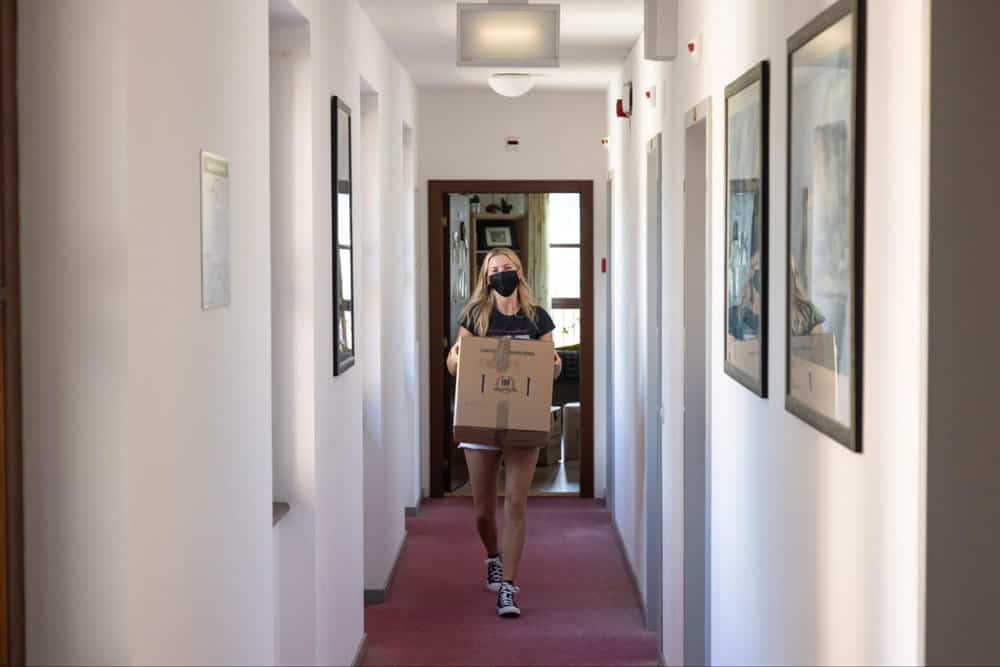 Move-In Day!
We were thrilled to welcome boarding students back to campus on August 30. It didn't take long for the boarders to make new friends, reconnect with old acquaintances, and settle into TASIS dorm life.
---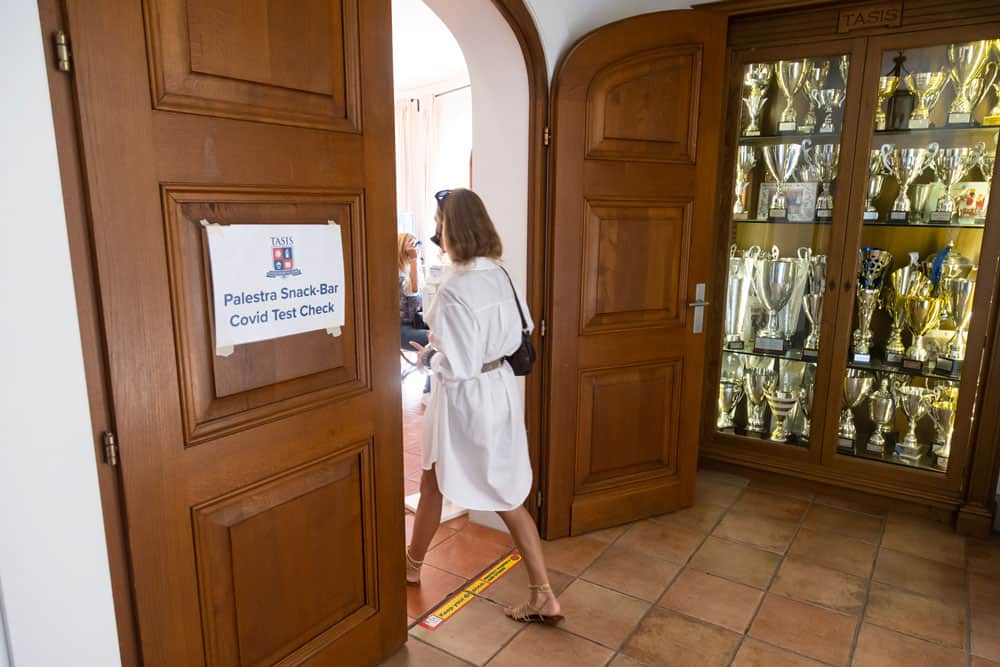 Precautionary Measures
To ensure a safe start to school, all students were required to submit a negative Covid-19 test certificate before attending any classes. All boarding students were tested in our on-campus testing center upon arrival while day students submitted test results to our Health Office.
---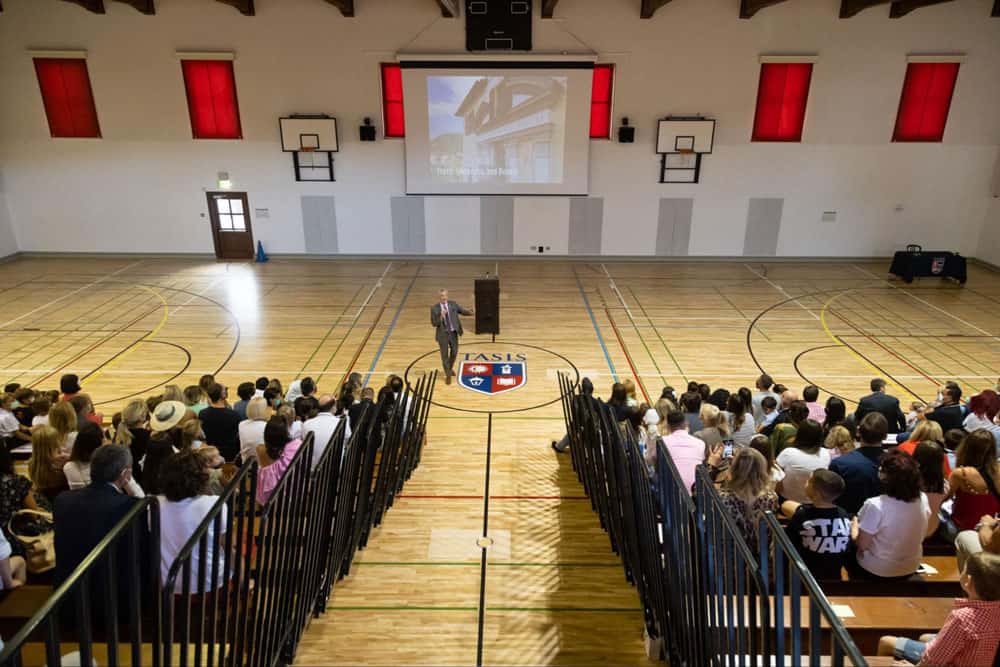 A Warm TASIS Welcome
In the days leading up to the start of school, day families from all divisions visited campus to attend informational sessions and to meet teachers and advisors as part of our orientation program. On September 1, Headmaster Chris Nikoloff addressed Elementary School families in the Palestra, which is newly resurfaced and is now emblazoned with the TASIS crest.
---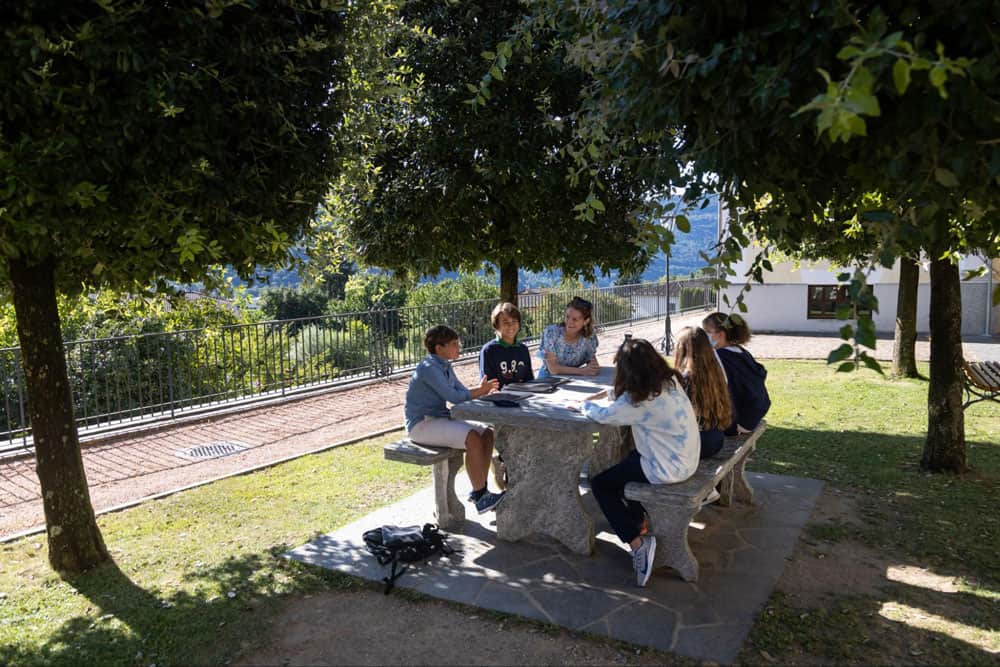 Middle School Mentors
On September 1, sixth-grade students met their Middle School advisors and gathered in their groups for a first meeting.
---
Opening Day!
We officially opened the new academic year on September 2 with 684 students from 57 nations!
---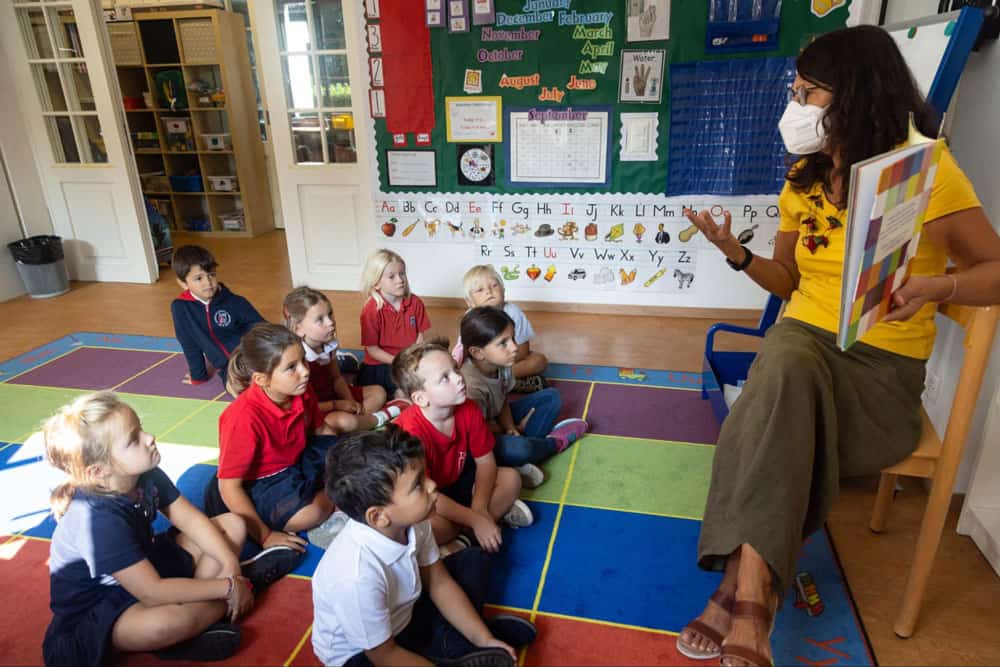 Back at It
It was wonderful seeing students from Pre-Kindergarten to grade 12 back on campus!
---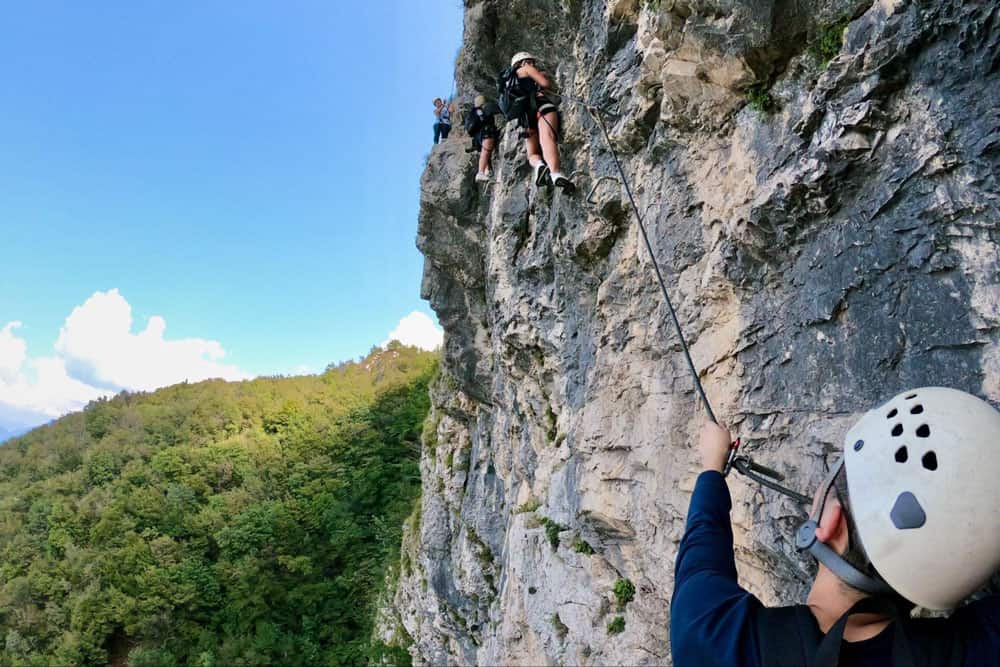 Up for the Challenge
On the first Sunday of the new school year, a group of High School students tackled the beautiful but challenging San Salvatore via ferrata. Other activities offered that weekend included visits to Valle Verzasca, the Bellinzona Castles, and Lake Lugano.
---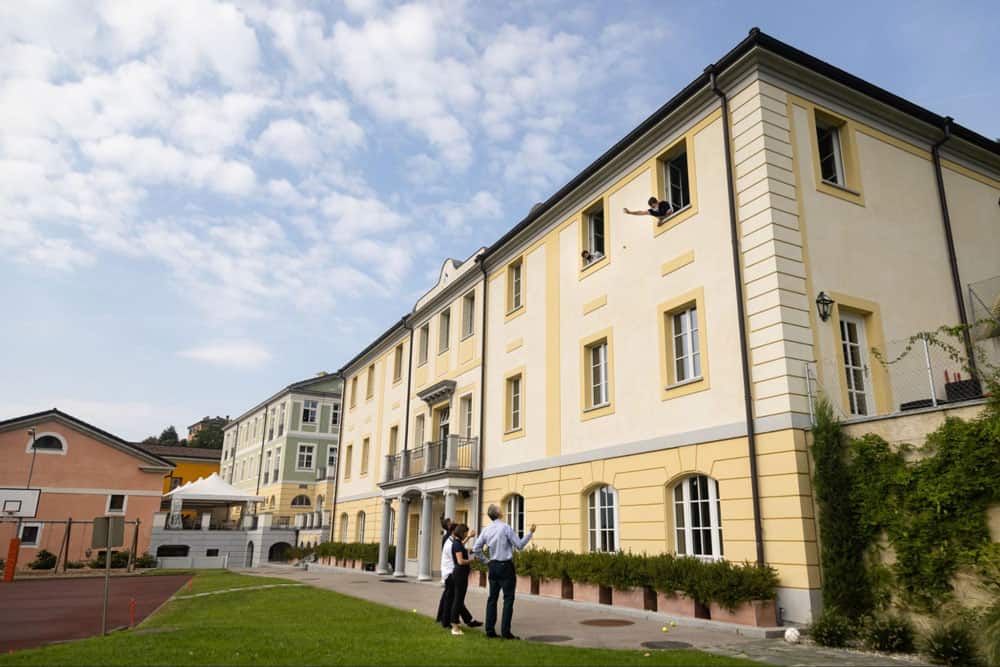 Calculating Gravity
High School students in Mr. Jerald Bleckel's AP Physics class performed an experiment from a top-floor window of the state-of-the-art Campo Science Center on September 7.
---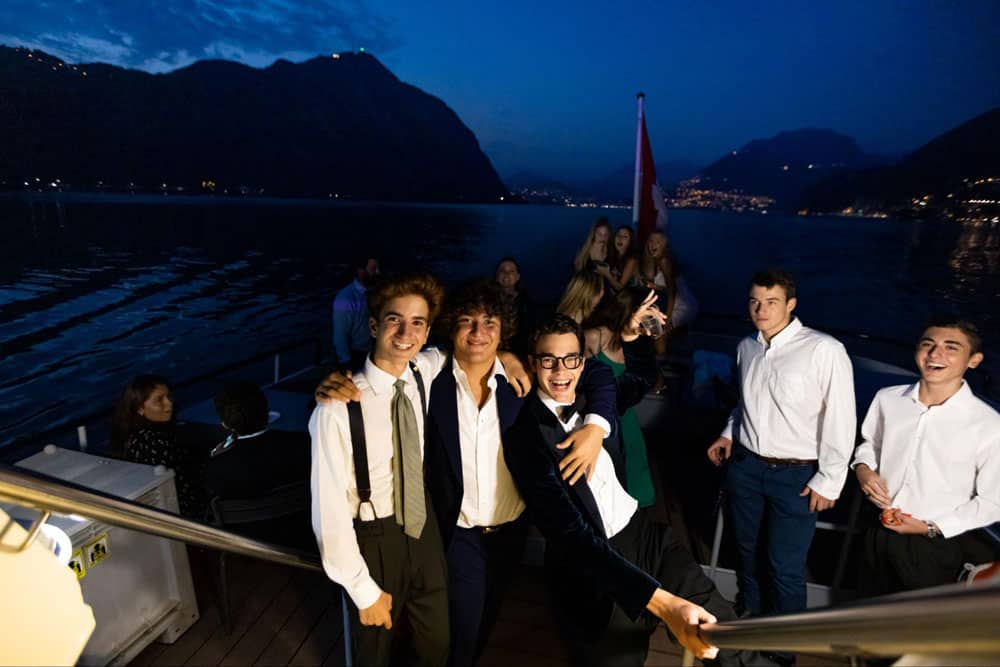 Making Lasting Memories
High School students spent the evening of September 10 cruising around Lake Lugano as the sun set over Ticino.
---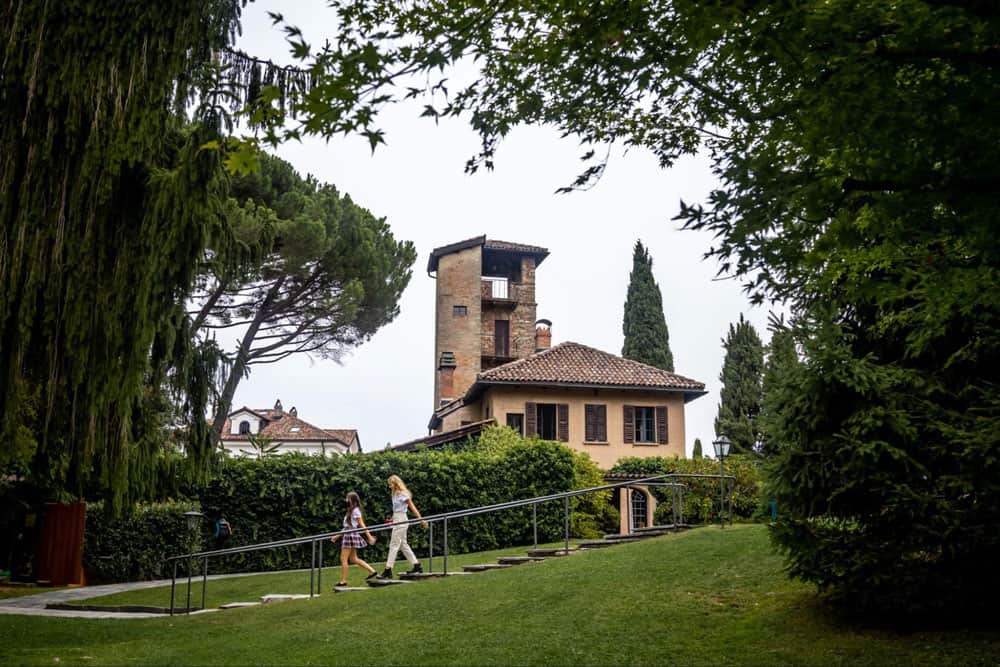 Catching Eyes (and Birds) Since the 1600s
Two High School students passed by Casa Fleming and its iconic tower on September 14. Constructed in the 17th century, "the tower on Casa Fleming was built for the purpose of netting tiny wild birds, a delicacy of the area," wrote Former TASIS Admissions Director Alice Lytel in 1989. "Considering the early date of the Villa, however, and the political situation in nearby Italy in the 1600s, one is led to conjecture that the tower may also have been a fine place to observe anyone who may have been coming in the distance."
---
Morning on the Hill of Gold
The Casa Fleming tower is also a fine place to observe a Lugano sunrise!
---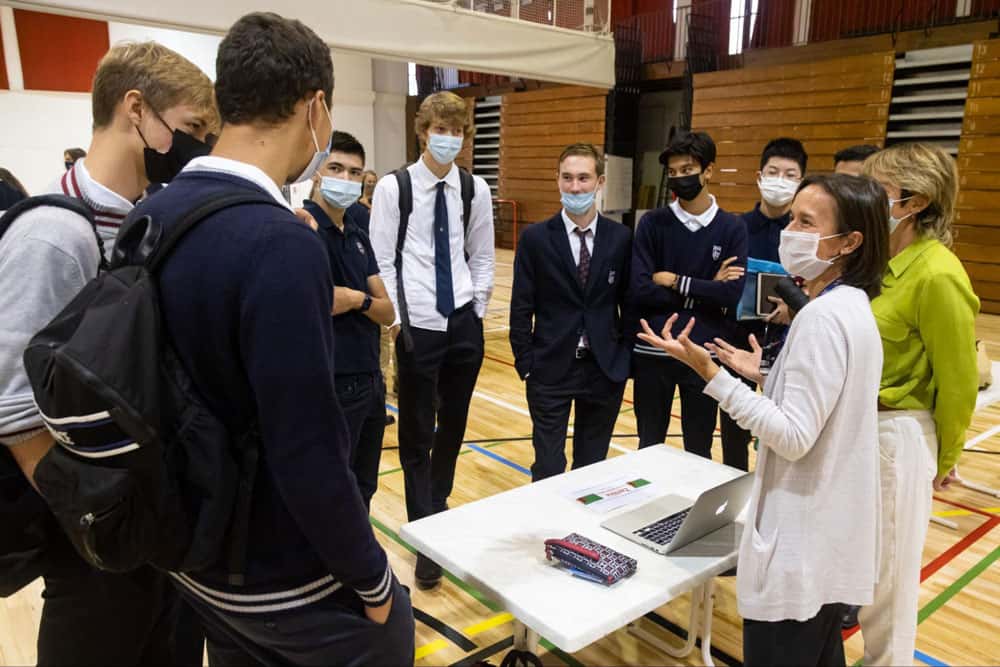 Service to Others
High School students had a chance to learn about the many global and local service opportunities available to them at TASIS during a service learning fair in the Palestra on September 15.
---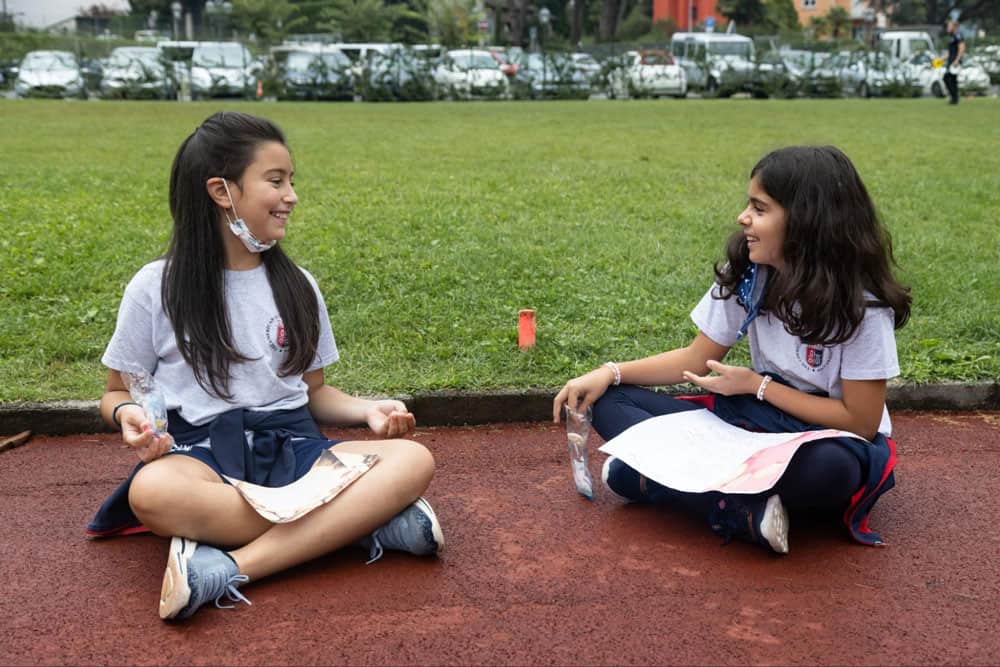 A Dash of Honesty and a Pinch of Responsibility
What ingredients make up a brilliant fifth-grade student? Students in Ms. Amy Shields and Ms. Danelle Kritzinger's classes wrote recipes and shared their handiwork during an outdoor publishing party on September 15.
---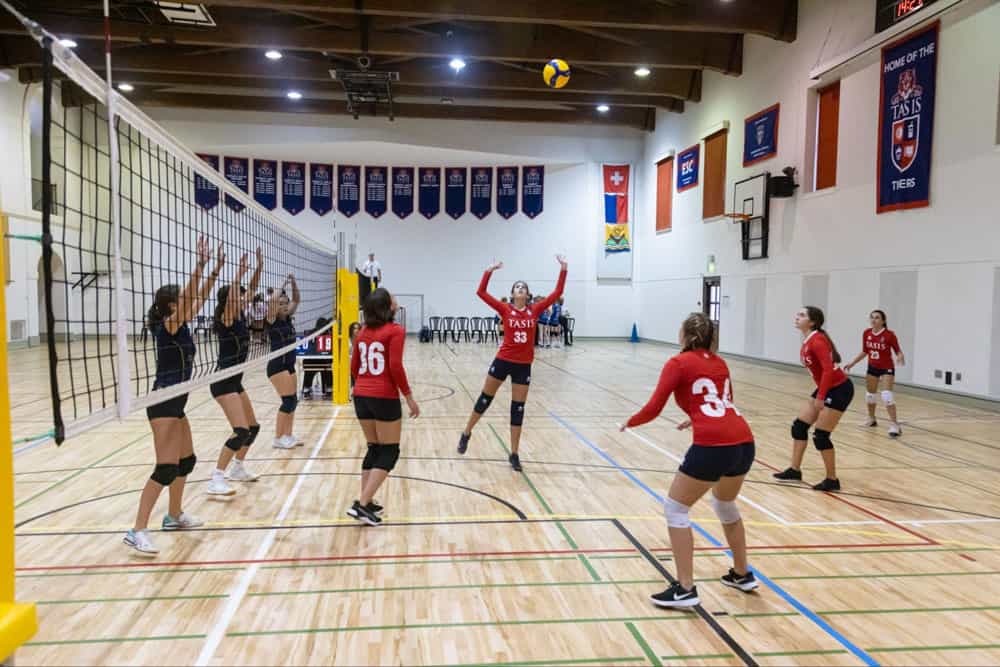 Champions of the Palestra
The JV Girls Volleyball team hosted our first home athletics competition of the fall season in the Palestra on September 18—and went on to win the tournament!
---
An Unscheduled Campus Tour
Oh, deer! We weren't expecting a buck to make an evening visit to campus earlier this month.
---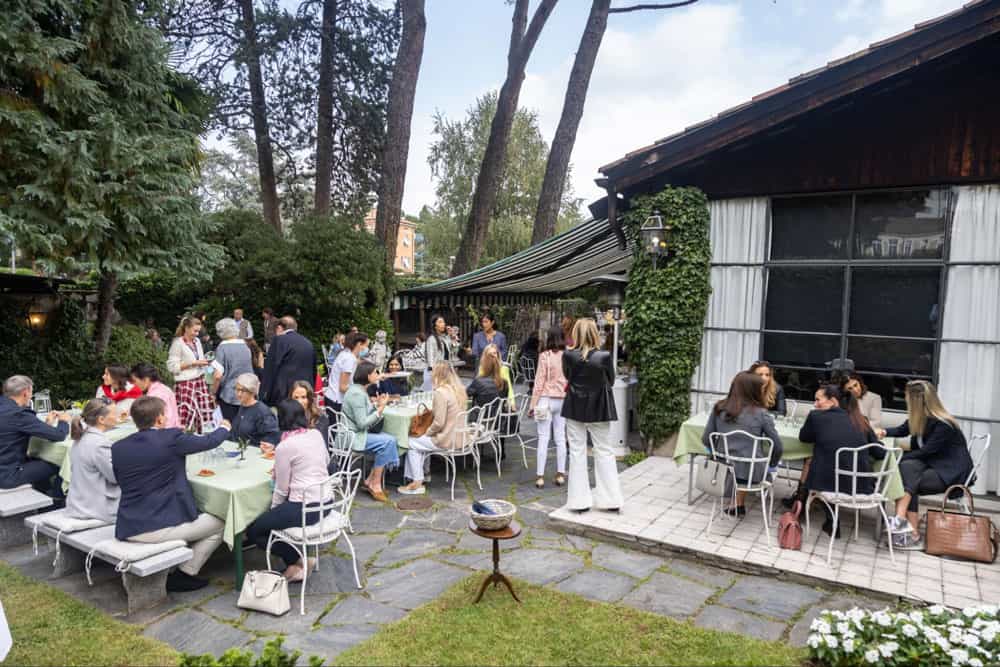 A Welcoming Community
TASIS parents were delighted to gather with Chairman of the Board Lynn Aeschliman, Headmaster Chris Nikoloff, and Director of Institutional Advancement Bill Eichner for the annual TASIS Parent Association (TPA) Welcome Luncheon in the Casa Fleming garden on September 23.
---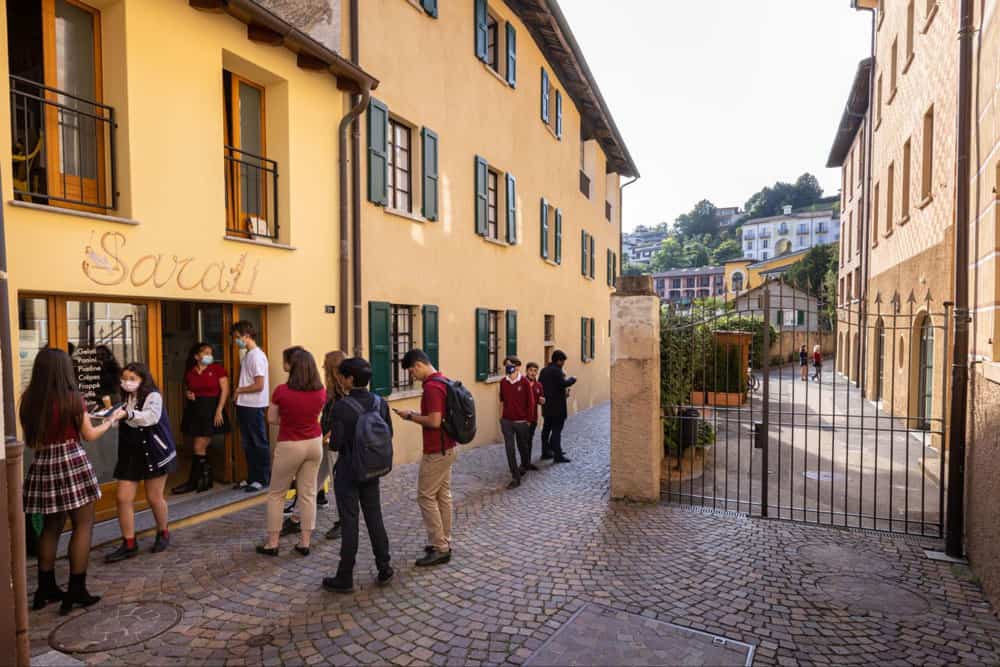 Gelato on Demand
Students grabbed some afternoon snacks from a favorite neighborhood spot after school on September 23.
---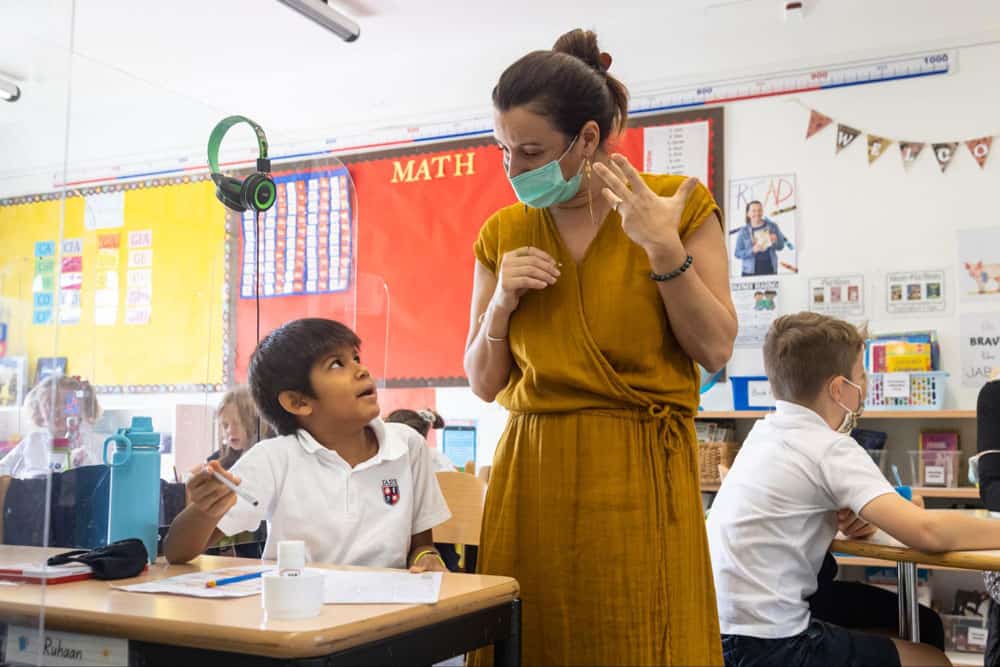 Phonics Fun
Ms. Milena Sindona's third-grade Italian class worked through a phonics lesson on September 24.
---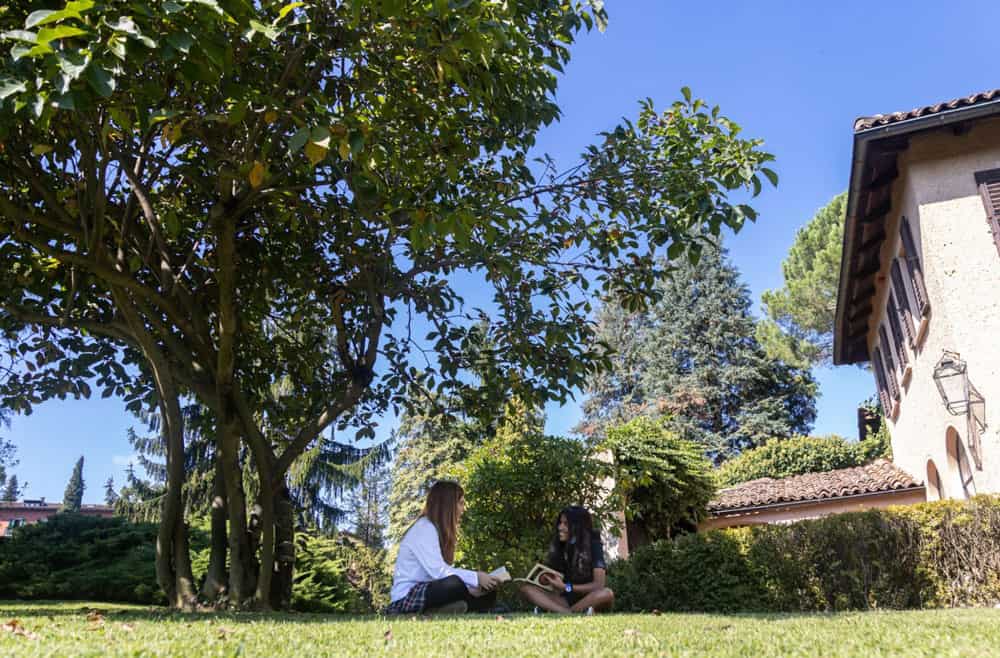 Outdoor Readers
Sunny weather on September 24 made for an enjoyable reading period for students in grades 6–8.
---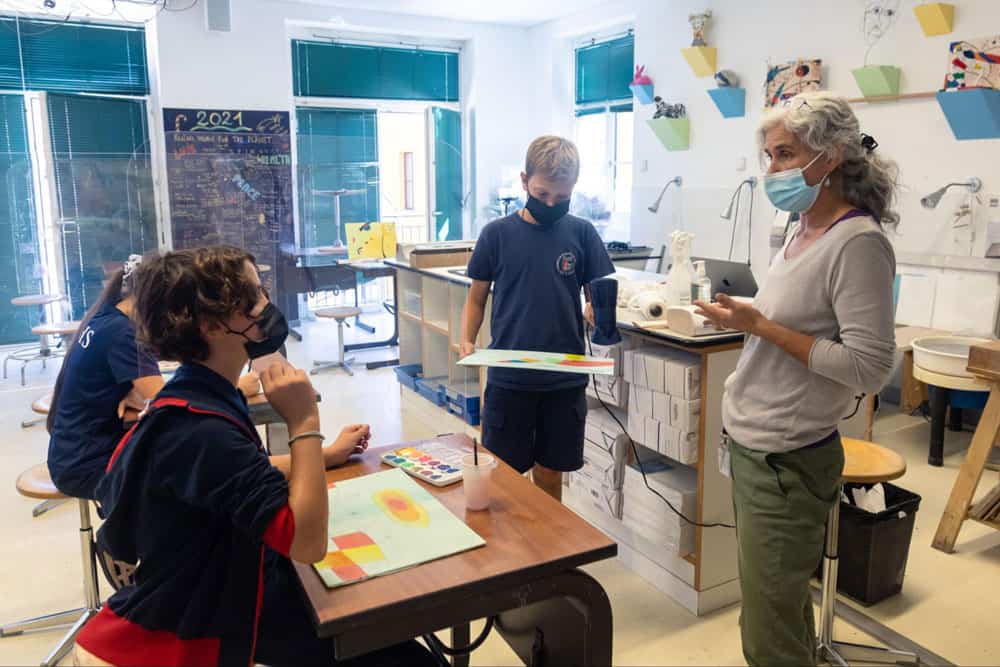 Mirroring Miró
On September 24, 7th-grade students in Ms. Simona Bellini's Arte Italiana class continued to work on their paintings that imitated the unique artistic style of Joan Miró, an accomplished 20th-century Spanish painter.
---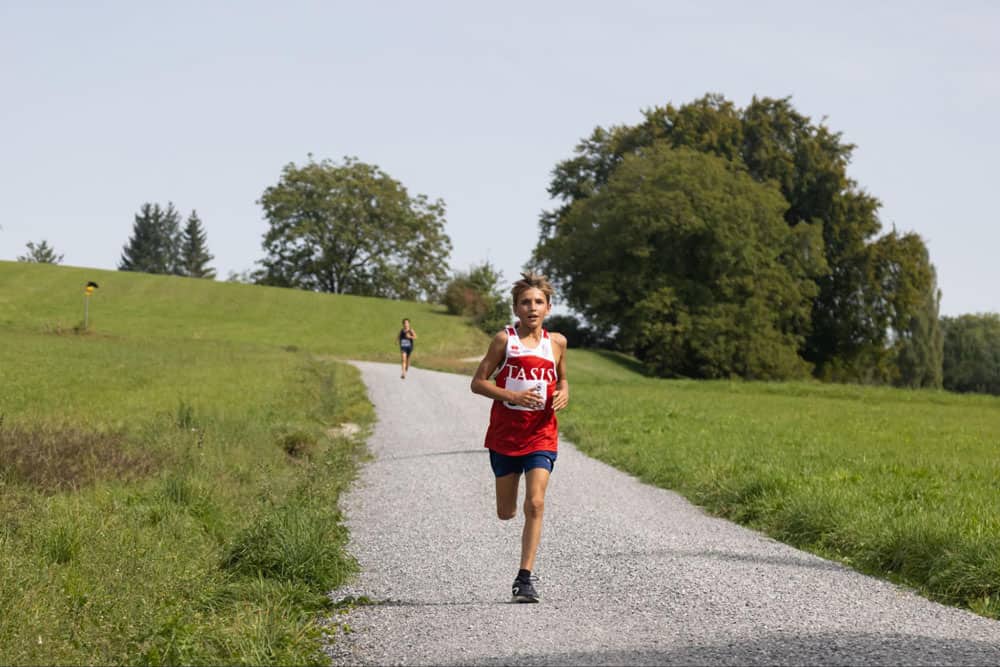 TASIS Speedsters
The Middle School Boys Cross Country team ran away from the competition at a Swiss Group of International Schools (SGIS) meet hosted by Inter-Community School Zurich on September 25. The top three Tiger runners placed first, third, and fourth overall to earn the team championship trophy.
---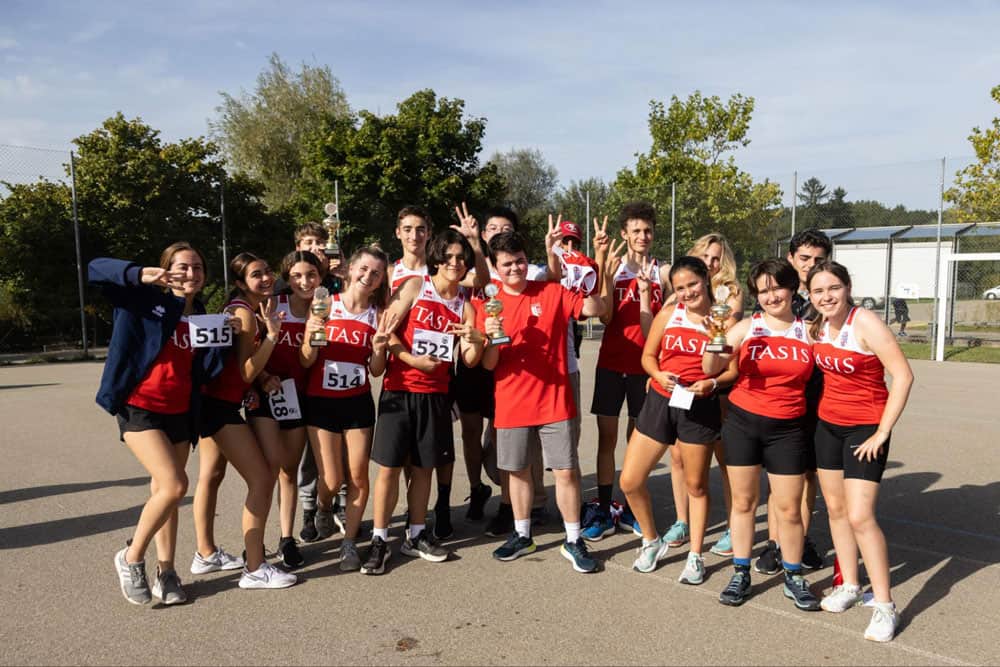 Bringing Home the Hardware
The High School Cross Country team also found success at the SGIS meet, earning trophies in every category of competition the team raced.
---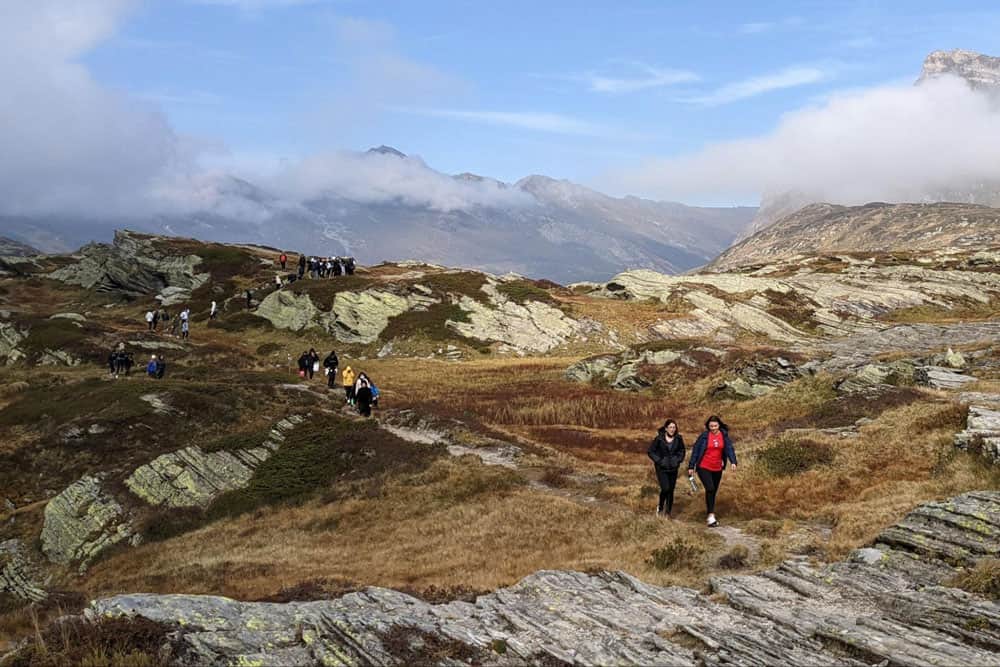 Building Dorm Spirit
Students in the De Nobili and Monticello dorms spent the weekend of September 25 hiking and staying in alpine huts. Girls from the Monticello dorm hiked and stayed near San Bernardino Pass while boys from the De Nobili dorm explored the Lago Ritom area.
---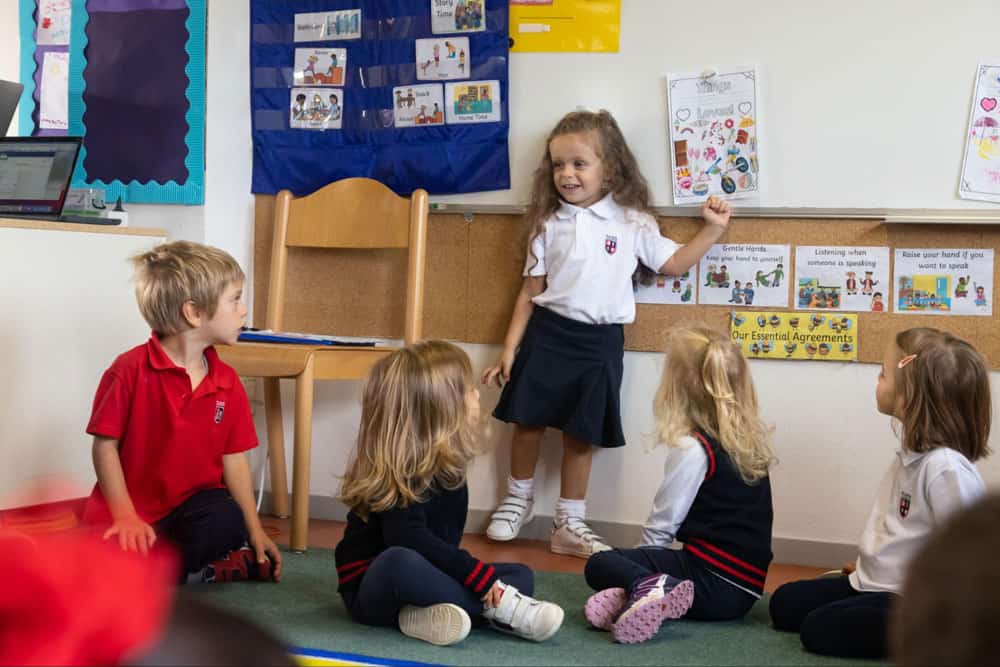 Show and Tell
Pre-Kindergarten students began their day on September 27 by sharing some of their favorite things with the class. Some favorites included butterflies, chocolate, and playing the drums.
---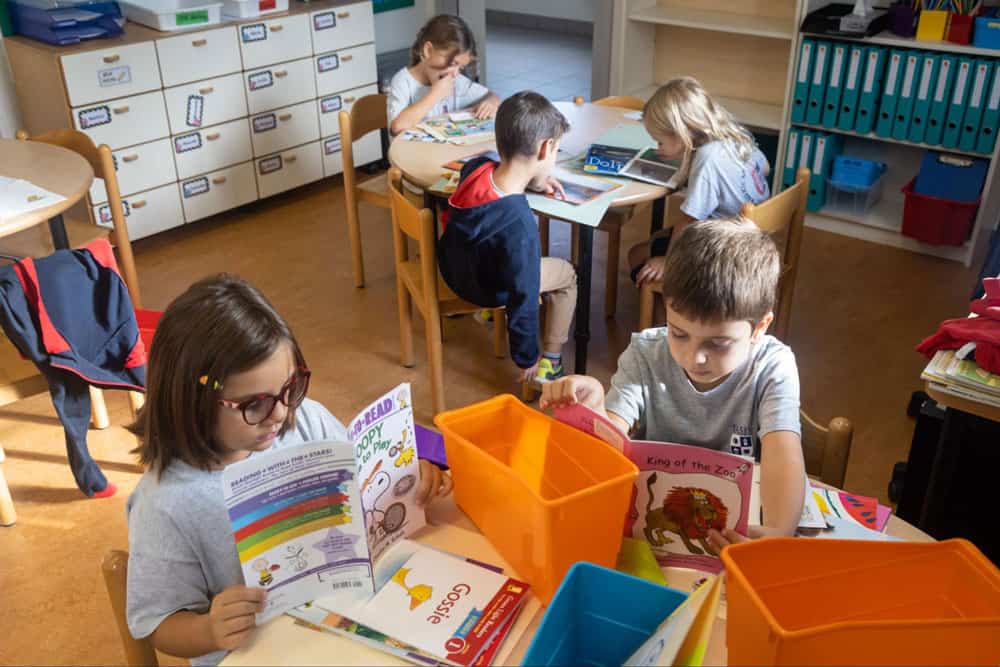 Bookworms
First-grade students have set a goal of reading as many books as possible by the end of the year. On the morning of September 27, students in Ms. Natasha Koltypin's class selected a stack of books and got to work.
---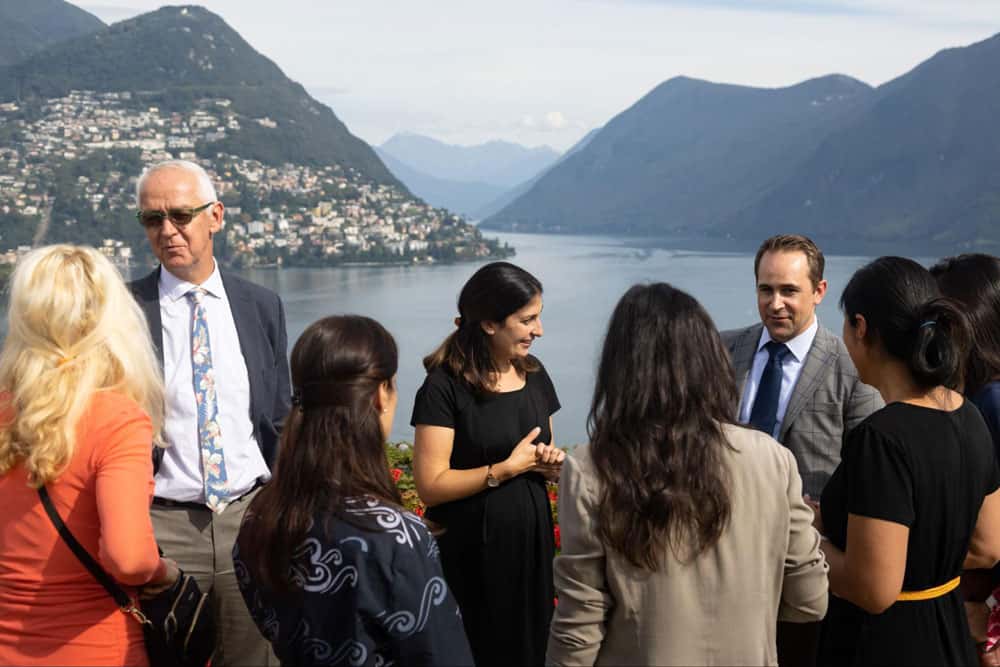 The Road to College
TASIS parents joined our excellent College Counseling team for lunch and a panel discussion about "The Road to College" on the beautiful outdoor terrace at Villa Principe Leopoldo on September 28. The featured guests shared information about the college counseling support offered at TASIS and answered questions about admissions testing, college admissions processes around the world, and other topics of interest.