From the Spring Arts Festival, Academic Travel trips, and faculty celebrations to final exams, awards ceremonies, and Graduation Week events, we offer a photo-driven look at the past month at TASIS.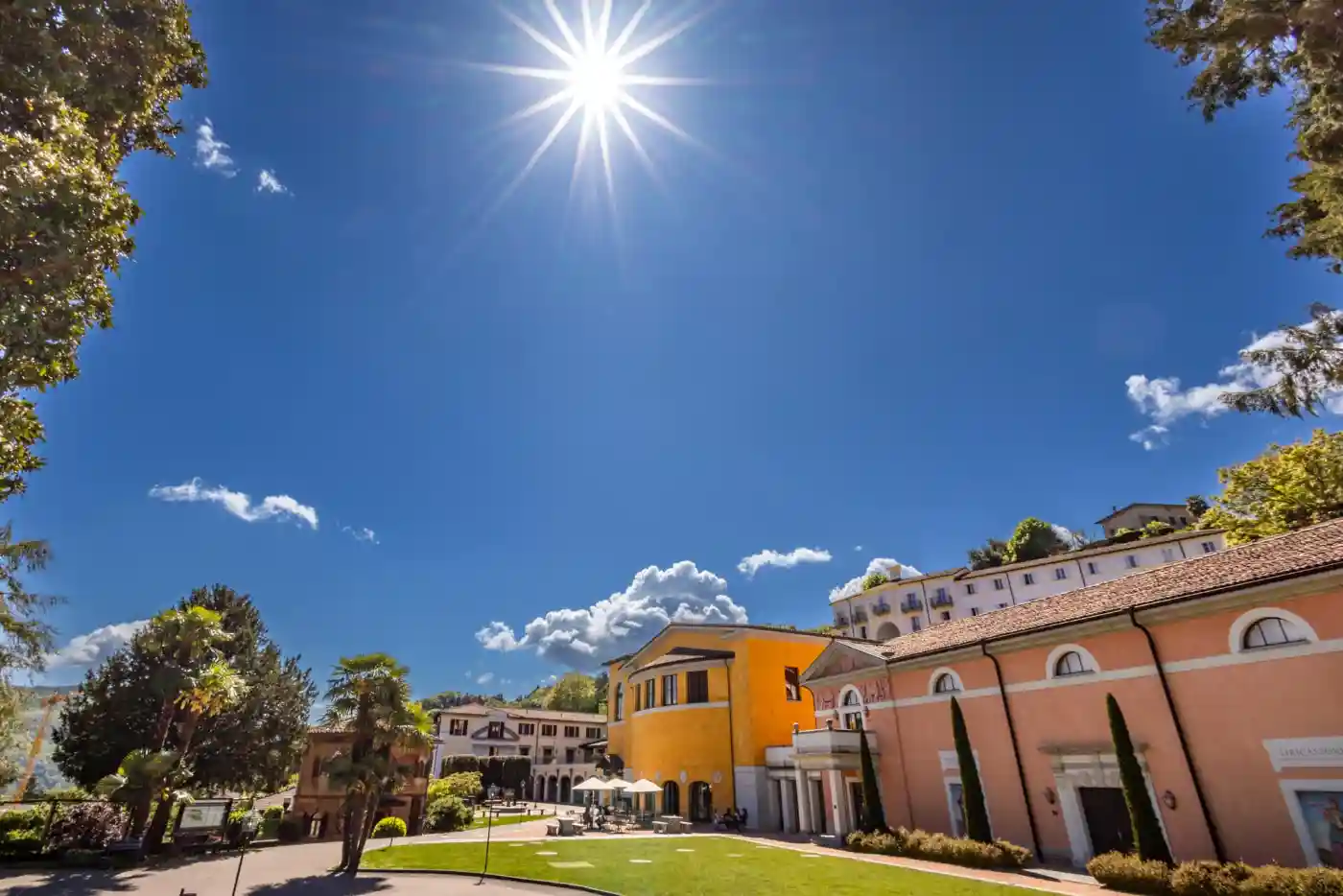 "Like a Security Blanket"
How do you start a school? For Mrs. Fleming, the recipe is simple: "Find a beautiful property, both house and surroundings, for young people need and deserve to be surrounded with beauty. It's like a security blanket that will always remain with them, no matter what the rest of life may bring. Fill this setting with young people from all over the world, because the world has become so very small. Fill all their waking hours with commitment to study, sports, the arts, and responsibility to others. Instruct—stretch them in all areas. They don't know the amazing potential they have! Place in this "house" very special human beings as teachers, friends, counselors, and role models, people who have a sense of the excitement of life and learning – of the huge challenge this world presents, and above all, great faith in their young charges. Sprinkle and cover the whole wonderful concoction, basting frequently with generous portions of TLC – tender loving care! Believe me, it's a foolproof recipe!" (From an interview with John Amis in 1990)
TPA Thanks Teachers
To show their appreciation for TASIS's hardworking faculty, the tireless members of the TASIS Parent Association (TPA) organized a celebratory dinner in the Casa Fleming Garden on May 3.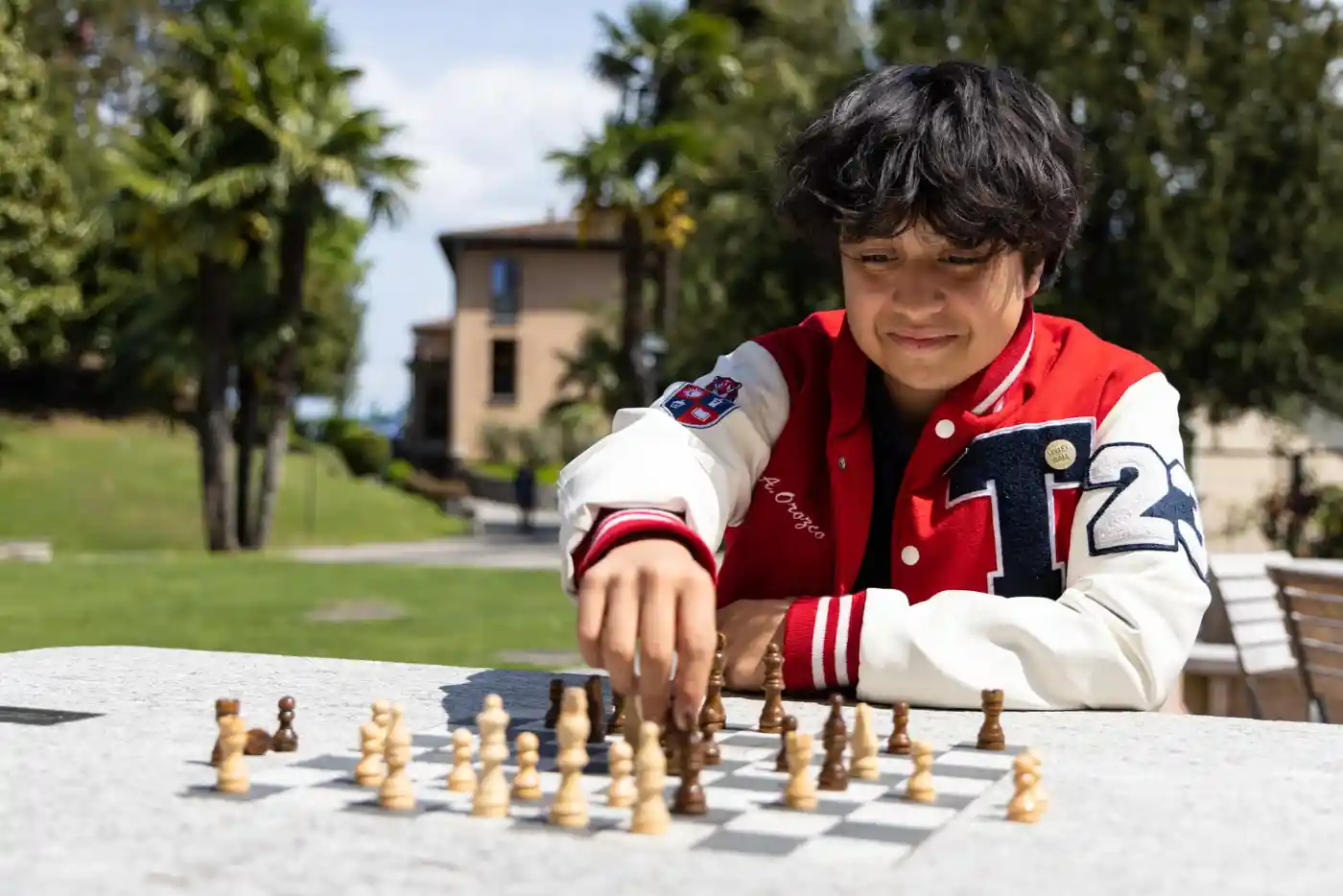 Checkmate
To this day, students still use the outdoor chess board gifted to the School by the TASIS Classes of 2013 and 2014.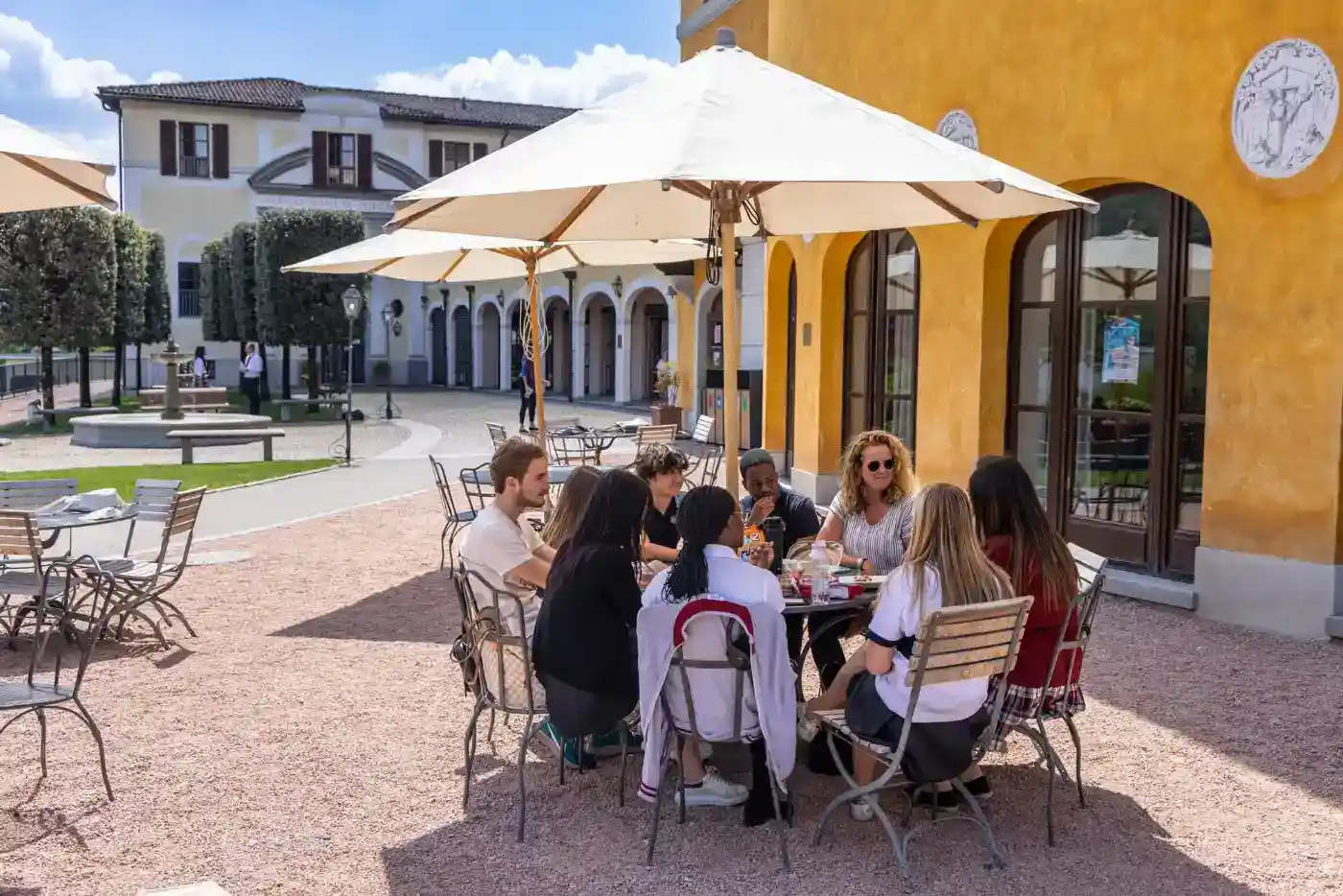 Celebrating Two Years Together
After two days of intense testing, grade 12 students in Ms. Carolyn Rosenberger's IB English A Literature 2 course met outside the Lounge on May 4 to debrief from their exam and celebrate two years of intensive study together.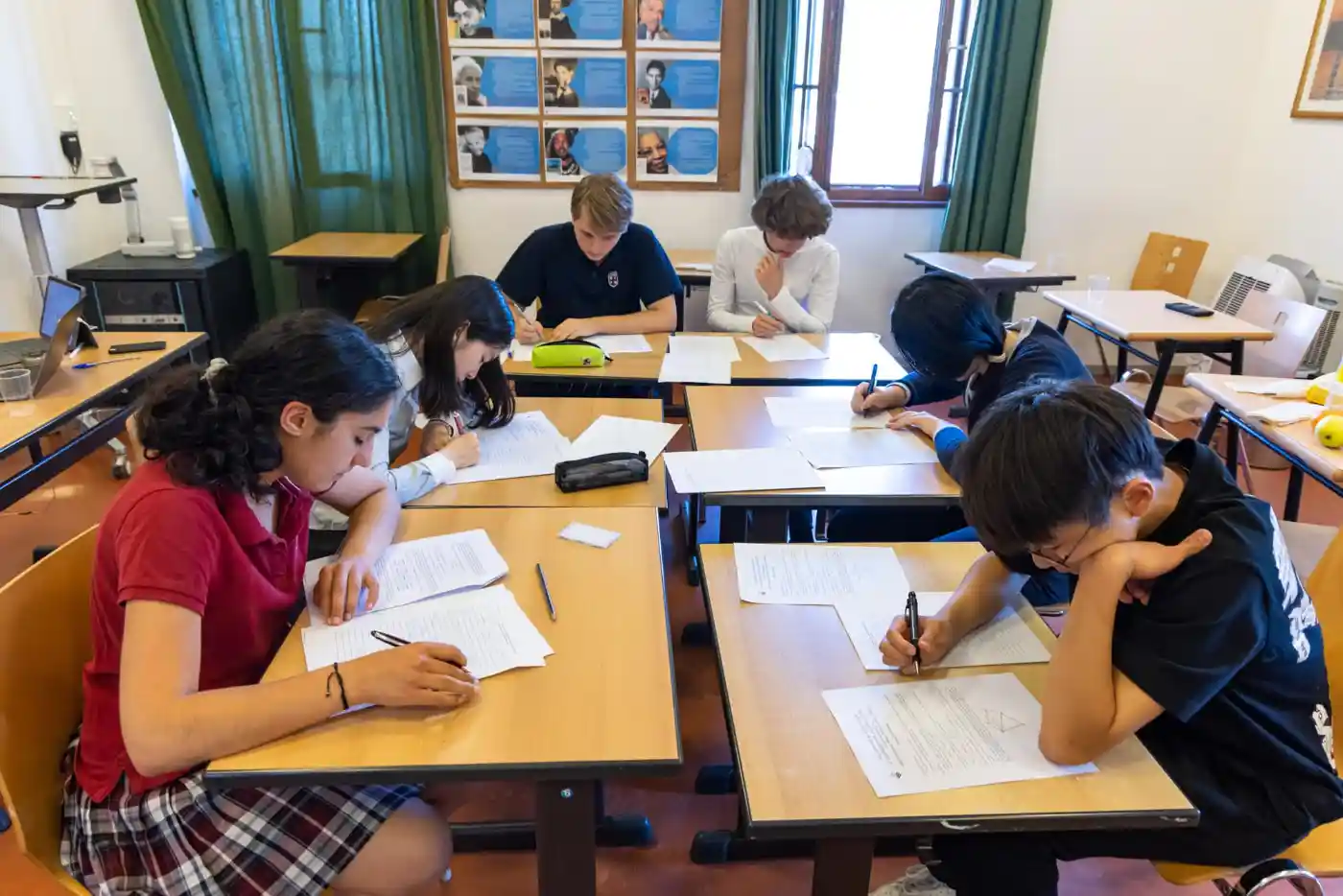 Mathletes
Members of the High School Math Team worked together on May 4 to complete the 2023 Canadian Team Mathematics Contest.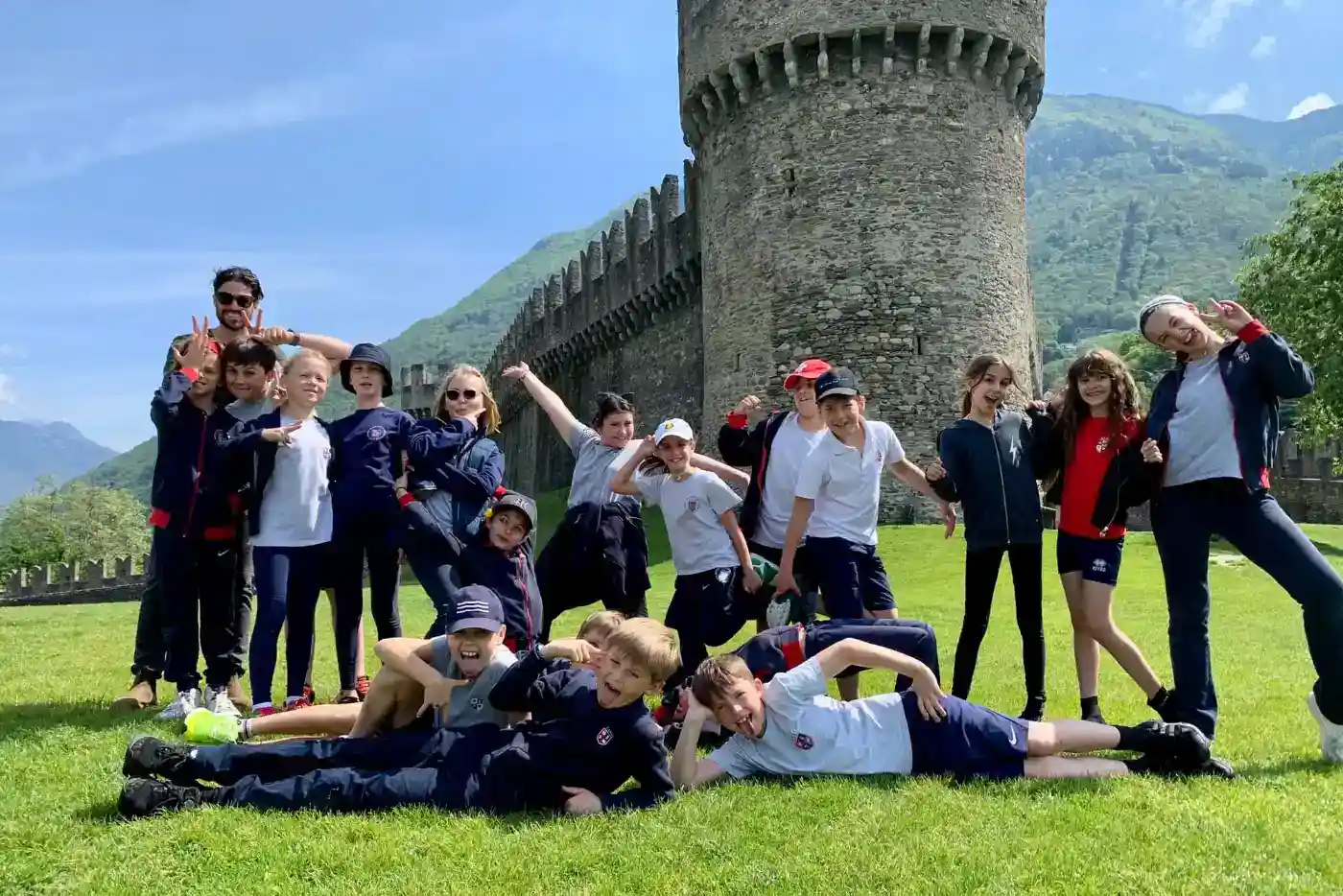 Experiencing Ticino
On May 5, our Elementary School students spent a wonderful day off campus. They were able to explore a number of exciting destinations around Ticino, including the Brissago Islands, the Bellinzona castles, Parco San Grato, Cardada, Swiss Miniature, and fossil and natural history museums.
Test Prep
In a month full of exams, a pair of grade 12 students found a quiet place outdoors to study for their mathematics final.
Sparking an Interest in Science
Dr. Prash Sinnathamby's grade 8 students ventured outside for a series of lab experiments on May 5.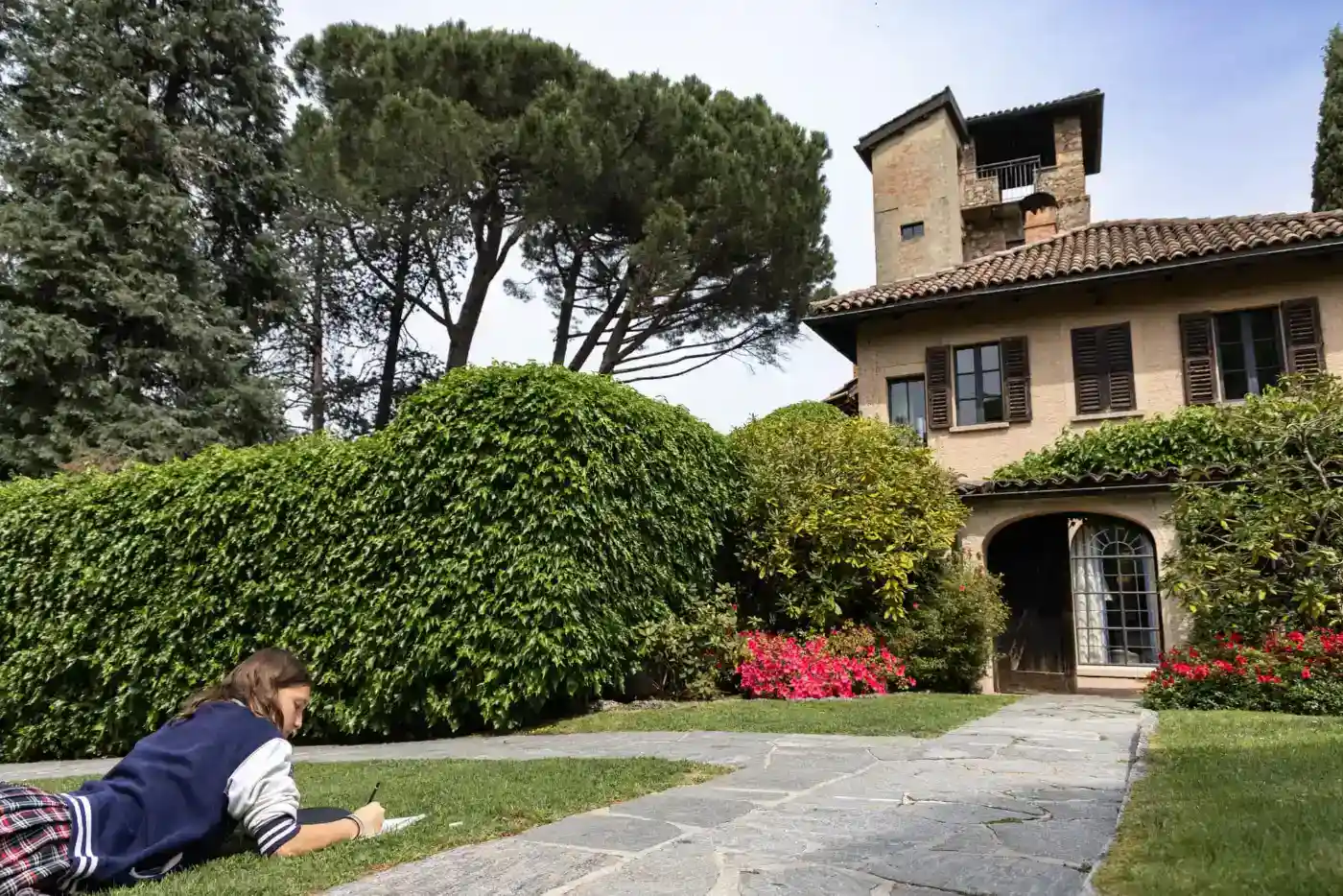 Drawing Inspiration from Campus
On May 5, Ms. Simona Bellini's grade 7 Arte Italiana students found inspiration for their sketches in Casa Fleming's 16th-century facade.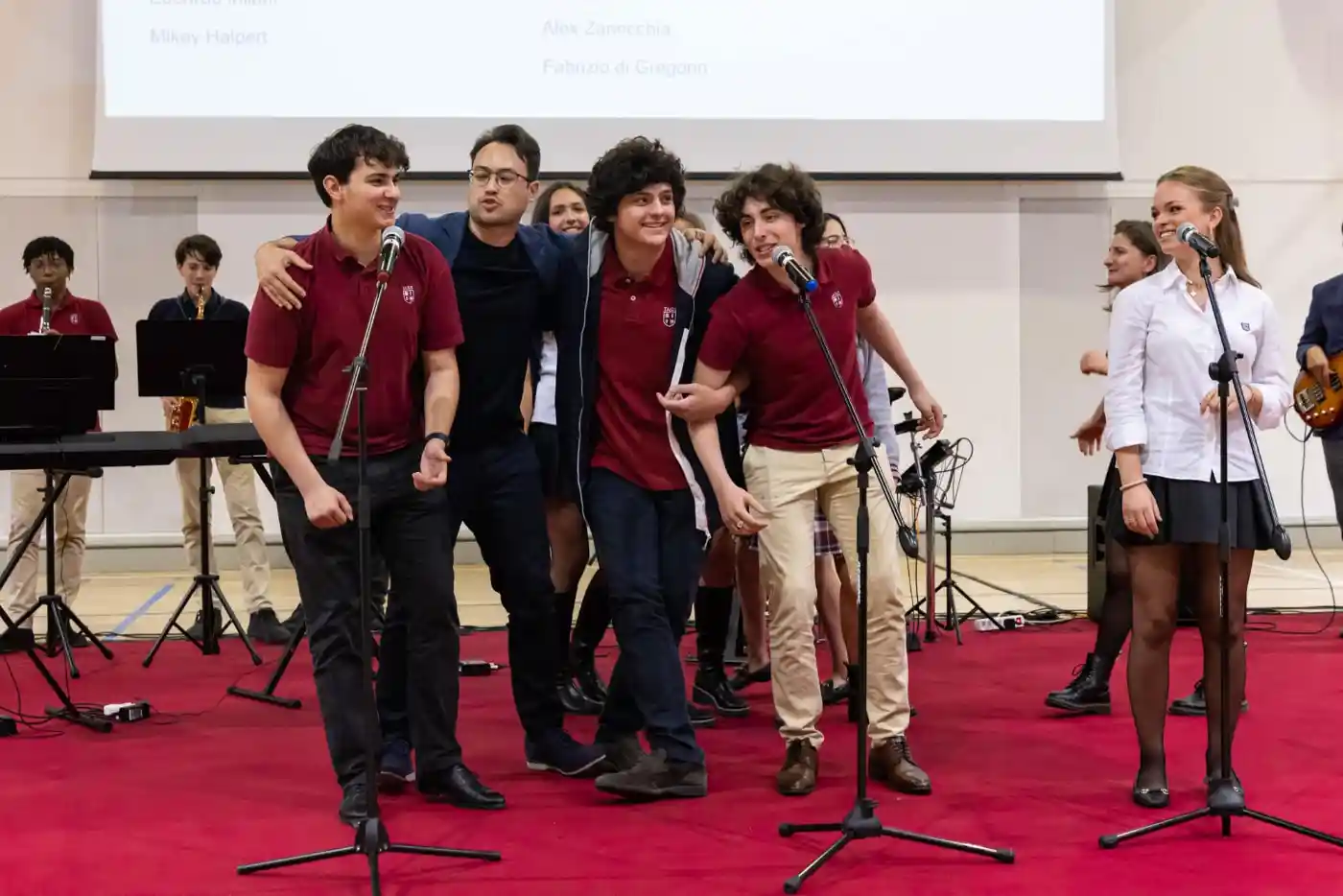 Arts Festival Teaser
During the High School assembly on May 8, students provided a preview of some of the content that would be included in the 2023 Spring Arts Festival later in the month.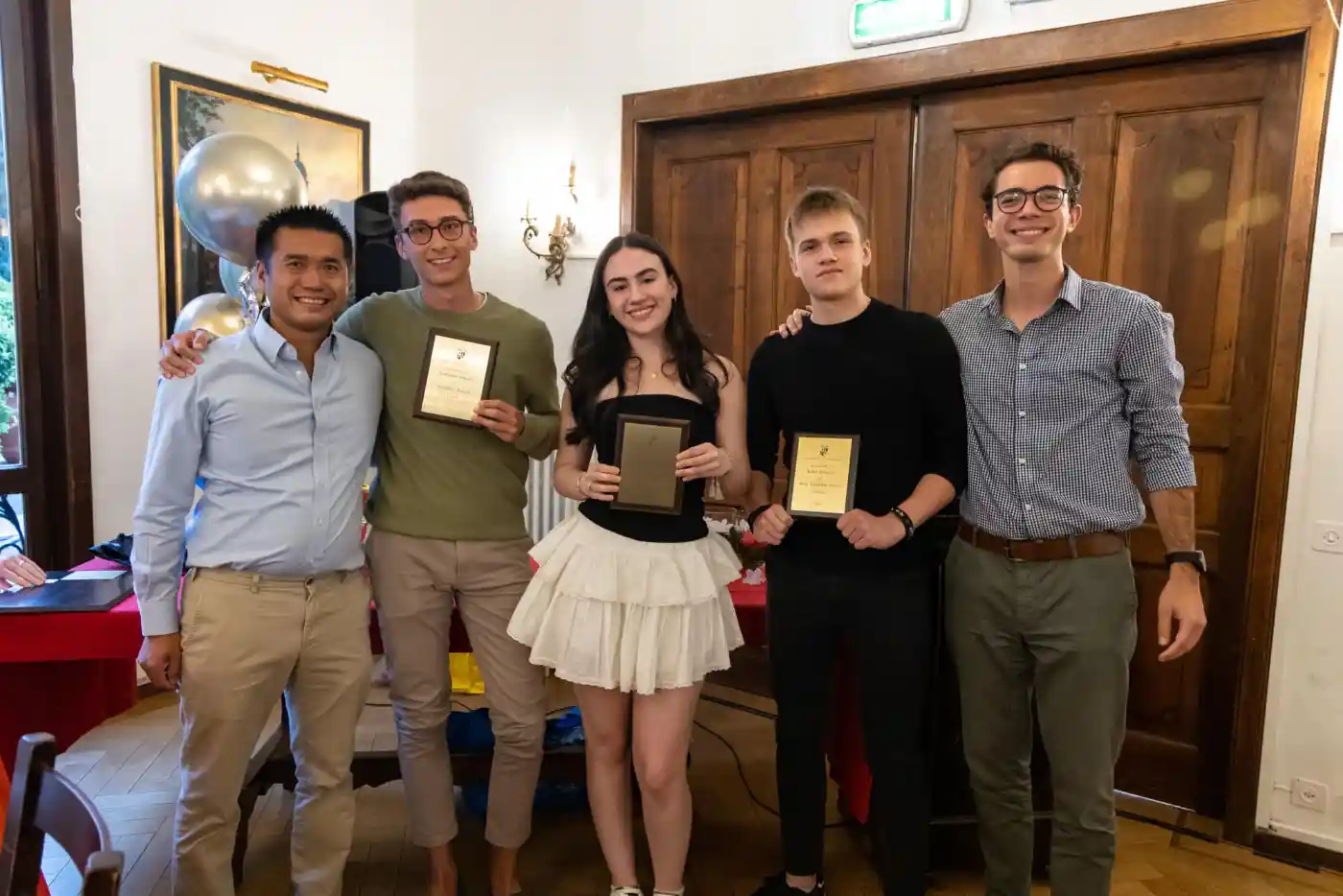 A Season to Celebrate
High School athletes and coaches gathered in Villa De Nobili on May 10 to hand out team awards and celebrate another successful spring sports season.
A few days later, Athletic Director Masa Yo hosted a Spring Athletic Awards assembly to announce the 2022–2023 Athletes of the Year and the award recipients for the Varsity Golf, Tennis, and Track and Field teams.
The Princess and the Pea
Middle School thespians kicked off the 2023 Spring Arts Festival with the premiere of the musical, Once Upon a Mattress, in the Palmer Cultural Center on May 11.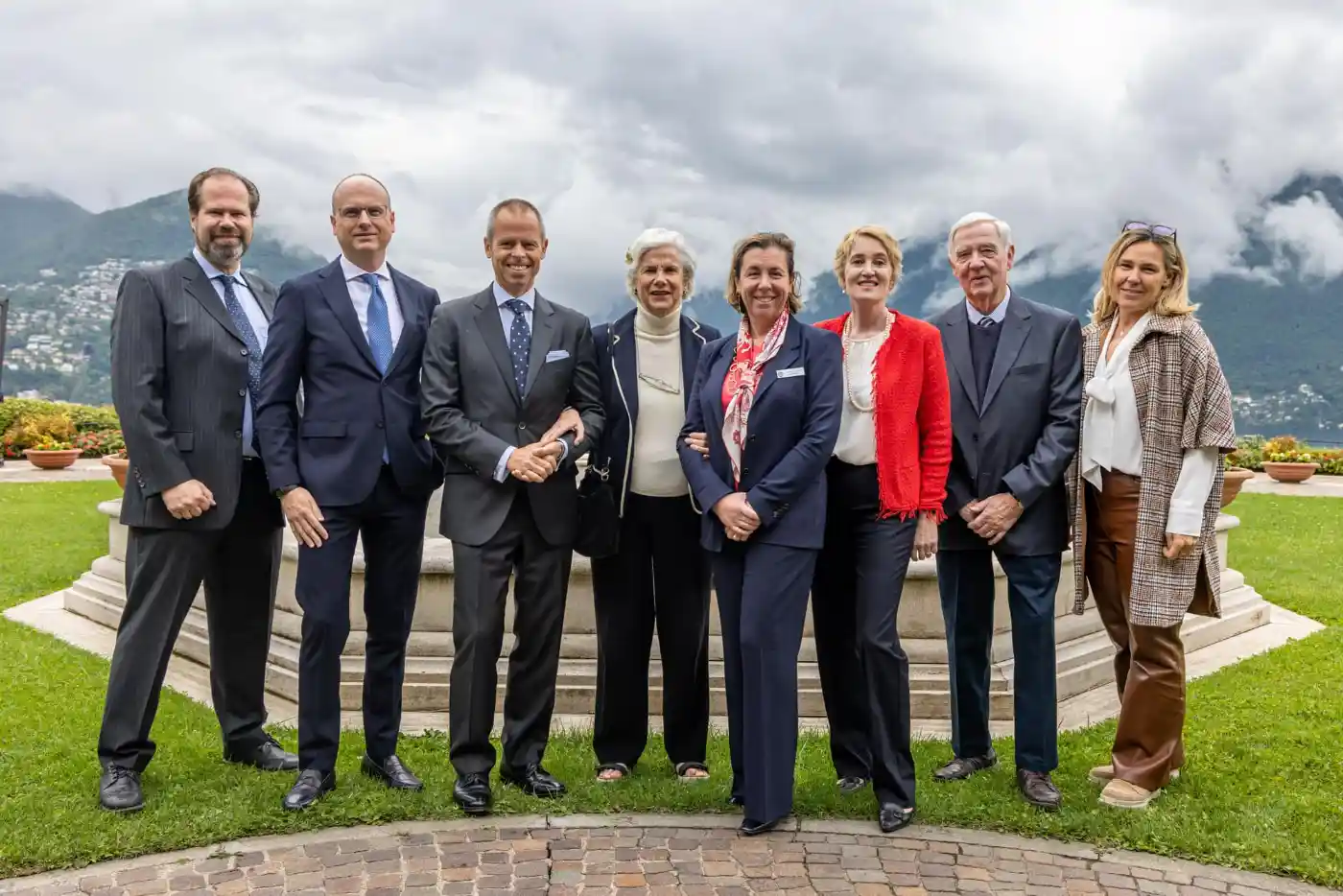 Devoted Trustees
Our dedicated Board of Directors gathered for a productive slate of meetings on May 12–14.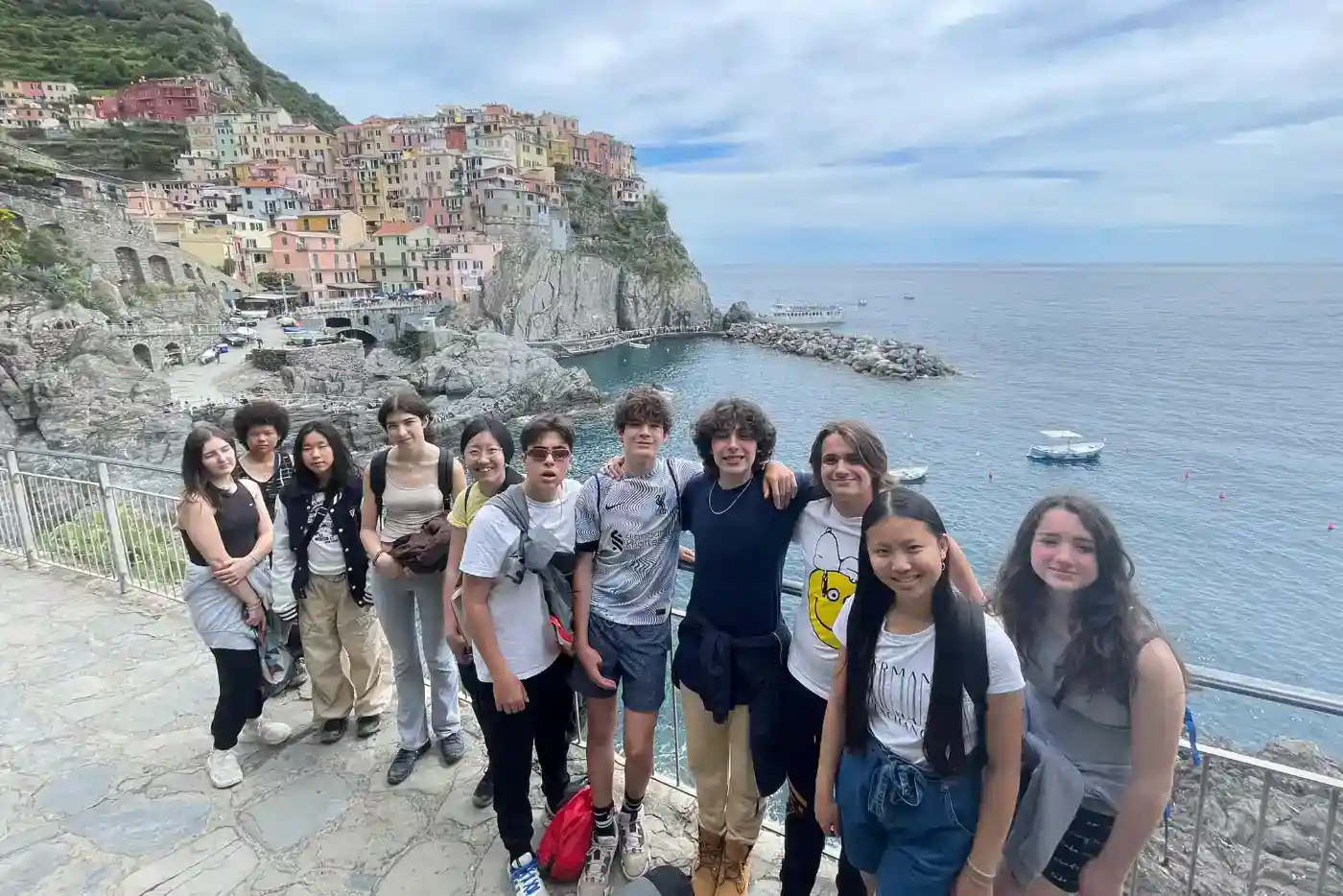 Three Trips to Italy
More than 90 High School students and faculty chaperones spent May 11–15 on one of three exciting Academic Travel trips in Italy. Students had the opportunity to travel to beautiful Sardinia to learn to sail, to Tuscany to walk the ancient Camino Trail, and to Cinque Terre to hike the Ligurian coast and camp under the stars.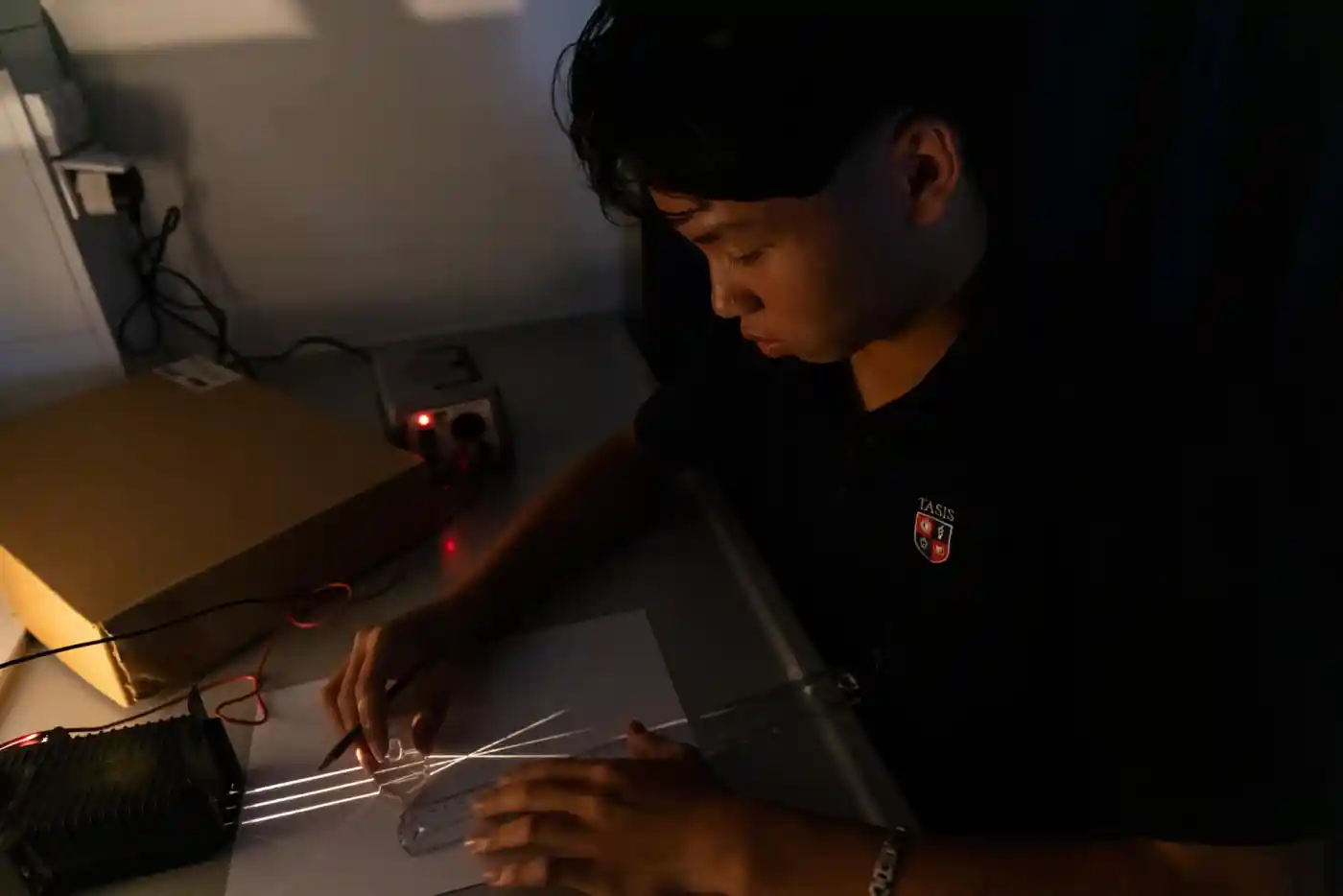 Lightbulb Moments
Middle School students studied the effects lenses have on light during Grade 8 Science class on May 16.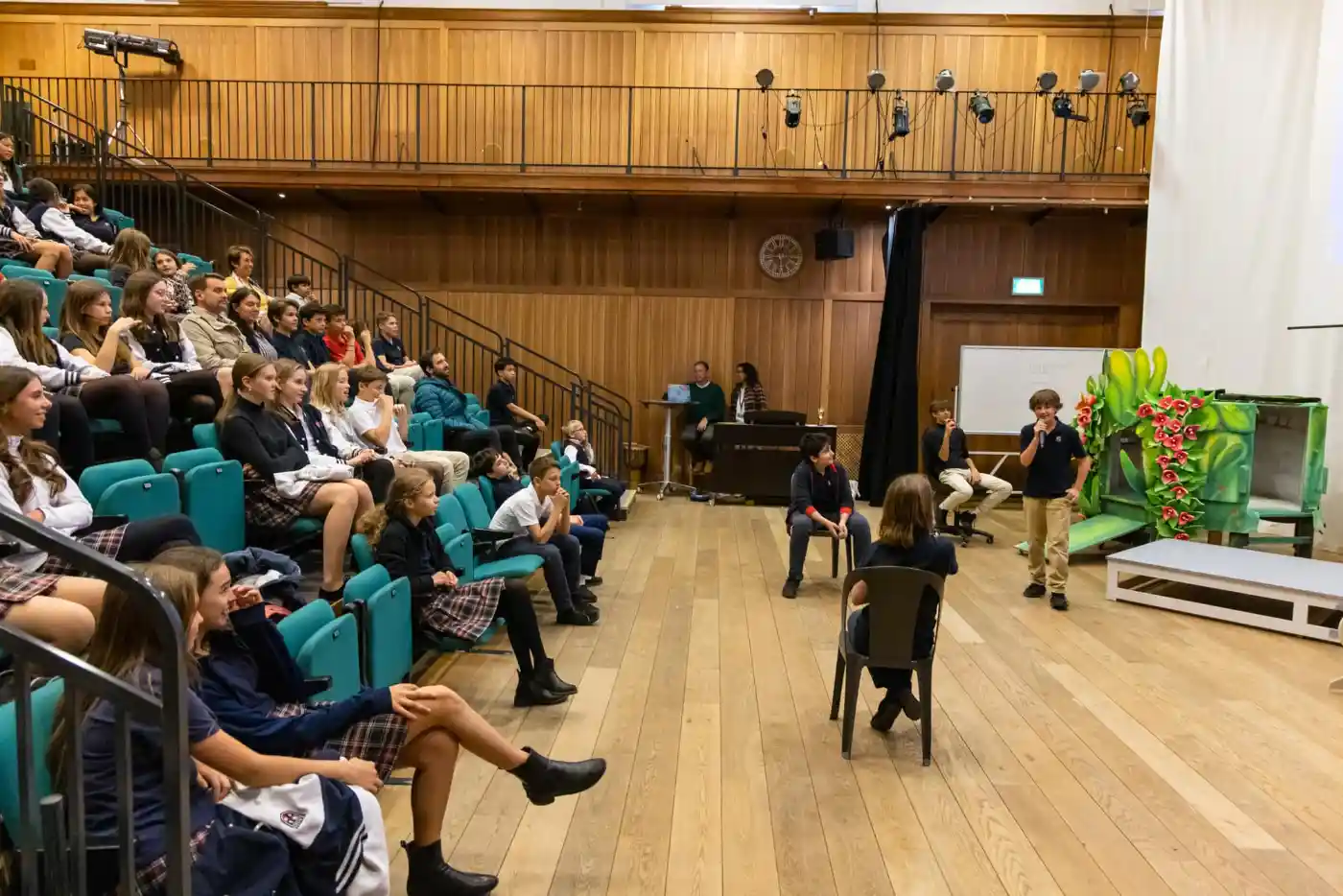 Palmer Quiz Show
To educate their peers about poverty around the world, the Middle School Poverty Awareness Service Learning group hosted a Jeopardy! contest in the Palmer Center on May 16.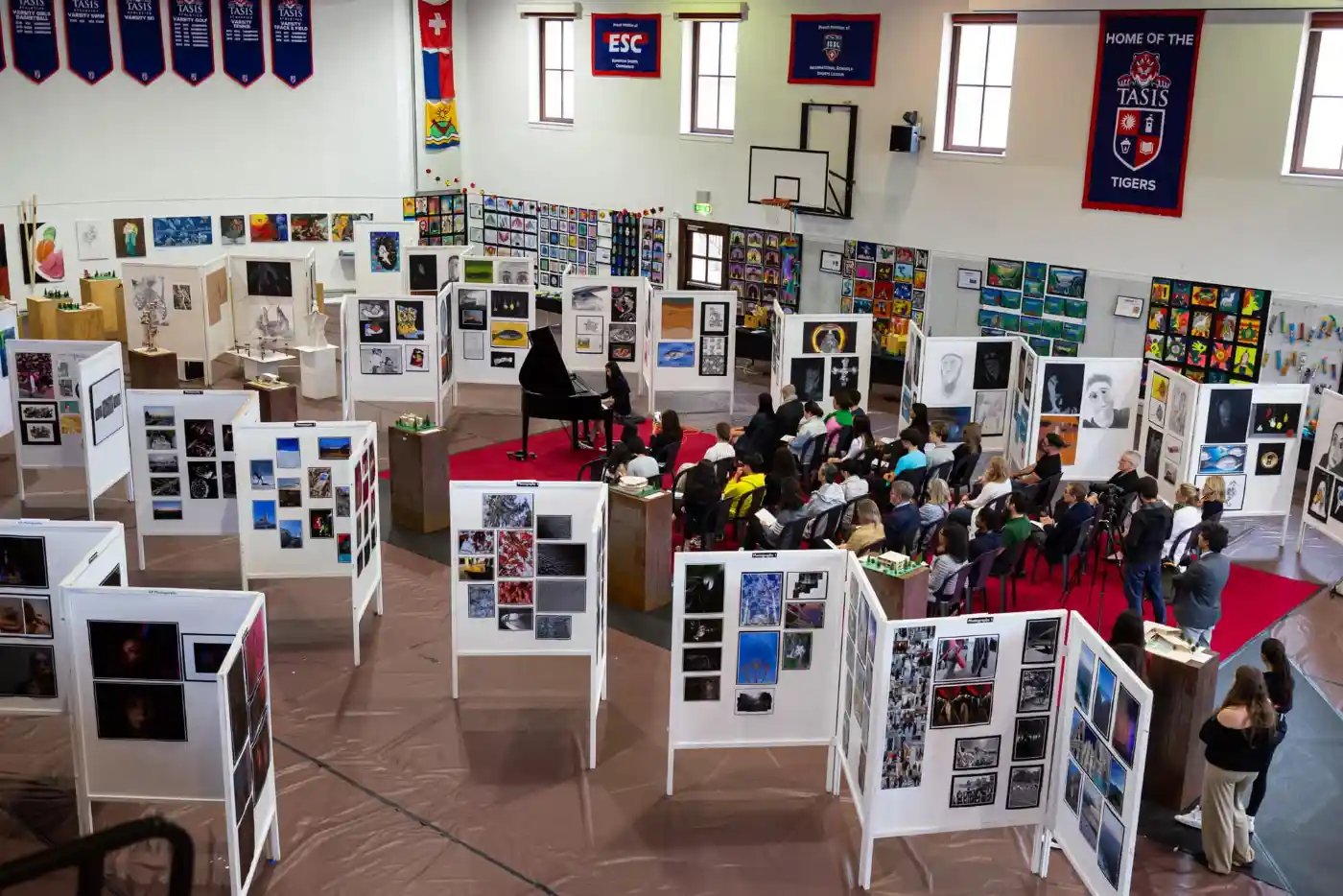 Immersed in Music and Art
With the impressive Visual Arts Exhibition serving as a backdrop, a selection of High School students from the piano studio of Ms. Angela Perini performed beautifully in the Palestra on the evening of May 17.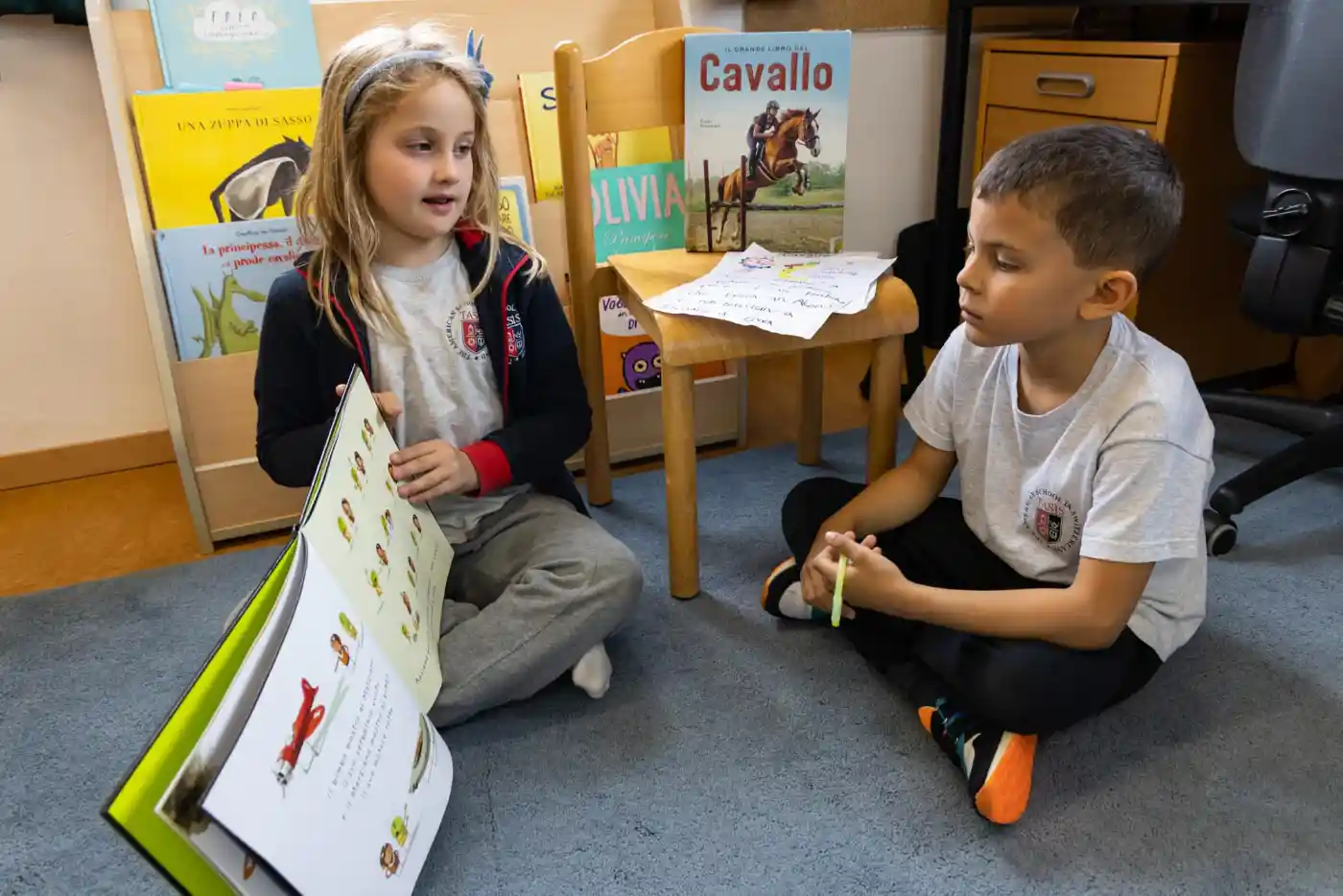 Book Recommendations
Showcasing their dual-language education, 1st-grade students wrote reviews of their favorite Italian book (in Italian) and English book (in English). On May 19, they shared their recommendations with Kindergarten students, convincing many to read new books.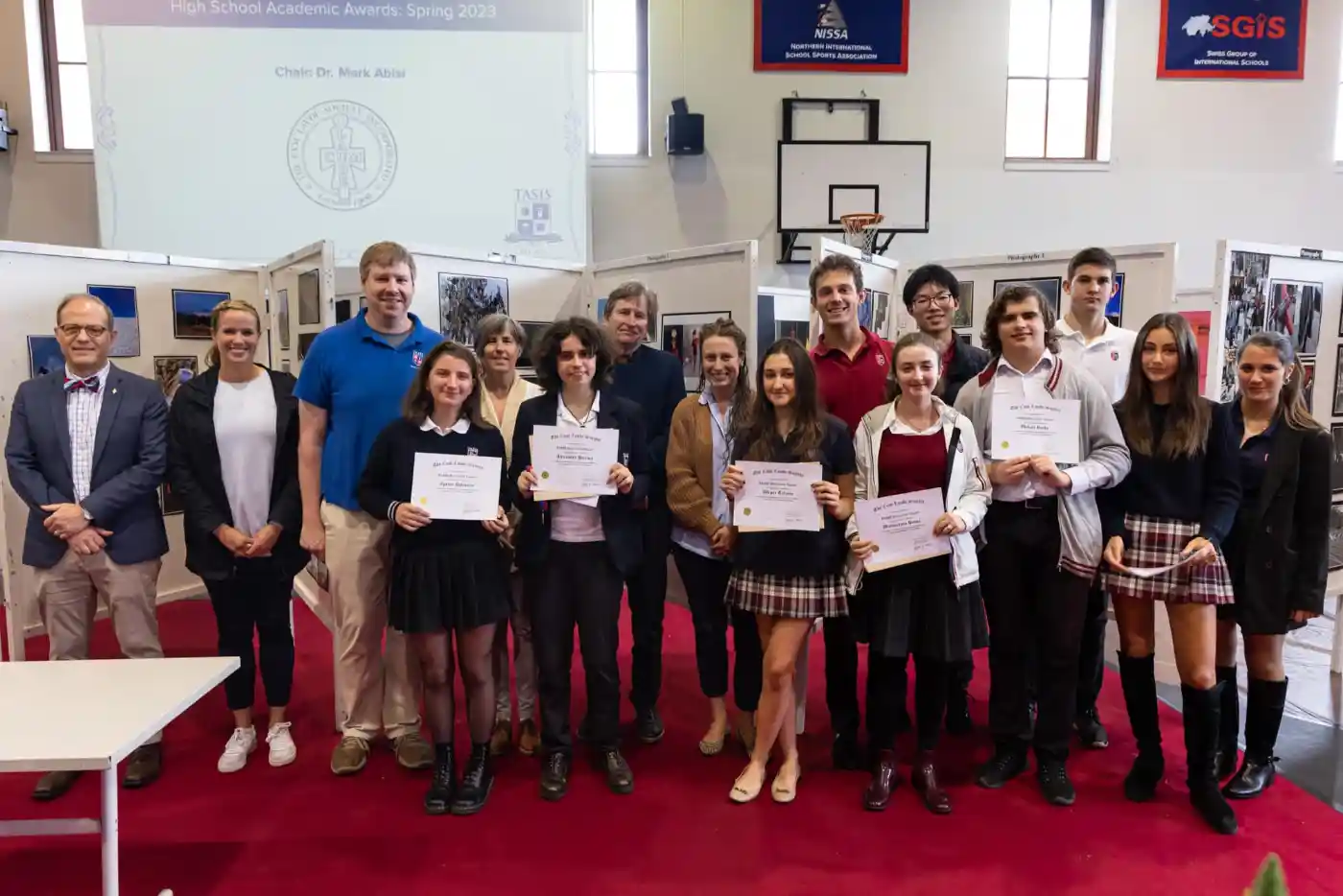 Laudable Scholars
During the High School Academic Awards Assembly on May 19, Head of High School Academics Dr. Mark Abisi announced that six members of the Class of 2024—Giada Giuliani, Mariaurora Rosso, Agnese Salvatico, Alexandra Svirina, Allegra Talamo, and Oleksii Varha—have been inducted to the TASIS Cum Laude Society chapter.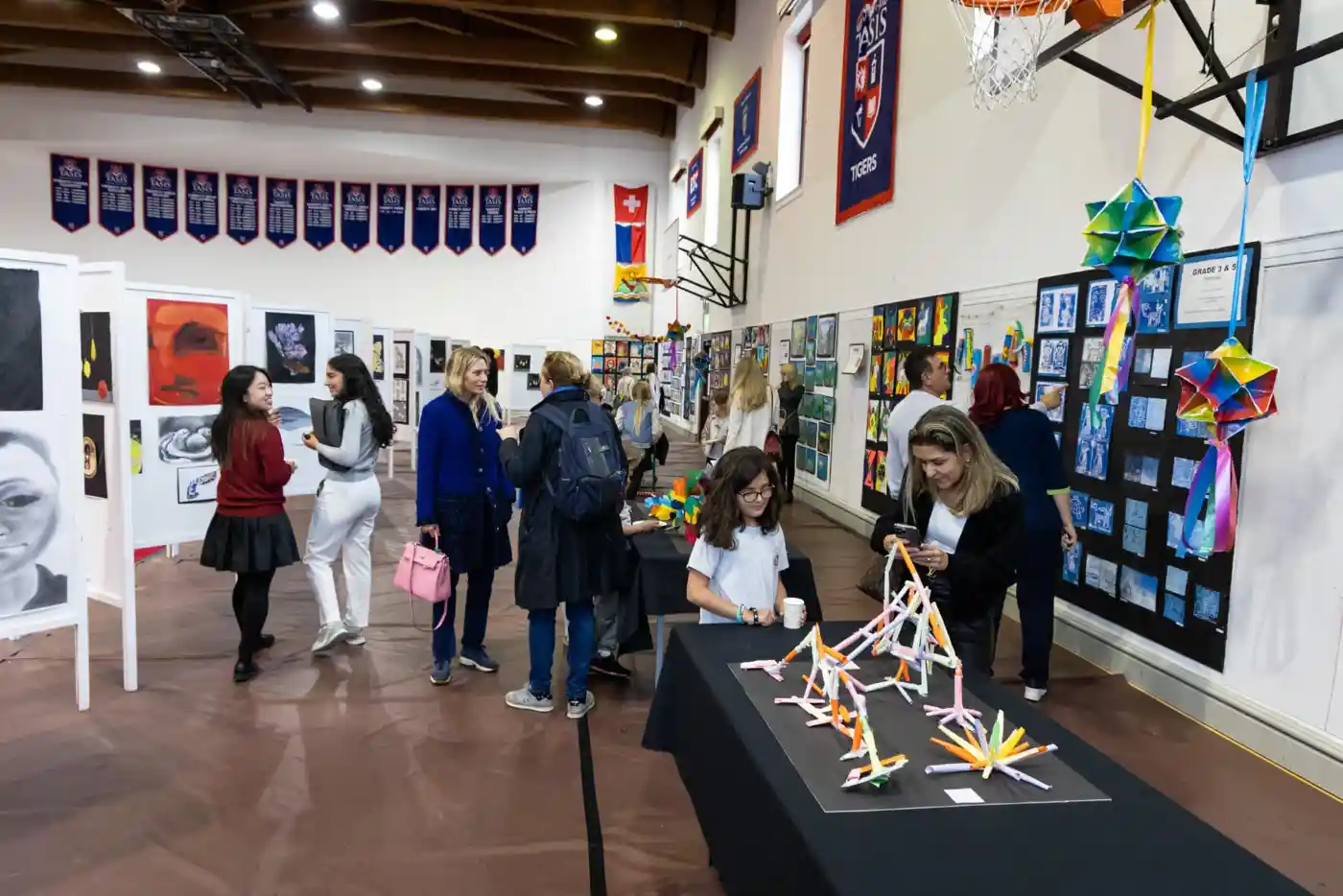 Talents on Display
On May 19, members of the TASIS community browsed artwork created by students from Pre-Kindergarten through grade 12 at the annual Spring Visual Arts Exhibition. Explore a 3D scan of the exhibit.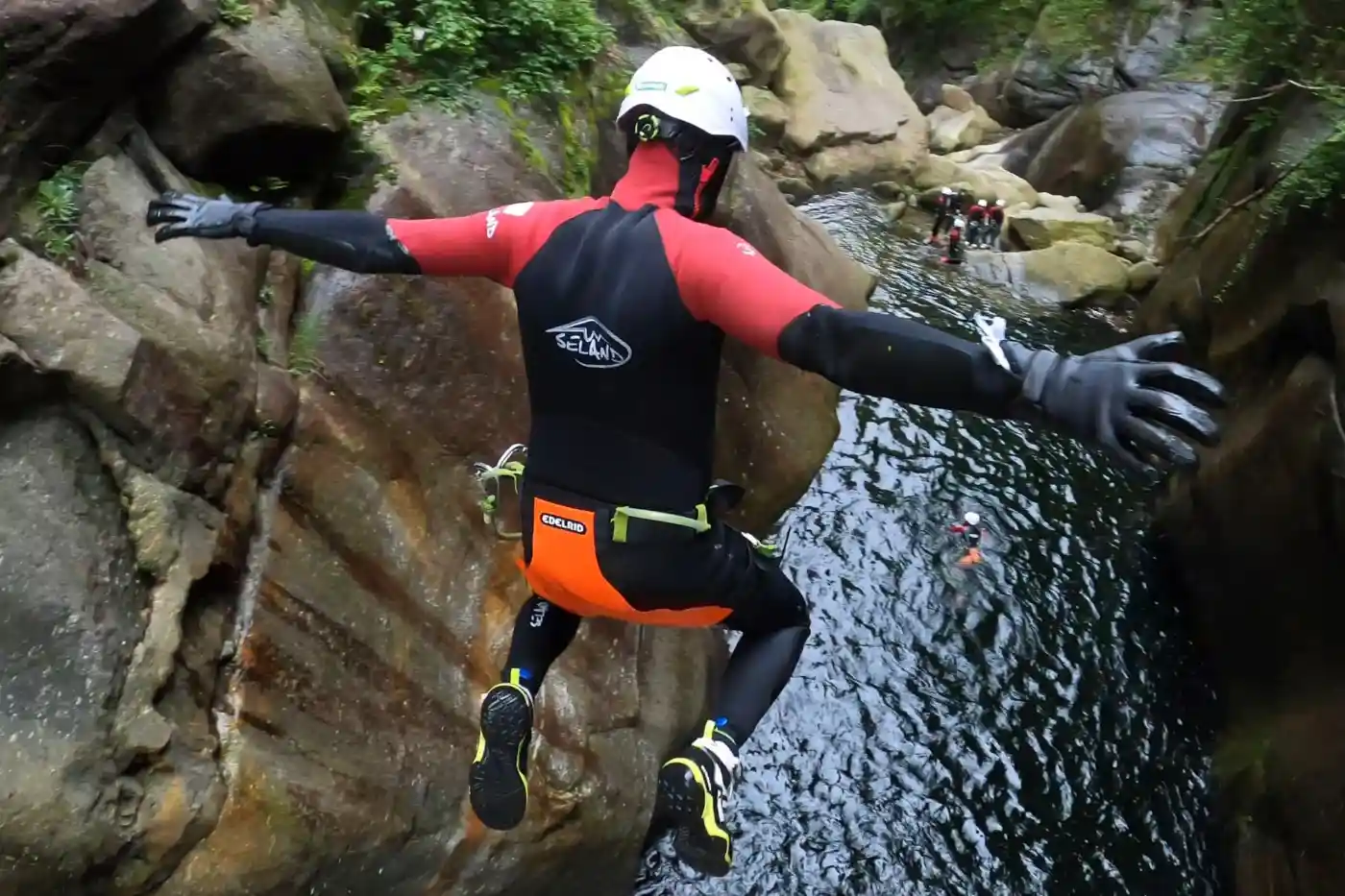 Swiss Adventure
Over the weekend of May 19, several of our High School students and faculty chaperones had a wonderful time exploring Switzerland through our first-rate Academic Travel Program. One group climbed, rappelled, jumped, and swam through three of the 220 available canyons in Ticino (a world-renowned destination for canyoning enthusiasts) while a second group enjoyed an advanced camping trip in gorgeous Kandersteg. In addition, four candidates for the Duke of Edinburgh's International Award successfully completed their Adventurous Journey in Lucomagno.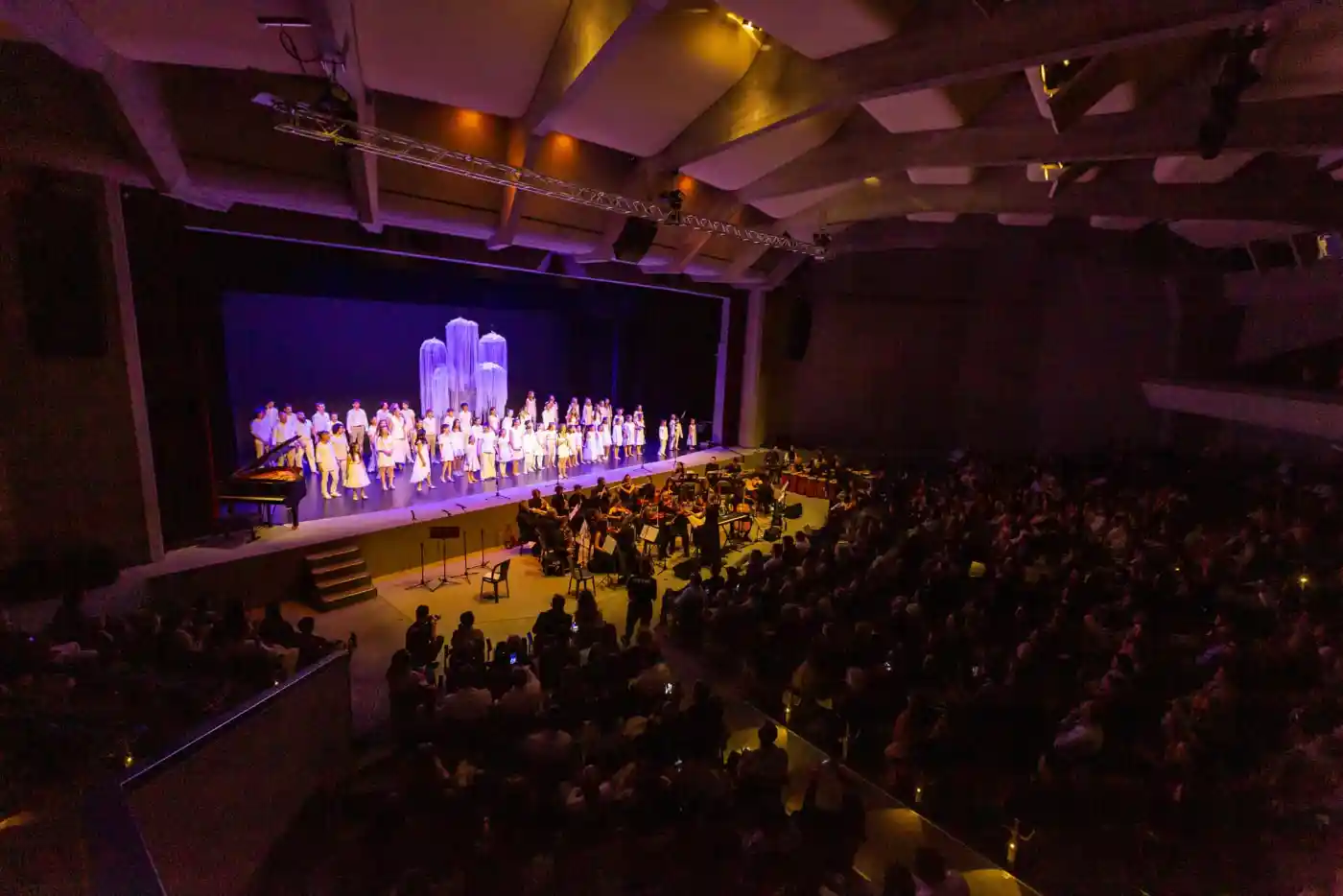 TASIS Performers Shine
An audience of more than 800 TASIS supporters filled Lugano's Palazzo dei Congressi for a spectacular performing arts showcase that involved more than 150 singers, players, actors, and dancers from the TASIS community.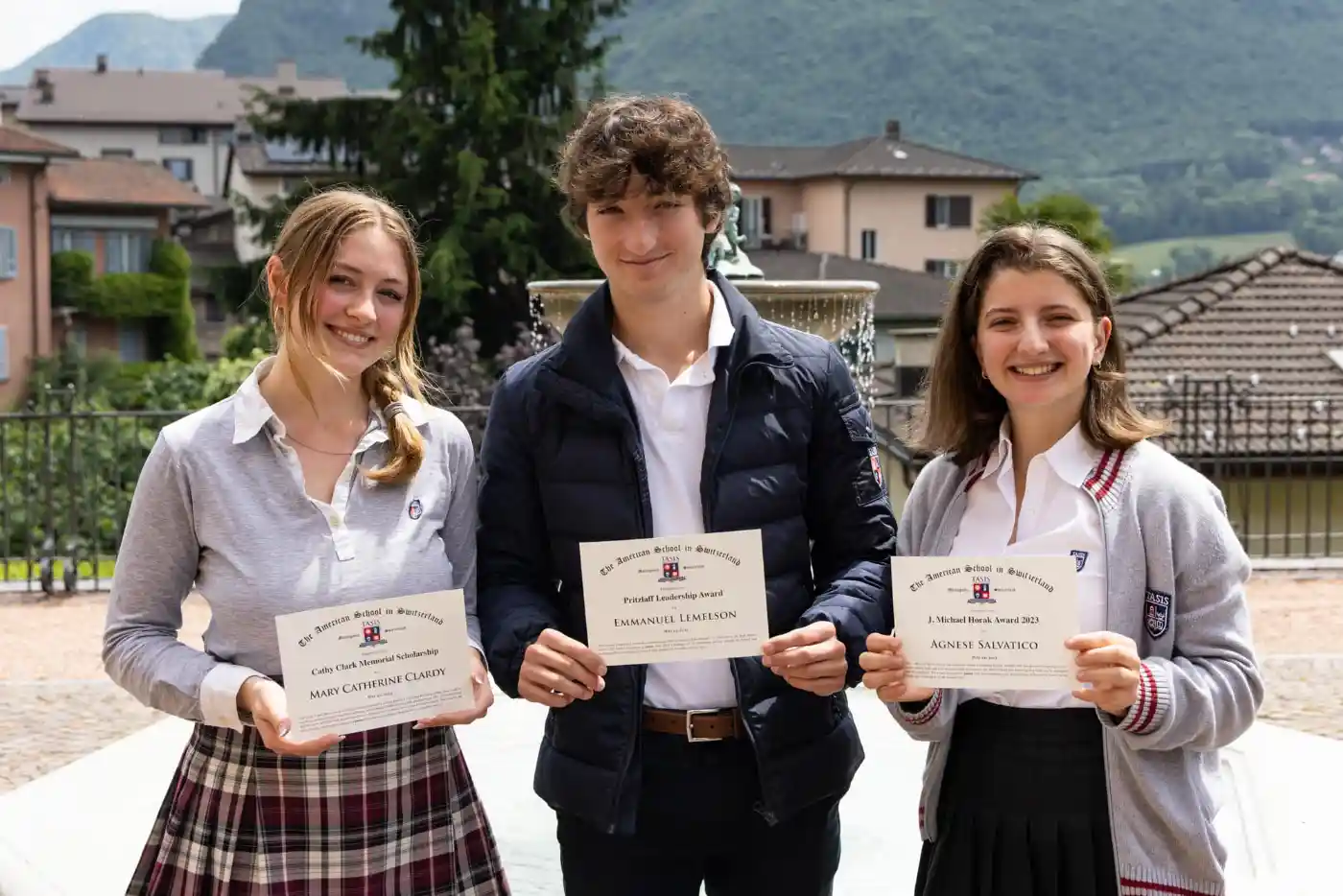 Service-Minded Juniors
At the High School assembly on May 22, Associate Director of Development and Alumni Relations Michelle Arslanian presented this year's Junior Awards to three 11th-grade students for their exemplary dedication and involvement in community service.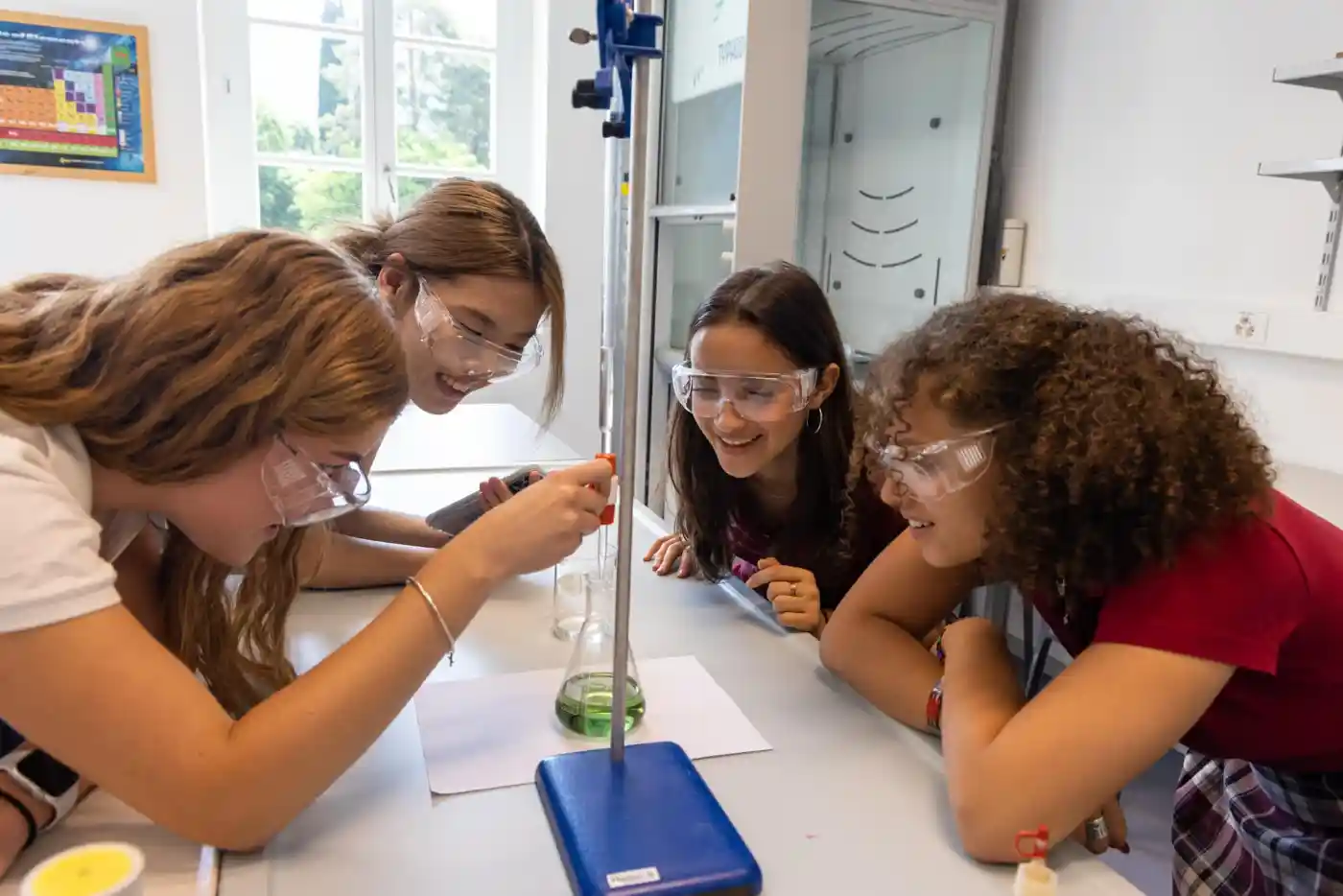 Budding Chemists
On May 23, High School students in Ms. Elizabeth Rodostianos's Chemistry class were given a mixture with an unspecified amount of HCl acid. Using NaOH as a titrant, the young scientists safely neutralized the liquid and determined its acidic concentration.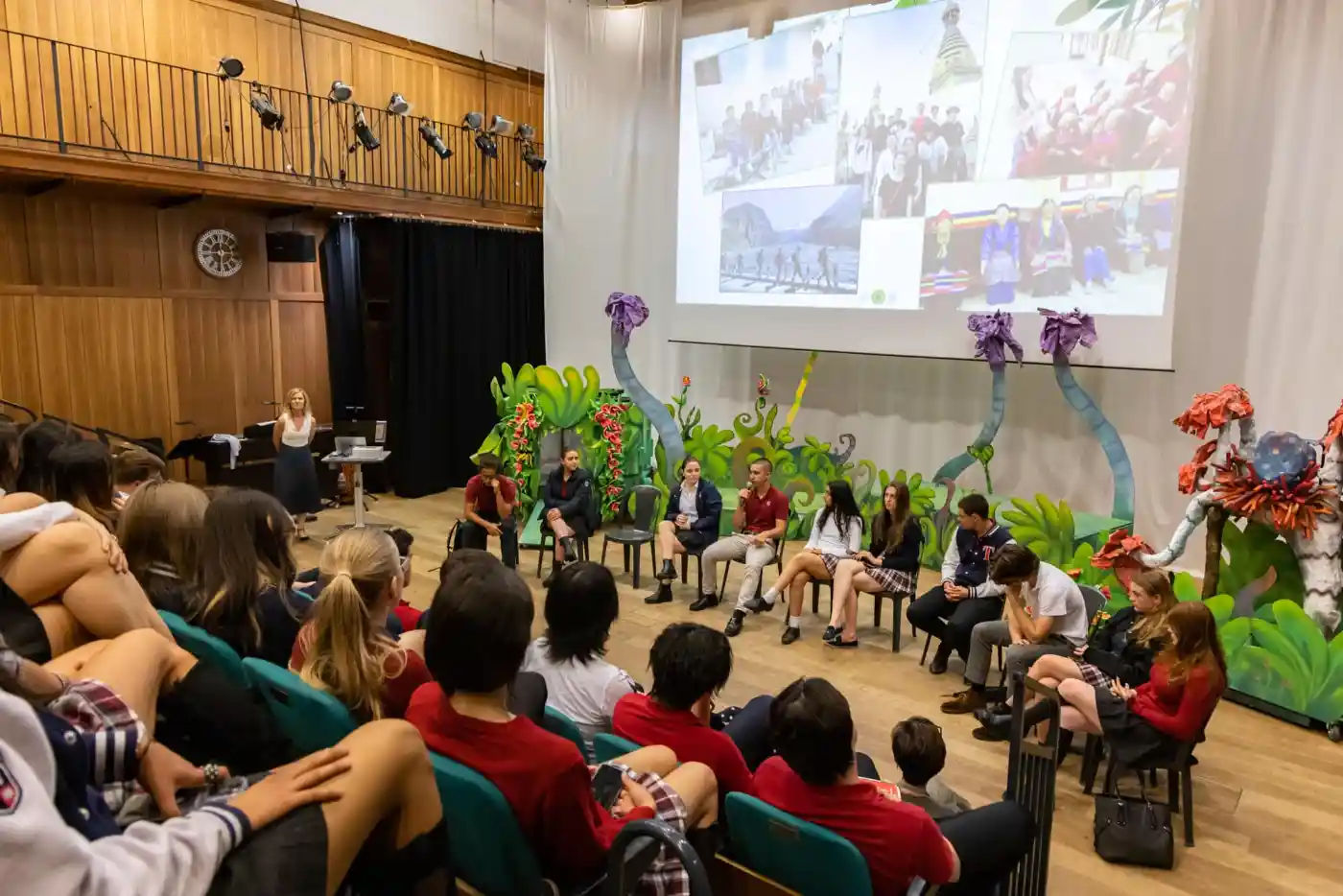 Helping Across the Globe
Opsahl Global Service Program (GSP) Director Patty Clardy and a panel of 11th-grade students who went on GSP trips this year met with all 10th-grade students in the Palmer Center on May 24 to present about their experiences on GSP trips this year and to answer any questions the rising 11th graders had.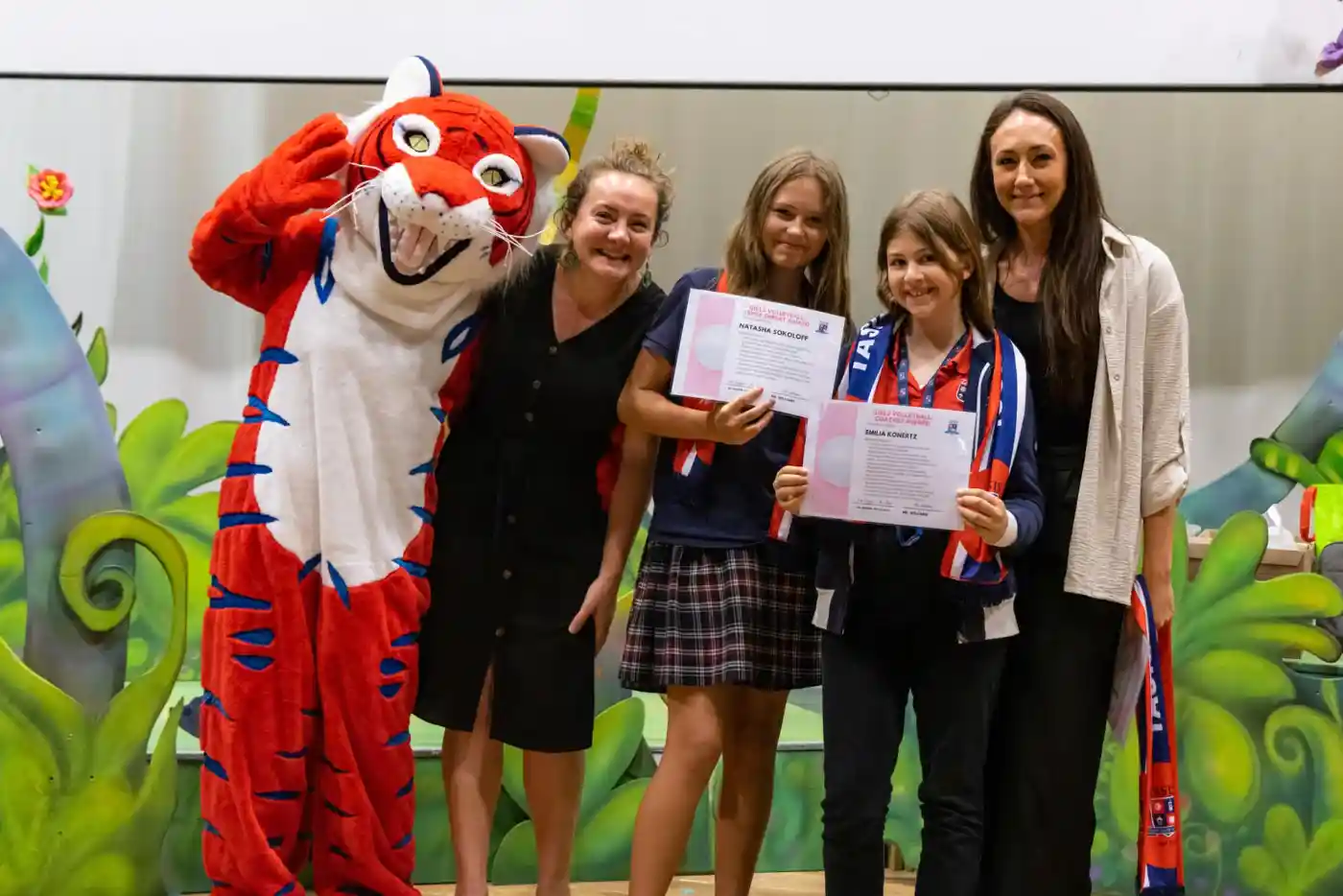 Expanding Horizons
Middle School students and faculty gathered on May 24 to celebrate a fun-packed spring of after-school activities.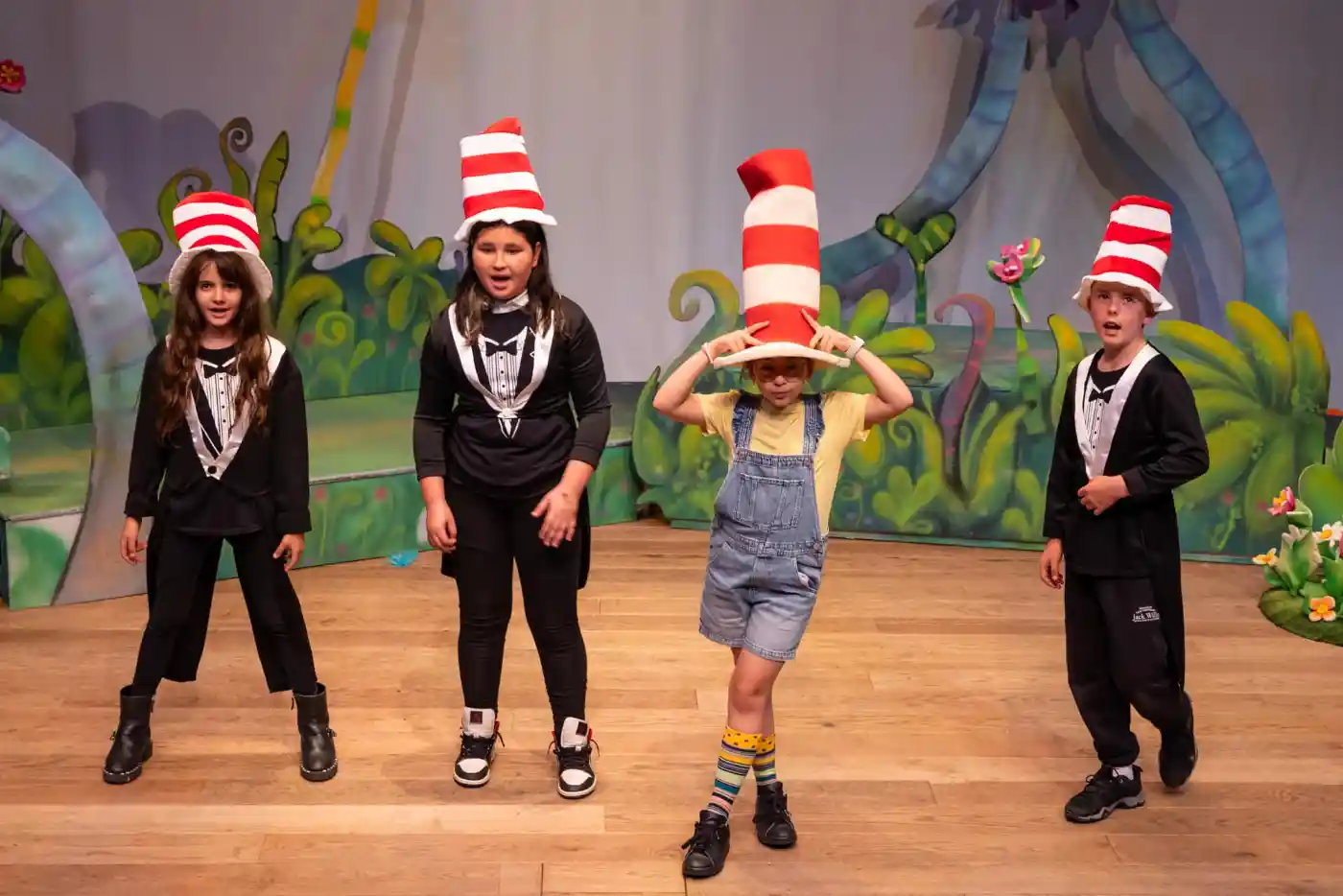 Cats in Hats
An energetic cast and crew of Elementary School students closed down the 2023 Spring Arts Festival by delivering four outstanding performances of Seussical KIDS in the Palmer Cultural Center on May 24–26.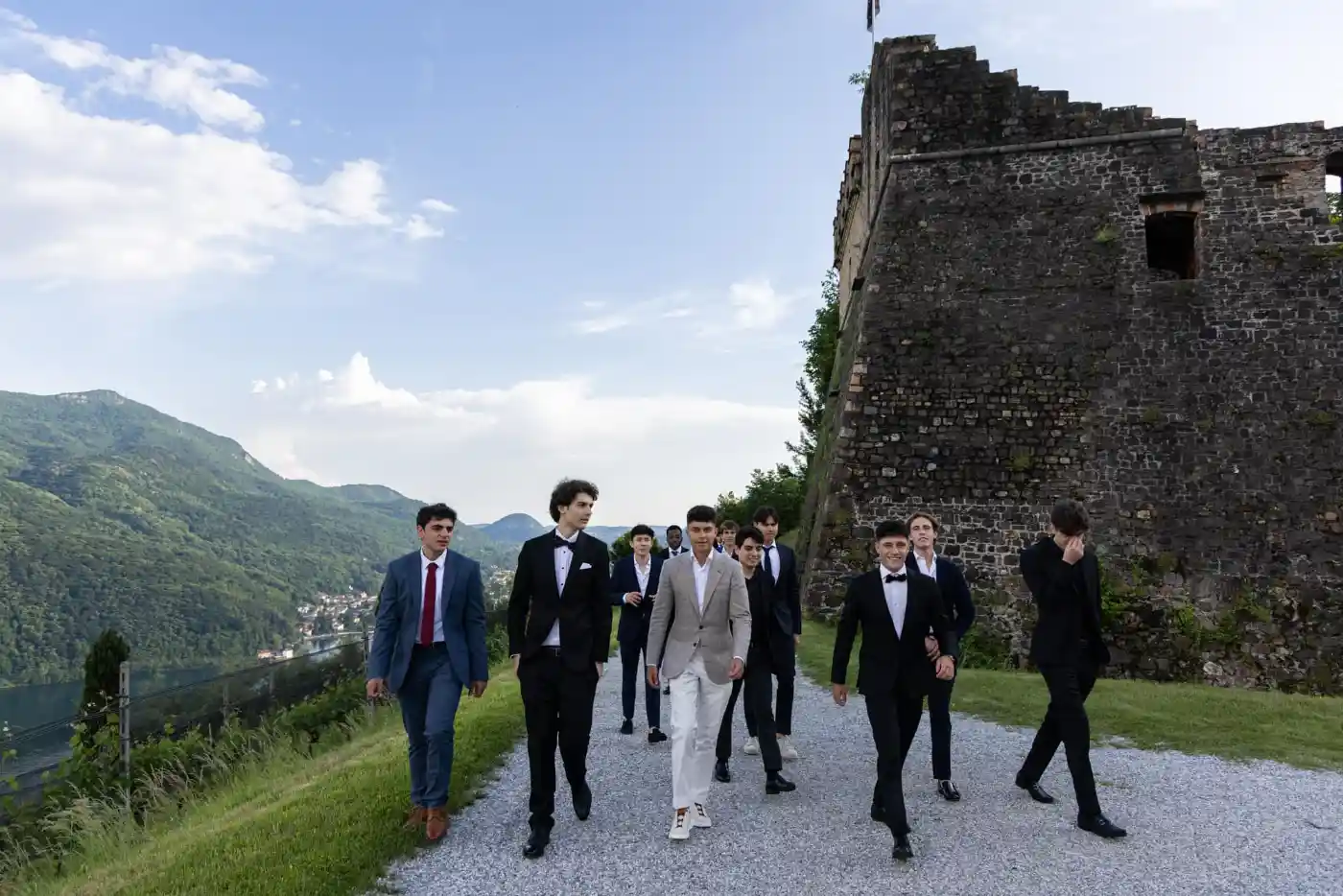 Prom Promenade
Seniors enjoyed their prom at beautiful Castello di Morcote on May 25. The evening started with a lovely outdoor aperitivo and standing dinner, and then students and faculty chaperones moved inside a large tent to enjoy a poignant then-and-now slideshow prepared by HS Administrative Intern Martina Rueda Cano. History Teacher and Student Council Advisor Marco Roccato and Ms. Cano then handed out a number of humorous superlatives the class had a chance to vote on earlier, and the evening concluded with a lively session on the dance floor.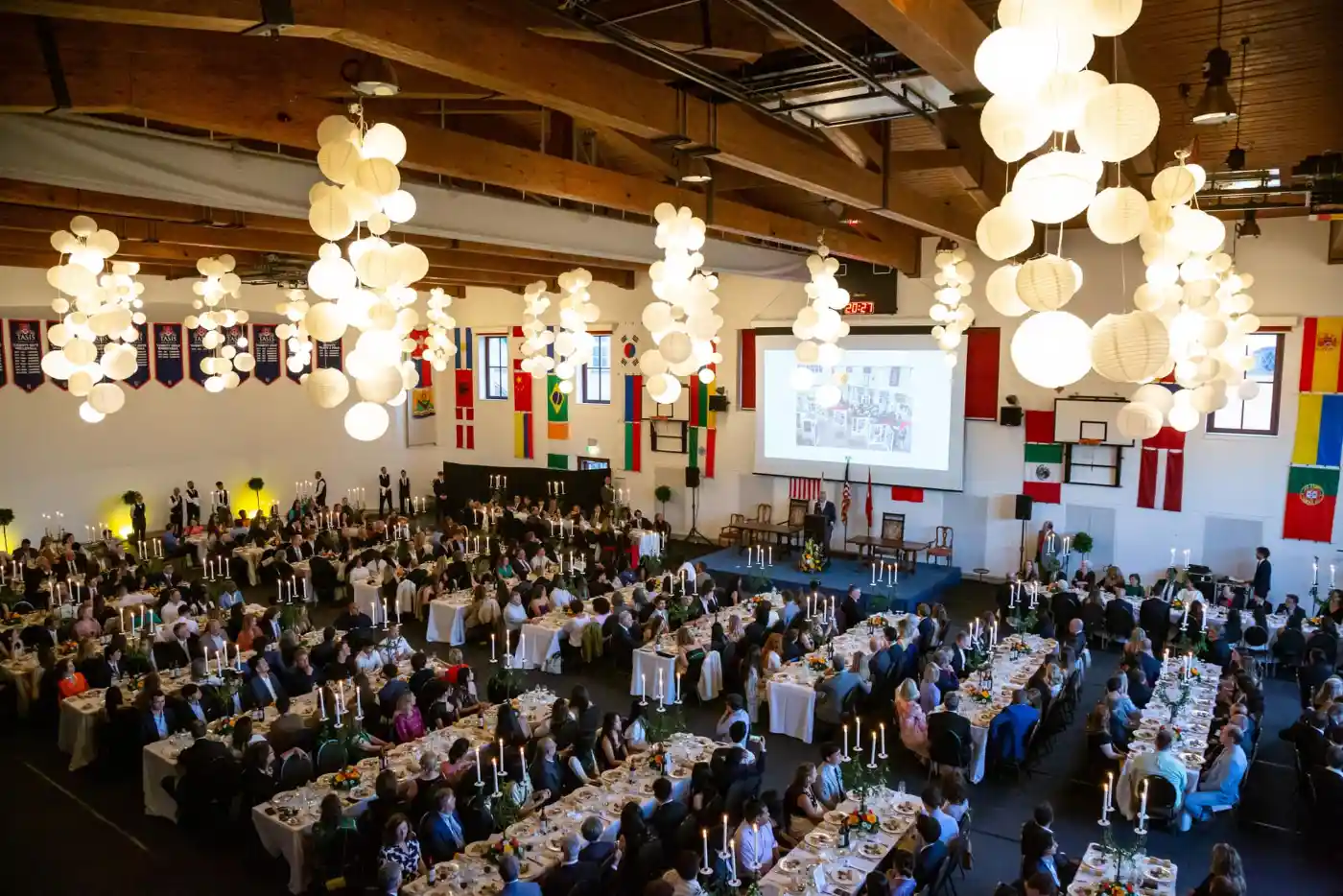 Years to Remember
Students from the Class of 2023 gathered in the Palestra on the evening of May 26 to enjoy a delicious dinner and reflect on their time at TASIS. Their families and members of the faculty joined them for this Senior Banquet, a longstanding TASIS tradition that is always held the evening before the School's Commencement Ceremony.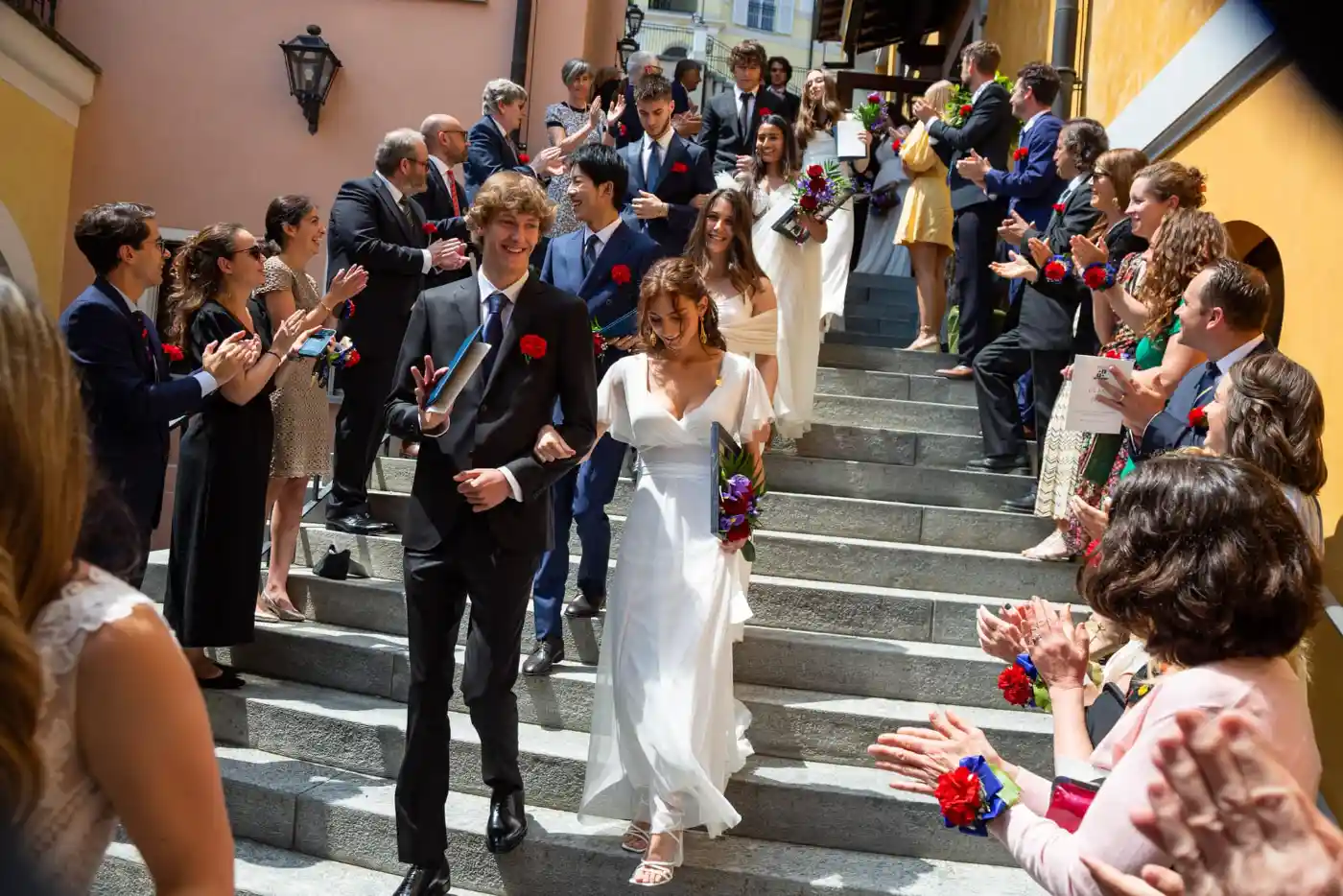 Celebrating the Class of 2023
TASIS honored the 114 members of the amazing Class of 2023 with a beautiful Commencement Ceremony in the Palestra on the morning of May 27.