From alpine adventures and after-school activities to lab experiments and theater performances, we take a photo-driven look at the past month at TASIS.
Fun in the Mountains
A winter of skiing crescendoed during the long weekend at the end of February when more than 100 TASIS High School students and faculty chaperones enjoyed beautiful weather and excellent snow conditions in Splügen. Four separate day trips to the mountain were offered in place of the School's traditional Spring Academic Travel Ski Adventure trip to Crans-Montana.
Throughout the winter, both High School and Middle School students had a chance to go on many other weekend day trips to beautiful alpine destinations around Switzerland, including Andermatt, Savognin, Lenzerheide, Laax, and La Tzoumaz. Check out some highlights in the video above, which was created by Eleni Stabropoulos Velazquez '22.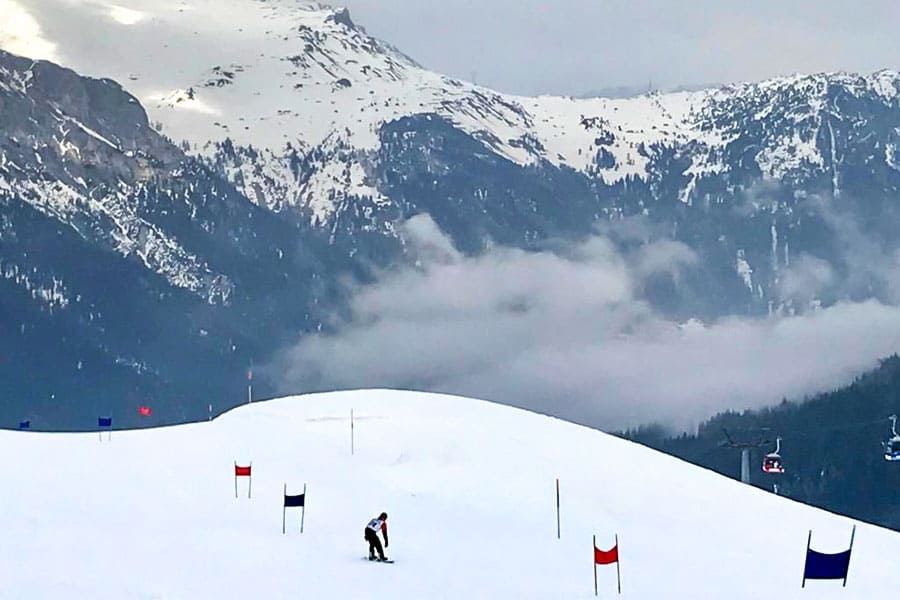 The Return of the Fleming Cup
The late-February trips to Splügen also saw the revival of a treasured TASIS tradition. With their friends and faculty chaperones looking on, 22 High School skiers and snowboarders competed for the Fleming Cup, which hadn't been awarded since 2012.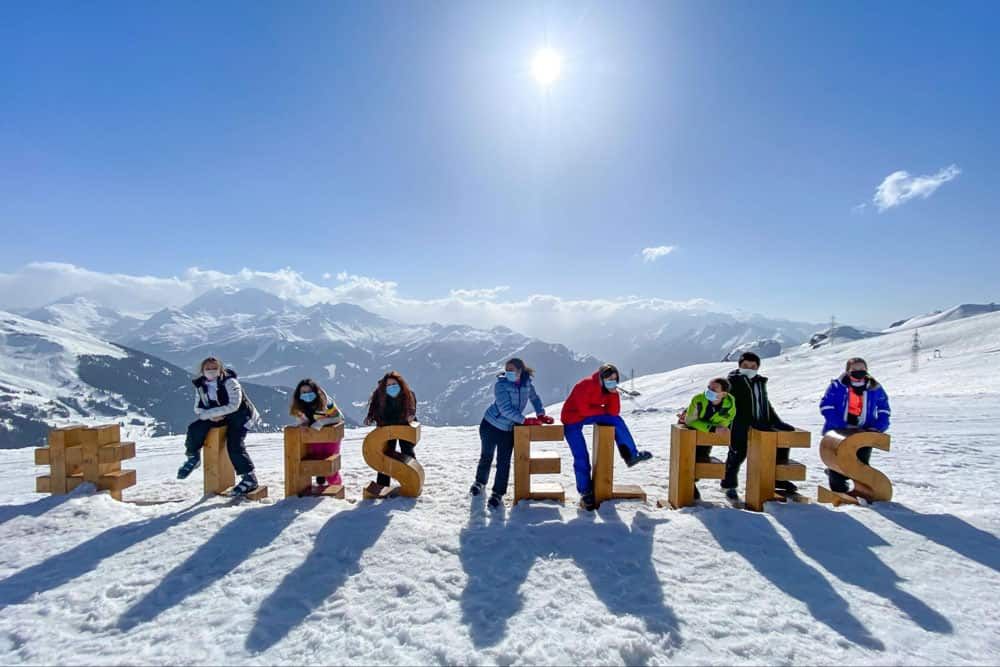 A Weekend Away
Meanwhile Middle School boarders packed their bags and headed to the snowy Alps to spend the long weekend at the La Tzoumaz Ski Resort, where they took ski and snowboard lessons, went sledding and snowshoeing, and enjoyed time in beautiful western Switzerland.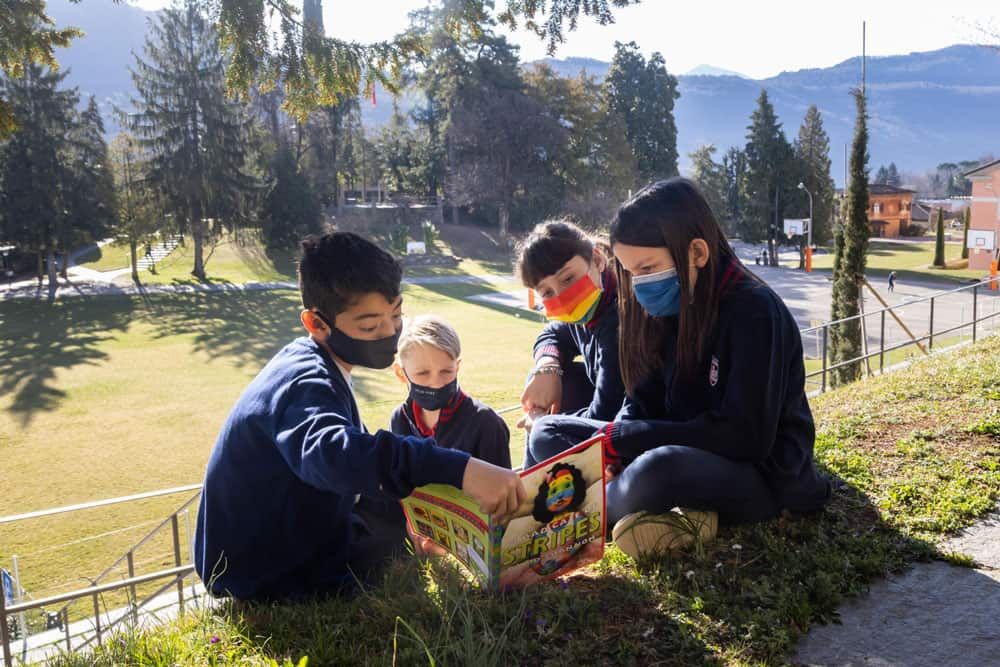 Sunray Readers
One sunny morning in early March, fourth graders grabbed some books and spent a pleasant hour reading outside.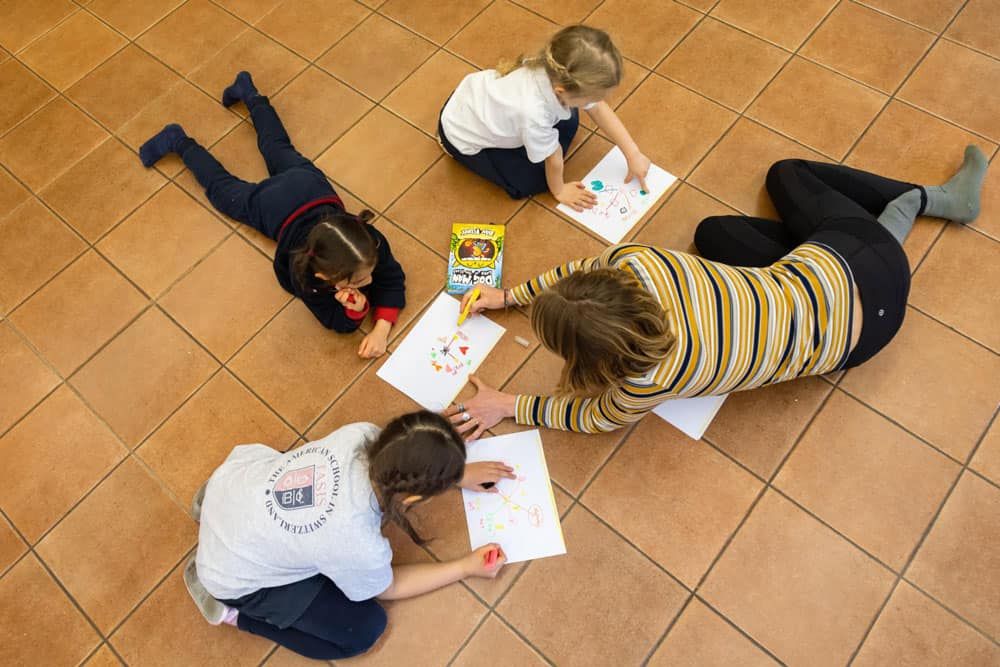 Creative Choreographers
Dancers in Ms. Julie Frazier-Smith's ballet activity, a part of the Elementary School's outstanding After-School Program, began the process of mapping out the choreography to a new dance routine on March 2.
Where the Wild Things Are
On the same afternoon, members of the Elementary School Bug Club scoured a creek for insects, worms, and salamanders.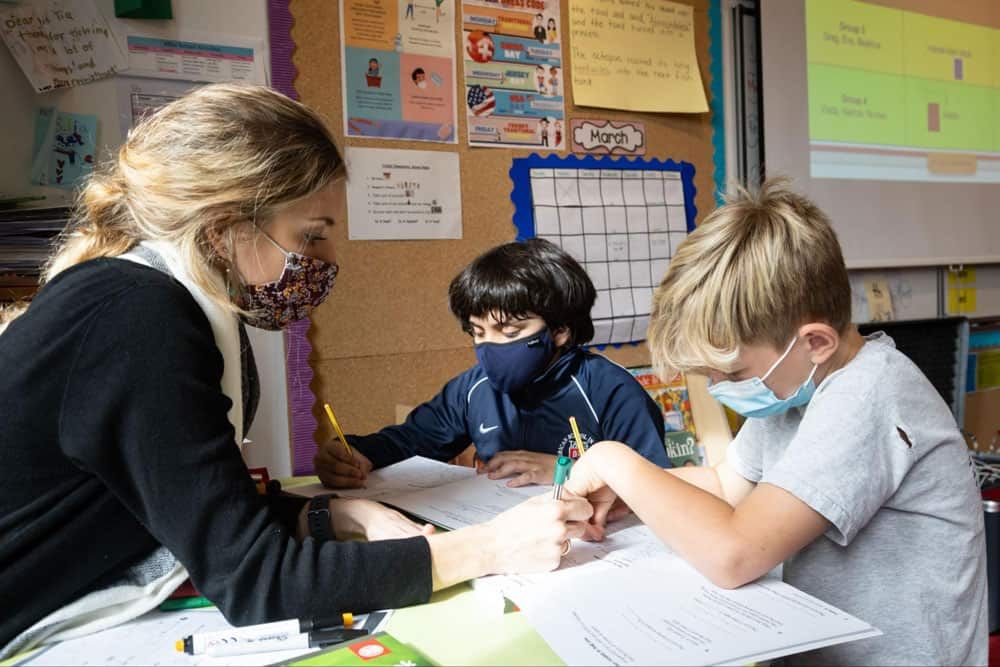 36 + 8 = 40 + ?
A pair of second-grade students worked on addition problems with Ms. Tia Zanecchia during math class on March 4.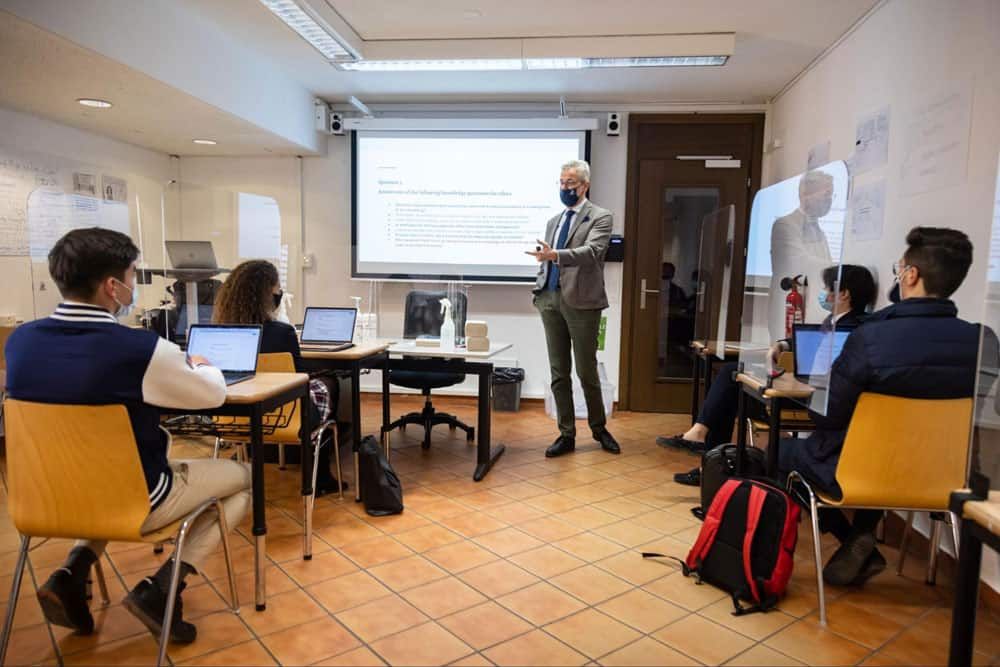 Headmaster Returns to the Classroom
TASIS Headmaster Christopher Nikoloff returned to the classroom on March 4–5 to deliver engaging lectures on Aristotle's Virtue Ethics to five International Baccalaureate (IB) Theory of Knowledge (TOK) classes.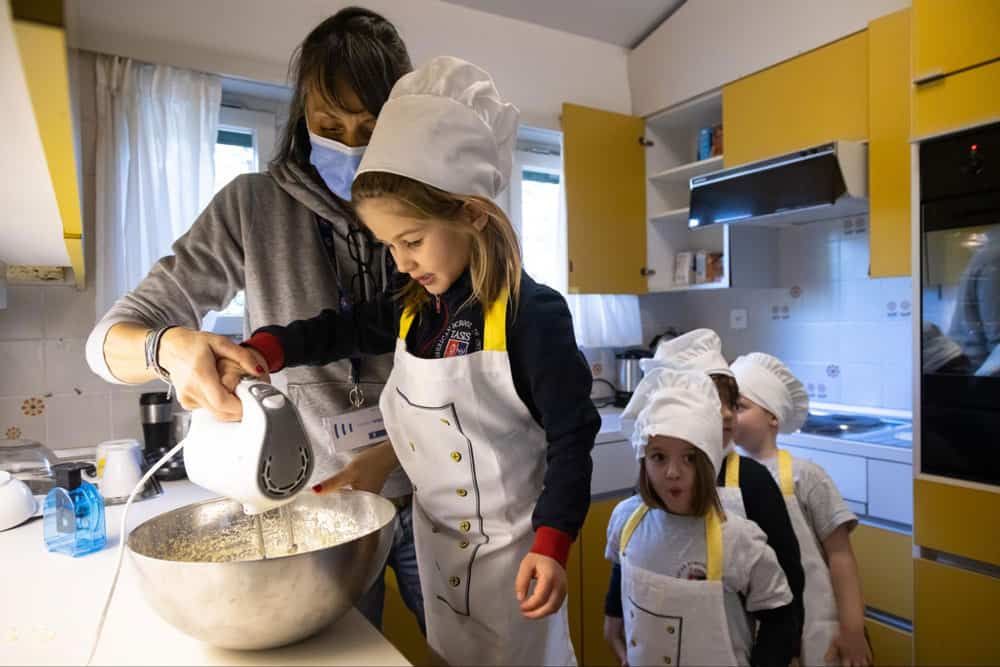 Young Chefs in the Making
Members of the Elementary School Cooking Club whipped up some Nutella-filled cakes after school on March 4.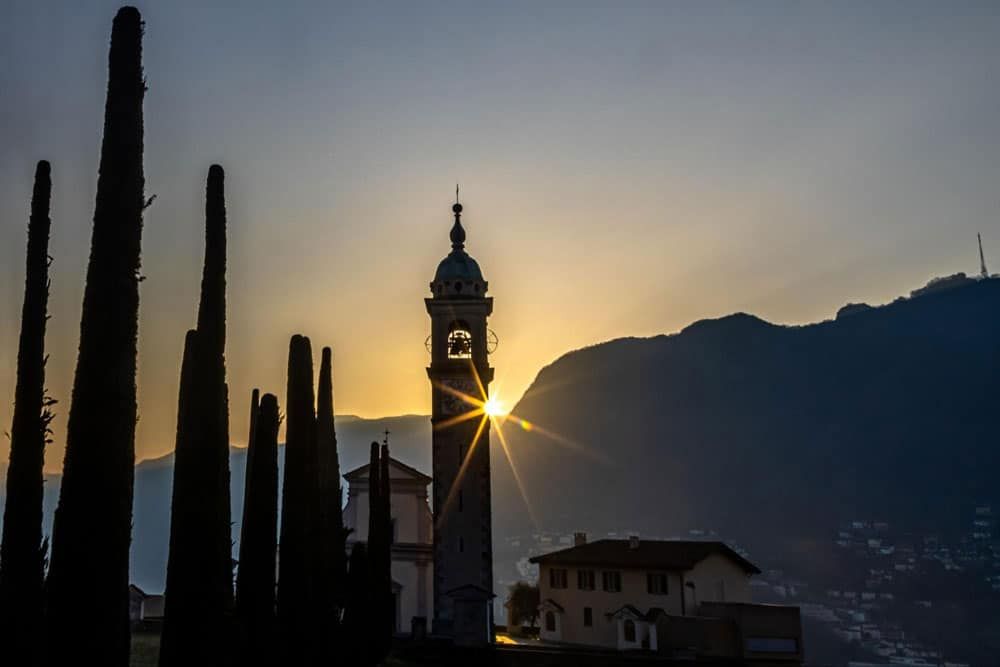 Sant'Abbondio Sunrise
Early on March 5, the sun rose above La Parrocchia di Sant'Abbondio, the iconic Collina d'Oro church located between the main TASIS campus and Al Focolare.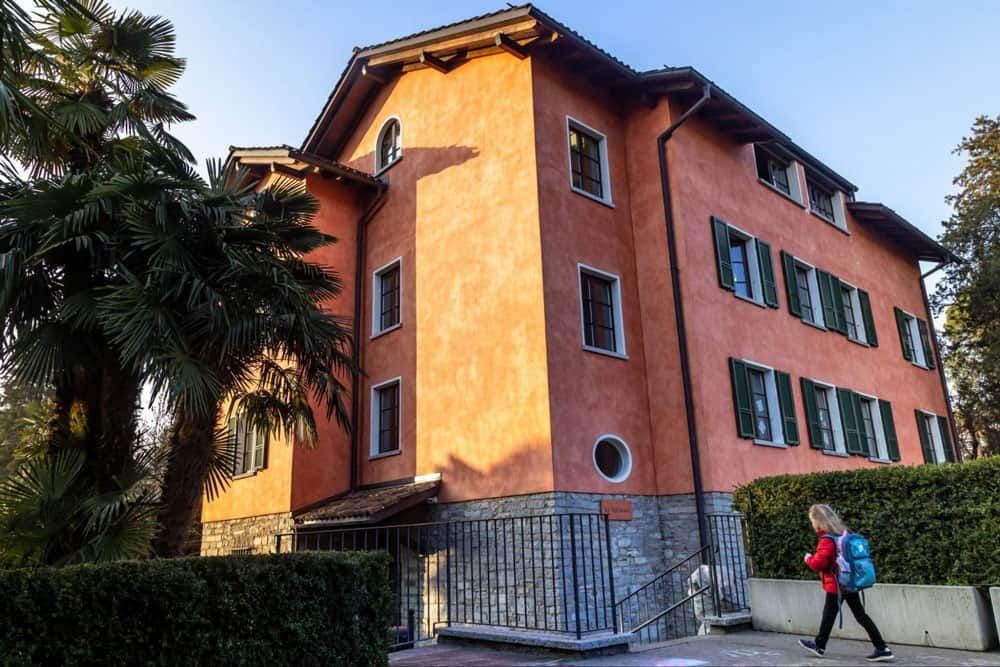 A Warm Welcome
The morning sun warmed Al Focolare, TASIS's Early Childhood Center, as a Kindergarten student arrived for another day of hands-on exploration and play. Visit tasis.ch/blog for an inside look at a typical Friday for a Kindergarten student at beautiful Al Focolare.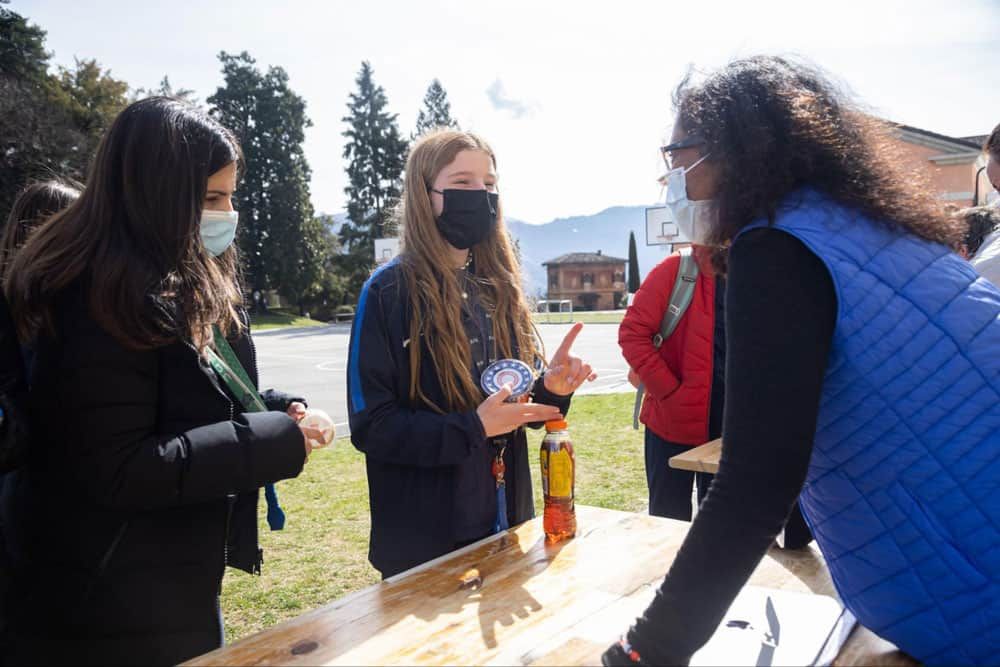 Π Day
In celebration of Pi Day, Middle School students lined up to earn cookies by reciting the first ten digits of Pi on Friday, March 12 (as the actual Pi Day fell on a Sunday). Several students recited up to 50 digits—with one going beyond 80!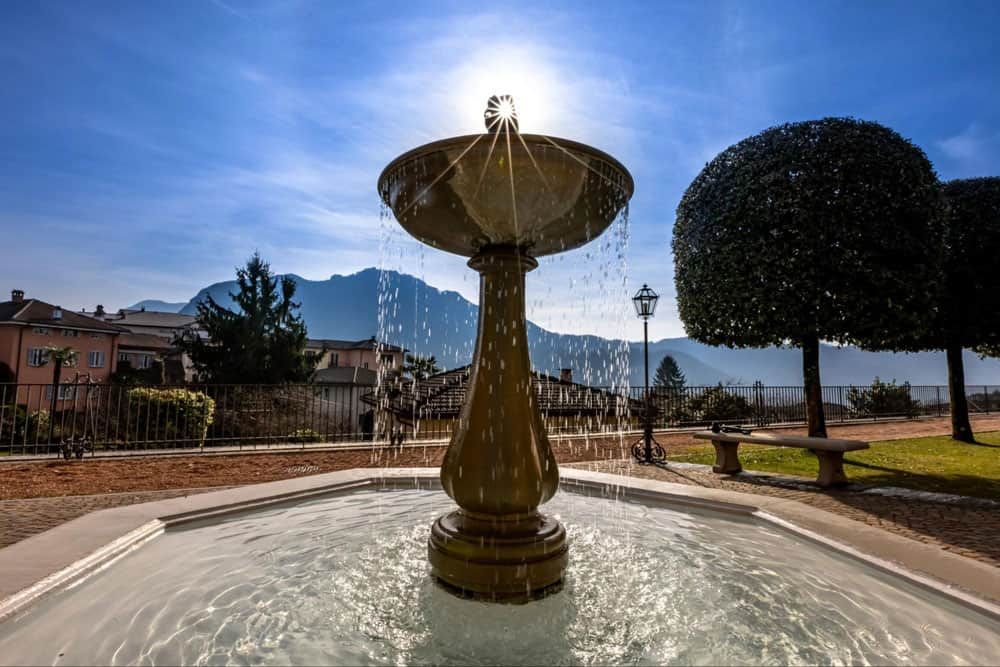 Sleeping Beauty
After hibernating for the winter, the iconic MCF Piazza Fountain returned to full functionality in early March.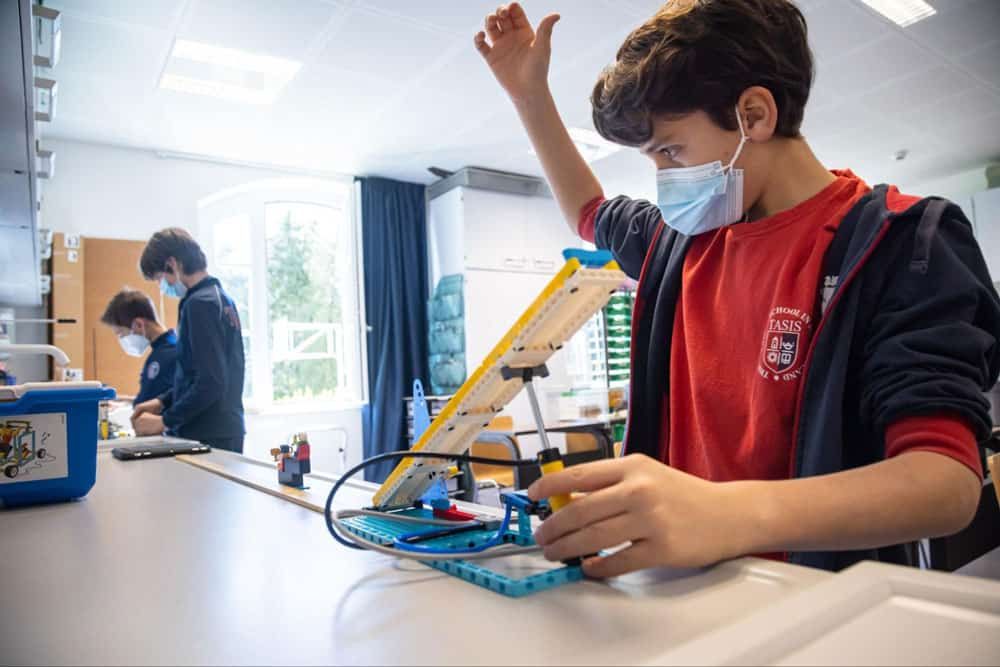 Learning With LEGOS
On March 15, students in Ms. Amy Bloodworth's Grade 6 Science class used LEGO Stem Kits to learn about forces and motion. They built ski slopes and observed how LEGO skiers of various masses traveled different distances on the same slope. Using what they learned, the sixth-graders then attempted to design a skier that would travel the farthest down the slope.
Later in the month, Ms. Bloodworth—the recipient of the 2016 Khan-Page Master Teacher Award—helped four Middle School girls compete in the 2021 FIRST LEGO League Robotics Tournament, which was held remotely this year. The "TASIS Tigress" followed up on the strong performances posted by TASIS groups in 2020 and 2019, finishing in fifth place in the Robot Game category.
Experiential Learning
High School students in Ms. Pegeen Crockett's IB Biology 1 class continued to work on their Internal Assessment Labs on March 17 in Campo Science's Bell Biology Laboratory. Each young scientist conducted his or her own lab, including experiments on the effects of wavelength on photosynthesis, temperature on enzyme efficiency, and sucrose concentration on yeast respiration.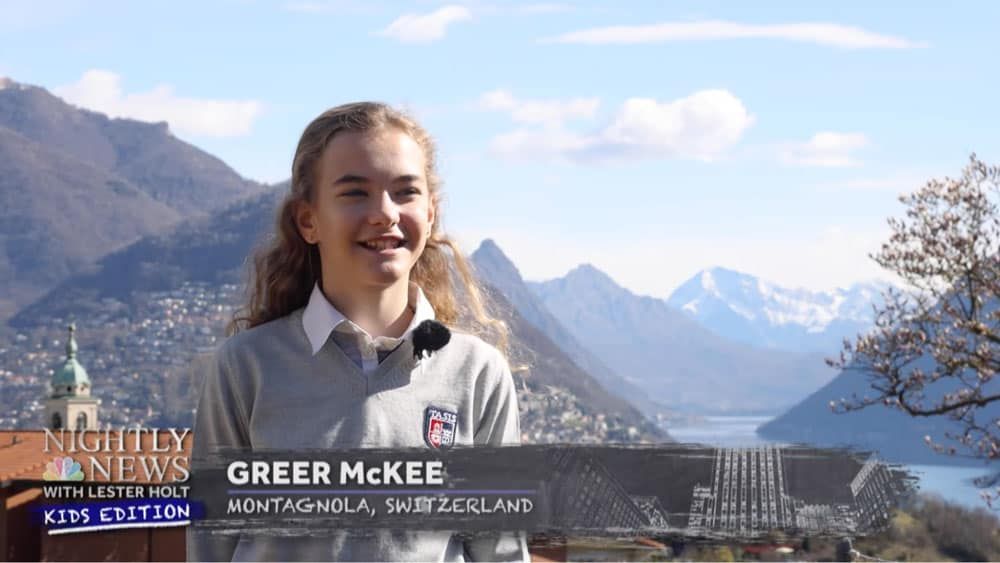 In the News
Director of Institutional Advancement Mr. Bill Eichner and a pair of TASIS Middle School students were featured in the "Around the Globe" segment of NBC's Nightly News With Lester Holt: Kids Edition, which aired nationally in the United States on March 20.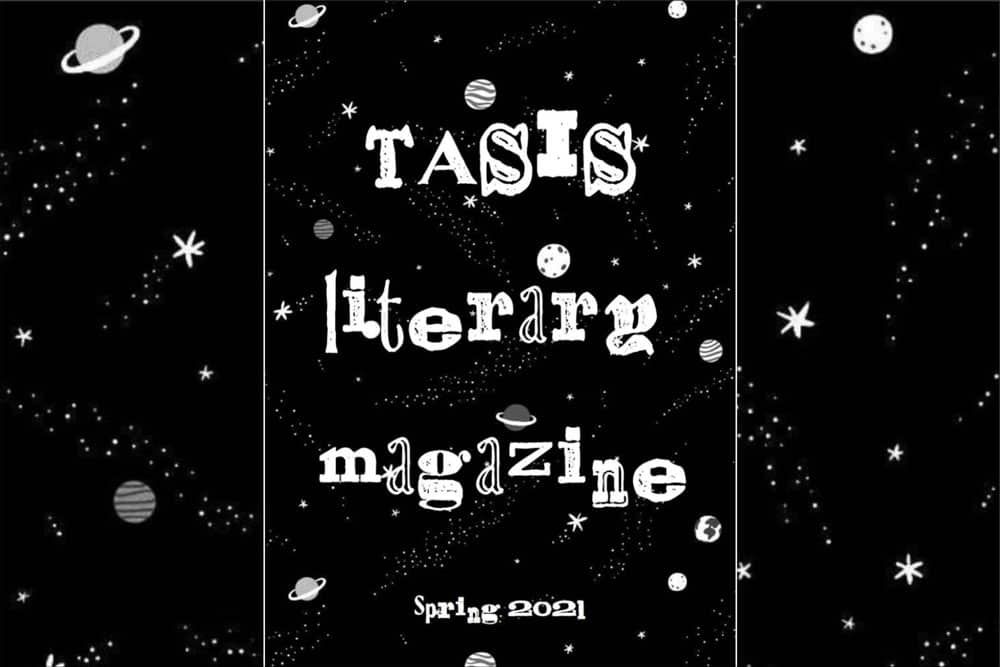 Extra! Extra!
The first edition of the student-led TASIS Literary Magazine was published on March 22. The magazine aims to uplift the unique, creative voices of TASIS students and to share the beauty and complexity of those voices with our community. The Spring 2021 issue contains poetry, short stories, themed collections, and illustrations.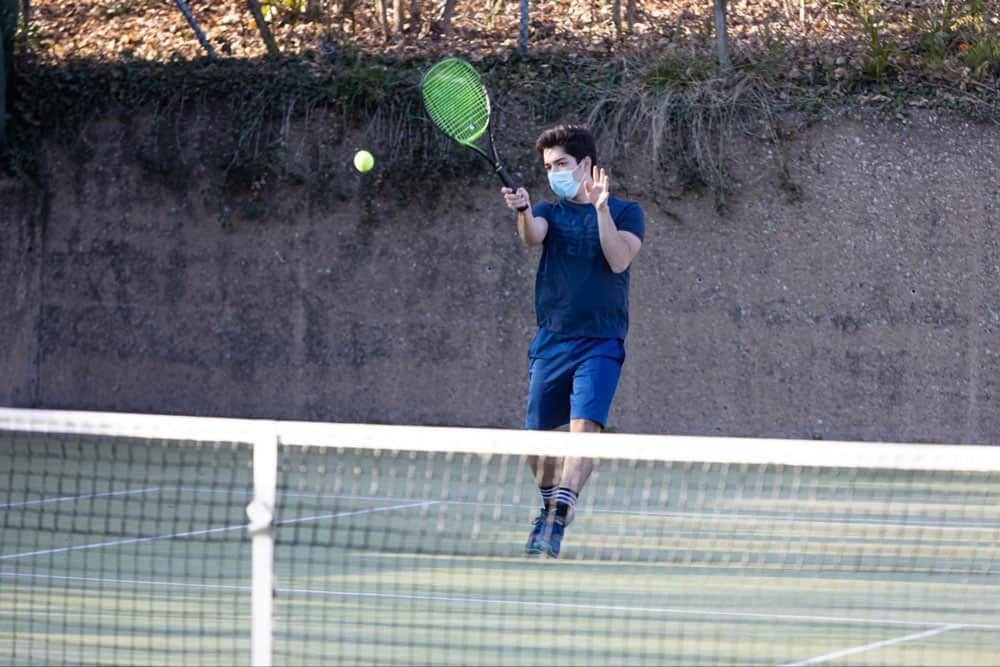 Spring Sports Back in Action
Our Varsity Tennis teams put in some quality work at the beautiful Villa Principe Leopoldo courts on March 22.
Boomshakalaka
Leonid Serbinov '21, a second-year IB student and standout basketball player, showcased his hops with a series of slam dunks on the TASIS outdoor hoops after school on March 23. Leo is a connoisseur of outdoor basketball courts and recently reviewed his favorites in the Lugano area on the TASIS Blog.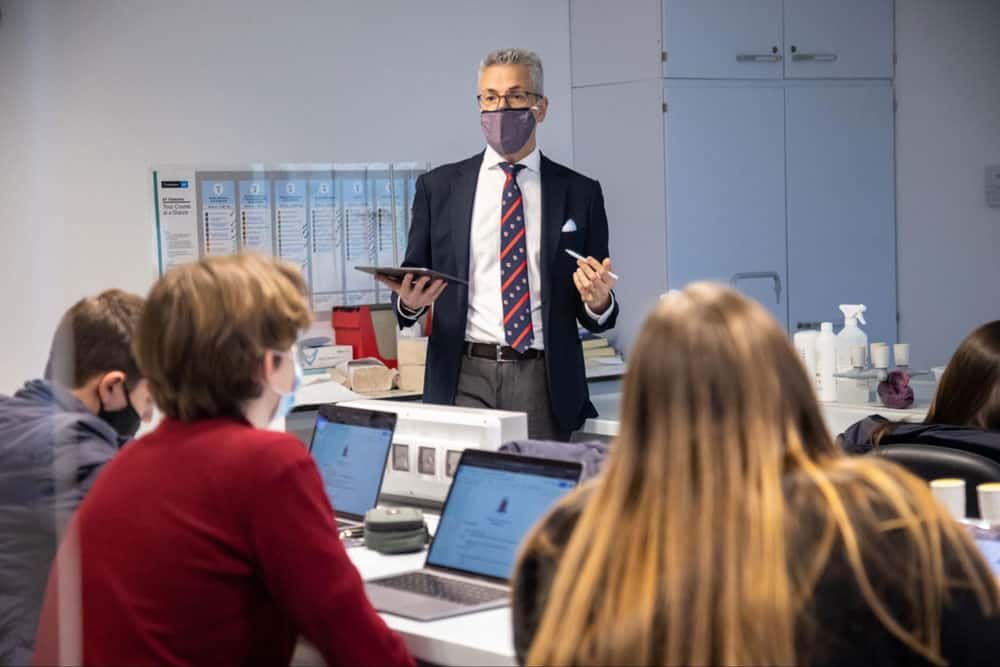 The Philosophy of Truth, Goodness, and Beauty
Mr. Nikoloff's busy month in the classroom also included conducting the first three parts of a four-part seminar centered on the philosophical structures behind the ideas of truth, goodness, and beauty. He will deliver the full seminar to every student in grade 10, amounting to 32 classes over the course of four weeks.
Working With Wire
Middle School students in Ms. Gigi Diane Guarnieri Rosso's Introduction to Academic English class enjoyed a fun auxiliary lesson with Art Teacher Ms. Simona Bellini on March 26. Before launching into a unit centered around Hugo, Martin Scorsese's film about an orphan who uses clockmaking skills to rebuild a broken automaton left behind by his father, the middle schoolers gained an appreciation for working with their hands by designing and building sculptures with wire.
Much Ado About Something
Congratulations to the incredible cast and crew for wonderful performances of William Shakespeare's Much Ado About Nothing in the Palmer Center on March 26–27! Both performances are now available on the TASIS YouTube channel.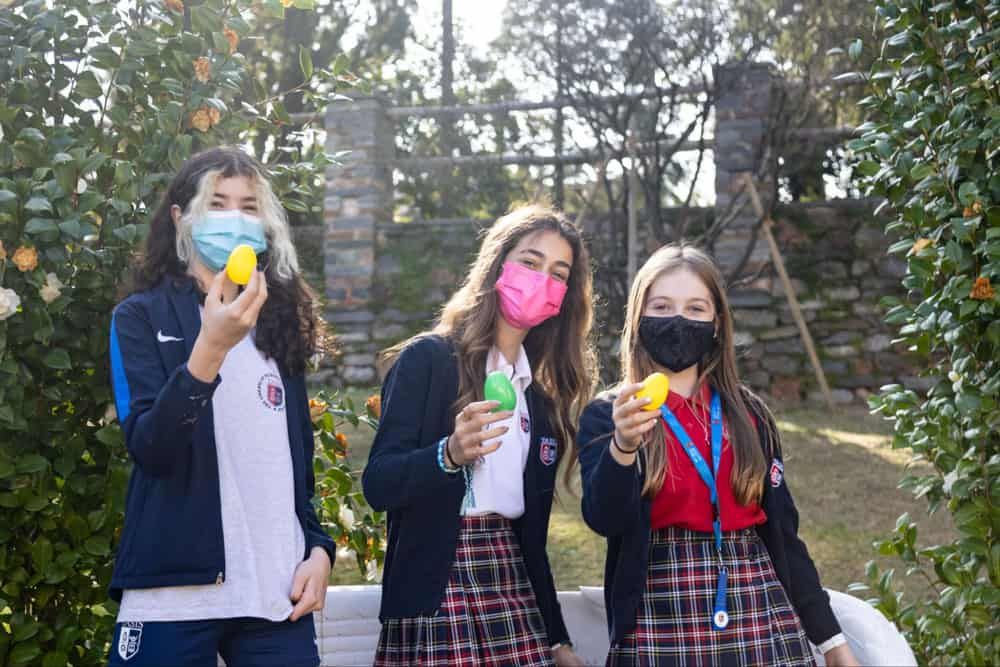 An Easter Surprise
The TASIS Parent Association (TPA) beautifully decorated campus and treated Middle and High School students to a surprise Easter Egg Hunt on the morning of March 31. In addition to colored eggs filled with chocolate, 25 golden eggs were scattered around campus. Students were given a set of clues to help them find the golden eggs, each of which came with a special prize. Later in the day, students enjoyed delicious Easter treats on the Kay Hamblin Terrace.