From International Week and the Middle School's Winter Adventure to the High School's Global Service Program and Academic Travel trips and the Elementary School's Carnevale celebrations, we take a photo-driven look at the past month at TASIS.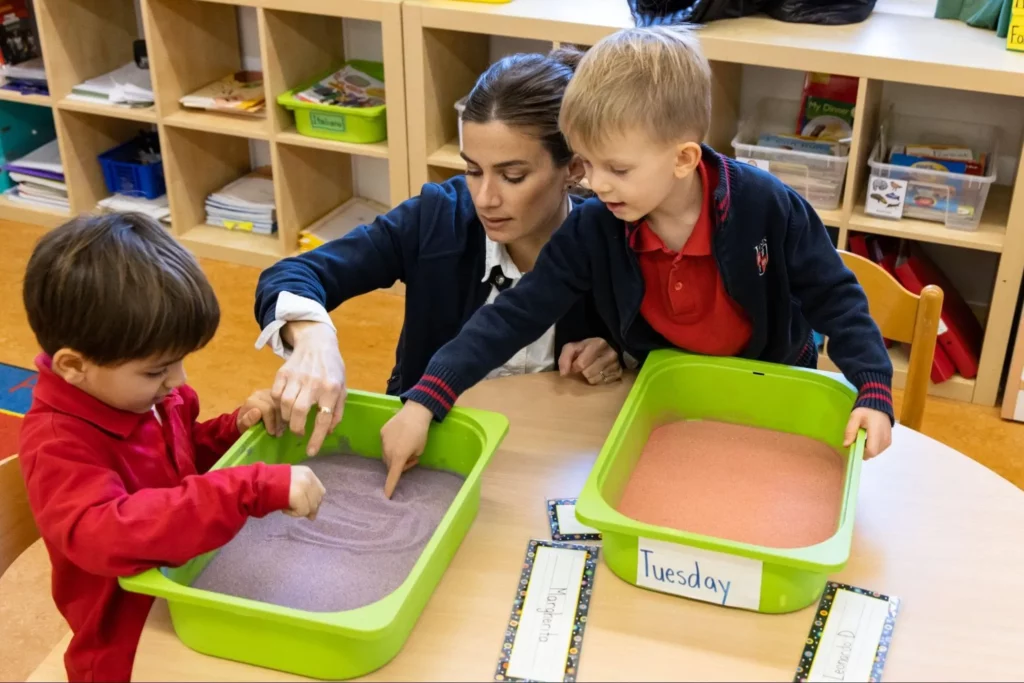 Students in Ms. Liz Zanecchia's Kindergarten class practiced writing letters by tracing them in sand during "word work" time on February 1.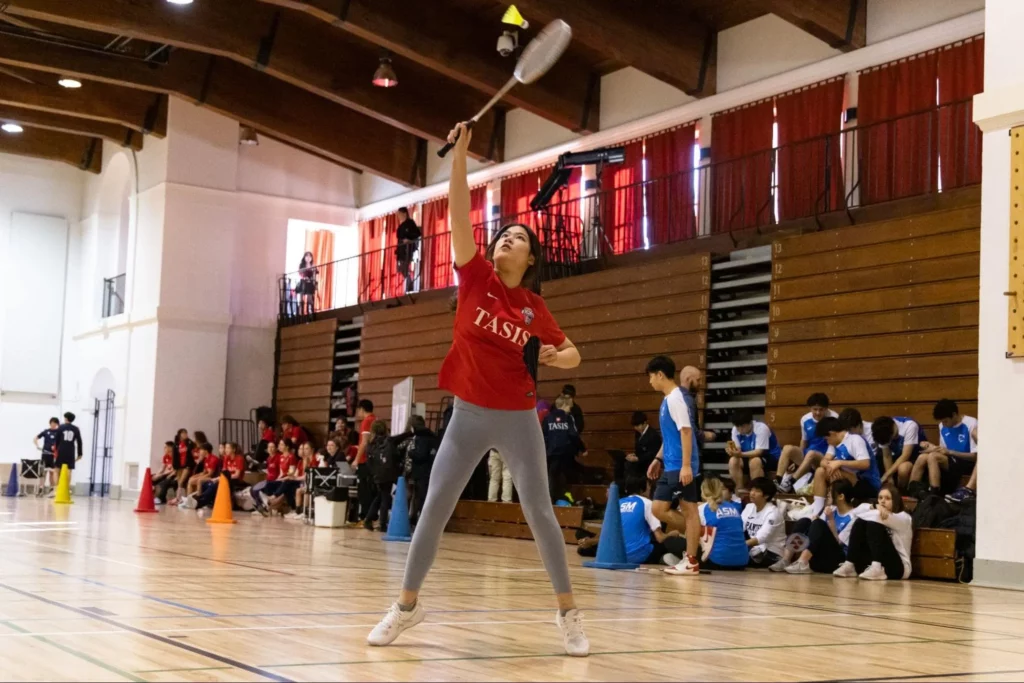 Seven TASIS girls advanced to the final eight of the NISSA Singles Tournament to overwhelm their competition en route to an all-TASIS finals and team championship trophy on February 1 in the Palestra.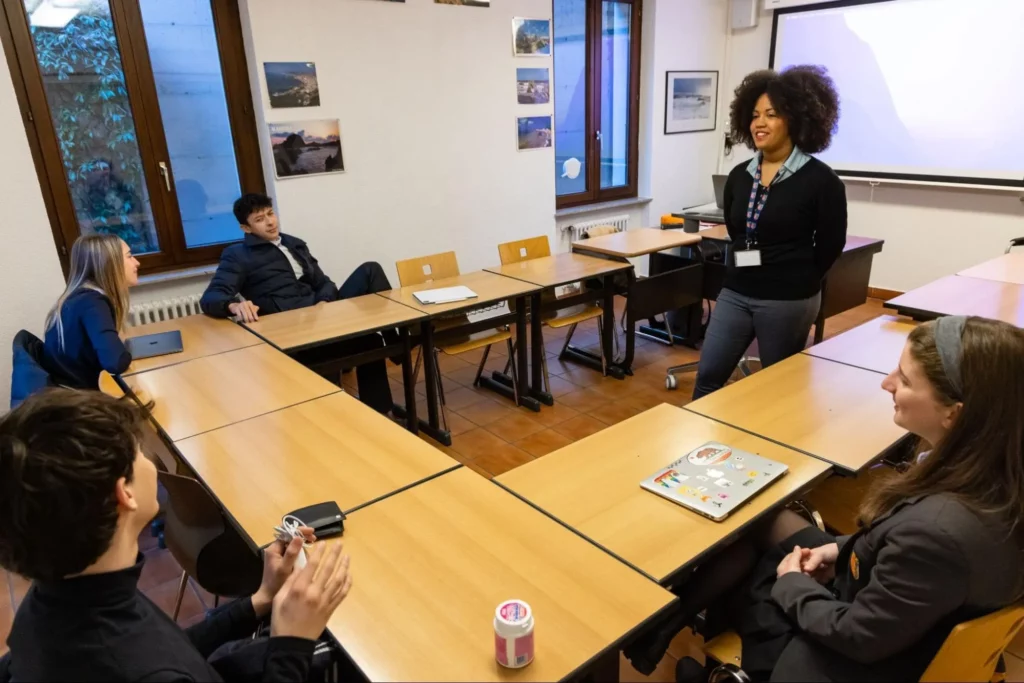 On February 2, High School students in Ms. Francesca Mboup's IB French 4 class gave presentations on African francophone countries and discussed them as a group.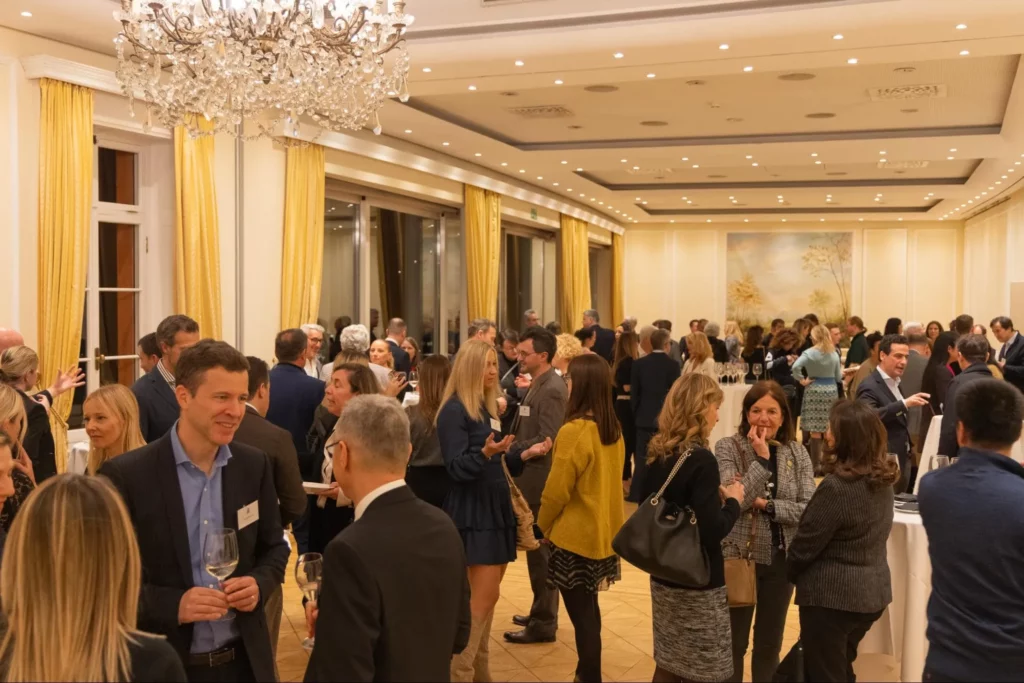 Members of the TASIS Board of Directors kicked off a productive bout of meetings in early February by meeting with parents at a very well-attended reception at Villa Principe Leopoldo.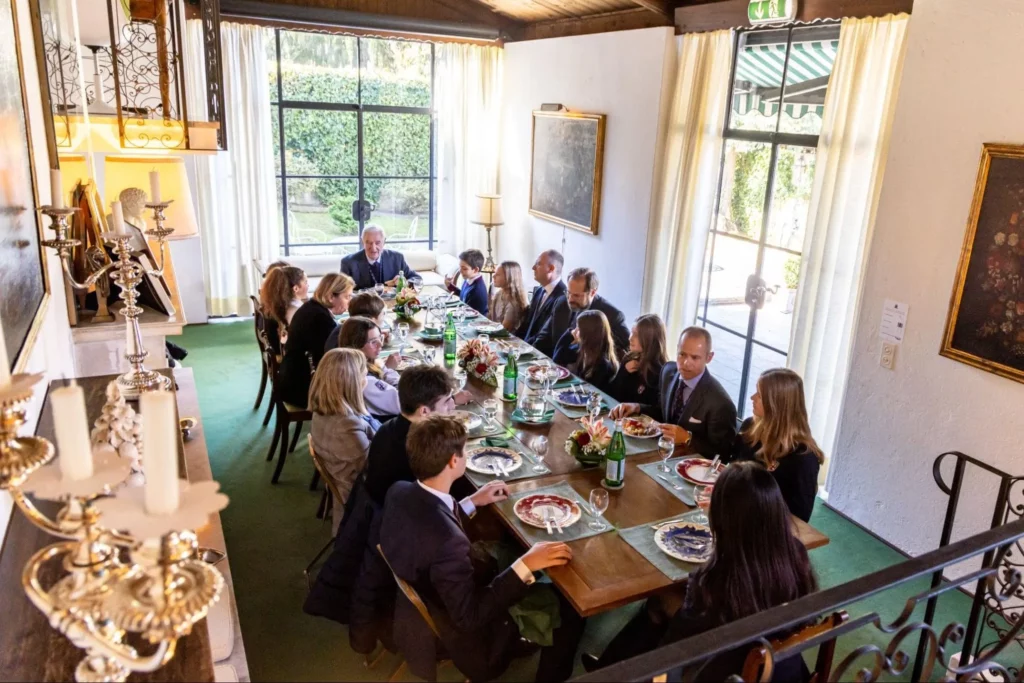 A small selection of students from all three divisions enjoyed an elegant lunch in Casa Fleming with members of the TASIS Board of Directors on February 3.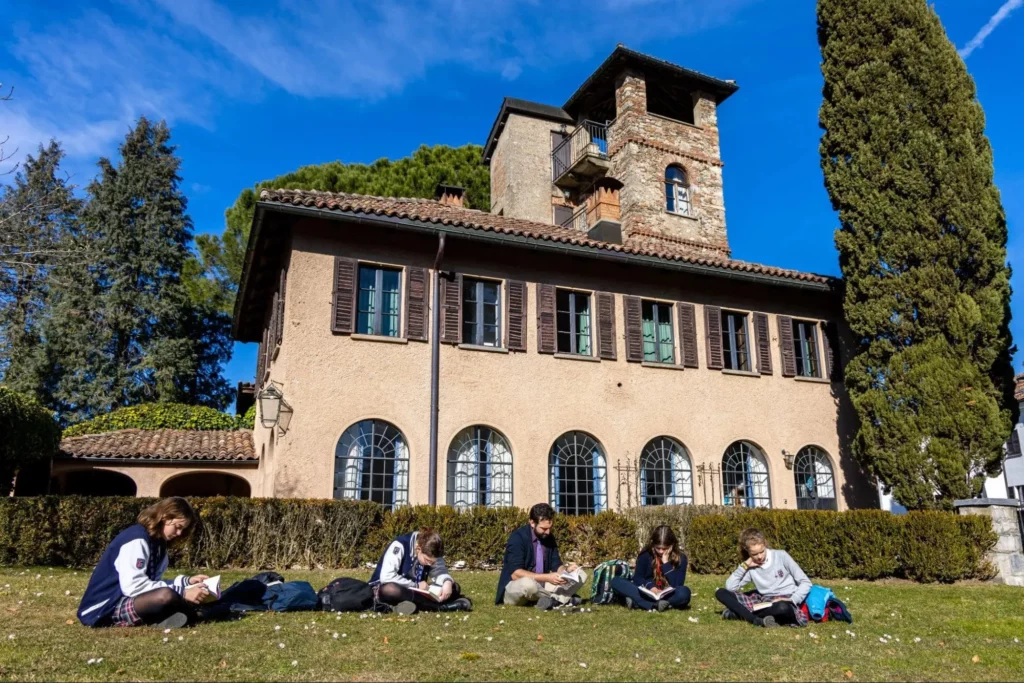 Mr. Matthew Frazier-Smith's Middle School advisory group took advantage of unusually warm weather on February 3 to read outside as a group.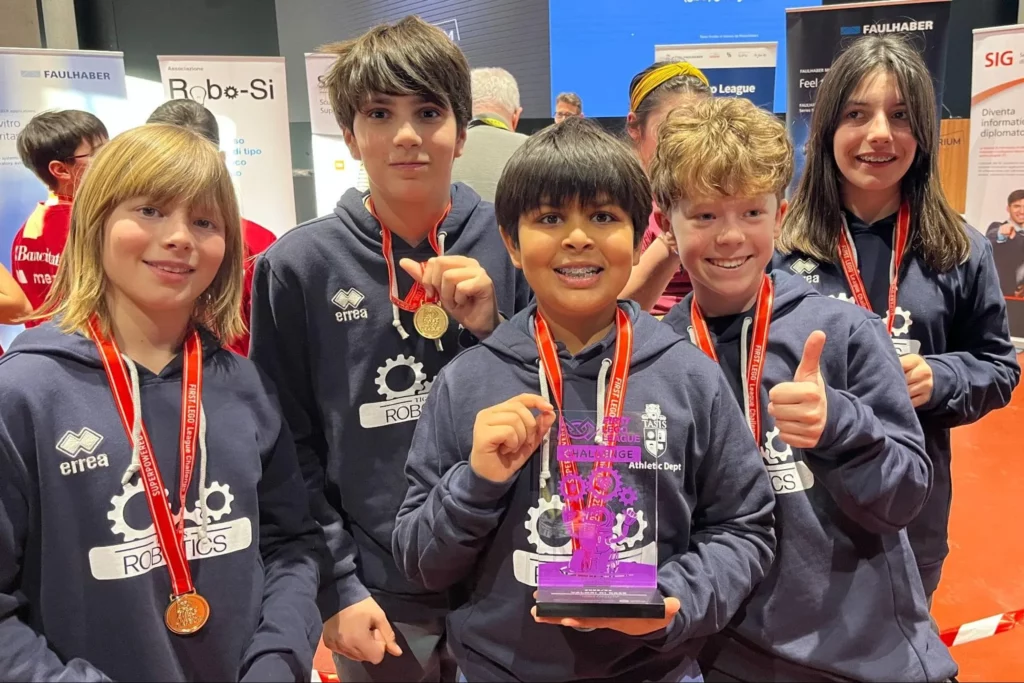 With all the members of last year's historic TASIS Middle School Robotics team moving on to high school, an eager group of new students got to compete for the first time on February 4—at the FIRST LEGO League Challenge Regional Tournament in Bellinzona—and performed very well!
Among a competitive field of 11 teams, the TASIS Tigers 2 (five students in grades 7–8) emerged with a bronze medal in the Robot Game while the TASIS Tigers 1 (five students in grades 5–6) took fifth in the Robot Game and brought home the Core Values trophy.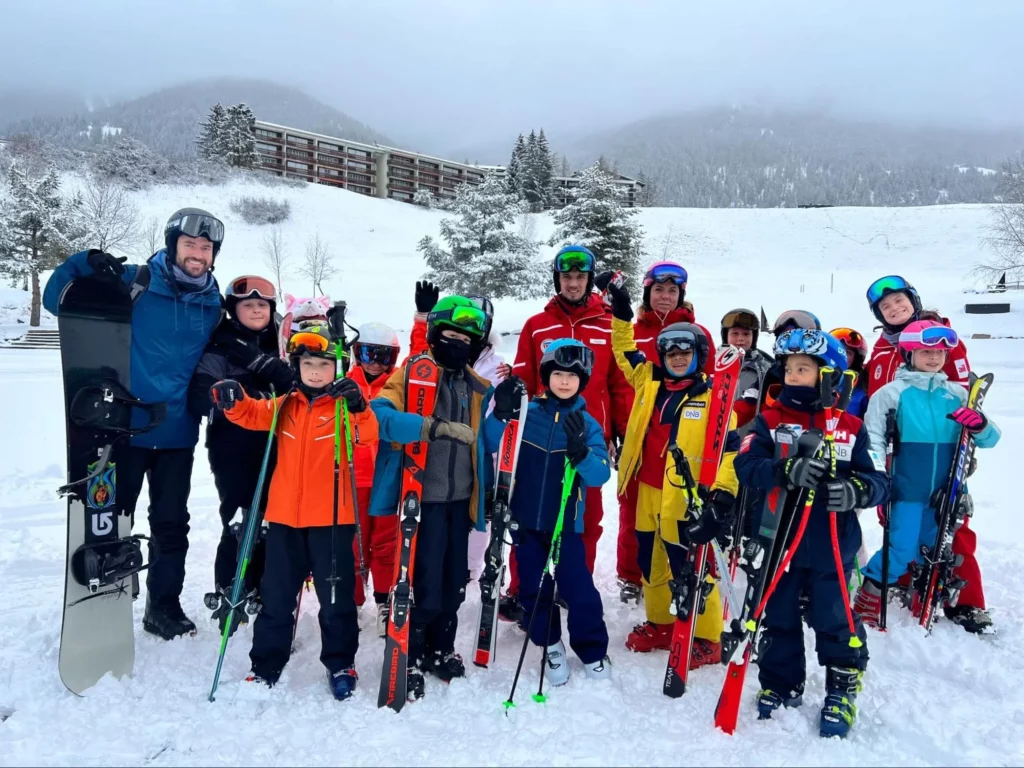 The Elementary School Ski and Snowboard Club shredded the slopes of ​​Savognin on February 4.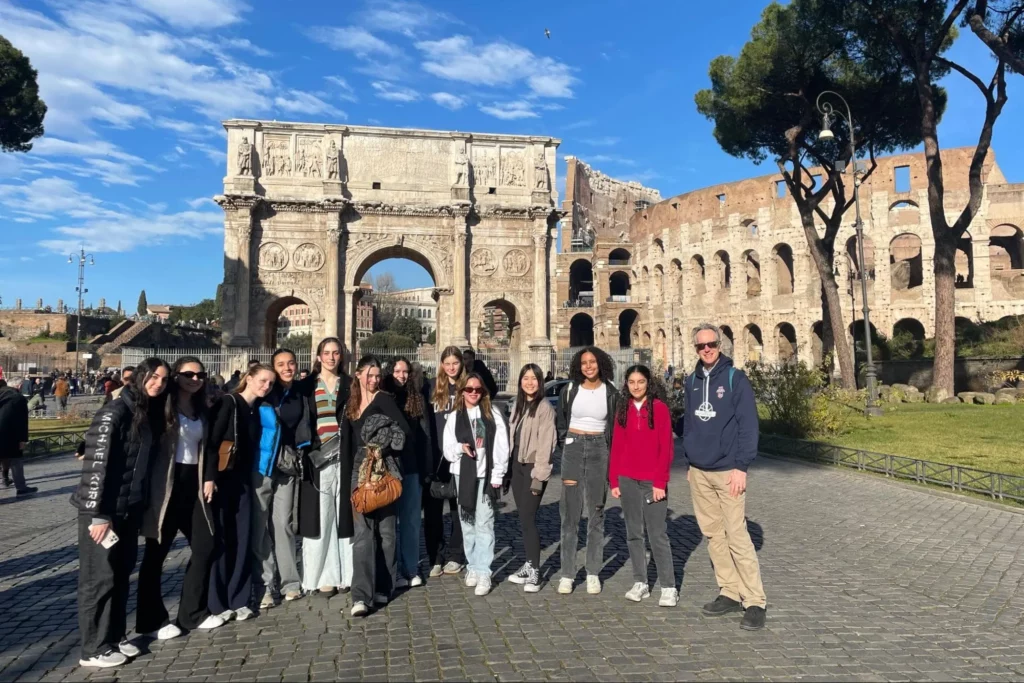 The Varsity Girls Basketball team found time to take in some sites while in Rome for the NISSA Championship Basketball Tournament on February 5. The Tigers finished second overall.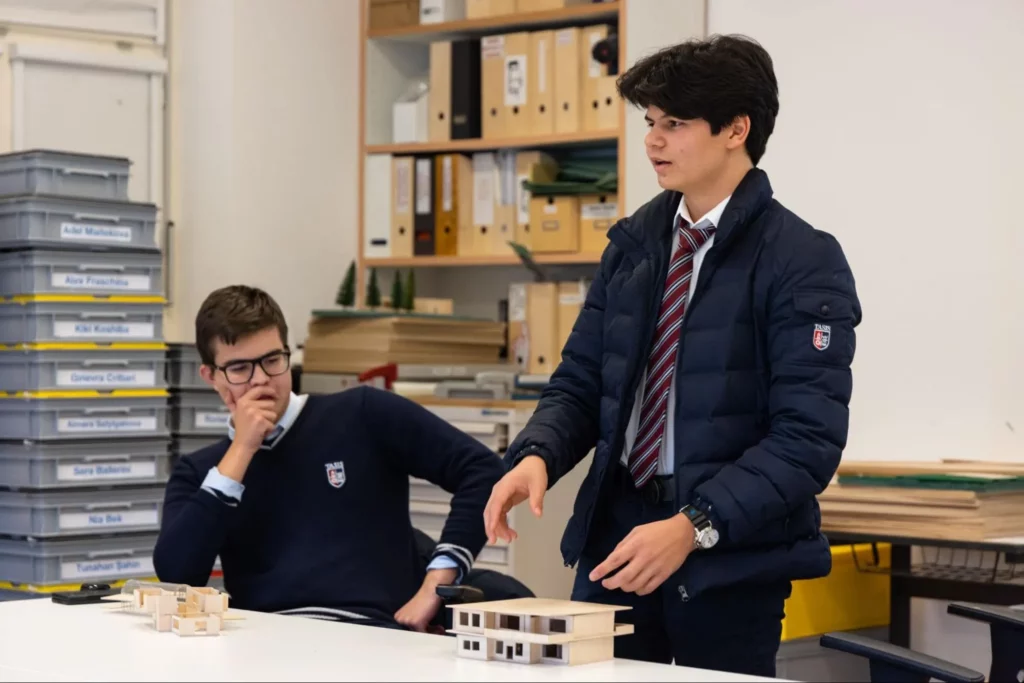 High School students in Mr. Mark Aeschliman's Architecture and Design course designed mediterranean-inspired houses that they constructed scaled models of and presented to their peers on February 6.
On February 6 in the Şahenk Fine Arts Center, High School students in Mr. Martyn Dukes's Drawing and Painting class worked with graphite sticks and powder to make giant renderings of their childhood photos.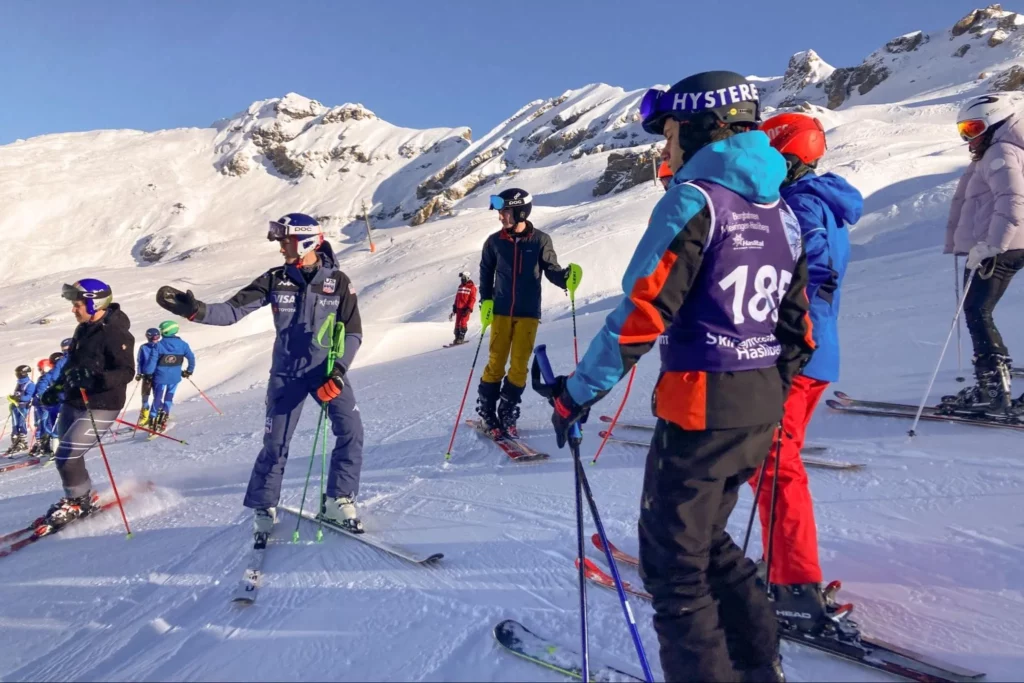 Members of the TASIS Ski Team surveyed the race course in Halisberg before competing in the Völkl International Schools Ski Cup on February 7. Marco Cané '24 led the way for the Tigers, placing first in the Boys Category A race.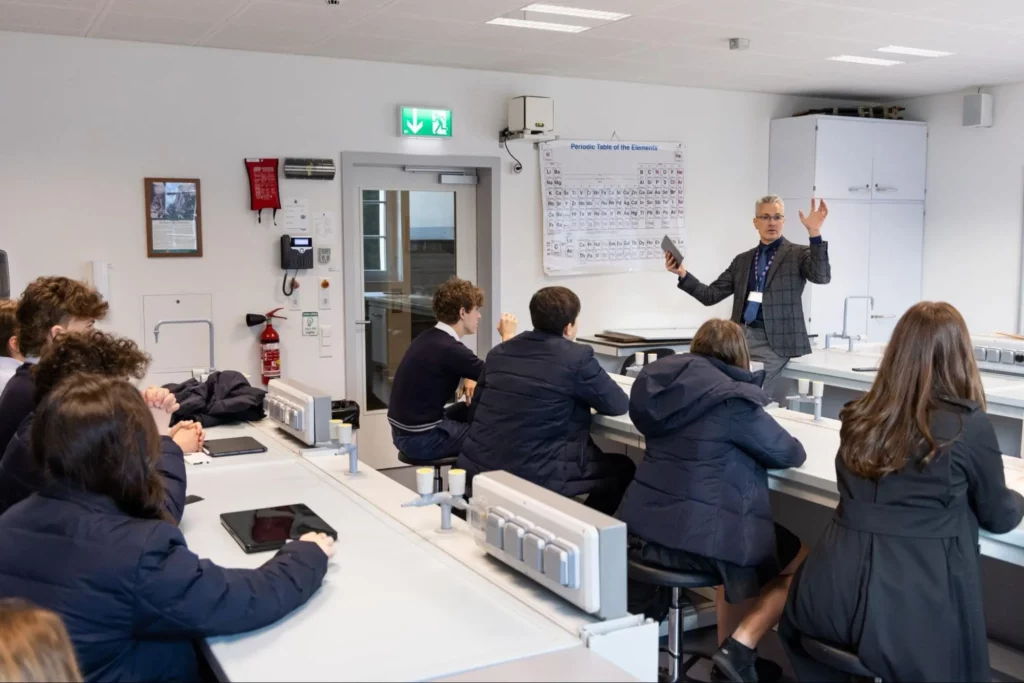 Headmaster Christopher Nikoloff would like to see all students graduate TASIS with a foundation in philosophy. To this end he offers a seminar in Ethics to grade 9 students and a Truth, Goodness, and Beauty seminar to grade 10 students. His latest piece of the puzzle is a Freedom, Equality, and Justice seminar for grade 11 students, which he started to deliver during the week of February 6.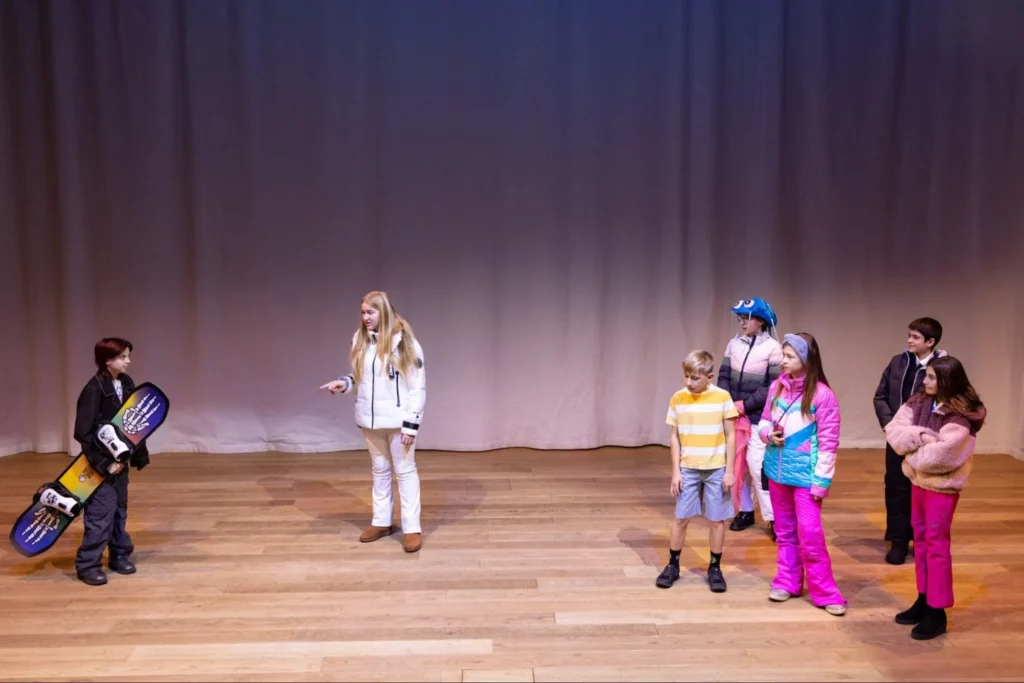 During the Middle School Assembly on February 10, sixth-grade drama students performed a comedic scene for their peers to help introduce the division's upcoming Winter Adventure trip to St. Moritz.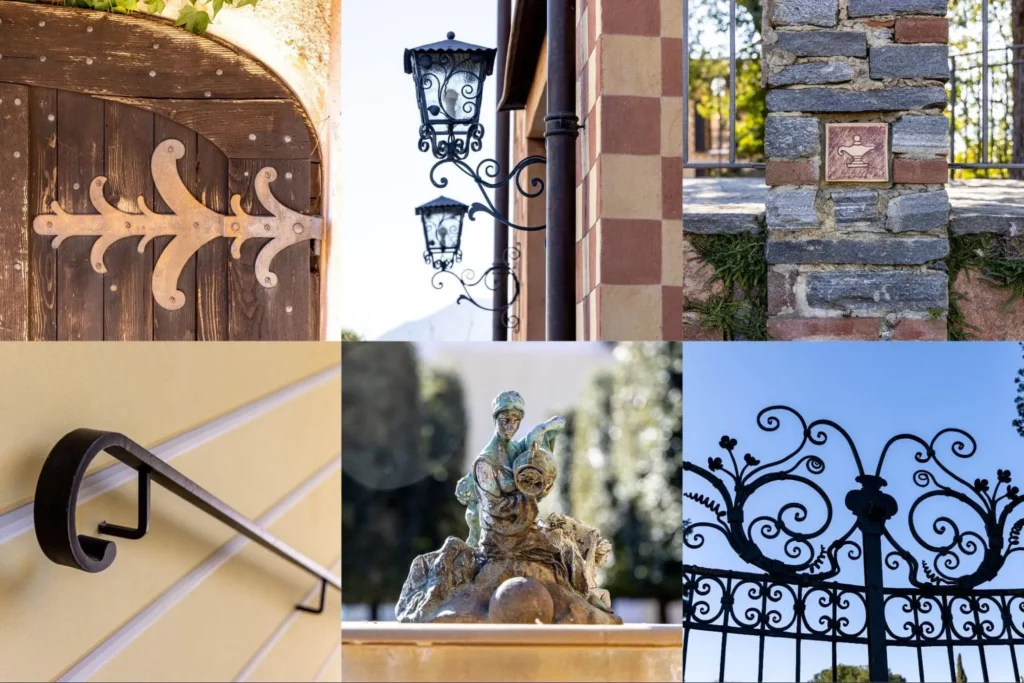 Down to the most minute details, TASIS's campus exhibits a timeless elegance.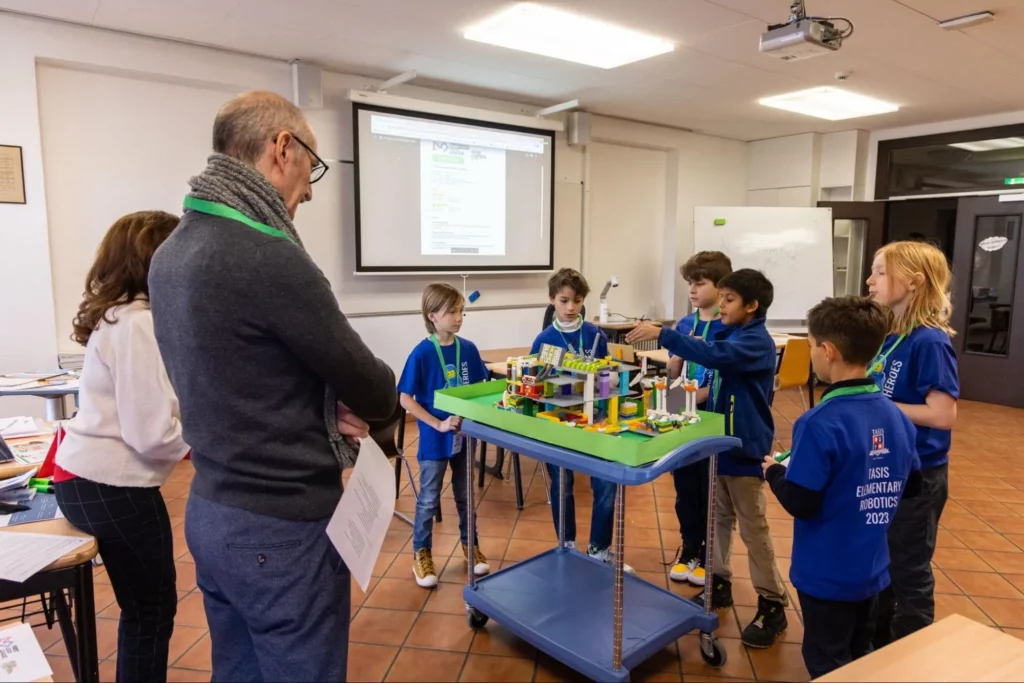 Two Elementary School robotics teams—the Space Heroes and the Bobs—presented projects and took part in a team challenge at the FIRST LEGO League Explore Exhibition hosted by TASIS on February 11. The Space Heroes won two awards—one for team collaboration and the other for design—and The Bobs won the award for robotic coding and bringing life to their project.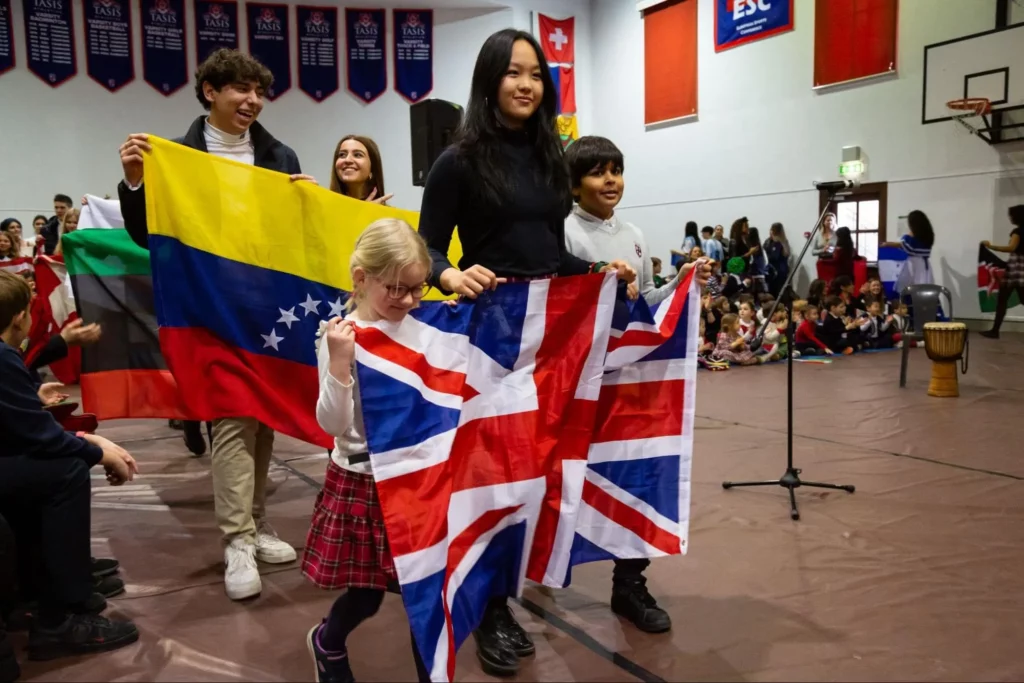 With the rest of the student body cheering them on, students from all three TASIS divisions proudly marched around the Palestra with the flags of the 70 nations currently represented in the TASIS student body during the Opening Ceremony of International Week on February 13. Agnese Salvatico '24 closed down the procession by carrying the official TASIS flag to demonstrate that all students are part of one large TASIS family.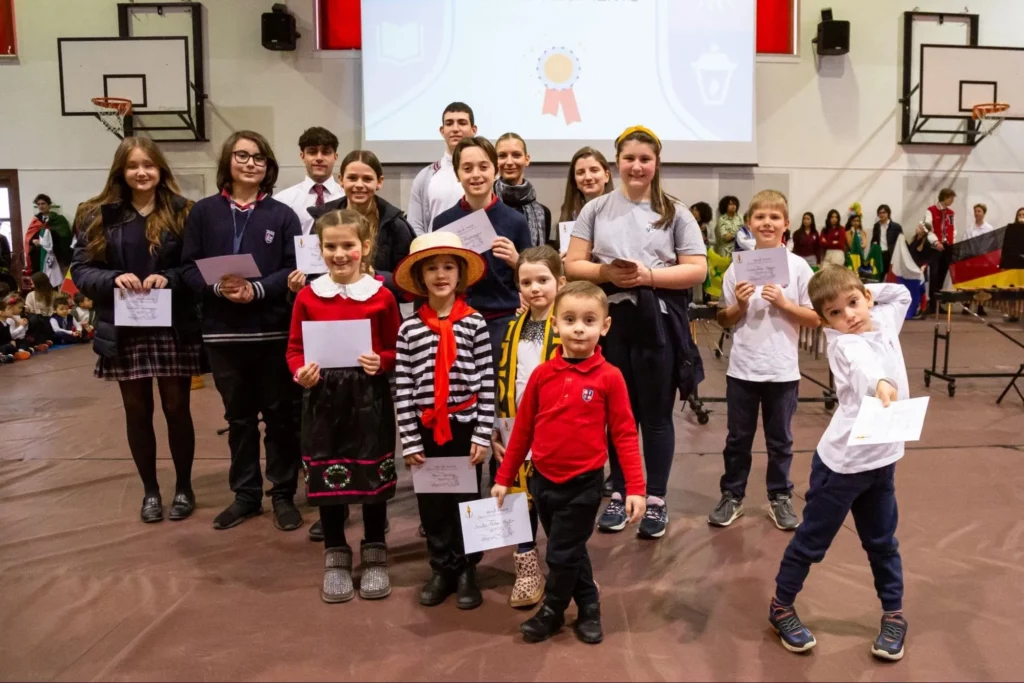 The annual presentation of Torch Awards, which are granted to one student in each grade who embodies cross-cultural understanding and makes a significant effort to reach out to students from other countries and cultures, were awarded during the Opening Ceremony of International Week on February 13.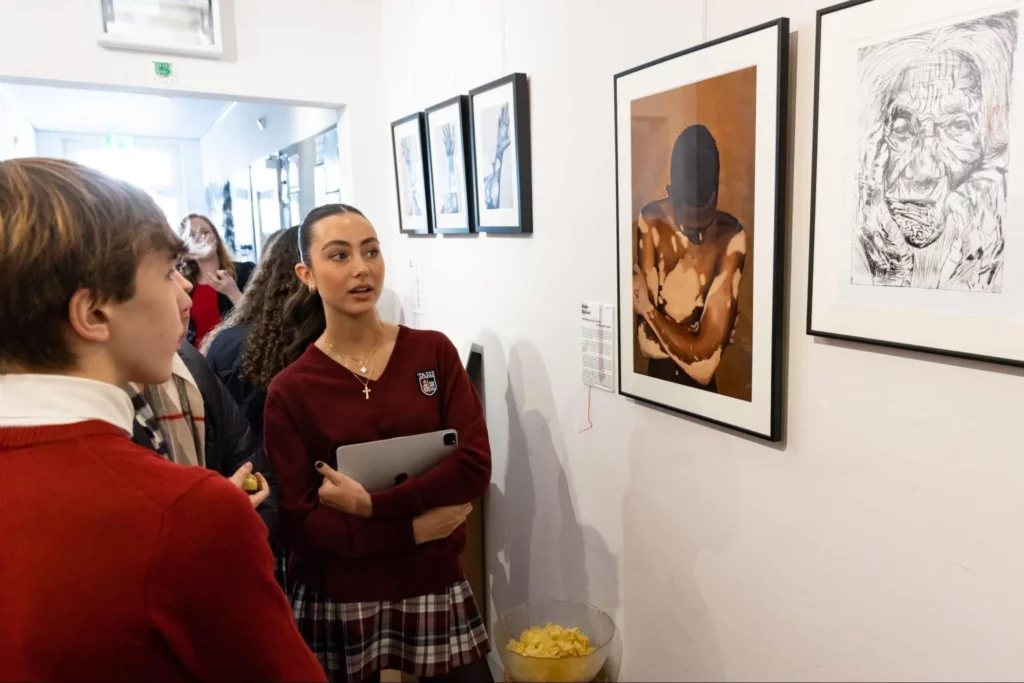 On February 14, Ms. Chrissie Wild's IB Visual Arts 1 students presented their impressive artwork in the Şahenk Fine Arts Center during the grand opening of their exhibition, "Threads of the Past."
During the Middle School's International Week assembly on February 15, students from across the world shared elements of their culture with their classmates.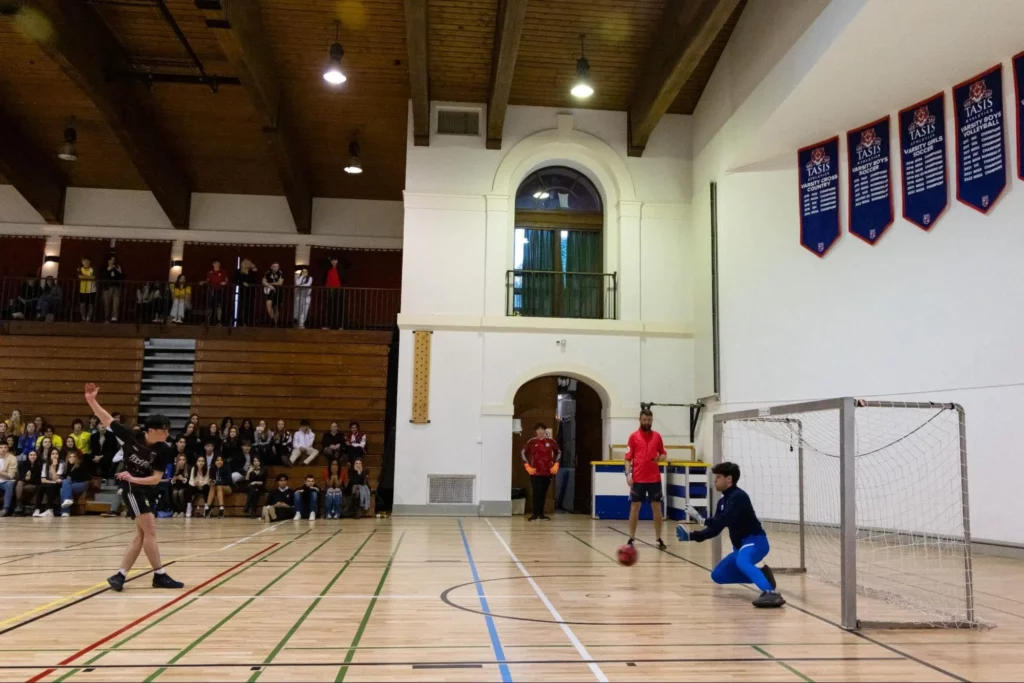 Senior goalkeeper David Ariza Solans '23 made a diving save in the penalty shootout of the World Cup finals to lead his team, Losver Galarg AS, to their second International Week World Cup Championship in two years.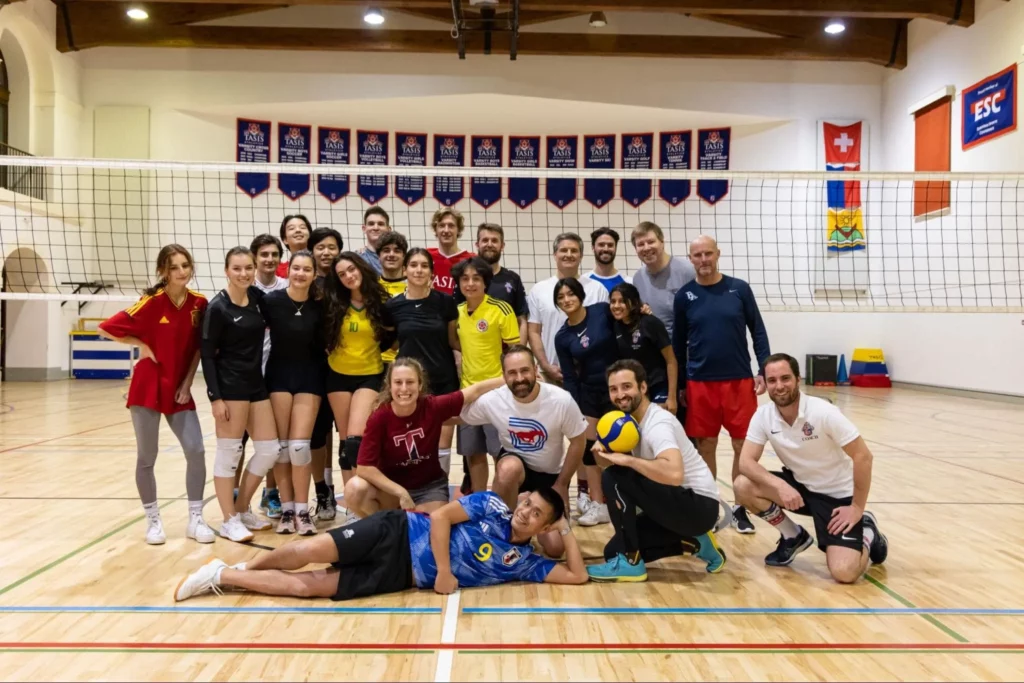 The Varsity Volleyball teams got the better of the TASIS teachers this year in the annual faculty vs. students volleyball match held in the Palestra on February 15. The crafty veterans forced a third game, but the varsity youngsters prevailed in the decisive set to earn bragging rights for the remainder of the year.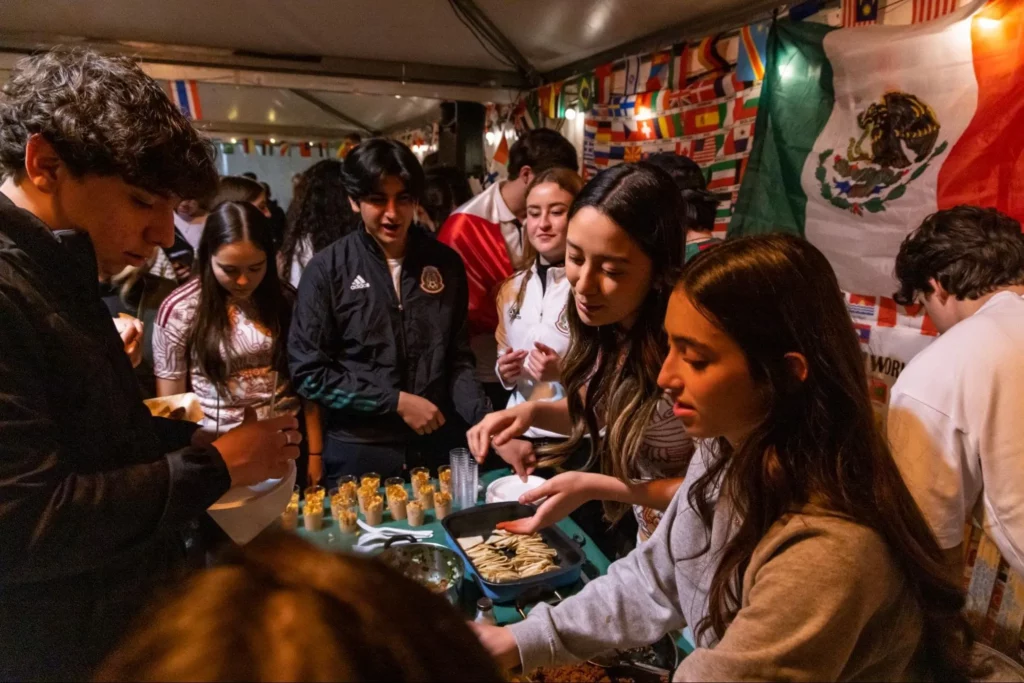 High School students prepared a wide variety of delicious dishes from their native countries and shared them with their friends and teachers at the International Food Fair on February 16.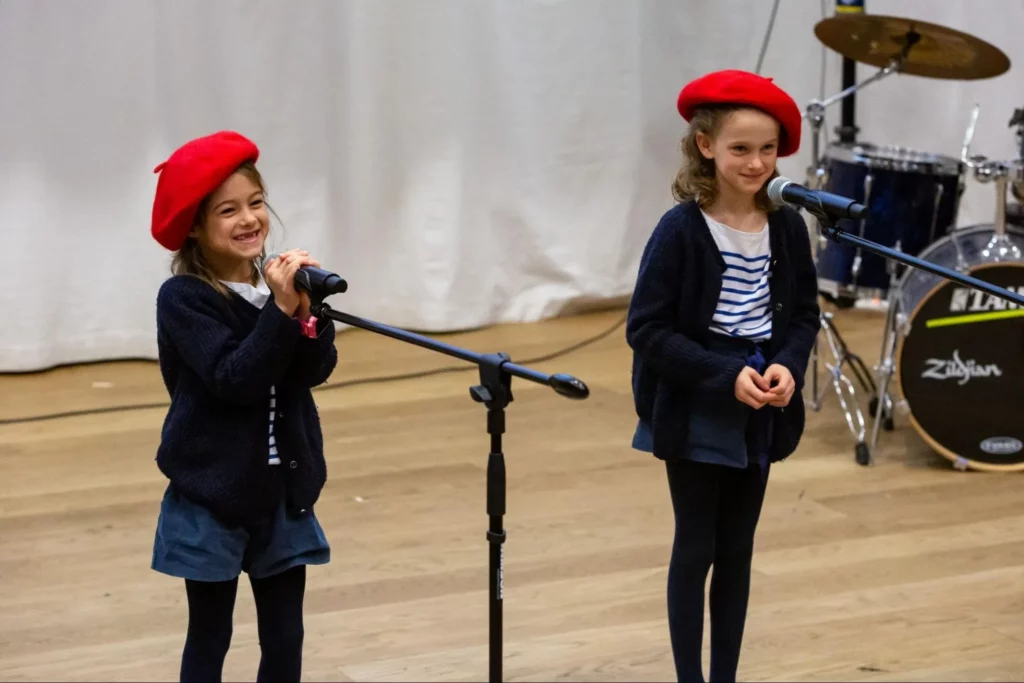 Nearly 30 Elementary School students representing more than 15 nations shared their impressive talents with their peers and teachers in the Palmer Cultural Center on the morning of February 17.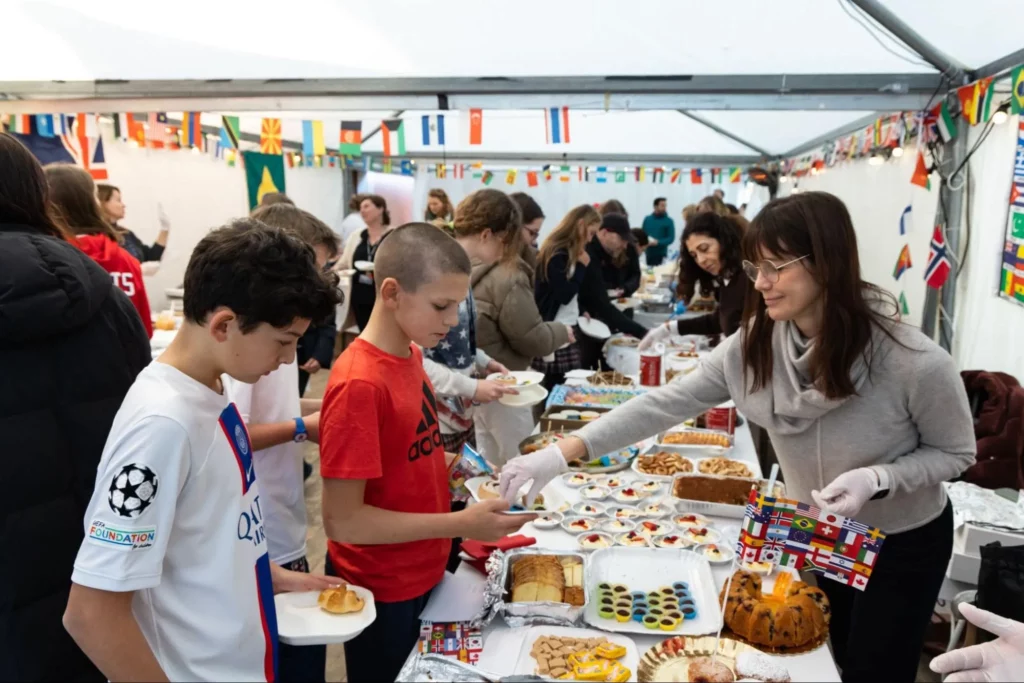 The tireless members of the TASIS Parent Association (TPA) outdid themselves on February 17, baking tasty treats from across the globe to share with students on the final day of International Week.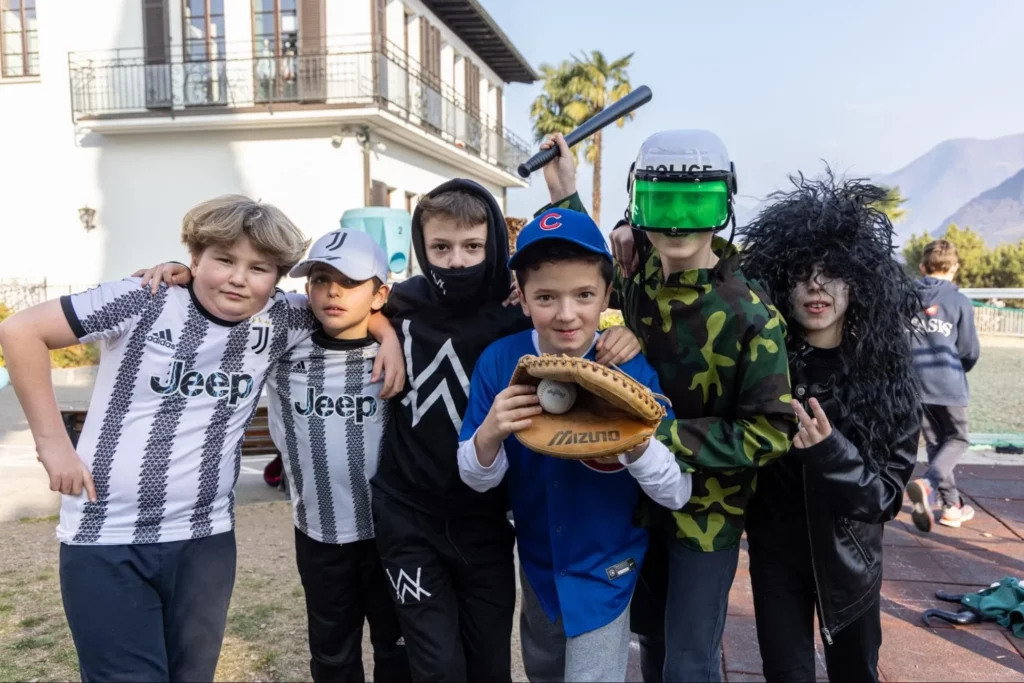 In celebration of Carnevale, the Elementary School held costume parades and enjoyed treats prepared by the TPA at Al Focolare (Pre-Kindergarten through grade 1) and on the main campus (grades 2–5) on February 21.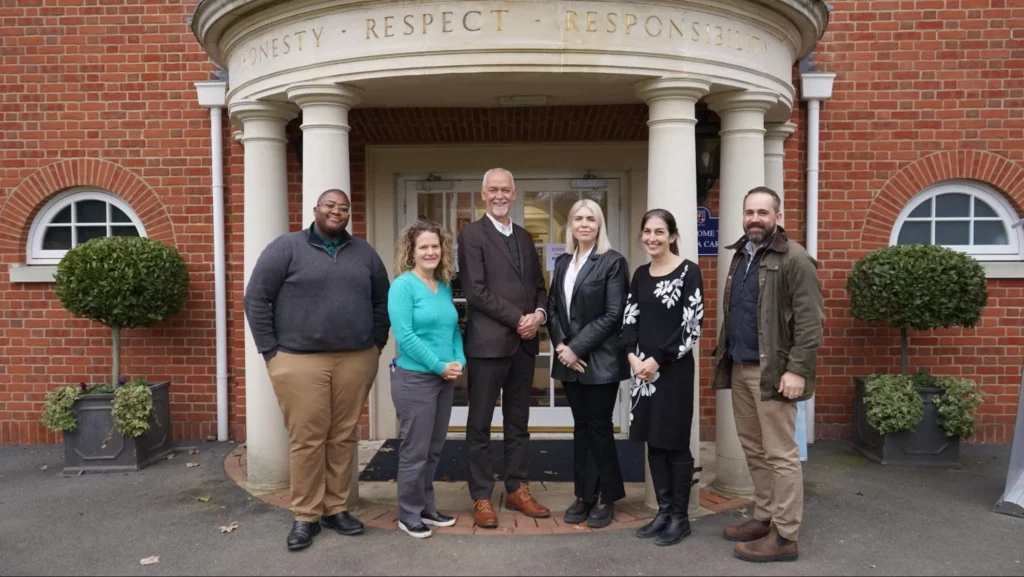 On February 21, our college counselors met up with their counterparts on TASIS England's campus to collaborate and share best practices for working with students during the university application process. The group also used Zoom teleconferencing to further collaborate with college counselors at TASIS Dorado and TASIS Portugal.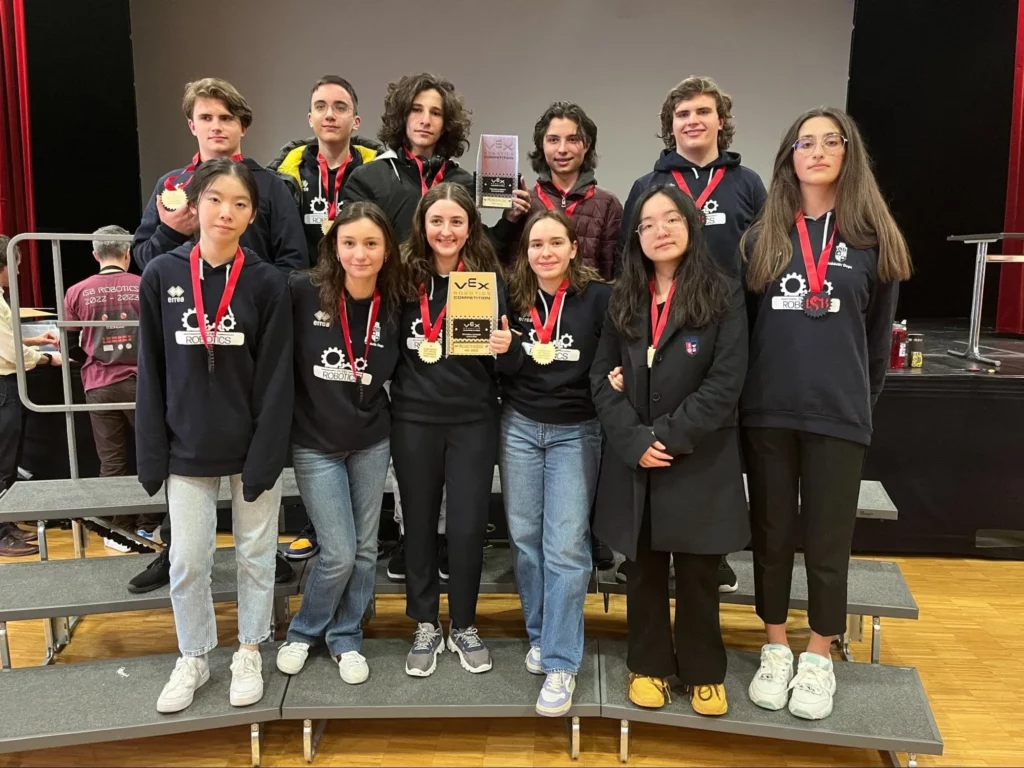 Two TASIS High School Robotics teams put forth an outstanding performance at an official VEX Robotics Competition in Basel on February 23 to continue an upward trajectory for Coach Amy Bloodworth's surging program. The all-female TASIS Tigers 2 team won the Excellence Award for their outstanding work across all of the competition's categories and have thereby qualified for the VEX World Championships in Dallas in late April! (This incredible honor comes on the heels of representing Switzerland at the 2022 FIRST Championship World Festival in Houston last April.) The TASIS Tigers 1 team also did extremely well at the competition and emerged with the Tournament Champions Award for winning the finals of the Robot Game with their alliance partner.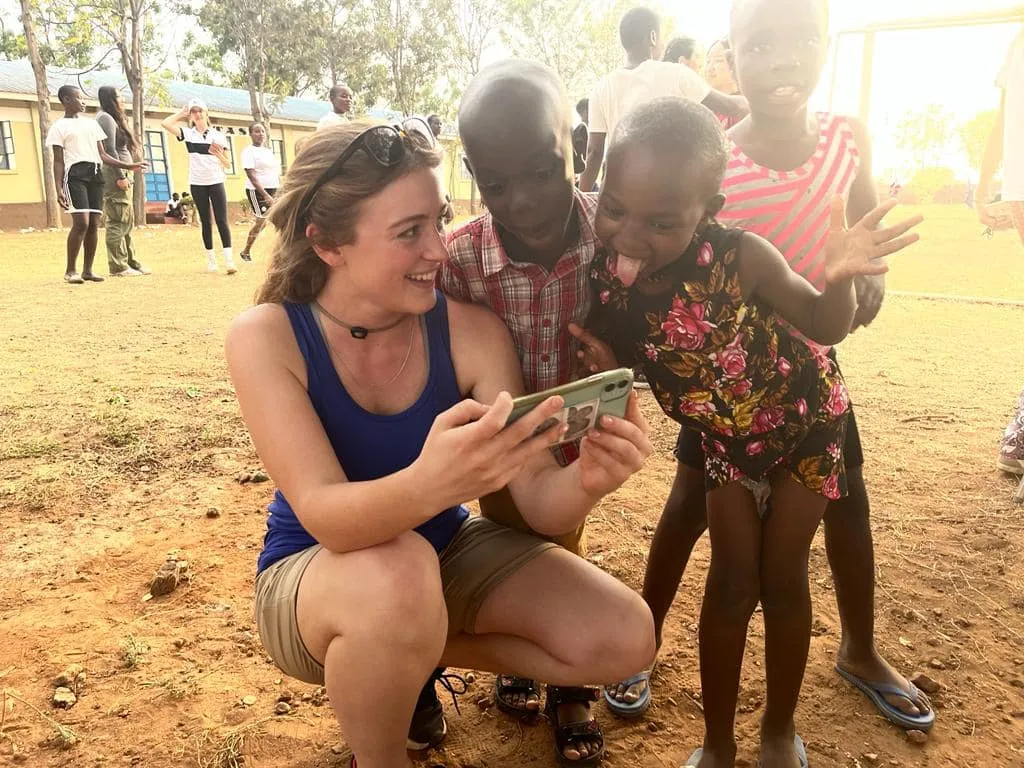 On February 16, 21 TASIS High School students and four faculty chaperones departed campus for an 11-day service trip to Kenya as part of TASIS's pioneering Opsahl Global Service Program. The group went on a safari and experienced many aspects of rural Kenyan life but spent most of its time with the students at the WISER Girls Secondary School, forming connections and providing assistance in the classroom.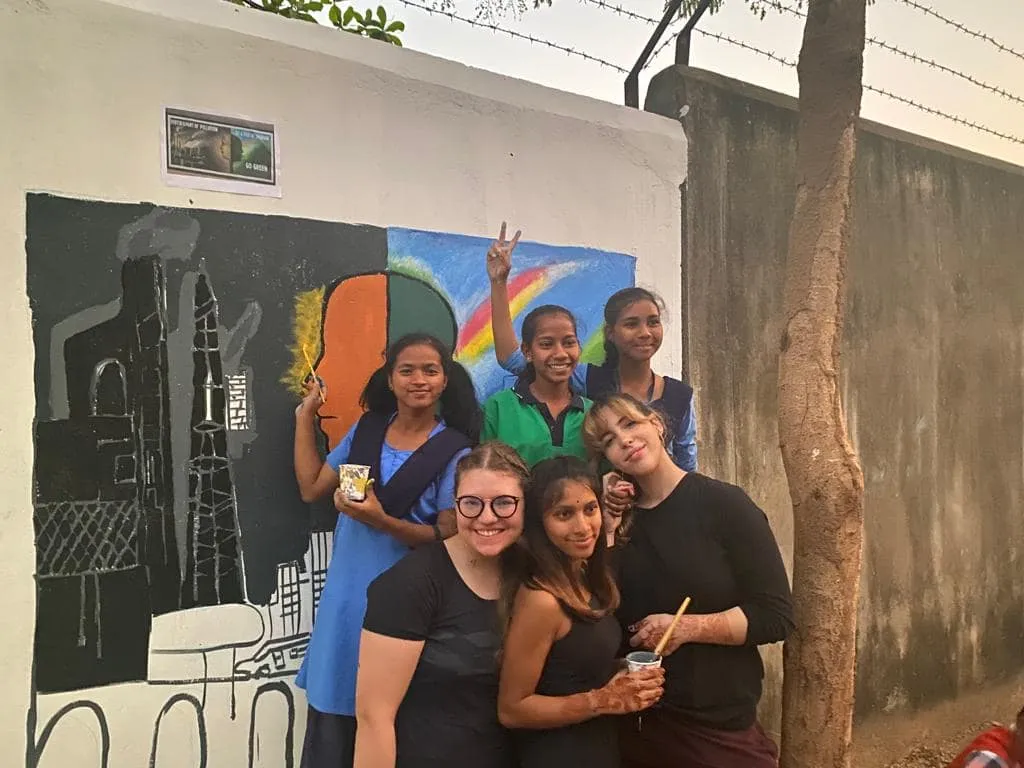 Fifteen students and three faculty chaperones traveled to rural Odisha, India, on February 18–25 to assist our Global Service Program partners at Gram Vikas. The group formed a strong bond with local students, helped with agriculture projects, and attended workshops.
Middle School students spent February 22–24 in St. Moritz on their annual Winter Adventure trip. Students skied, rode in horse-drawn carriages, played team-building games, and much more while coming together as a group.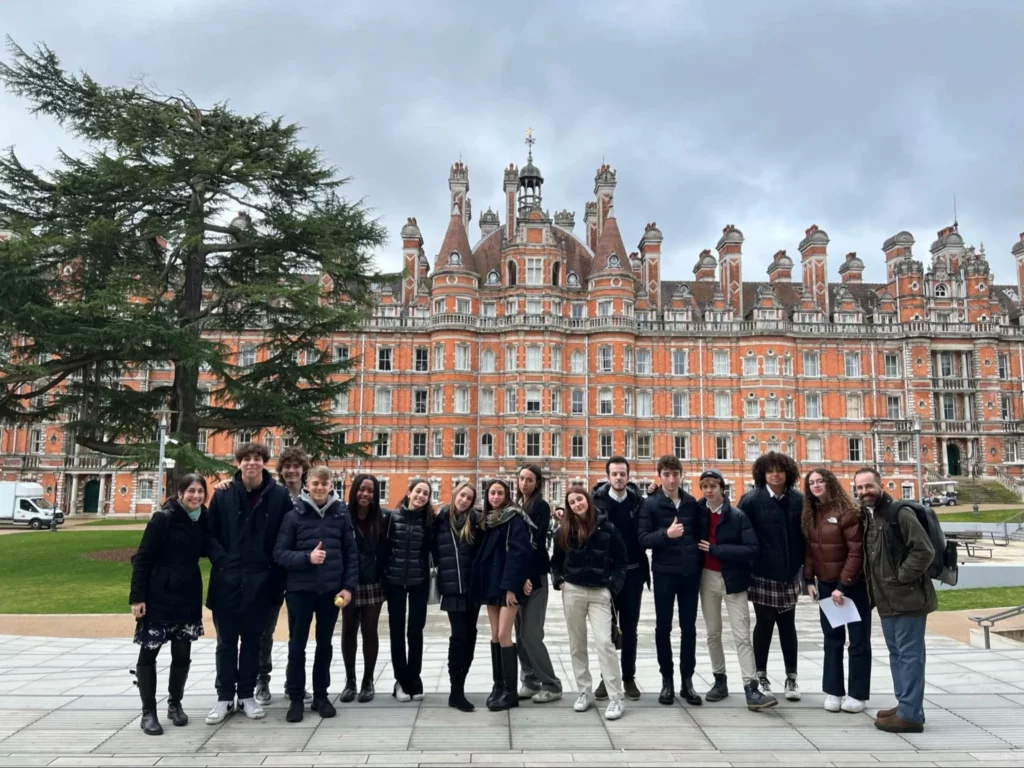 Toward the end of the month, High School students and faculty members departed campus for seven Academic Travel trips across Europe. For nearly a week, students dove deeply into their IB courses while on a study retreat to Siena, toured many universities with our college counselors while visiting London, slept in the Midnight Express train while traveling to Berlin, spoke the local language while exploring Madrid and Palermo, found tremendous success while competing in a robotics competition in Basel, and skied the Alpine slopes of Engelberg.