A demanding curriculum, exceptional faculty, and outstanding College Counseling Office have helped the 102 students in TASIS The American School in Switzerland's Class of 2019 gain admission to 169 universities and colleges in 11 nations, with 61 total offers coming from schools ranked in the top 100 of the Times Higher Education 2018–2019 World University Rankings.
The list of distinguished institutions that accepted at least one TASIS student includes University of Oxford (ranked #1), Stanford University (#3), Yale University (#8), Imperial College London (#9), University College London (#14), University of California, Berkeley (#15), Columbia University (#16), University of California, Los Angeles (#17), Cornell University (#19), University of Toronto (#21), New York University (#27), University of Edinburgh (#29), University of California, San Diego (#30), University of Hong Kong (#36), and King's College London (#38).
TASIS students also received offers from eight schools ranked in the top 50 in the U.S. News & World Report's liberal arts college rankings, including Williams College (#1), Davidson College (#10), Smith College (#11), and Bates College (#22). (Note that the Times Higher Education rankings do not account for liberal arts colleges.)
In all, TASIS students were accepted to 78 schools in North America, 61 in the United Kingdom, and 30 from other nations around the world, including Brazil, France, Hong Kong, Italy, Japan, The Netherlands, Spain, and Switzerland. See a complete list of colleges and universities offering admission to the Class of 2019 in this article.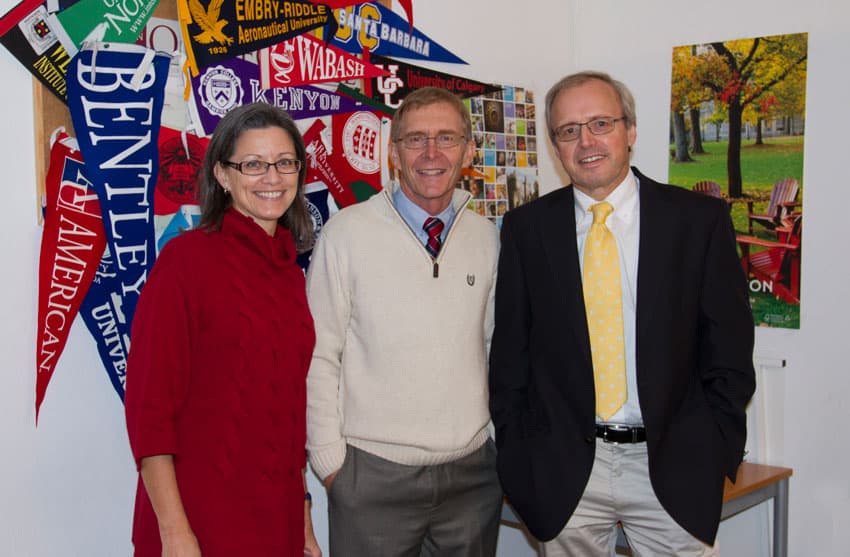 The TASIS Advantage
The three counselors who lead theTASIS College Counseling Office—Director of University and College Counseling Greg Birk, UK College Counselor and IB Coordinator Howard Stickley, and College Counselor Carroll Birk—combine for more than 100 years of experience in education, and through the years they've built countless relationships with college admissions officers around the world. When these admissions officers are asked how they regard candidates from TASIS, a common theme emerges time and again: they hold the School's mission and internationalism in high regard.
With a student body comprising nearly 60 nationalities, an extensive Academic Travel Program, a pioneering Global Service Program, and a mission to instill the values of personal responsibility, civility, compassion, justice, and truth, TASIS produces well-balanced students who are cultured, intrepid, and socially conscious. This built-in advantage, combined with a rigorous academic program that allows students to pursue an International Baccalaureate Diploma or take a wide range of Advanced Placement courses, is the bedrock from which TASIS students pursue their postsecondary goals.
Motivated students build upon this foundation by demonstrating an impressive commitment to a combination of visual and performing arts, athletics, local and global service, and leadership positions on and off campus. They take advantage of the opportunities provided by a school that does not forget its Founder's simple but timeless advice: "Fill all their waking hours with commitment to study, sports, the arts, and responsibility to others. Instruct—stretch them in all areas."
To learn more about how TASIS has built up a strong reputation with excellent universities in recent years, how the spirit of multilingualism present on campus works to the advantage of TASIS students when they apply to university, and how even underperforming graduates tend to find success at university, listen to this podcast featuring Mr. Stickley and two other TASIS legends. (The conversation turns to these subjects beginning at the 29:07 mark.)