At Lakefield College School, we believe in the importance of educating the whole person. Students are nurtured and encouraged to embrace who they are as individuals and they learn to connect with and care for their communities and environment. One of the many ways students grow and learn at LCS is through their interaction with nature and outdoor education. Time and time again, studies have demonstrated the positive impact the outdoors and outdoor education have on youth development, which is why outdoor learning is a key part of our curriculum. We believe that getting outside and in touch with nature is an important part of a holistic educational experience.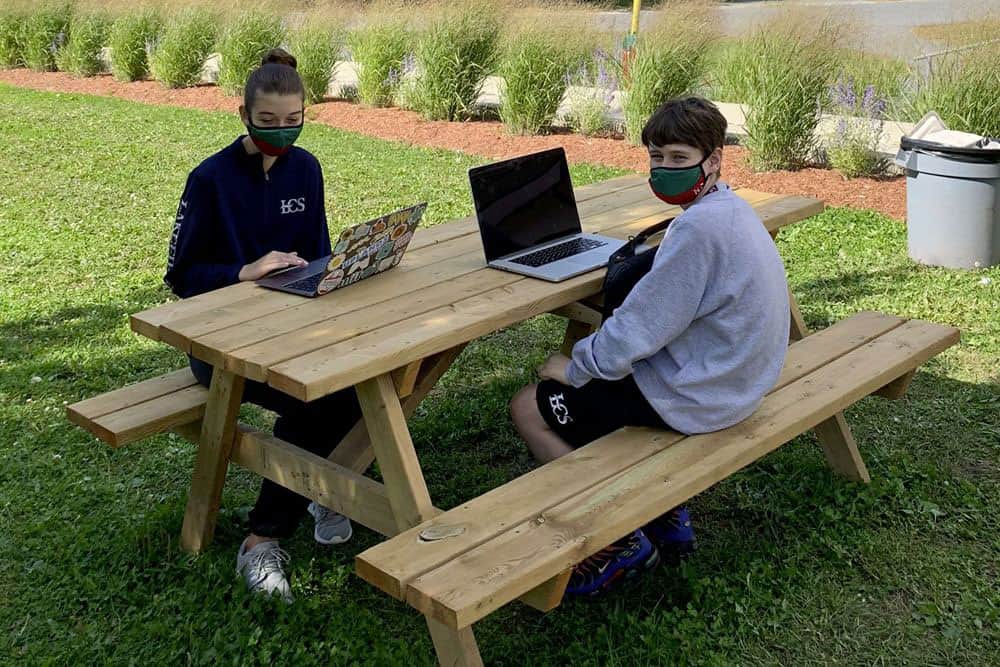 Now, more than ever, our 315 acres of campus and beautiful natural surroundings are one of our greatest assets as we work to maintain a healthy community and offer students an exceptional learning environment.
Our faculty have leveraged existing outdoor facilities as well as our enhanced outdoor social seating and recreational areas to take their classroom learning outdoors. Everything from visual arts, music, science, geography and mathematics are being delivered through innovative and authentic learning experiences in our outdoor spaces:
Grade 9 geographers headed outdoors to create 3D models of the earth and explore the layers of our planet while applying their knowledge of plate tectonics.
Kinesiology students used the Ropes Course to learn about motor development and participate in an invaluable team building activity.
Grade 9 science students picked leaves around campus to make qualitative and quantitative observations.
Law students performed group work at our outdoor picnic tables, working both in-person and with remote students.
Hybrid and remote students also enjoy the benefits of learning outdoors with programming designed to get them outside. As our students continue to learn and connect together, our beautiful natural campus has provided an enriching and safe space to do so.