Ms. Brown's Advanced Placement Literature classes welcomed Psychotherapist and Trauma Expert, Julie Brown to their classroom to learn about Post-Traumatic Stress Disorder (PTSD) and how the brain processes trauma. After reading The Things They Carried by Tim O'Brien (as a part of their unit on "The Impact of War Upon One's Moral Compass"), students examined the book and the characters within it in preparation to write a psychoanalytic theory essay about the novel.
Students came to class prepared with questions to ask Julie, eager to learn from her unique perspective. Some of the questions students posed include:
Do you believe that there are similarities between Freud's ideas on the formation of dreams and O'Brien's storytelling process in writing The Things They Carried?
What are the signs we can learn to identify when looking at a person's mental health?
How do dominant archetypes in people shift due to conversation and therapy?
Would you say the author, Tim O'Brien's use of repetition and lists has to do with his desire for control? Would this be a function of PTSD?
Is the metafictional aspect of the novel related to O'Brien's own personal history as a veteran of the Vietnam war?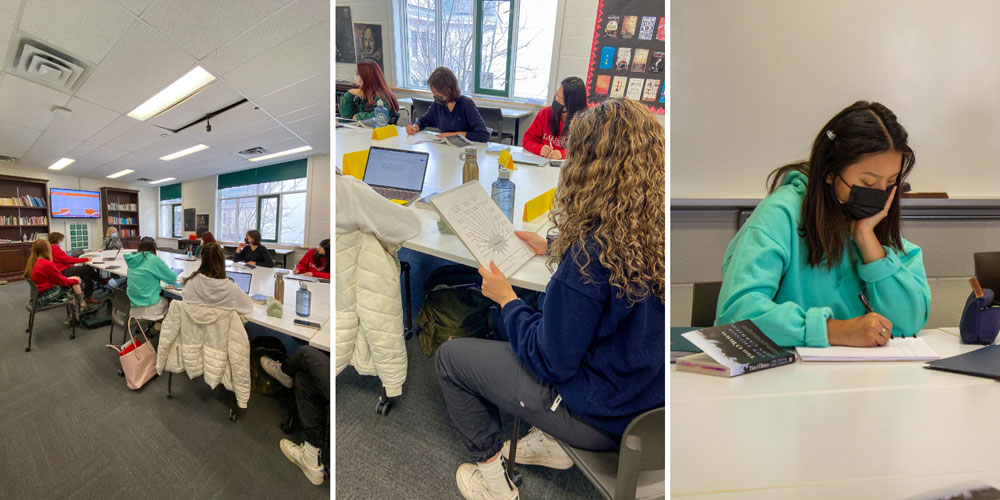 Julie engaged the class in a conversation about mental wellbeing and spoke about the factors that contribute to psychiatric disorders, such as PTSD. Julie addressed how individuals with PTSD attempt to cope with their emotions in healthy and unhealthy ways, sharing some of the strategies she recommends to her clients. She then led the class through a breathing exercise designed to lower cortisol levels and help re-center the mind. Woven throughout the session, Julie contextualized her knowledge about mental wellbeing through the lens of The Things They Carried, helping students to better understand the novel and the novelist, Tim O'Brien. Following their meeting with Julie, students reflected on their learning and had some insightful thoughts to share:
The concept of self-blame in trauma victims was an idea that was reframed in a really impactful way for me. Traumatic experiences disconnect our mind and body – and this is what forms trauma.

Grace '22
I learned the distinction between an emotional event that can evocate a powerful feeling in someone but is not necessarily considered trauma. Trauma is a reaction where an individual feels as though they are reliving the same event and it is taking place again and there is confusion between past and present.

Sarah '22
I learned that PTSD occurs unknowingly in trauma victims. Due to the incorrect depiction of PTSD in media, I assumed that the disorder was visible to both the victims and those around the victim. It was interesting to learn that PTSD often presents itself as ordinary symptoms such as anxiety.

Louise '22
Bringing experts into the classroom is just one way that teachers at LCS work to contextualize learning, keep course content fresh and engaging, and offer diverse perspectives for students to learn from.