The fall season is always a fun and busy time at Leysin American School in Switzerland! This past month, our students kept busy with fall cultural trips, spirit week, sports competitions, and more! Read below to hear about some of our highlights from the season!
Fall Cultural Fun
In October, our students went on trips throughout Europe for their Fall Culturals! Fall Culturals are a time for students to immerse themselves in the cultures, languages, and experiences of different countries. Ten trips were offered in 6 different countries, so there was no shortage of unique, exciting, educational experiences!
Grades 7, 8, and 9 
Our youngest students enjoyed a trip to the Rhineland and Alsace, taking in the incredible natural beauty that Germany and France have to offer. These regions are also known for their tasty food and fascinating history, so there was no shortage of fun to be had!
Grade 10
Our 10th grade students make an annual trip to the Bavarian Alps for a week of outdoor adventure hosted by Outward Bound Germany. This experience is chock-full of exercises in teamwork, adrenaline-filled activities, and wraps up with an overnight excursion to a hut!
Grade 11
Our junior students had several trips available to them—a French immersion trip to Monaco, a Spanish immersion trip to Spain, a science trip to Zurich and Lucerne, an arts and history trip to Berlin, or a Swiss Italian experience in Lugano. With so many neat experiences, it was hard to choose just one!
Grade 12
Our senior students had three Italy trips to select from—Rome, Venice, or Florence—with the purpose of furthering their TOK studies. These cities overflow with art, culture, and history, making them the perfect playground to learn in!
Spirit Week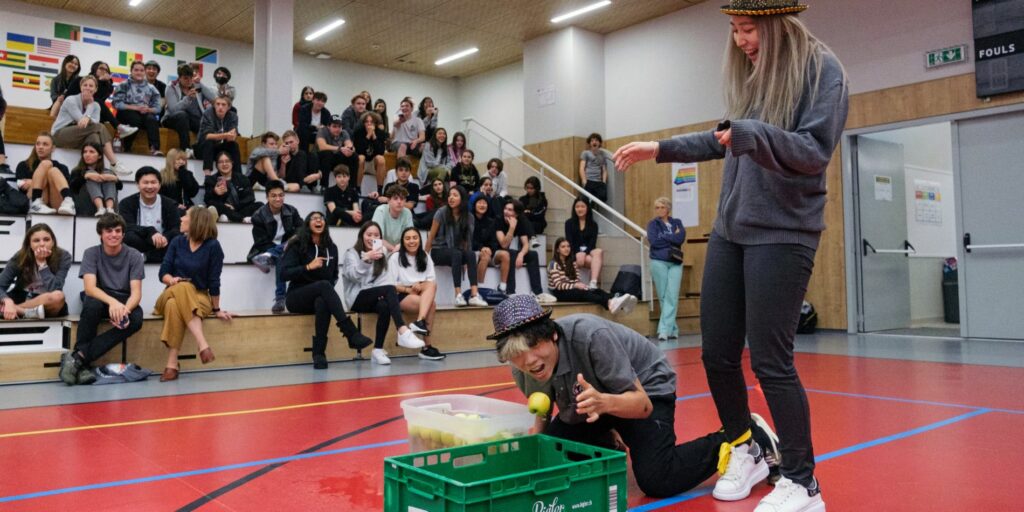 During October we also enjoyed Spirit Week! Our Student Life team put together a fun list of competitions and events for our students to attend and spirits were high!
The week began with excitement as the boys' basketball team won their match against a competing school. Not only did our team play brilliantly and show excellent sportsmanship, but we received tremendous support from LAS staff and students sitting in the crowd!
The following day, students and faculty went head-to-head in an indoor soccer match at the MMAC! This year students claimed victory; the match was close, but the students snuck in a golden goal during extra time!

Spirit Week concluded with Crazy Faculty Family Games. Faculty Families met in the MMAC and were faced with a "Crazy Course" that they had to run, skip, and jump their way through. What a fun week this was!
Volleyball Tournament
LAS hosted the SGIS volleyball tournament this weekend and wow did our team make us proud! Our girls' volleyball team went up against 13 other school teams and, drumroll please… our team went undefeated and was victorious! We're incredibly proud of them! We've got many more sports matches ahead and we're excited to cheer on more LAS Goats as the fall athletic season continues!