Responding to requests from families of current and prospective students, Dwight Global Online School — a leading worldwide online school — has expanded its online middle school program to include sixth graders. The inaugural grade six class will begin in September 2022. Many Dwight Global middle school graduates continue their online education at Dwight Global's Upper School, and are subsequently accepted to outstanding colleges and universities all over the world.
"Sixth grade, and the middle school as a whole, is devoted to building a foundation of essential skills to set students up for success," said Middle School Director Sara Crucet. "Our instructional model supports the middle school learner in all capacities, and many of our middle school faculty are current or former IB-trained teachers who seamlessly and organically integrate IB practices into their courses."
Dwight Global provides the best elements of a day school, boarding school, and international online school for students in middle and high school. Students participate in live classes with experienced faculty and also work asynchronously, giving them the flexibility to arrange their schedules and pursue their outside passions, like pre-professional athletics or performing arts. All the elements that are present in a top-notch private brick and mortar school can also be found at Dwight Global, from one-on-one tutorials and extracurricular activities, to in-person experiences and college counseling. Providing a personalized experience for each student, Dwight Global is dedicated to "igniting the spark of genius in every child." Moreover, students at Dwight Global collaborate, learn with, and befriend students from all over the world, in and out of their classes. From academics to the school community, students at Dwight Global develop a global perspective prized by colleges and universities, as well as the global marketplace of the future.
Starting in Grade 6, Dwight Global students are introduced to an inquiry-based curriculum through which they are encouraged to think critically and independently and apply their knowledge to the world around them. Students learn time management and self-advocacy. They are encouraged to develop a passion for learning and to embrace new challenges with enthusiasm and confidence. Starting in Grade 9, students are given the opportunity to take Advanced Placement courses. In Grade 11, students may choose to take International Baccalaureate courses and sit for the prestigious International Baccalaureate Diploma.
In Dwight Global's newly expanded middle school, sixth graders will meet for live classes three days a week and participate in a daily half-hour homeroom period with their dean every Monday-Thursday. The personalized program allows students to log on from anywhere in the world, select morning or evening classes, and to occasionally work asynchronously.
"Sixth grade students are enrolled in a skills-building elective course which incorporates the IB Approaches to Learning, giving them the toolbox of skills they need for future IB studies," said Crucet. "Our middle school courses are designed to prepare students for the IB at the high school level. Our experienced teachers incorporate IB best practices into their curriculum, using rubrics to assess learning and project based assessments, for example. Additionally, our research scope and sequence, which leads into the IB Extended Essay, begins in seventh grade when students take a research elective."
Dwight Global educates the whole student, not just academically. A sixth grader's developing social skills are enhanced through participation in a wide array of afterschool clubs and specially designed programming that provides abundant leadership opportunities for all students.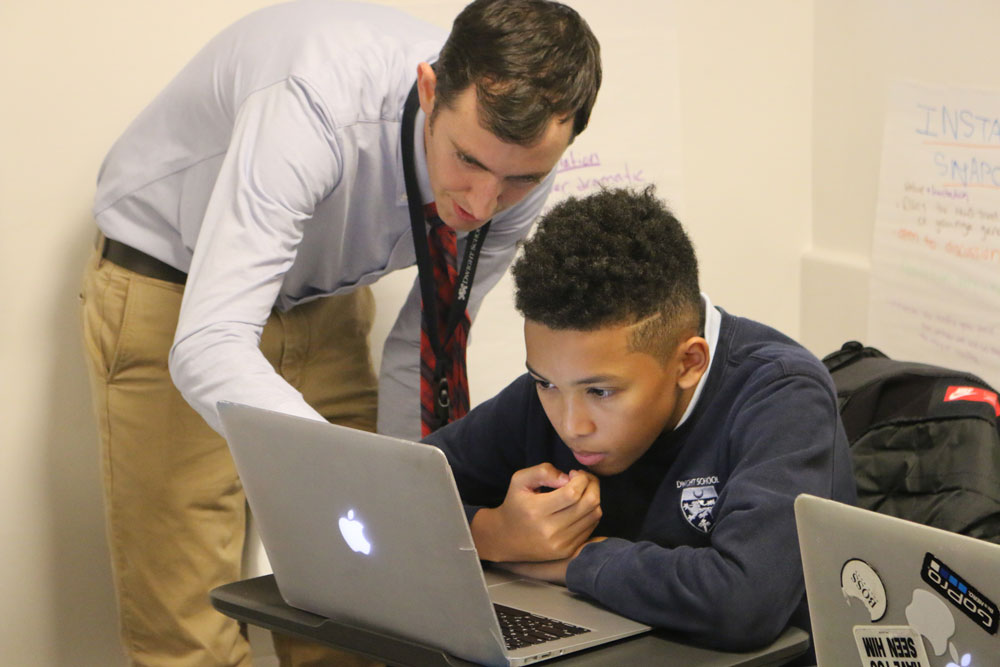 A new initiative for 2022-23 builds on Dwight Global's current house system, with house leaders and deputies leading house activities. Middle school students will now have their own house leaders for each of the four houses, and these students will lead middle school-only activities and competitions. The middle school house leaders will also work with the high school house leaders, to create utility and a sense of belonging. Assemblies and additional programming during the year offer structured and unstructured time outside of class time for students to learn and socialize, including Dwight's Spark Tank incubator program, where student creations are applied to real world marketplace.
"Our students come from all over the world, and what they have in common is that they all want to learn while feeling a part of something bigger than themselves," said Dean of Middle School Dr. Anthea Lake. "We may live in different time zones and countries, but we come together as one. I especially love how our students are always willing to participate in extracurricular activities. We are a school with a strong sense of community and camaraderie. That's one foundation for what makes us a great online school."
Dwight Global parents are provided for as well, with specially designed programming for middle school parents. Workshops are offered in the early part of the year, to help parents support their children in online learning and in middle school development across the board: academic, social, and emotional.
All Dwight Global students are also invited to in-person events throughout the year at Dwight School New York, including orientation, STEAM weekends, lectures, performing arts performances, prom, graduation, and other events. Students may also visit the Dwight campuses around the world in Dubai, Shanghai, London, and Seoul.
Dwight Global's combination of flexible scheduling, foundational skills supporting all learners, strong community, and respected, rigorous academics equip families with an ideal education for their middle and high schoolers.
Founded in 2014, Dwight Global Online School is a world-recognized, private online middle and high school offering International Baccalaureate courses and other rigorous academic pathways leading to a respected high school diploma.
Building on Dwight School's 150 years of educational innovation, the accredited, nationally ranked Dwight Global is committed to educating the next generation of global leaders. In 2021, Dwight Global was ranked #2 Best Online High School by Newsweek magazine.
Visit Dwight Global here to learn more about the school, its academic programs, and admissions.