We provide a snapshot of what one day is like in the beautiful Şahenk Fine Arts Center, offering an inside look at the first-rate TASIS Visual Arts Program.
After exploring what a typical day is like for students in Kindergarten, in grade 3, and in grade 6 earlier this year, this month we've chosen to focus on a building rather than a grade. Read on for an inside look at the first-rate TASIS Visual Arts Program and a snapshot of what one day is like in the beautiful Şahenk Fine Arts Center.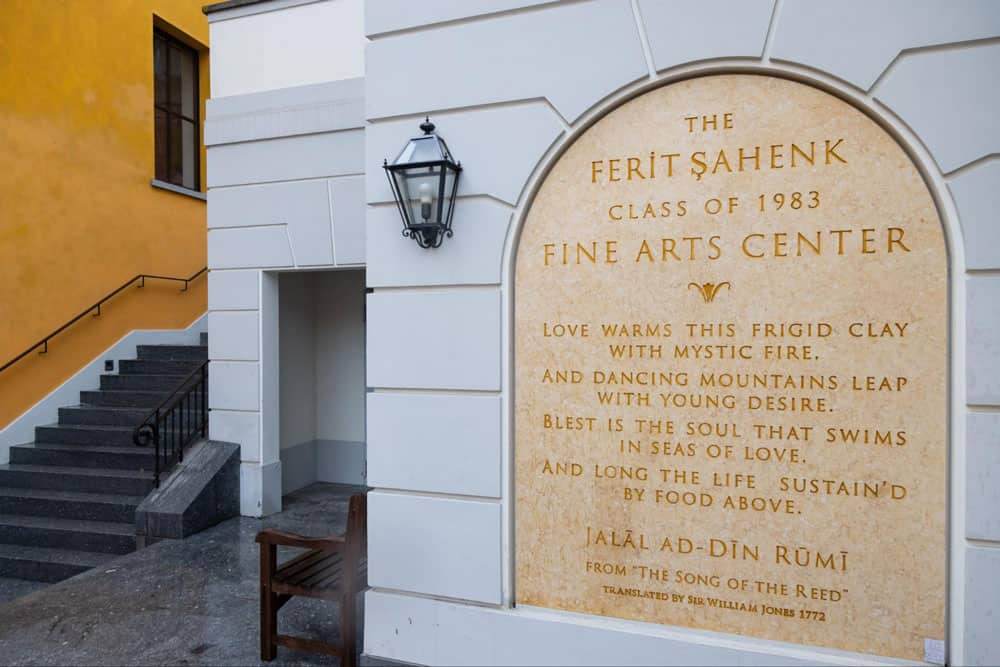 Thanks to a very generous gift from Ferit Şahenk '83, the Şahenk Fine Arts Center has served as the hub of the visual arts at TASIS since it opened in 2012. Its four large and luminous studios were purpose-built for painting and drawing, architecture and design, photography, and ceramics.Mr. Şahenk was greatly inspired by former legendary TASIS photography teacher Horst Dürrschmidt, for whom the gallery space within the building is named, and current legendary teacher Mark Aeschliman, whose Architecture 1 class is discussed later in this article.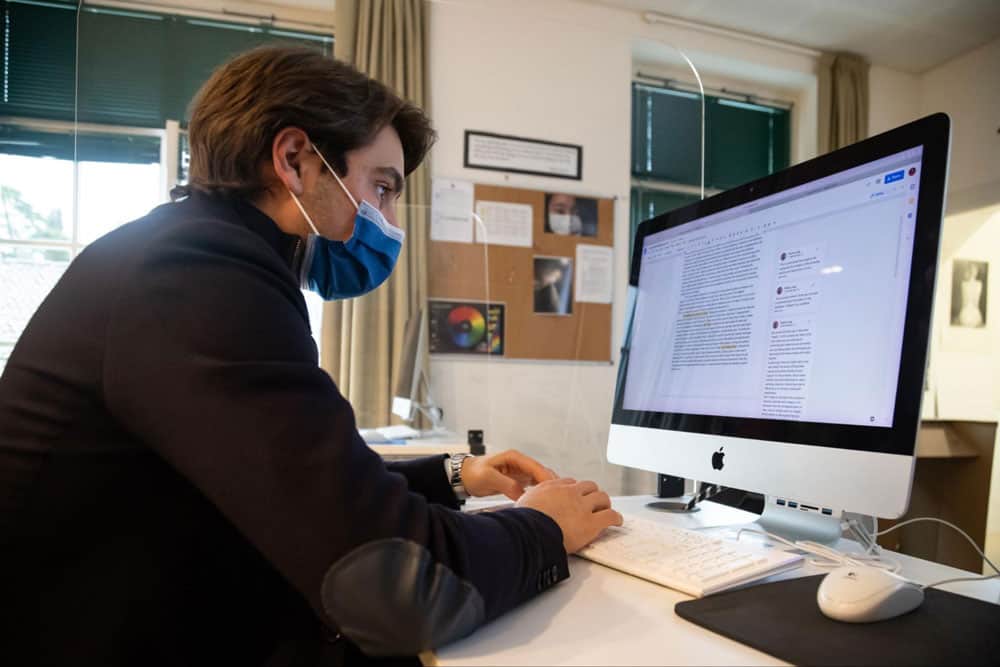 With a steady rain falling on the morning of Monday, April 12, students in Mr. Frank Long's IB Visual Arts 2 class spent the period in the Photography Lab working on their Curatorial Rationales, written defenses of the impressive exhibitions they curated and displayed in Şahenk over the course of the previous few weeks. The exhibition and accompanying Rationale, which must be 700 words for Higher Level (HL) candidates and 400 words for Standard Level (SL) candidates, is assessed internally and accounts for 40 percent of the final IB Visual Arts grade.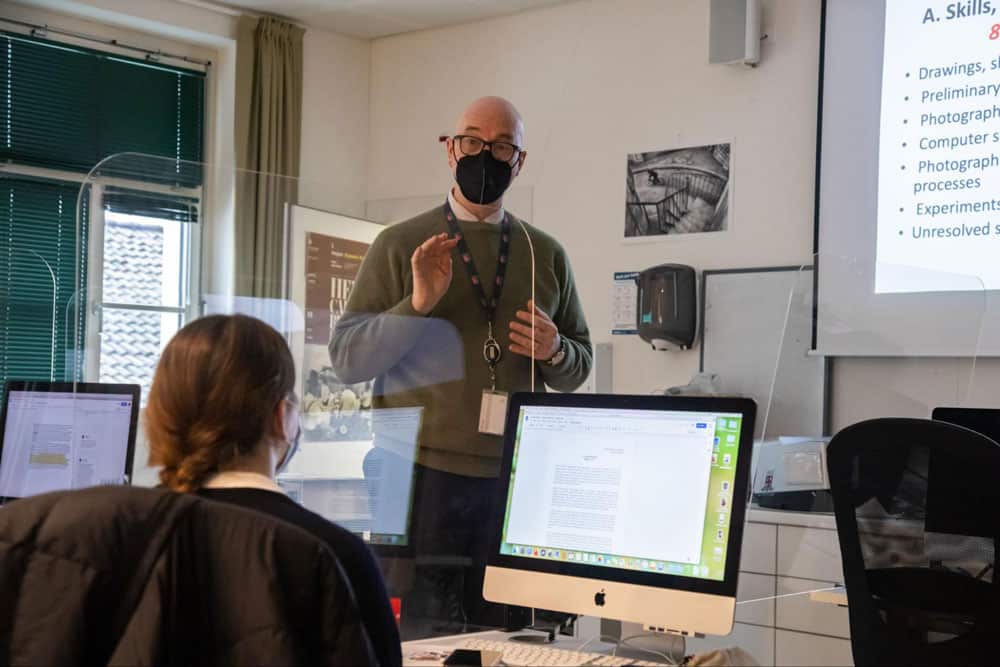 As Mr. Long explained, the Curatorial Rationale is similar to the "Artist Statement" one might expect to find hanging next to a collection of artworks in a gallery or at an exhibition. Writing the Rationale is an important part of the process of self-reflection that defines the journey of an IB visual artist, as candidates must explain the underlying themes or threads that connect the works in their exhibition, justify the selection of the particular pieces they chose to include, and address how their curatorial decisions may contribute to the audience's response.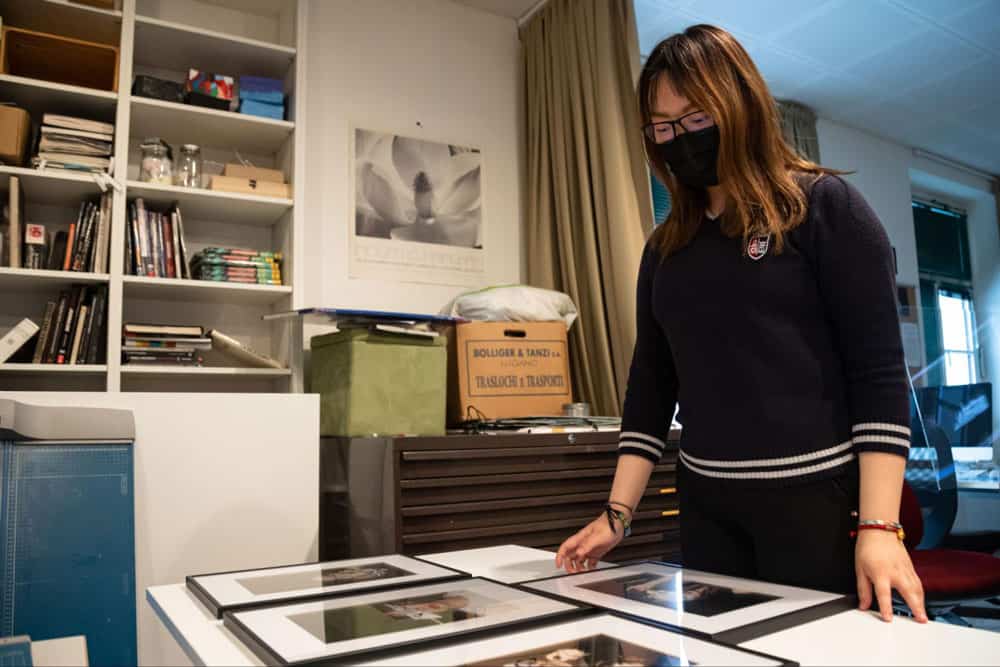 After gaining exposure to a variety of media in Visual Arts 1 throughout their 11th-grade year, students begin to specialize in the latter half of this two-year course. Their work becomes increasingly self-directed, and they are expected to develop a personal visual style and symbol system appropriate to their chosen theme or area of inquiry—be it drawing, painting, photography, or architecture.
Kelly Zhao '21, for example, specializes in photography and chose to explore the theme of imperfection in "MasKrade," a series of photos she included in her exhibition in which she had her subjects cover parts of their faces with corresponding animal cutouts. "In nature, the crypsis helps animals camouflage themselves from being detected by predators," she explained. "Some people feel more confident wearing a mask, as it serves as a disguise that covers their imperfections in some way. Thus, the animal cutouts represent the crypsis of humans, which are the face masks. The lack of facial expressions on the models takes aim at the phenomenon that people are not confident showing their real self to the world because they are afraid to be criticized."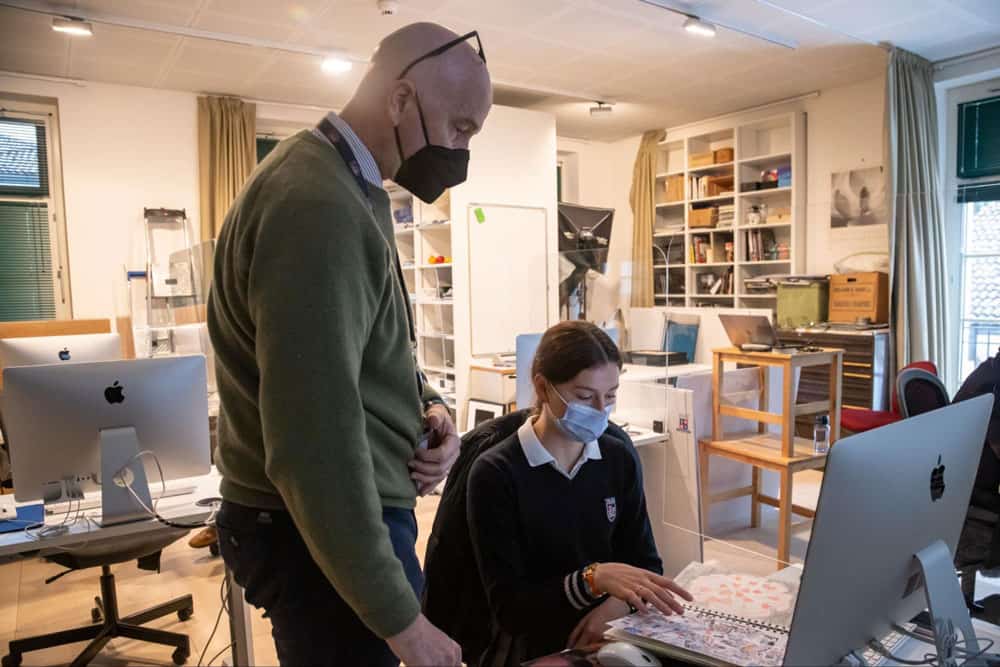 Rigorous and thought-provoking, IB Visual Arts is designed for highly motivated students who are seriously interested in the study of art. "A big part of the IB Visual Arts courses is teaching students to think like artists—to understand the processes behind what they're doing," explained Mr. Long, who has degrees in Studio Art and Live Action Filmmaking, served as a photographer and led photography workshops for many years, and worked in the radio, television and feature film production industries before transitioning to full-time teaching in the late 2000s. "They also work to understand each other's processes, which helps them gain exposure to lots of different media."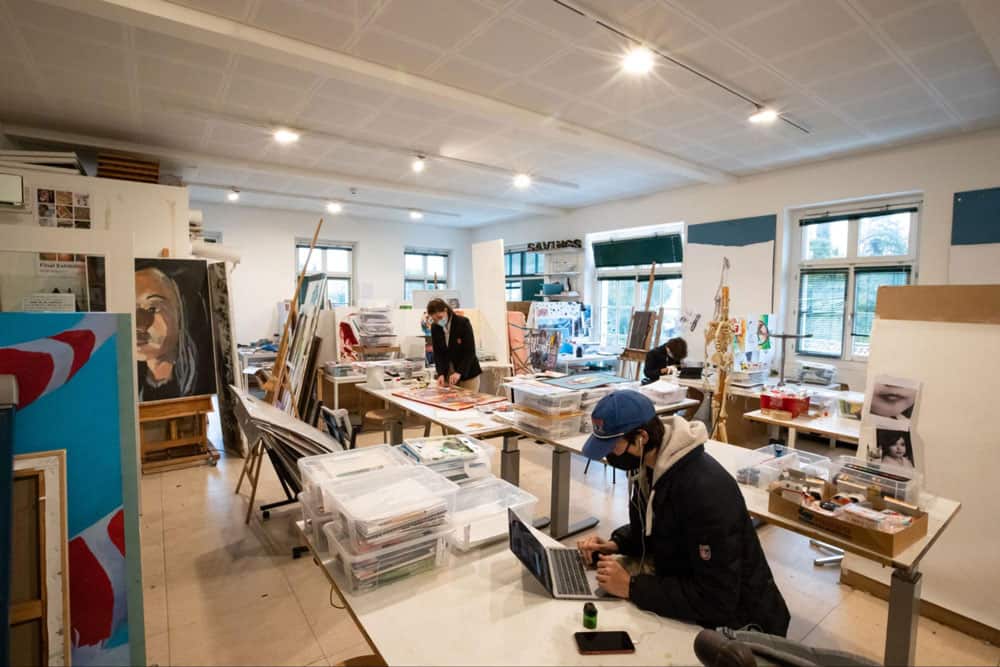 It's not hard to see why students enjoy walking into the spacious and well-lit Drawing and Painting Studio, where Visual Arts Department Chair Mr. Martyn Dukes teaches all of his classes. Surrounded by paper, paint, brushes, pencils, and ink, the young artists are encouraged to experiment and make mistakes as they develop their artistic talents and discover which disciplines they're most passionate about.
On this particular morning, IB Visual Arts 1 students filed in, spread out, and spent the period working on their personal projects.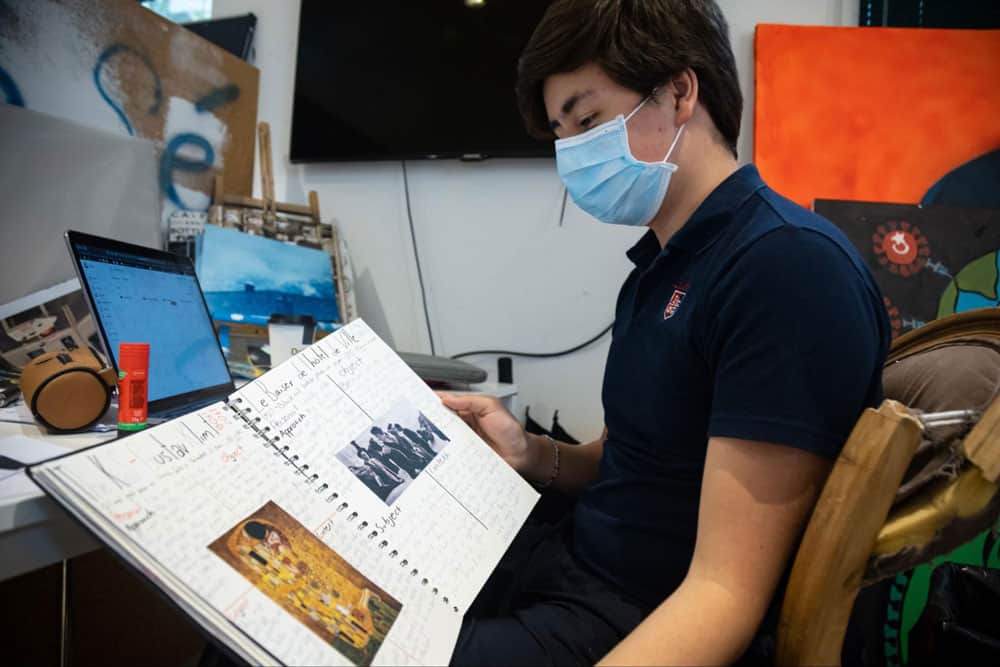 Several students worked on drafts of their Comparative Studies—independent, critical, and contextual investigations that explore artworks from differing cultural contexts. This is essentially a practice run for year two of the IB Visual Arts program, as the Comparative Study will make up 20 percent of each student's final assessment. "One of the goals of IB Visual Arts 1 is to provide students with a baseline understanding of what the Comparative Study is so that they are ready for that part of the criteria the following year," explained Mr. Dukes, who initially came to TASIS in 2006.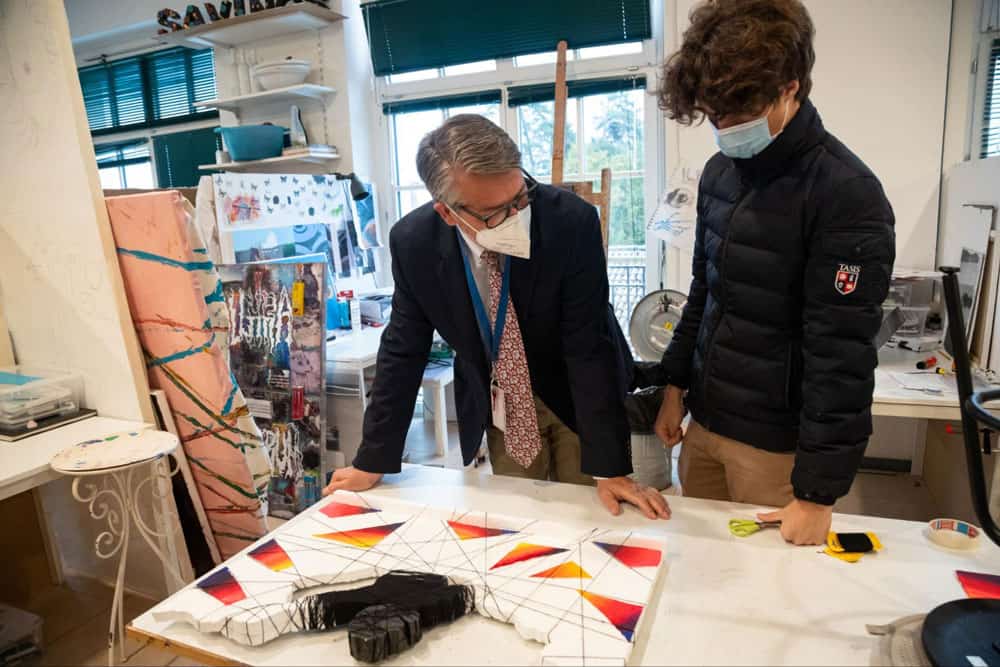 Mr. Dukes, a professional artist who maintains his own studio, bounced around the room to provide words of encouragement and assist the aspiring artists under his charge. Students enter the first year of the demanding IB Visual Arts Program with varying degrees of skill level and experience, but they all must strive to create a body of work that demonstrates a solid understanding of the vocabulary of the artist.
"The primary goal in year one is to get them up to speed working in different media—and working with intentionality," said Mr. Dukes. "They are given objectives along the way, starting with an identity self-portrait unit in the fall. By the end of the year they are able to identify which discipline(s) they want to specialize in for year two."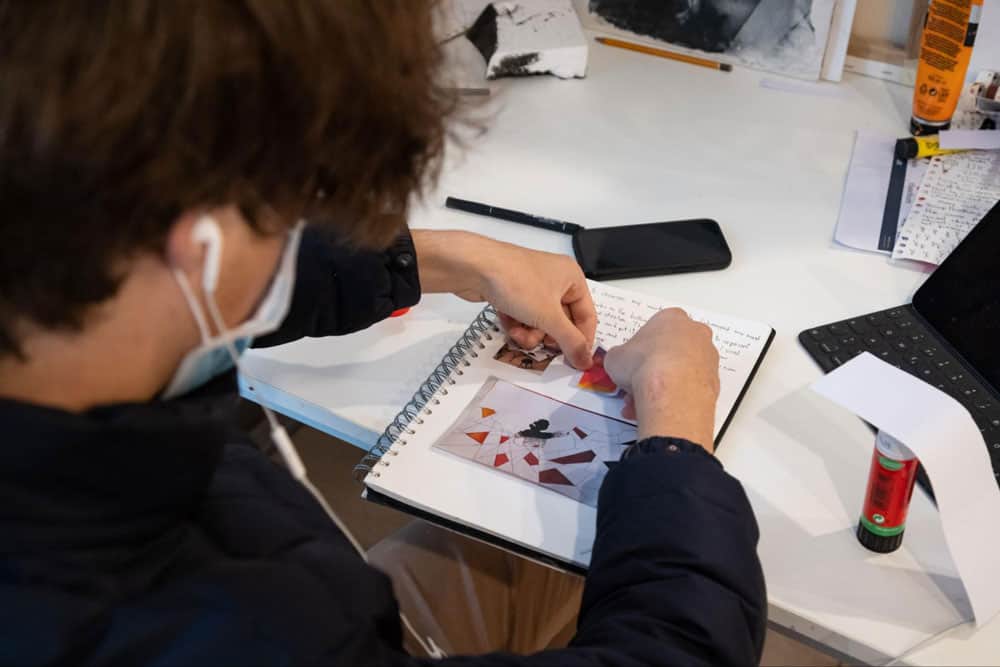 All IB Visual Arts candidates must keep a sketchbook-style journal that documents their artistic process throughout the year. Students must read, write, think, and question what they do as artists, showing evidence of systematic research and investigation. Gaining an appreciation for art history and an understanding of how art can function as social commentary are essential components of the program.
"This course is not just about 'making' art," explained Mr. Dukes. "Students must learn to balance the intellectual approach to art with the making of the art."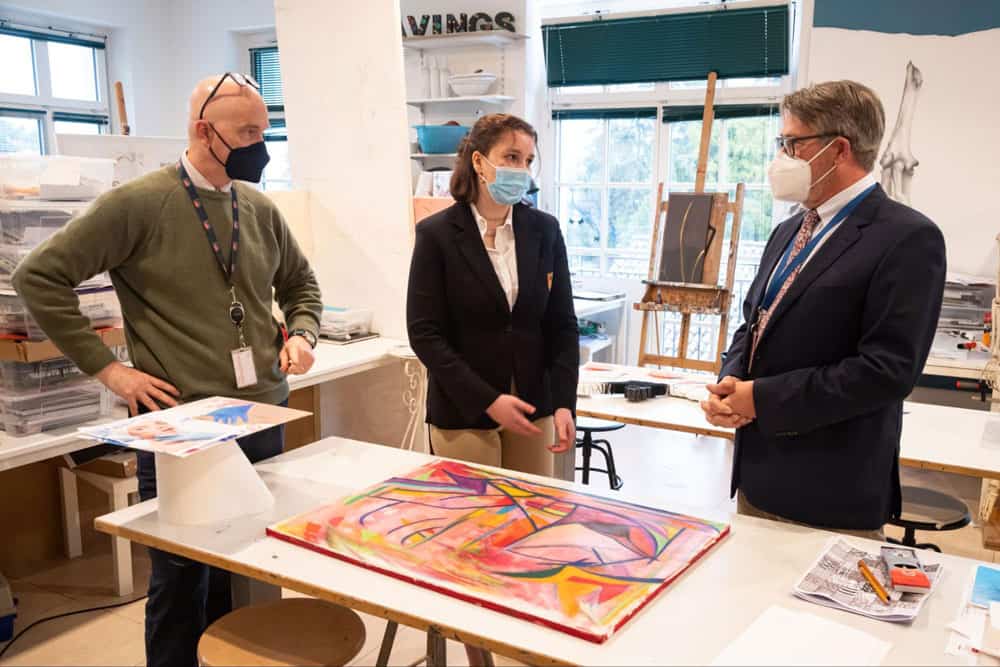 Mr. Dukes and Mr. Long each stick with the same cohort for two years—meaning Mr. Dukes will follow his current IB Visual Arts 1 students to IB Visual Arts 2 next year while Mr. Long will start over with a new group of students in IB Visual Arts 1—but the two outstanding educators share the same goals and work together to shepherd all students through the rigorous two-year program. They often stop by one another's class to track the progress of the young artists and lend a hand where needed.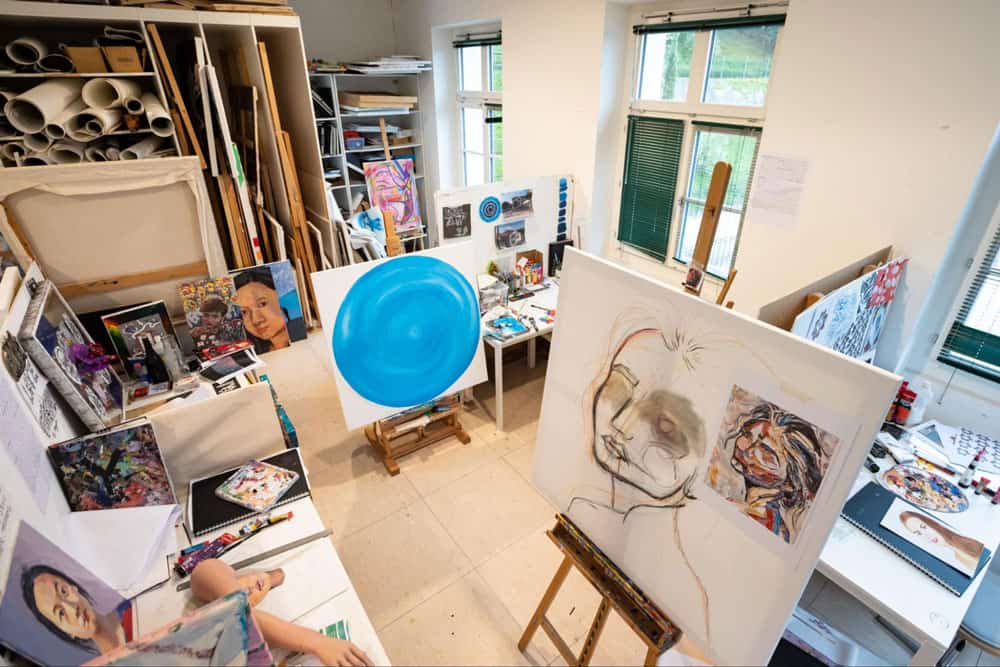 Student artists don't need to look far for inspiration. Both the Drawing and Painting Studio and the Şahenk hallways are always bursting with beautiful artworks: some created by former student artists, some by faculty members, and some by students currently in the program. Other pieces are still in progress, and many will be displayed at the 2021 Spring Arts Festival Exhibition beginning on May 19.
The following period, Mr. Long's Photography 1 students continued working on the Personal Project they began in mid-March. Now in week four of the project, they could choose to spend class time capturing new images or processing existing ones in Adobe Photoshop.
Designed to introduce students to the basics of digital photography, Photography 1 covers the entire process—from capturing images to outputting them for print and web. As students begin to understand the digital workflow, they are expected to collect their own images, make connections between their images and their thematic goals, and create photographs and photographic illustrations.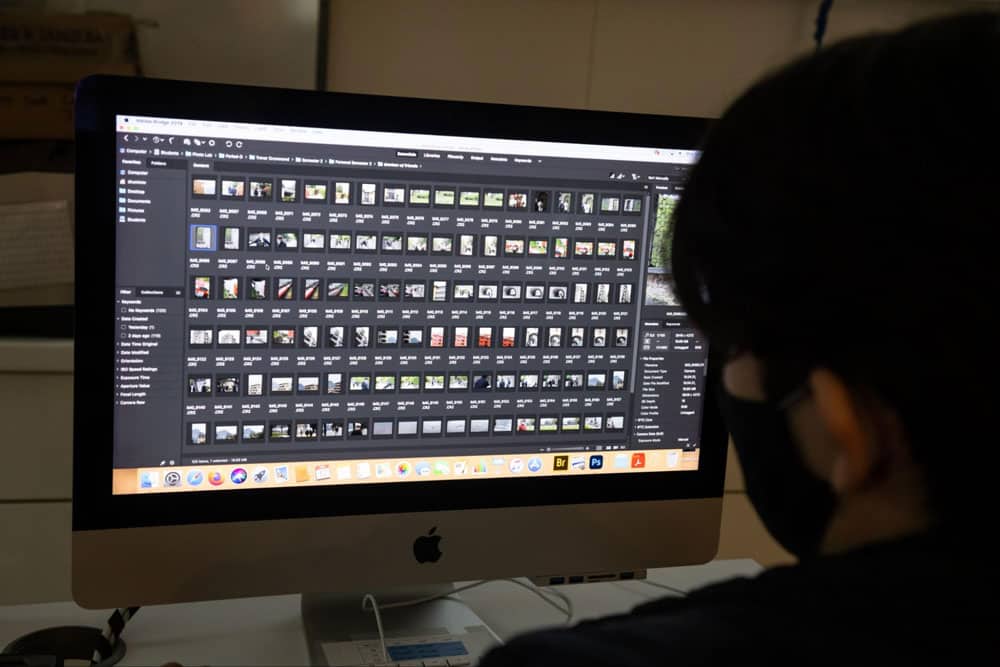 With rain still falling steadily, most students chose to spend the period reviewing, culling, and processing the many images they've captured over the previous several weeks. Many of them have already taken close to 100 photos for this project, and their ultimate aim is to create a concentrated group of 30 related images.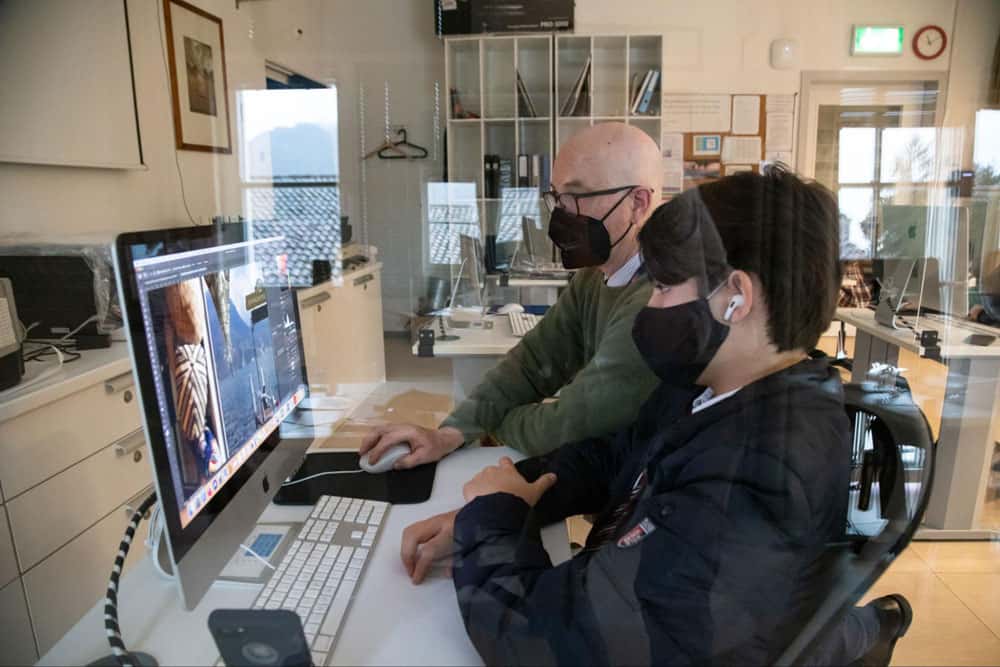 Mr. Long, who has taught both IB Visual Arts and a variety of Photography classes since coming to TASIS in 2013, assisted students with any Photoshop questions they had and reminded them that they should also be thinking about their final portfolios, a collection of their best photographs from the year. These portfolios must include images from a number of the units the class has covered, including Aperture and Shutter Experiments, Elements and Principles of Design, Photoshop, Portrait, Panorama, Collage, and the Personal Projects.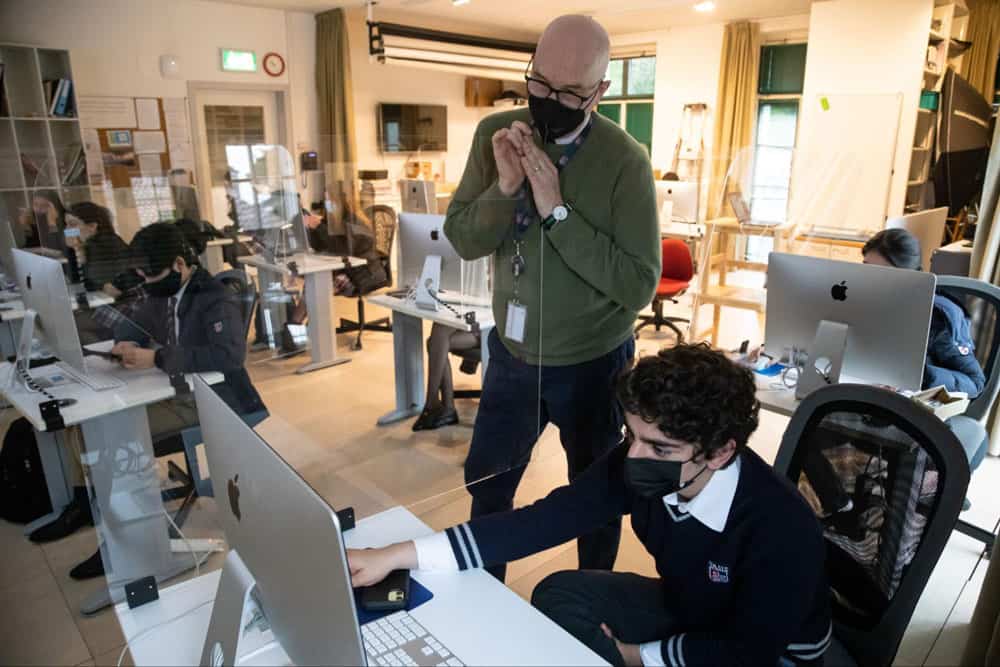 Mr. Long acknowledged that Photography 1 has been the class most affected by the pandemic, as the computer stations have been spread out all over the room to ensure a safer environment, meaning there is now very little space for casual shooting in the lab. The studio setup has also been taken down temporarily, making it more difficult for students to practice controlled-environment photography.
The resilient TASIS students have persevered nonetheless, and they have still have ample opportunity to absorb Mr. Long's timeless lesson that the art of photography is ultimately about slowing down and observing, learning to look, learning to see things, and learning to recognize that which will be pleasing to one's eye.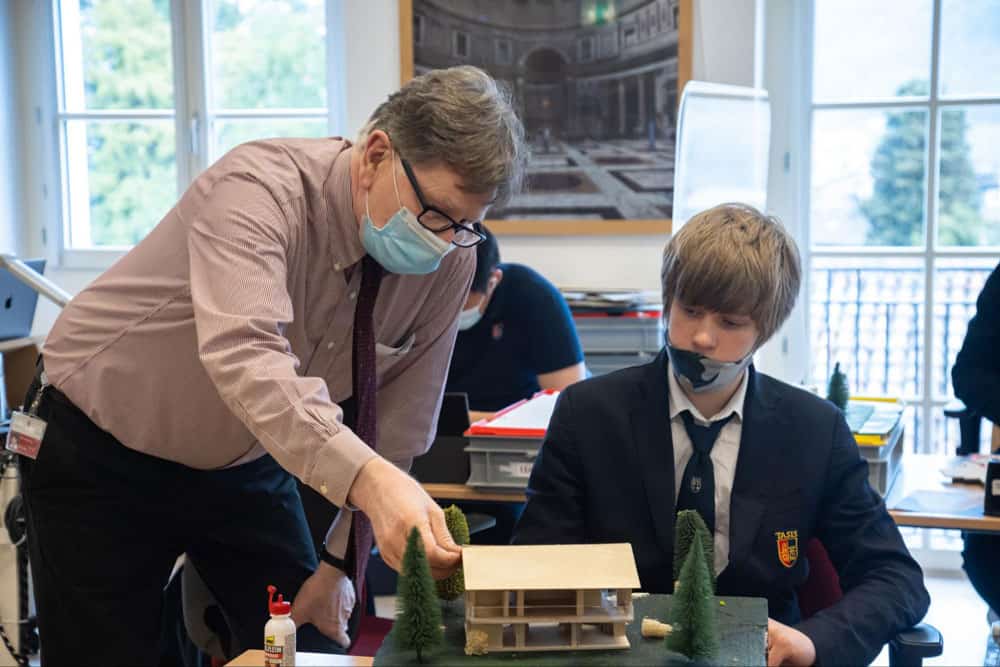 After lunch it was time to head to the Architecture and Design Studio for Architecture 1 with Mr. Mark Aeschliman, a gifted artist and educator who has inspired countless TASIS students to pursue degrees in Architecture and Art History over the course of a brilliant 43-year career.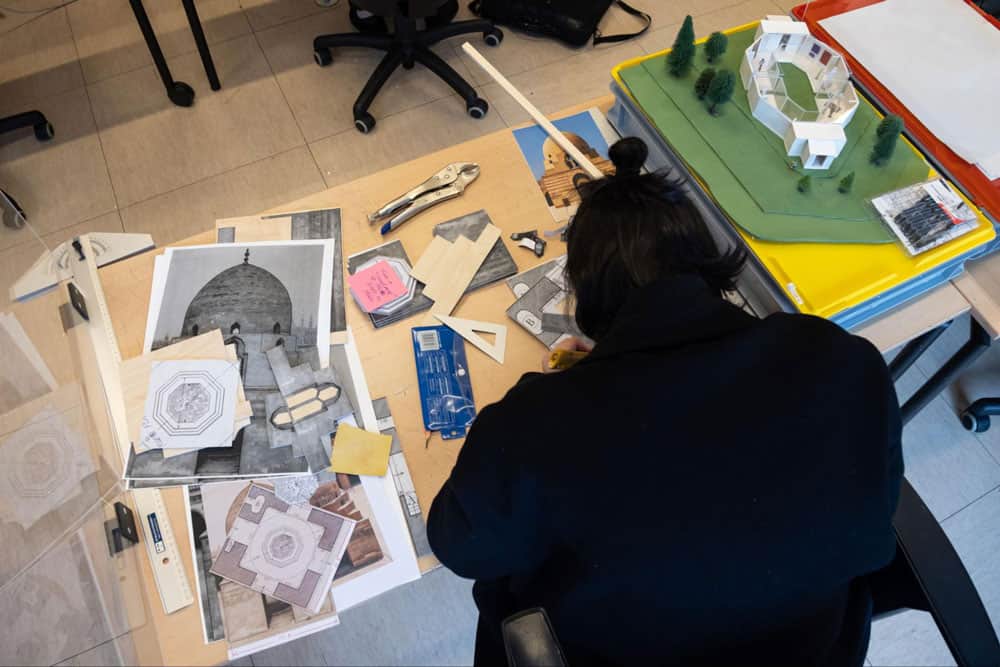 Students designed house models earlier in the year, and they have now started working on their final project: designing and building a three-dimensional model of a structure of their choice. Designs in production include museums, pavilions, skyscrapers, and restaurants.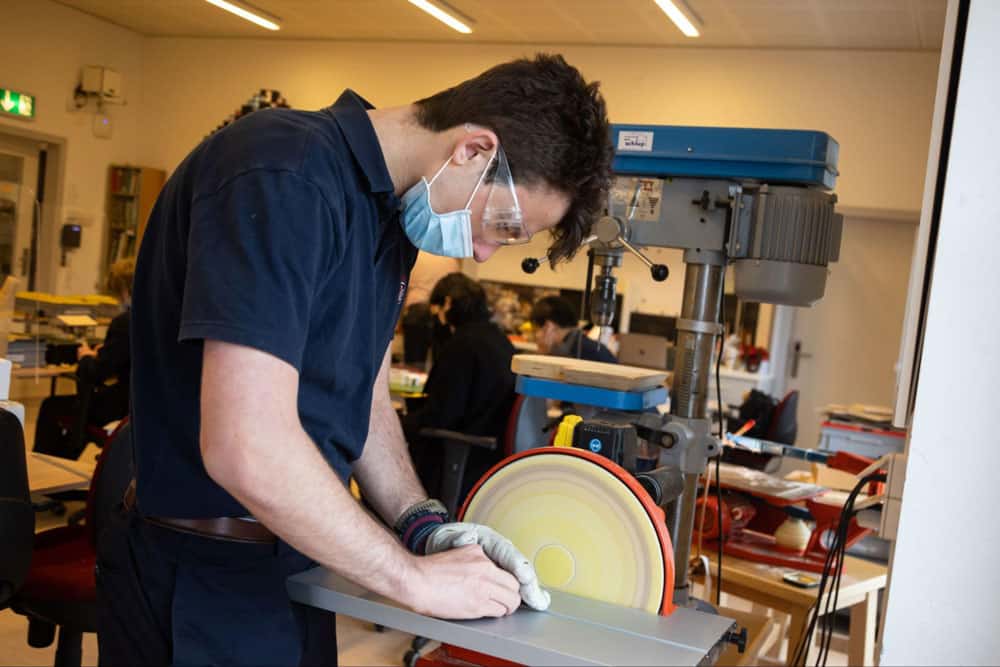 Mr. Aeschliman bustled around the room to help students grapple with a variety of challenges. Problem-solving skills are an essential component of architecture, and fortunately his students are able to avail themselves of the purpose-built studio's impressive array of tools, including disc sanders, drill presses, scroll saws, and styrofoam cutters.
Architecture 1 is designed to help students develop skills in drawing and model-making and learn about the basic forms, typology, and history of western European architecture. Studio work is combined with the study of theory and architectural history so that students can identify the stylistic, constructional, and cultural influences and traditions that have generated great buildings throughout the ages and which continue to shape contemporary architecture today. This includes a series of field trips to local sites of significance.
To offset the disruptions caused by the pandemic this year, Mr. Aeschliman has taken to sharing recorded presentations with students to review outside of class time. They must then create a sketch based on one of the examples he's included in the presentation.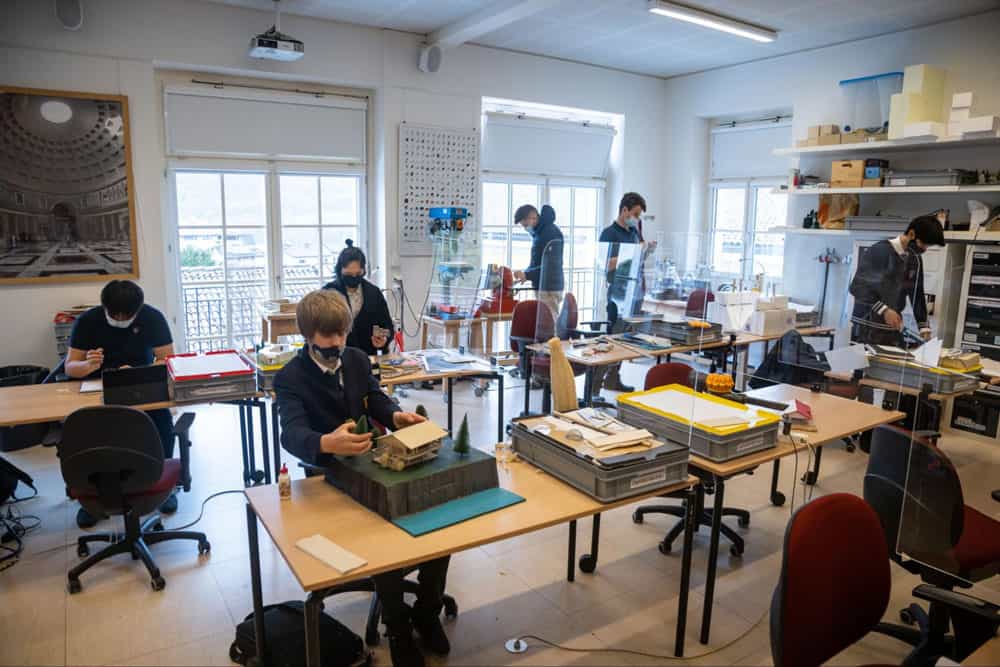 By the end of Architecture 1, students are able to execute basic architectural drawings and build three-dimensional models in cardboard. Mr. Aeschliman, a strong believer in architect Louis Khan's maxim that "You don't teach a class, you teach a student," is always happy to tailor his instruction to meet the needs of those who wish to pursue the subject more deeply. These students have the option to take the course over the span of two years as IB Visual Arts: Architecture.
2018 graduate Diana Dulina chose to do just that and credits Mr. Aeschliman's courses for setting her on a path that led to an offer from the renowned Architectural Association School of Architecture in London. "There are not many schools that offer architecture courses, so I feel fortunate to have had that opportunity at TASIS," she said. "My classes with Mr. Aeschliman were the most amazing and fun things I did in high school."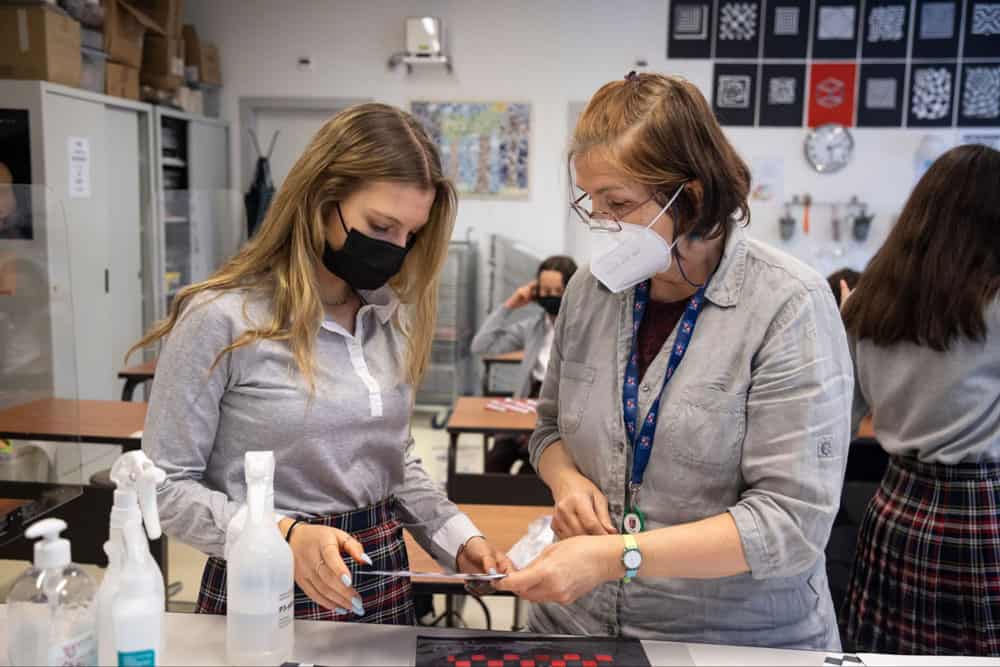 We then popped downstairs to the Ceramics Studio to check in on Arte Italiana 7, a class taken by all 7th-grade students who are in the Middle School's Italian Section. The course is taught by Ms. Brigit Hurst, a ceramicist who maintains her own studio in Locarno, and Ms. Simona Bellini, a sculptress who remains active in the art scene in Switzerland, Italy, and the United States. Both teachers are fluent in English and Italian but deliver the Arte Italiana instruction primarily in Italian.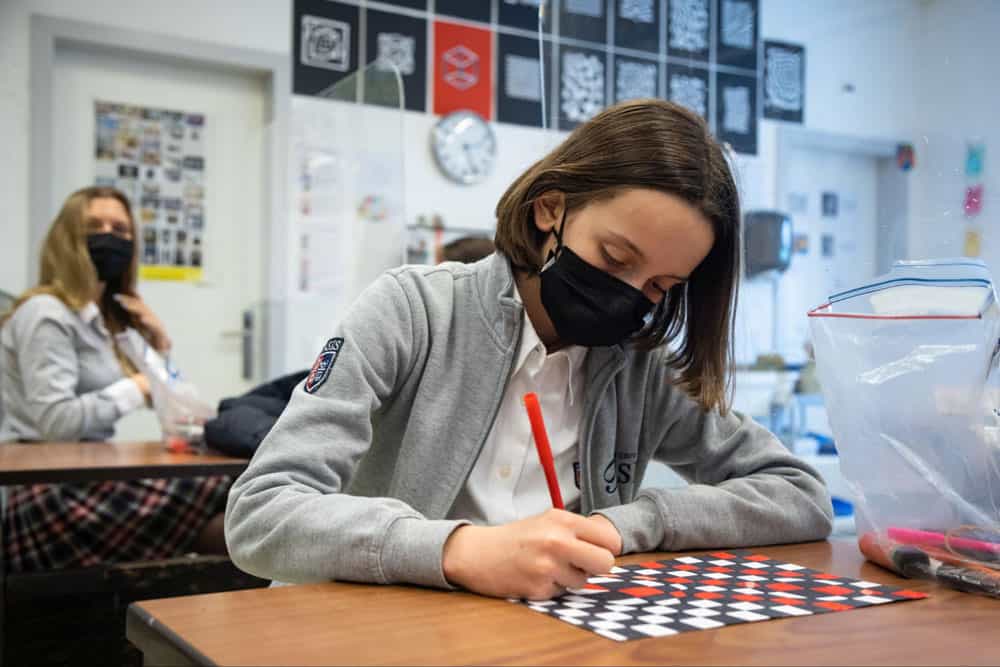 Ms. Hurst taught the class on this day and helped students continue working on their optical illusion projects. An optical illusion deceives the human visual apparatus—the eye and brain combined—making it perceive something that is not present or making it incorrectly perceive something that in reality presents itself differently. In art an illusion can also make it difficult for us to keep our eyes on a fixed point, as if the image were moving. This only happens if the drawing is executed precisely, so Ms. Hurst requires her students to work with accuracy and pay close attention to detail.
Arte Italiana 7 is a foundational course designed to introduce students to a variety of artistic materials while allowing ample room for flexibility, creativity, and exploration of the world of visual art that surrounds them.
By the end of the year, students are able to do the following:
Produce creative work, explore their ideas, and document their experiences
Hone their skills in design, drawing, painting, sculpture, and other art and craft forms
Evaluate and analyze creative works using the language of art, craftsmanship, and design
Have a working knowledge of great artists, craft makers, and designers and understand the history and cultural development of their art forms
Many of these students will go on to shine in the High School studios in a few years!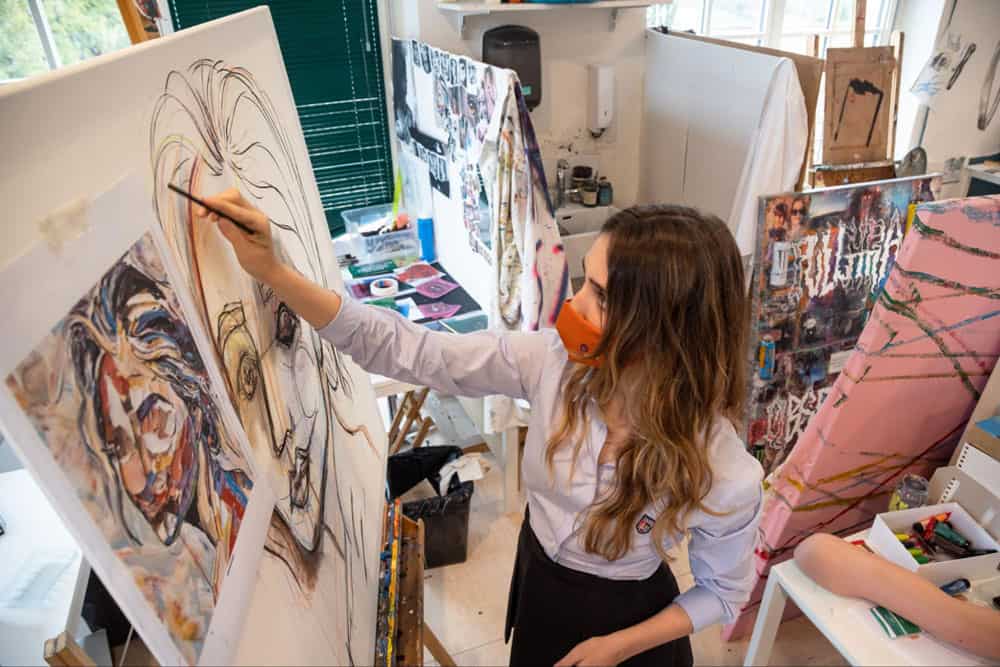 Back in the Drawing and Painting Studio for the final period of the academic day, students in Mr. Dukes' Advanced Placement (AP) Drawing class worked on their Selected Works, defined by the College Board as "works of art and design and writing to demonstrate skillful synthesis of materials, processes, and ideas." The Selected Works—five artworks in total—constitute one of the two portfolios AP Drawing students must submit to the College Board by May 20 and make up 40 percent of their exam score.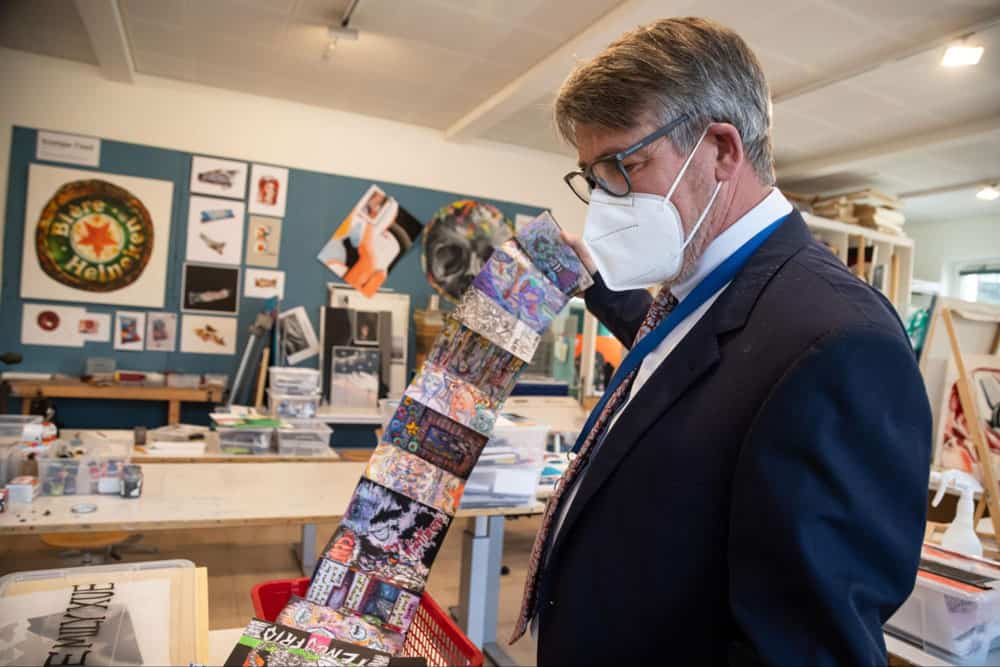 The other 60 percent of the AP Drawing exam score is determined by the Sustained Investigation, defined as "images and writing to document an inquiry-guided investigation through practice, experimentation, and revision." In essence, the Sustained Investigation is a sketchbook that chronicles a student's growth as an artist and examines the pathways he or she has chosen to follow.Mr. Dukes shared an extraordinary element of the Sustained Investigation created by Ari Kalashnikova '23, a promising young artist who has chosen to take AP Drawing as a sophomore.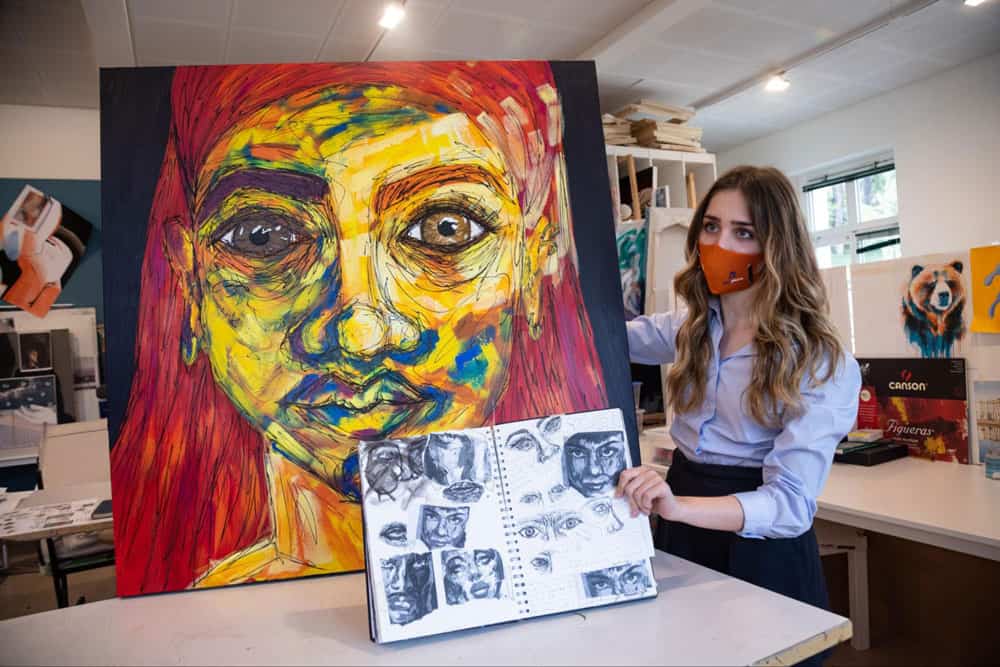 The two portfolios work in tandem as the student artists evolve. Giorgia Meregalli '23 demonstrated how her Sustained Investigation influenced the creation of one of her Selected Works and then offered a look at a piece still in progress:
Although the course is called AP Drawing, students are free to explore other media, including painting, printing, and digital drawing. A more accurate term would be "mark making," which refers to the creation of different patterns, lines, textures, and shapes on any surface.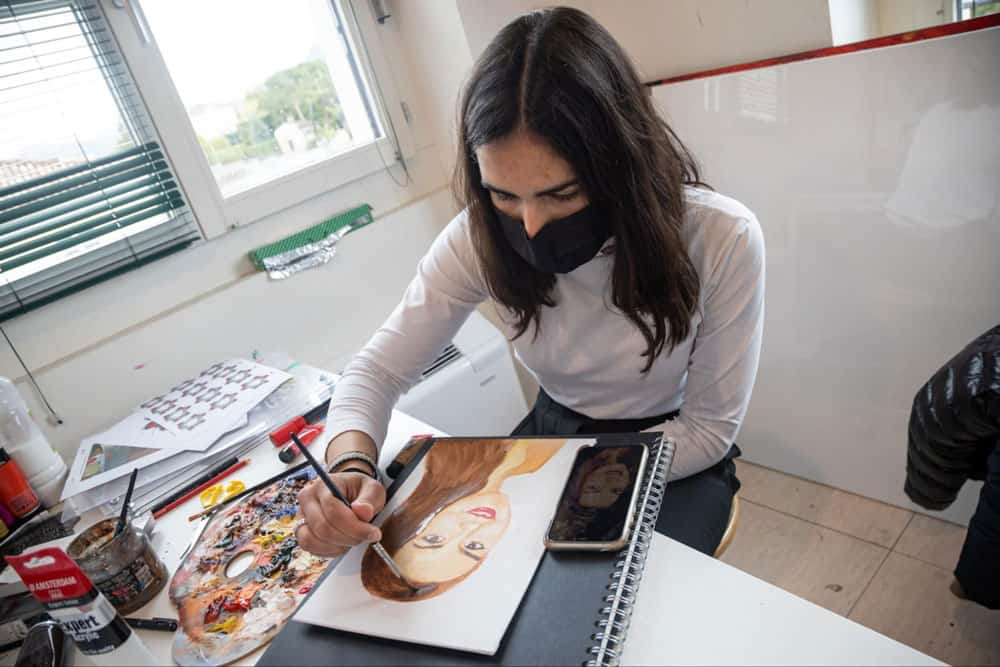 An intensive, year-long course focused on in-depth, inquiry-based studio art and design making, AP Drawing compels students to skillfully synthesize materials, processes, and ideas as they articulate information about their work. A rigorous studio work schedule pushes students to grow rapidly and gain valuable experience in pursuing projects from start to finish.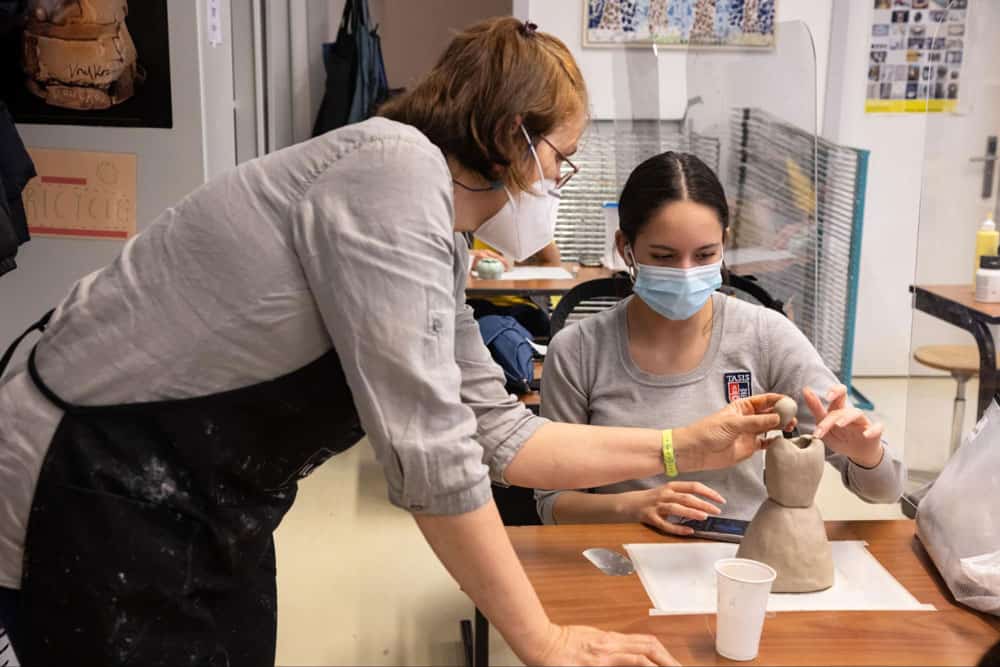 The art making doesn't stop when the academic day ends at 16:00. For the past 17 years, Ms. Hurst has taught a Ceramics and Sculpture class after school for High School students who want to take an additional art course but don't have room in their daily schedule. On this afternoon she provided assistance to students who were in varying stages of their personal projects.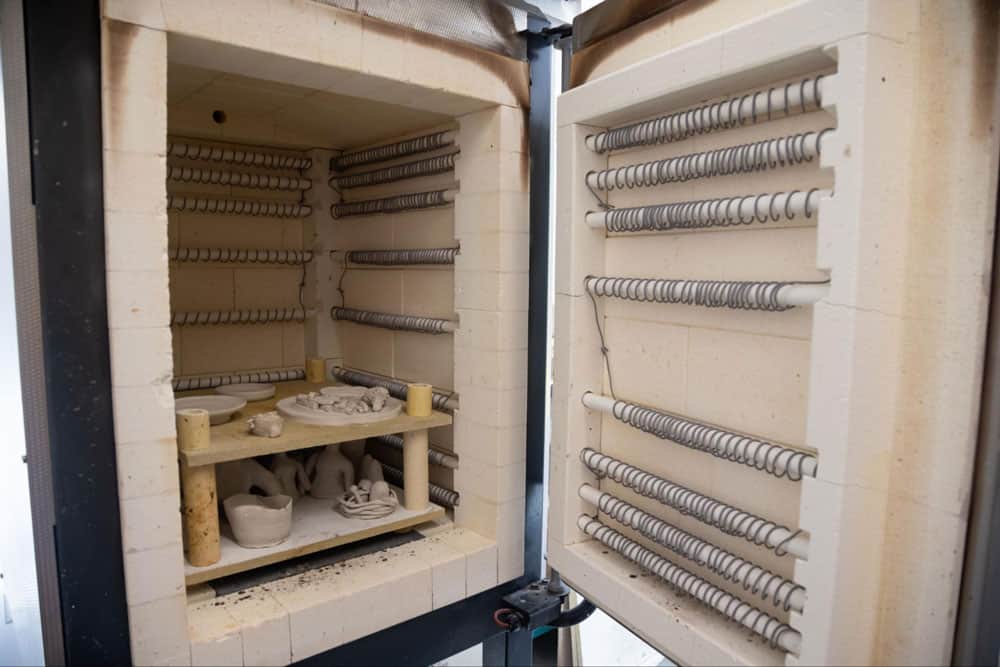 The course runs all year and meets twice a week for two hours at a time, allowing for greater flexibility as students make use of all the purpose-built Ceramics Studio has to offer, including adjoining rooms for an industrial-strength kiln, clay storage, and glaze storage.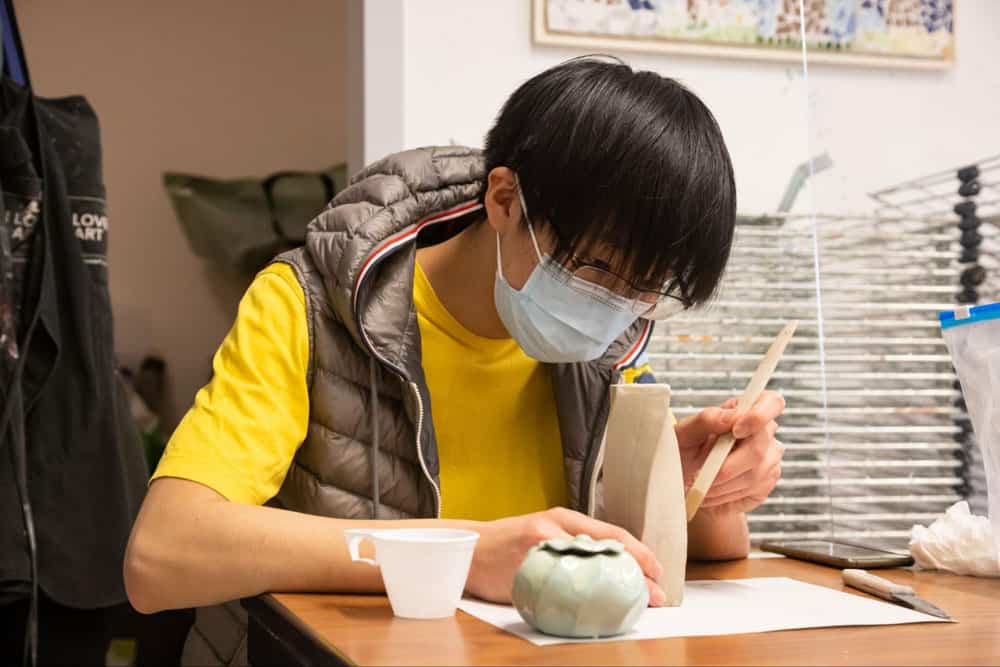 Ms. Hurst's course is designed to introduce students to three-dimensional design and creative thinking in ceramics. Students gain familiarity with ceramic materials and processes and experiment across a range of techniques, including hand-building and wheel-throwing.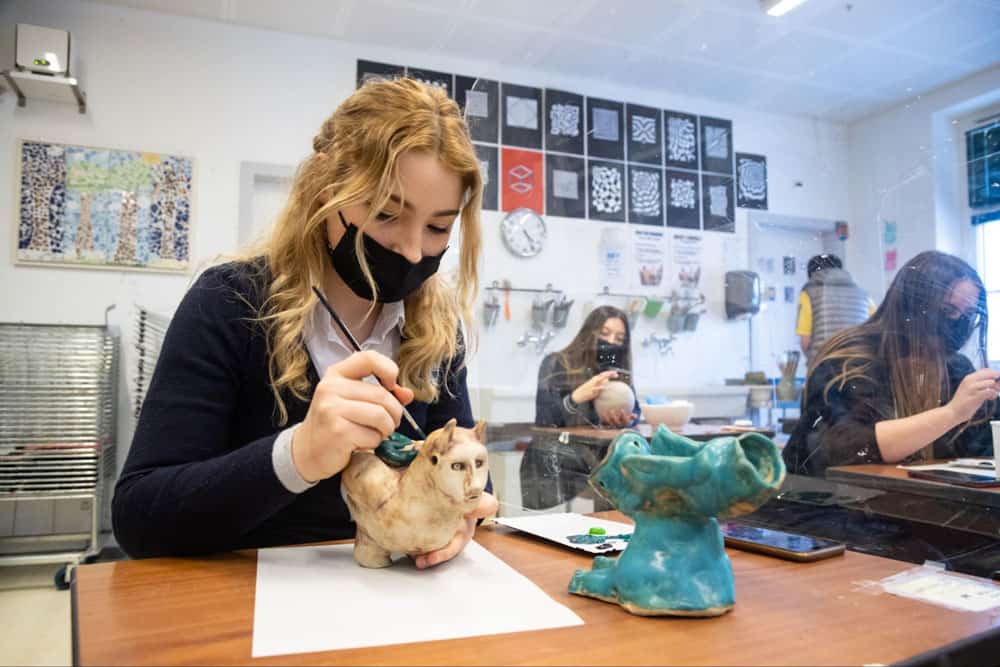 Ceramics and Sculpture emphasizes skills acquisition, but it also encourages students to discover their unique strengths and develop personal sensibilities through the medium of clay.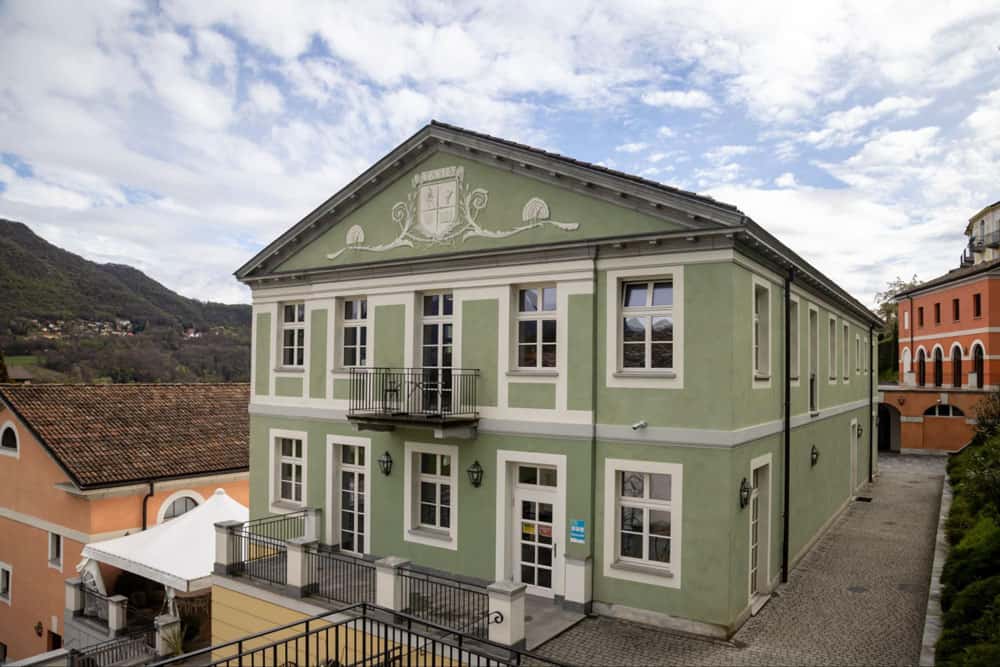 As the day wrapped up, the rain finally subsided and the sun even began to peek through for a moment. Student artists and faculty members were happy to put their umbrellas away as they headed back to their homes or dormitories after another jam-packed and fulfilling day in the one-of-a-kind Şahenk Fine Arts Center!
---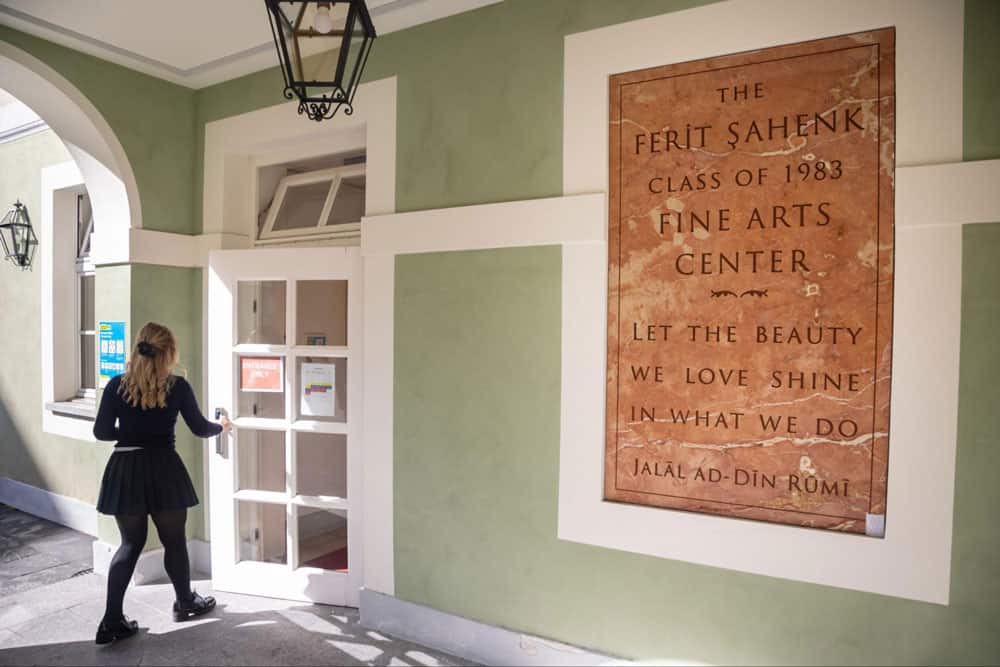 Taking it to the Next Level
TASIS has a long tradition of graduates moving on to pursue the arts at the university level, with a remarkable number of students each year receiving offers to both degree and foundation art, architecture, and fashion programs all over the world. (More than 15 percent of students in the Class of 2020, for example, were accepted to art schools.)Visit the Recent Graduates page on the TASIS website to see a number of profiles of students who have chosen to pursue degrees in the creative arts or art history.