Architecturally designed with young learners in mind, Stamford American's extraordinary new Early Learning Village has been thoughtfully imagined by award winning architects and purpose-built for young learners from 18 months to 6 years. Inspired by the principles of Reggio Emilia, this impressive state-of-the-art facility specifically cater to the needs of young children and their bright inquiring minds. Located just 10 minutes from the major expatriate area, Orchard Road, the Early Learning Village is the first of its kind in Singapore, and likely to this scale, the world.

Opening officially to students of all nationalities (including Singaporeans) this August, this new facility features world-class facilities which offers an elevated kind of early learning; 6 outdoor discovery play zones to spark imagination and play and UV cover so that kids can play rain or shine, classrooms with adjoined discovery spaces to extend their learning and tailored to each grade level, 20m swimming pool with UV cover and varying depths to help new swimmers, specialist classrooms with round windows allowing natural light to flow in, and Hive for sports and play. There are many clever touches designed to make children feel right at home including their own child-sized door, step up work benches, and child-height and floor icon signage.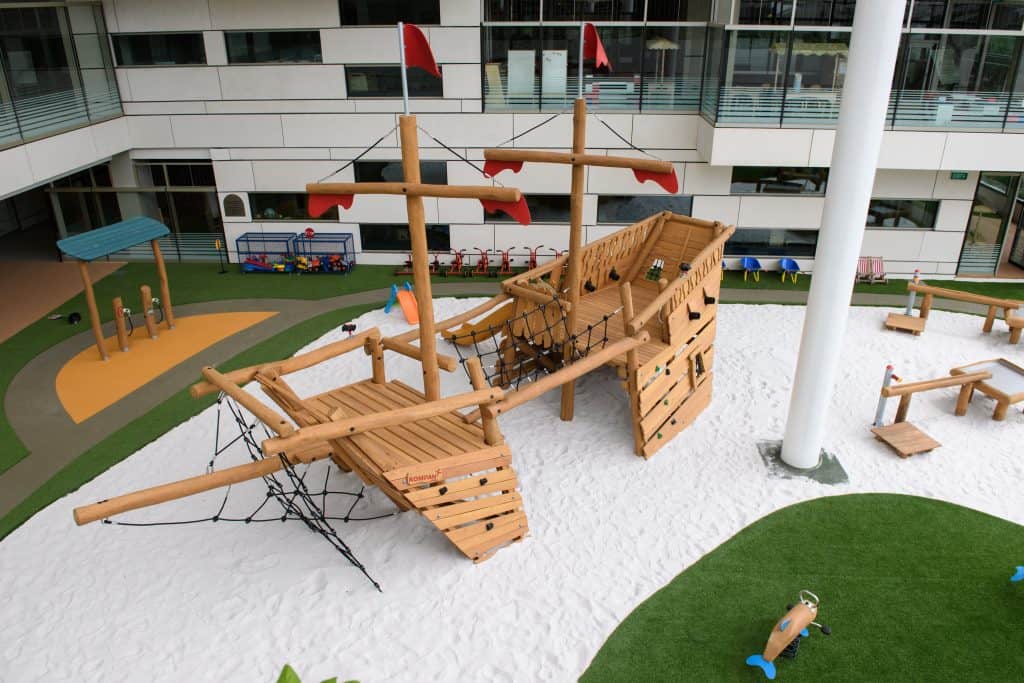 The 6 outdoor discovery play zones consist of many different zones to develop a child's gross motor skills and offers learning moments at every turn of the discovery spaces. Architecturally designed with input from educational and environmental psychologists, the spaces and places are built specifically to give children the opportunities to express themselves through exploratory, investigative, and imaginative activities. Every age group is thoughtfully catered for with different "zones"; The Village Green, Shipyard, The Forest Deck, The Sky Park, Discovery Cove which encourage self-directed exploration and sensory inspiration.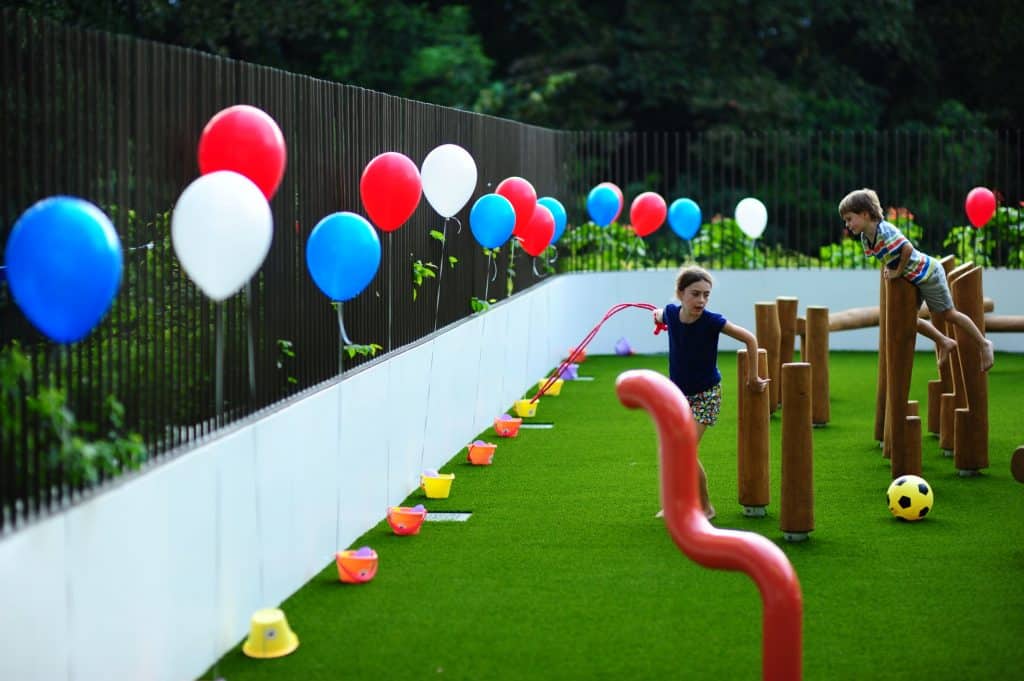 Beyond the classroom, Stamford American offers a plethora of specialist programs as part of the curriculum including daily language instruction in Spanish and Mandarin from 18 months or Bilingual Mandarin/English from aged 3 to offer excellent communication skills in both languages , plus the world-renowned Suzuki Violin Program with the option to progress to cello at age 5 and optional Instrumental Music Program taught by quality music instructors in dedicated music suites , and the exclusive SMART Steps & Perceptual Motor Program physical education program.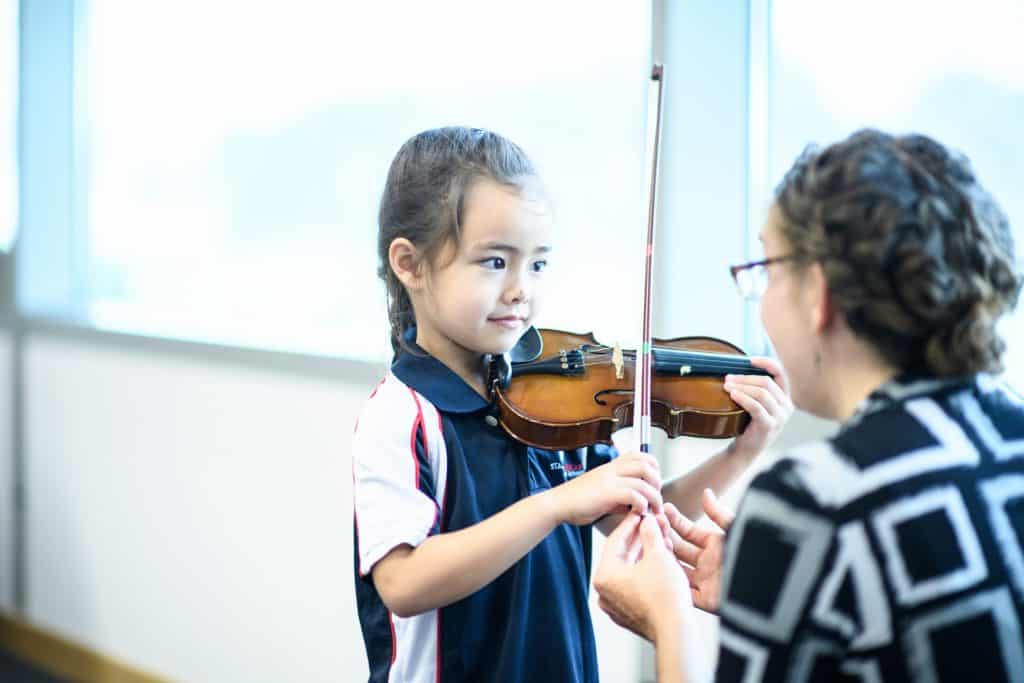 Stamford American offers a distinctly American pathway from 18 months to 18 years. A changing world requires a changing curriculum, which encourages the natural inclination of youngsters to adopt new ideas, design, engineer and innovate, even from a young age. Stamford American proudly offers the International Baccalaureate Primary Years Programme (IBPYP) commencing at age 3. Integrated into the curriculum are new programs of inquiry in science, technology, engineering, arts, math and innovation. The specialist teaching team monitors individual progress aligned to USA Head Start Early Learning Outcomes Framework from 18 months.
And most importantly, Stamford American recognizes that children do better when there's a strong partnership between educators and parents, which is why the new campus has our Parent Café where parents can grab a coffee or two at 'The Nest' and wait for their little ones. Parents are also able to design the school week around their family's needs. As life gets busier, a flexible schedule offers 3, 4 and 5 day options and extensive co-curricular activities with 10 over choices to choose from all under one roof. Plus, busy parents can have the option to drop their child as early as 7.15am by signing up for our Breakfast Club or extend the school day and pick up your child till 6pm with our Afternoon Tea Time Club. Your child will be fed a healthy meal and entertained by an array of activities under the supervision of our dedicated Club crew. Sounds good right?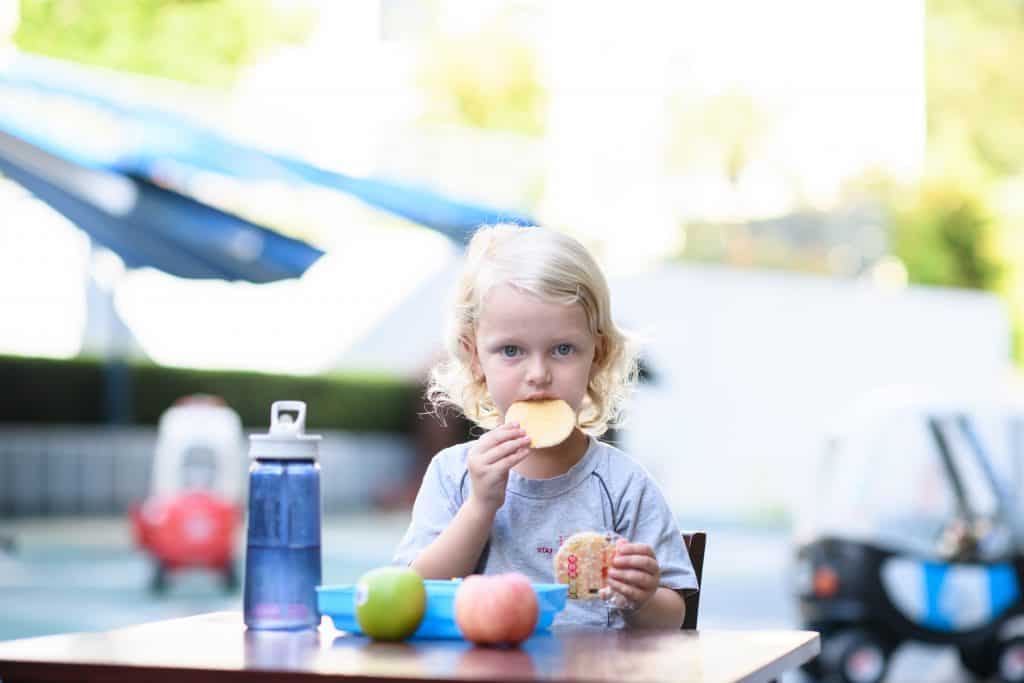 Keen to find out more? Sign up for our first inaugural Open House on August 17 or book your personal tour today. Our first pioneer batch will be getting an exclusive backpack, stamford water bottle and stamford lion. Our friendly Admissions team are always willing to speak to you and answer your questions.

Stamford American
Early Learning Village
3 Chuan Lane
Singapore 554350
Sais.edu.sg | +65 6653 7907