We are living in an era of rapid information flow. The knowledge that used to be written in glyphs and bones, stored in libraries, and dispatched through printed materials has become much more readily available, just a smartphone tap away.
The coronavirus pandemic may have expedited the transition to innovative digital learning, but it has also worsened existing educational issues and magnified social inequalities. Knowledge alone is inadequate in addressing mounting concerns in our hyperconnected society.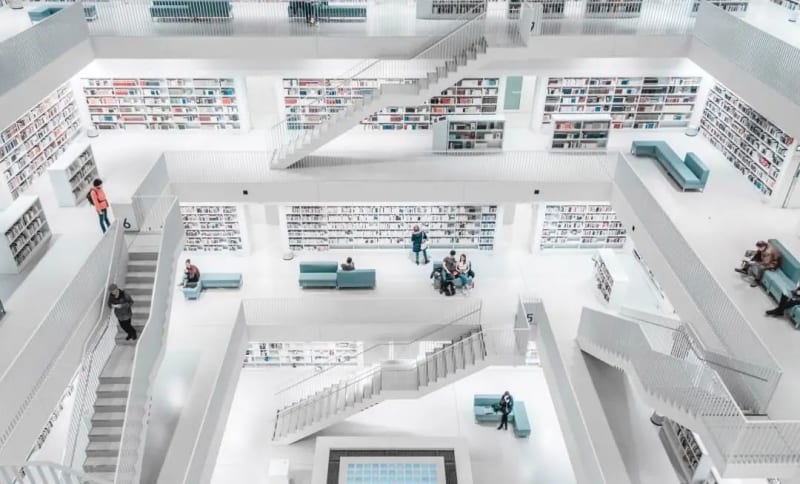 Many teachers, scholars, and educational pundits worldwide have remarked that there is a need to reform the model of learning and teaching to prepare young people for an uncertain future. An educational concept that has gained ground in recent years is deeper learning, which some educators describe as "the drive toward more substantive 21st-century learning"[1] or "a set of competencies that students need to succeed in and out of the classroom."[2]
The so-called 21st-century skills advance a notion that young learners must be equipped with 3Rs (reading, writing, arithmetic), 4Cs (critical thinking, communication, collaboration, creativity), life and career skills, and information and media literacy skills to become more competent to face the demands of the coming times. However, the dire circumstances that have marked the first two decades of this century—the irrelevant focus on the superficial, polarized political rhetoric on social media, critical thought stifling echo chambers propelled by algorithmic brainwashing, and the hypersensitivity that has come along with digital advancements—bring to light the need for and return to courteous discourse and civil behavior. For Keystone Academy Head of School Malcolm McKenzie, progressive schools must develop not only skillful students but also "characters with good character."
Mr. McKenzie invites everyone to dive deeper into deeperlearning, "a continuing exploration under a surface whose depths cannot be fully plumbed." He expounds:
Our vision of deeper learning is a type of learning that develops understandings that are not inert, but transferable. Inert learning remains fixed in a specific context. Some learning is and needs to be exactly that. But deeper learning empowers the learner to transfer understanding from one situation to another where it can be equally or even more meaningful and productive. We want all our students to want to, and to know how to, take their learning deeper and deeper. This entails at least a combination of the critical and the reflective.

Mr. McKenzie
The latter concept that Mr. McKenzie mentioned forms the foundation of the Keystone model of learning, further elaborated in Deep Learning: A Journey in Critical Thinking and Reflective Knowledge, a curricular book written by educators and former Keystone teachers Vivek Bammi and Sally Booth, Ph.D.. The book, published in 2021, examines and promotes Keystone's model of critical thinking through active learning—which draws upon the school's synthesis of Chinese ethos and global mindsets—and looks at how the concept leads learners to a "journey [of] creating unique footpaths and identities," the process and pleasure of which "far outweigh any obsession with predetermined destinations or outcomes."
"The journey to critical thinking may be complex and arduous, but its roots lie deep within the human experience," Mr. Bammi and Dr. Booth say in the opening pages of the book. "Chinese civilization has bequeathed to us an optimistic humanism, a trust in our ability to mold a pleasing world that benefits all its inhabitants. The bedrock for this vision remains good thinking and deep learning, an inheritance open to the world."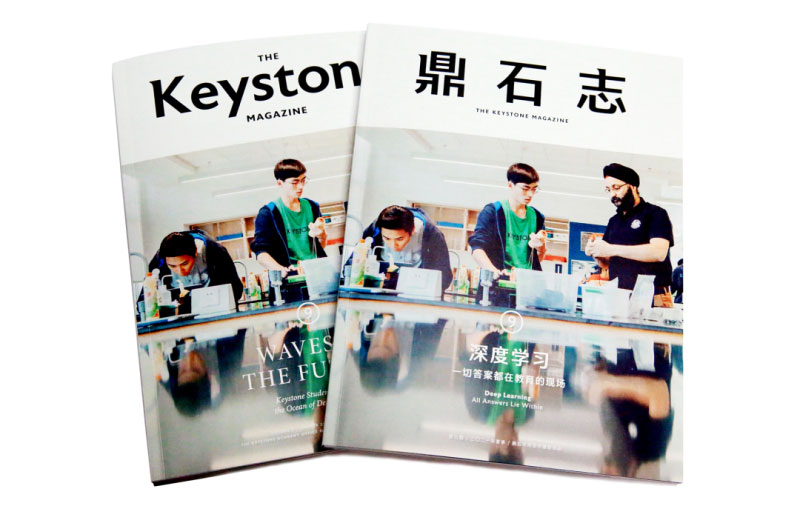 In this edition of The Keystone Magazine, we join several Keystone students as they begin their dives into deeper learning. As they emerge from the depths of reflective knowledge, they make their envisioned futures happen right now, thus enriching their lives and inspiring communities to look forward to exciting times ahead.
Emerging Talents: Curious learners take on future tech through personal projects
Leo Deng, Tim Gu, Ethan Dai, and William Wang are best buddies on a mission to build Mars colonies—in the world of Minecraft, at least. The self-confessed "space geeks" are amazed at the possibility of having humans settle on another planet.
In 2018, Leo and Tim founded Mars Club KAP (Keystone Activity Program) out of their passion for space science. Their friends Ethan and William joined the club later on.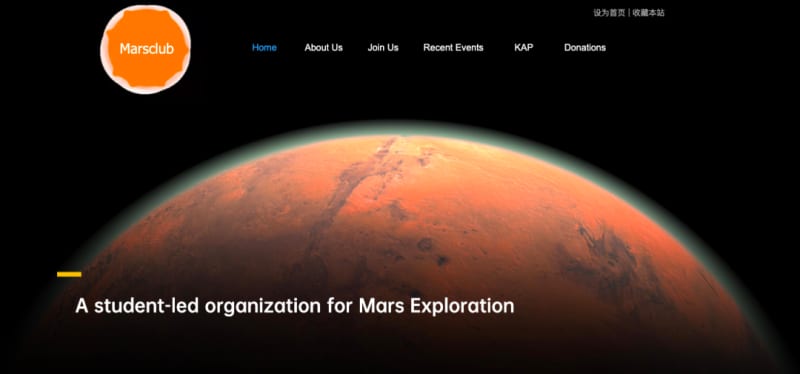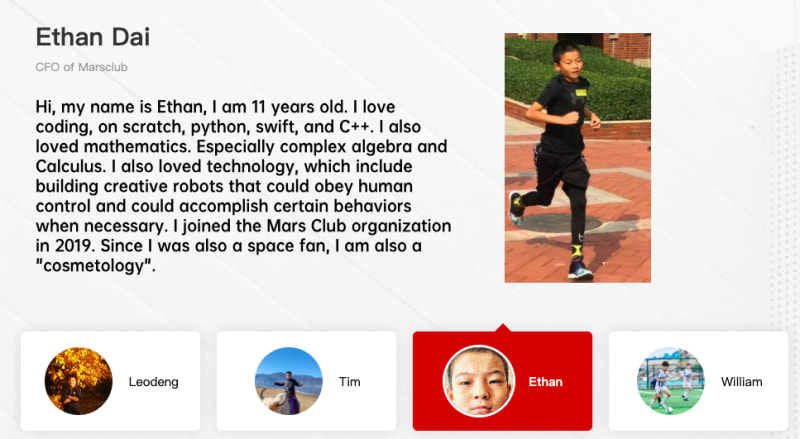 By the first semester of the academic year 2020-2021, the club had recruited twelve students from the third to fourth grade, all helping the quartet construct Mars habitats while playing the video game Minecraft. Alongside this, the boys planned lessons and gave quizzes based on their higher-level Science lessons and other exciting resources related to making the Red Planet habitable, sharing all this with their younger members.
During club meetings, the boys busied themselves with teaching their recruits coding and programming concepts effortlessly, as if they had been in the field for some time. In the classroom, the Mars Club founders are just like any other Keystone Primary School students, all of whom are no strangers to becoming adaptable and curious life-long learners.
The Primary School opened the academic year with the idea of the growth mindset. It is a concept that resonates strongly, especially after the coronavirus pandemic turned the world upside down and made learning environments both more uncertain and demanding. Teachers built on the growth mindset to refine or reconceptualize lessons so students could become future-proof and adept at understanding multiple approaches in thinking and problem-solving.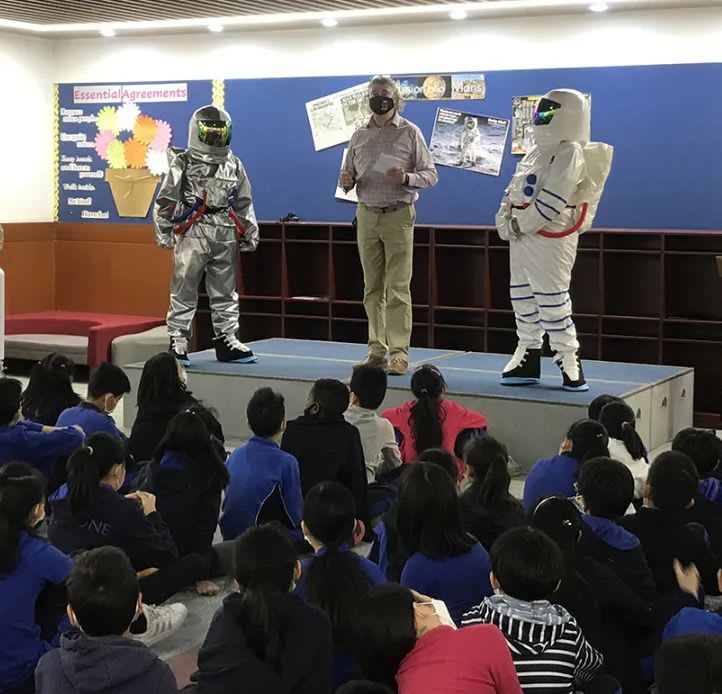 This approach fits well with the school's definition of learning, where Keystone considers every member of the community to be a "learner." Associate Head of School and Dean of Curriculum Jia Lili explains that learning is seen in a very broad sense as it goes beyond the confines of the classroom.
"Our definition of learning encompasses values-based, experiential, and project-based forms of learning, rooted in heritage and outward in perspective, and framed by the school's shared values," she adds. "Teachers, just like students, are also learners in their own right, as they continuously develop themselves through teaching. We also believe that learning is a life-long process, and so our ultimate goal is to encourage students to keep their enthusiasm for learning and spirit of inquiry going as they live their lives."
As the academic year progressed, so did the activities in the Primary School. One extraordinary unit that students experienced was Mission to Mars, which coincided with the historic landing of NASA's Perseverance and China's Zhurong rovers on the Red Planet in the first half of 2021.
The missions were a remarkable moment for the Mars Club members, and for Primary students as a whole, especially as they watched history unfold. For educators, on the other hand, the occasion tested the effectiveness of their new teaching strategies. And they succeeded, big time.
Over several weeks, teachers from various departments collaborated on linking lessons to concepts related to sustainability and planetary colonization. Physical Health Education (PHE) classes, for example, conditioned students' physiques in an "astronaut bootcamp" as they prepared for their "trip to Mars." In Science classes, students learned about rovers, landers, and satellites using augmented reality (AR) applications.
The unit was a "robust lesson that pulled from math, the sciences, art, technology, and PHE—it just covers a whole gamut of knowledge," Science teacher Kirk McCullough said, adding that the activity was a "concerted effort" across various departments. There were teachers, he said, who found ways to combine lessons to make and strengthen multidisciplinary connections despite the difference in their curriculums. "And that's where deep learning occurs—when knowledge expands beyond a classroom," he added.
On the sidelines of the Mission to Mars unit, fifth graders explored other topics related to digital technologies. Mr. McCullough premiered the first episode of Kids Special Course on AI in one of his classes with Ethan, Tim, and William.
With movie clips on automatons and even an "interview" with physicist Stephen Hawking on a future dominated by artificial intelligence (AI), the short film captivated the youngsters who learned more about the real-world applications of AI beyond virtual assistants and mobile domains.
After the showing, Mr. McCullough revealed that the video was created by tenth grader Vivian Chen for her Personal Project. She posted other episodes that discuss the impacts of AI on transportation, finance, health and medicine, and education on her Microsoft Streams channel.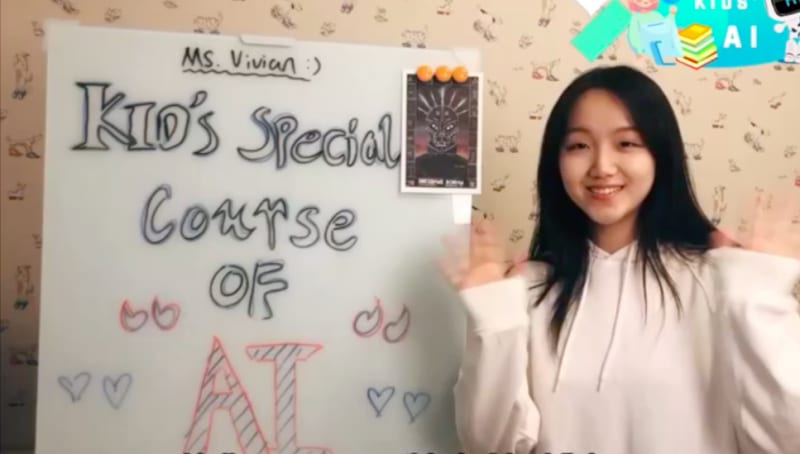 Vivian's Personal Project product targets primary school children, specifically Grade 5 students who, for her, are "at the suitable age to learn about AI because of their basic knowledge of math and science."
It took her several months of research to compose the scripts of the six-episode project because she lacked technical knowledge of AI. Her supervisor suggested that she create a trailer instead of a series, but Vivian ultimately pursued her original idea, inspired by an online crash course introduced by her father who works in the AI field.
"At the end of my research, I found out that a completely AI-run future is really distant to our current lives," she said. "Since superintelligent technologies are based on our brains, which we do not completely understand with our current capabilities yet, that future is very far ahead from us."
Ethan was impressed by the film's quality and message, although it still left him wondering how "everything could get worse" if superintelligent robots went out of control. William, meanwhile, thought it was "normal to feel afraid" of the repercussions, but he felt that "as humans, we have to think of and be prepared for the risks" if AI went awry.
When Vivian was at the same age as those students, she had also heard chatter about a possible future AI takeover. The thought may have alarmed her at first, but it also sparked her intention "to know whether AI will truly replace us." And so, the tenth-grade filmmaker invited her audience to understand the current use of advanced technologies in improving our society, instead of imagining a gloomy techno-future.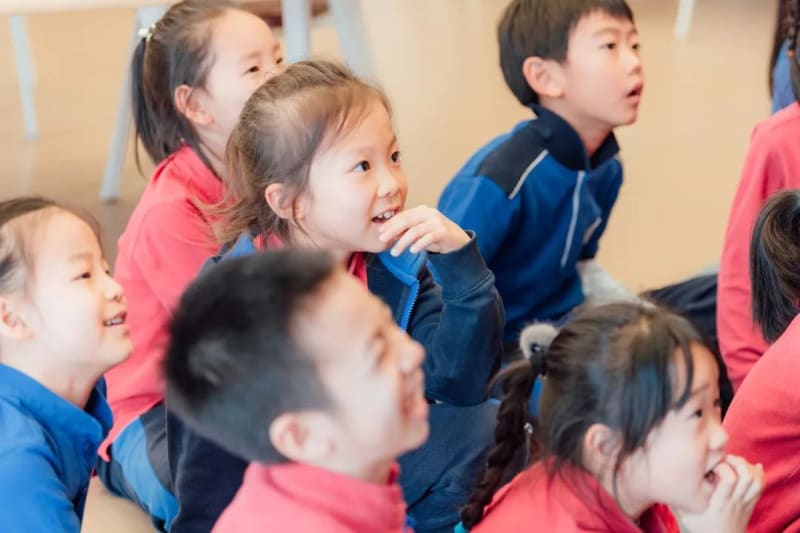 Mr. McCullough recalled that students had a "wow moment" after watching the film, not only because it was made by one of their upper-grade peers, but also because they realized they could make a similar project in the future. Ethan felt energized by that possibility, especially as he had previously tried creating short videos during the distance learning phase in 2020.
At the time of publishing, he and his best buddies in the club have entered Middle School as sixth graders, hoping to learn more advanced video-making skills. The quartet will look into expanding their activities by selling "Mars caps" and other merchandise to fund their projects, such as MarsScript (a child-friendly programming language) and Green Tech (hardware focused on conserving energy).
The quartet has just launched their club website. Perhaps it is time for the boys to tinker with cameras to upload videos of their activities to attract new members.
Absorbing Principles: Budding biologist consults values to tackle social dilemmas
As Sophia Du was flipping through television channels, she came upon a documentary showing a group of Indian women inside a hostel-style house. The tenants looked cheerful, but there were others who lay on separate beds as if they were sick.
Later on, the film revealed that the women were employed as surrogate mothers in a clinic run by a doctor accused of running a "baby-making factory."
It completely shocked the tenth grader, who realized she had chanced upon a rerun of the BBC documentary, House of Surrogates (premiered in 2013). The film focused on the so-called commercial surrogacy in India and how it benefitted rural women who raked in life-changing sums of money in exchange for carrying a child that would never be their own.
Sophia watched the documentary sometime before the winter holiday of 2020. During the academic break, the self-confessed biology enthusiast scoured the internet for her Keystone Capstone Project essay topic, browsing mindlessly and typing random 'sciency' keywords until hyperlinks led her to journals about surrogacy.
These events seemed to brace the student for yet another encounter with the topic.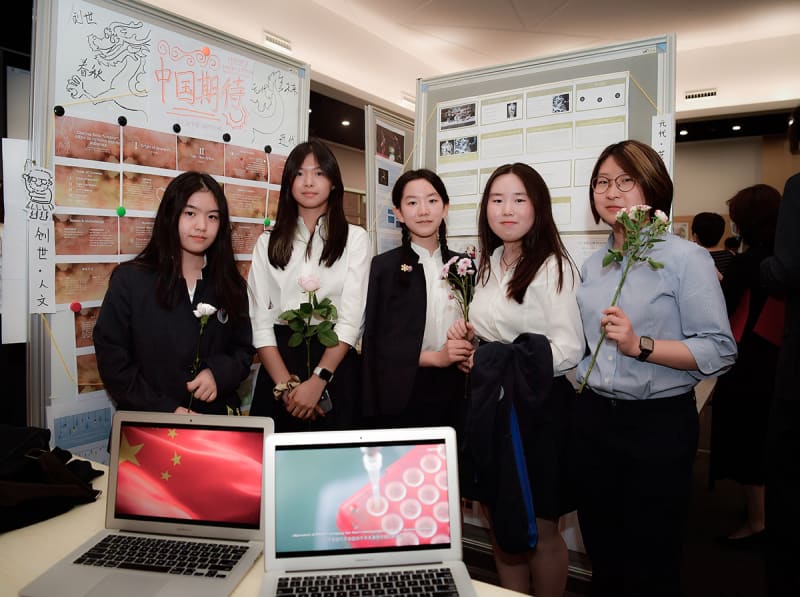 In January 2021, a Chinese celebrity couple became embroiled in a scandal, following allegations of surrogacy and subsequent child abandonment, causing widespread furor, heated debates, and trending topics that mostly centered on morality and preserving familial principles. The social media firestorm further ignited the tenth grader's interest in the topic. She puzzled over clashing viewpoints on surrogacy and why some people in other countries continue practicing it despite legal, ethical, and economic issues.
Sophia set about tackling those perplexities in her Capstone essay, in which she looked at social values and dynamics that affect the surrogacy laws of China, India, the United Kingdom, and California in the United States. She identified four key concepts central to surrogacy laws of the four locations: filial piety in China (as it is rooted in Confucianism); religious belief in India (as Hinduism accepts assisted reproductive technologies [ARTs], although the government strictly controls surrogacy due to legal disputes); mounting social acceptance in the UK (especially after its government allowed same-sex marriage); and liberalism in California (due to the state's geography and immigration history). She has also recommended that future researchers consider conducting a wide-scale opinion polling or analysis of economic or political factors in surrogacy laws to further the study.
Such a detailed analysis has impressed Individuals and Societies (I&S) teacher Dr. Yuanching Huang. For her, Sophia's research is socially relevant, especially as it looks at how values shape the dynamics of modern society. For Sophia, on the other hand, her recent foray goes beyond curiosity.
"So many new biological technologies have come out—surrogacy, gene editing, cloning, and the like," the tenth grader said. "Our future scientists should be responsible for their inventions and interventions. We need to regulate them properly, otherwise our society would face more ethical problems."
Sophia shared her essay insights twice: at the Capstone Project seminar on May 28, and at the "Colorful China" Capstone Project exhibition held after the Grade 10 Middle Years Programme (MYP) certification ceremony on June 11. The occasion, Dr. Huang explained, aimed at sharing students' research results with the Keystone community, especially parents.
The latter event was the first themed presentation in the six years since the start of the Keystone Capstone Project, or the conclusion of the school's China and the World program that links the Chinese Civilization and World Civilization courses. Dean of Curriculum, Ms. Jia, says the Capstone Project and the program it is built upon demonstrate the strength and uniqueness of Keystone's Chinese Thread curricular framework.
"Keystone Academy is a school belonging to China. We firmly believe that China's status on the world stage is decisive," Ms. Jia said. "The China and the World program allows our students to have a profound understanding of the history and traditions of China and the world, and, at the same time, lead the action in the global financial, political, and cultural fields. This unique program also stimulates their love for learning and respect for their national traditions, tolerance of cultural differences, and the pursuit of academic excellence."
Sophia teamed up with four other peers, who together linked their distinct essays into a unified presentation that captured an essential part of Chinese civilization. Their "timeline narrative" opened with back-to-back comparative essays: Tracy Qu looked into the creation stories in Christianity and Chinese mythology, while Linda Cui explored the Analects and The Republic to understand how Confucius and Plato promoted poetry to shape values. The narrative continued to Emma Liu's paper on the impact of Yuan Dynasty porcelain on Chinese culture, then jumped to contemporary times with Jamie Zhu's investigation into how comedy sketches in chūnwǎn (or the annual Spring Festival Gala) communicate or influence values and attitudes. Sophia's topic on surrogacy represented the future aspect of the timeline.
Their team was among the 32 student groups that presented a unique narrative of Chinese civilization. Dr. Huang was delighted to see the extent of students' perspectives and how they related their work to China's future.
"The Capstone Project allows our students to be part of history," Dr. Huang said, adding that this contribution to Chinese civilization—which is uniquely ongoing, unlike the comparative discontinuity in other regions over the ages—is sure to benefit generations of future students. She also urged students to use their understanding of Chinese culture and history and relate that knowledge to global experiences. That way, they will be equipped to take on studies and initiatives that find and celebrate common connections, while also learning from differences.
"To look at the past is to think about what we should inherit, adjust, and leave for future generations. The Chinese intellectual Liang Qichao encouraged everyone to look at history from different angles. If I may extend that, I believe we need to understand each of those angles so we can make sense of the changes happening in the present," she added.
In the years since the launch of the Keystone Capstone Project, I&S teachers have guided tenth graders to approach their essays by looking at personal experiences or interests, or integrating perspectives from scholars around the world. In doing so, students prepare themselves for the more demanding Extended Essay (EE) in the Diploma Programme (DP), another challenging and rewarding research opportunity for deeper learning.
Mrs. Trisha Power, the EE coordinator and a Theory of Knowledge (ToK) teacher, considers the Capstone stage to be an opportunity for students to take on a topic about their heritage, allowing them to contribute to the academy and develop modern studies about China.
Sophia felt ecstatic upon receiving Dr. Huang's commendations, even comparing them to the "start of a new mountain" to scale. For a student who has tried to avoid History and I&S subjects because she was "annoyed at remembering dates", her Capstone topic choice was a fulfilling change.
"People always say, 'We should learn from the past,' but based on my History classes, it seems we do not learn from the past at all!" Sophia commented bluntly. "And so, I want to focus more on the future—maybe the only way to prevent past mistakes from happening again is to explore or consider a new way of doing things."
Immersed in Thought: Young artist understands life through father's oeuvre
In the artwork Free Walk by the late Chinese contemporary artist Mingzhong Wu, the Roman goddess Liberty, whose figure he derives from the renowned painting La Liberté guidant le peuple, is filled with rousing energy as she strides alone across a dull grassland under gloomy skies. Using his signature aesthetic style of representing images through glass filled with bright red wine, Mr. Wu expresses in this illustration that human fragility is the momentum that spurs humans to explore or escape the realm of freedom.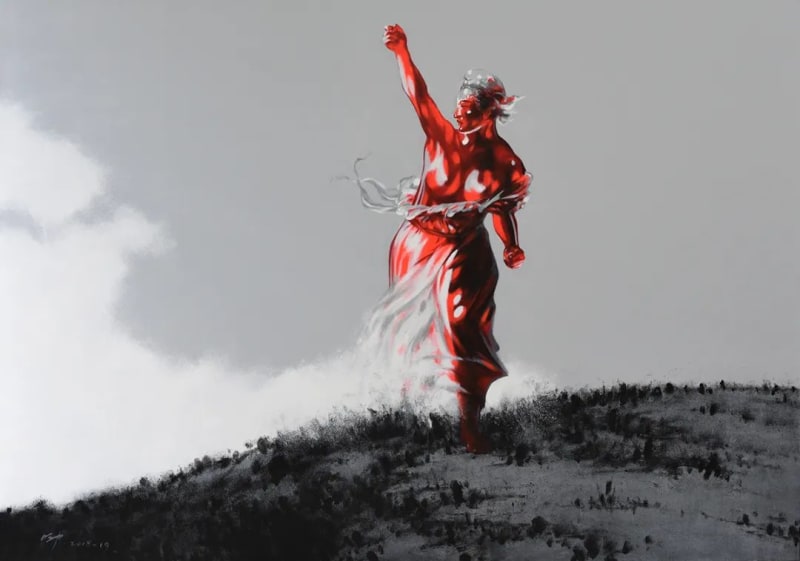 Free Walk was among the last images Mr. Wu produced for his final exhibition "In-Outward Observations" in 2019. Here, he reflected on human fragility—the long-running subject of his oeuvre—and his decade-long fight against cancer through paintings that depicted living with fortitude in the face of inevitable tragedies.
Over the years, his son Zhuoyang (a member of the Keystone Class of 2021) witnessed how Mr. Wu attempted to visualize his artistic focus through contemporary artworks that, for the teenager, looked "the same thing all the time." Still, this exposure greatly influenced Zhuoyang, who slowly veered towards conceptualism as he grew up.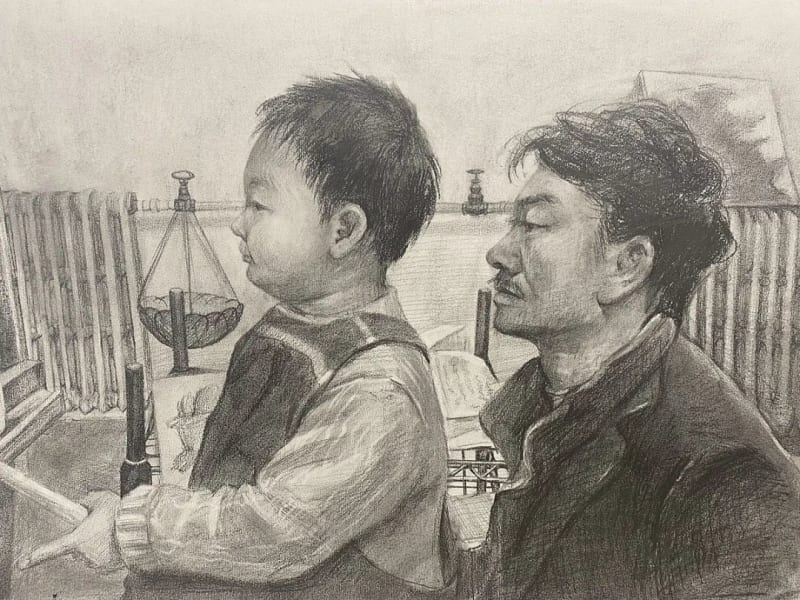 Zhuoyang understood his father was an artist and regarded him as a "guide who provided ideas to understand the world."
As Mr. Wu's condition deteriorated, the teenager observed how his father strove to "make a connection with his life" and put forth "energy and effort," which ultimately led the older Wu to be "more insecure [and] reluctant to die."
Following his father's passing, Zhuoyang turned to literary classics, including those from Milan Kundera and Albert Camus, to seek solace and clarity. His loss also happened some months before the start of the preparation for the Extended Essay requirement in the DP.
The EE Coordinator, Mrs. Trisha Power, recalled Zhuoyang consulting her about his topic, a comparative literature review whose theme may have worked just fine but was still "a little dark" and therefore worried his mother. Mrs. Power then probed into Zhuoyang's reasoning and eventually learned about his family's loss.
Then a sudden shift happened.
Enlightened and energized by his talk with Mrs. Power, Zhuoyang cast his initial topic aside for what he felt was "the right choice at the right time": to examine how his late father's works demonstrated human fragility.
Zhuoyang began his research by returning to his father's studio, not as a son but as a fellow artist and an art student who analyzed the nuances of his paintings and their descriptions. He identified several works that defined his father's career 'periods' and noticed the gradual progression in Mr. Wu's artistic philosophy.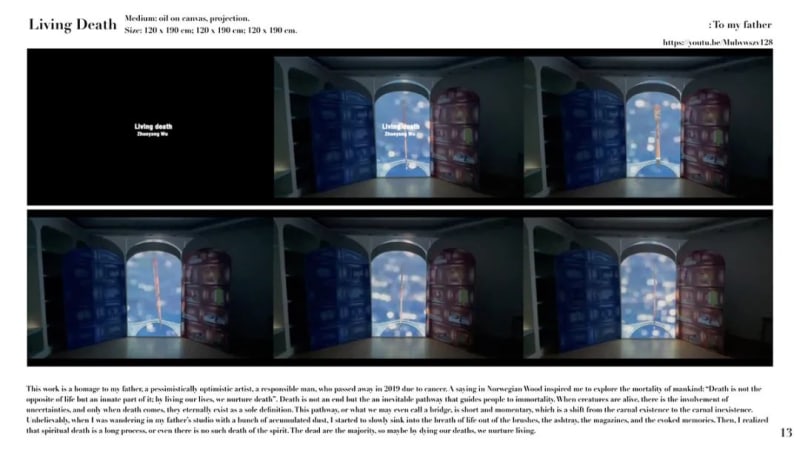 Next, the teenager began what he felt was the "most rewarding part" of writing the essay: seeking the opinions and observations of Mr. Wu's friends and colleagues, one of whom described the late artist's concept as a "gnarled towering tree [that] extends uncontrollably." For Zhuoyang, that metaphor captured his father's winding exploration of freedom that ended up being a "permanent paradoxical dilemma" upon facing death.
Zhuoyang looked at Free Walk, one of Mr. Wu's final paintings, once again, and finally realized that his father's view of human fragility "was actually not vague."
"Sometimes, we do not fully grasp the true meaning of language," Zhuoyang explained. "For my father, 'human fragility' was very personal and he approached it by looking from the birth to the death of a person. And between these stages, life is all about the combination of choices. What do you choose? And why are you choosing that and sacrificing another?"
The young artist closed his essay with the caption written by his father for Free Walk:
"Destiny is the fountain of creativity; I wish my paintings can delectably melt the pain, the fragility of love and life, and I want my imagery to last in eternity."
Looking back on his experience, Zhuoyang believes his essay has allowed him to not only meet his father once more, but also see how he "can still exist within [me]". The opportunity to write about his father has given Zhuoyang a new understanding of life and death.
Zhuoyang's work was among the EE pieces that surprised Mrs. Power. For her, the best essays are always those that have personal connections because they "always feel right for [students]".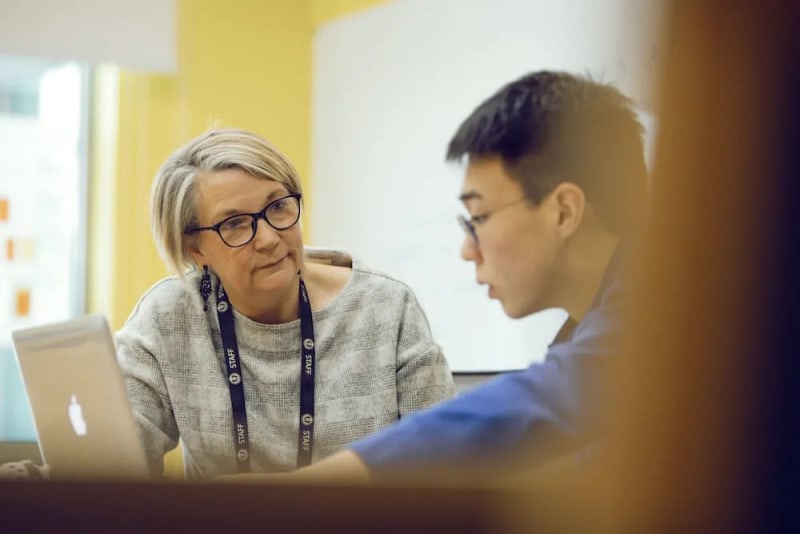 "He got so much more out of this process," she added. "And that is the real learning here, as opposed to that product just being an essay. Zhuoyang had a chance to know his father. What teenagers like him learn in this activity goes beyond managing time and becoming experts in content knowledge, but also understanding their own lives, looking at themselves in the process, and reflecting at the end."
During the "Life Outside the Box" exhibition in April, Zhuoyang incorporated his understanding of life and death into his installations themed "The Pathway to Immortality". Inspired by a statement in the 1987 novel Norwegian Wood by Haruki Murakami, Zhuoyang produced a pair of antithetical door-shaped paintings that showed different states of being in a person's life.
Zhuoyang has begun walking forward after a great loss, now with rousing energy to explore life further. Although Mr. Wu has passed on, his works will remain Zhuoyang's lifelong spiritual guidepost.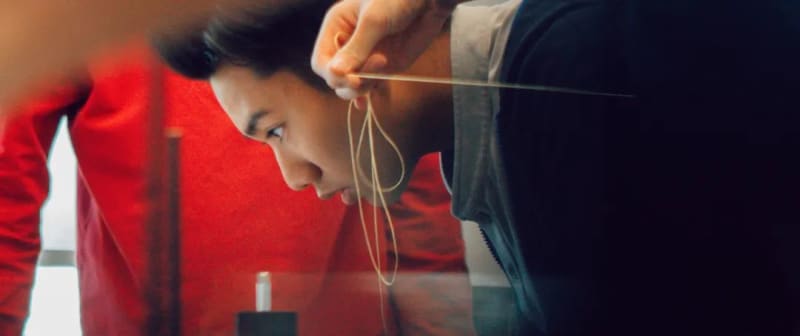 People often imagine how the world will be in thirty years, a century, or even more. But just like the randomness of the waves in the ocean, the future is unpredictable. What we know, however, is the future is happening right now.
The unknowns that come along challenge us, the people of today, to stay curious and rethink our views, so the coming generations can enjoy the fullness of life on this planet. Uncertainties may be unsettling, but they are also what encourage us to focus on the things that matter as we ride the waves of the future.
---
References
Bellanca, James A. "Advancing a New Agenda." Bellanca, James A. Deeper Learning: Beyond 21st Century Skills. Bloomington: Solution Tree Press, 2015.
What Is Deeper Learning? n.d. 2021. https://www.deeper-learning.org
---
[1] (Bellanca)
[2] (What Is Deeper Learning?) The competencies are content expertise, critical thinking and problem solving, collaboration, effective communication, self-directed learning, and an academic mindset.