Jessa shares her journey as a student and the different turning points that have led her to where she is today. This post is an inspiring read for all high school students out there!
I have always considered my time at SJII as the key that unlocked the door towards a multitude of transformative experiences that led me to where I am now. Not just the school itself, but the community that surrounded me – my teachers, mentors, friends, host family, batchmates, the uncles and aunties at the school canteen, the cheerful security guards that greeted me every morning and afternoon, and the sweet Filipino staff that made me feel at home. Those 2 years were some of the most productive and fruitful years of my life, but I felt that it flew by so fast, that I spent most of it adjusting and adapting, and by the time I felt ready to do more, the journey was ending. Shortly after, I realised that the journey did not end; it only paused, because the things I learned and discovered about myself while at SJII and the eagerness to explore and do more significantly influenced my attitude and perspective towards entering university.
I graduated from SJII in 2016 and joined Hong Kong Baptist University in 2018 as its first international student from the Philippines. Looking back, I realize that some of the things I've done in the past 4 years mirrored my interests and experiences at SJII. At SJII, I was always into cultural exchange, both in sharing my own and immersing in others. Being in the Balinese Gamelan ensemble and performing Filipino folk dances on Founder's Day or at our host family gatherings were most memorable to me. During Challenge Week, I discovered that I loved the outdoors as my favorite activities were our treks and hikes. At HKBU, I get to continue doing this and more, whether it's in sports or trying out something I've never done before like being a barista at our campus café.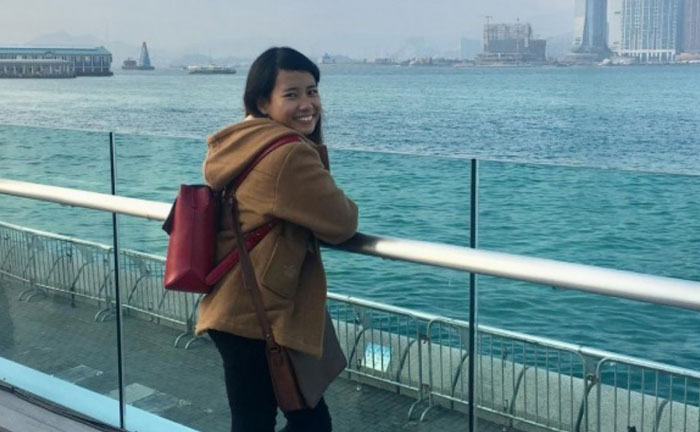 What inspired me the most at St Joseph's Institution International?
One of the things that inspire me the most about SJII is its strong commitment of encouraging students to enter to learn and leave to serve. I think that SJII students do not wait to leave before they could serve, because even during the school years, the students were already demonstrating the spirit of service as I recall the numerous student-led initiatives at school, some of them I am grateful to have participated in, such as Waves & Wheels, Key Club Busking, and Hair for Hope. Remembering this led to two meaningful acts of service that I didn't think I could do in the last 2 years.
I'm also grateful to be of service to my batchmates and juniors by taking up leadership positions to represent their interests and communicate their needs to the school. Furthermore, I get to serve the extended school community by being a Community Engagement Organizers Ambassador working with our Hall Life Team in organizing and implementing activities for the elderly in Hong Kong. How I connect with my school community at HKBU reflects how I built relationships at SJII. I am friends with the helpers and canteen staff at our uni. The security guards greet me along the way. I realize that I still carry that attitude. Being a Josephian continues to be part of my identity.

How did the pandemic and other natural disasters affect me and SJII?
When the pandemic first took a toll on public schools in my hometown, Cebu, many Filipino students and teachers alike unfortunately could not cope with having online classes because aside from internet issues, the majority just didn't have computers and tech devices that they could use. Instead, the schools adopted what they call a "modular learning" arrangement in which printed copies of learning modules were produced for students or parents to pick up on a periodic basis which the students can study on their own or with the help of their family. However, some schools such as my High School Alma Mater could not produce enough modules because of too many students and too little resources. After hearing about this, I shared it with my friends and others through social media to connect with people who might want to help, and I was really moved by the number of people who extended their kindness and showed support, raising SGD1135 worth of materials such as bond papers, ink, and rubbing alcohol for the school staff and parents to use during the distribution of modules. Together we helped hundreds of students continue their studies amidst the pandemic.
In December 2021, Typhoon Rai struck the Philippines, leaving Cebu in a state of calamity with no electricity and drinking water. I personally could not contact my family for days, only to find out later on that they had to queue up for hours just to get water or charge their phones and that our house did not have a roof anymore. I am grateful for being able to support my family at that time, but I could not help but think about those who really had no one. I could not accept that there was nothing I could do because I am far away. Luckily, I met a group of people online who started an initiative to provide free drinking water to those heavily affected in Cebu City. While communicating with them, I did my own fundraising here in Hong Kong, and it was proven to me again that adversity can bring out the best in people as the donations from my end provided SGD1270 worth of free drinking water and relief goods for the affected families.
I used to feel so behind compared to my peers because my studies kept getting delayed. Seeing their graduation photos when I was just starting university made me wonder why my life took such an interesting turn. But now, I think that all those years of waiting served a purpose. I have learned to stop comparing my own progress with that of others because we have different timelines, and we are on different journeys.
My final thoughts on being a Josephian.
I have learned that in life, there are plenty of times when we look back and question the decisions that we made but we have come too far that so much has already happened. We have driven down the road far enough to be unable to see where we came from and we doubt if we should ever come back, but the road keeps extending that we cannot see where we are going either, so we feel stuck. It's very easy to think that way when we focus too much of our energy on our point of departure and destination. But when we think about the things that we were able to do, the lives we touched and those that touched ours, they are well worth the ride. Most importantly, I think that if you really have that drive to serve, then no matter which path you take, not even a pandemic can stop you.
To my fellow Josephians, we have still got so far to go, so let's keep moving, enjoy the seasons as they change, and remember why we decided to take the wheel in the first place. As our Mater proclaims, let us move FORWARD, with hearts sincere, render with joy, and stay valiant and true, heirs of St. Joseph!