It was sixty years ago when a sandy blonde-haired woman began an adventure to Africa that would redefine our understanding of the modern human species. Now at 85, there's no stopping Dr. Jane Goodall from gathering people around the world in her life-long quest to protect the environment.
Jane, the White Ape
The renowned primatologist and UN Messenger of Peace Jane Goodall visited Keystone Academy on November 12, the first stop in her 4-day tour of Beijing. Keystone, a new member of this environmental organization, invited over a hundred students and educators from nine other member schools in Beijing to celebrate Goodall's return to the capital.
Student leaders from these schools were thrilled but stunned to present their projects in front of the very person who has inspired them to care for the environment. Goodall applauded and encouraged every single one of them to continue their initiatives.
When she finally appeared on the Keystone Performing Arts Center (PAC) stage, Goodall took everyone by surprise.
"I'm going to give you a special greeting which has never been heard in this auditorium before:
Woo… oooh oooh… oooh oooh oooh hooh!
That means, 'This is me, this is Jane,' in chimpanzee pant-hoot."
Her introduction was resonant and full of character, in stark contrast to her calm and, at times, cracking voice. The gradually increasing pitch and pace of that hoot set the tone of her keynote speech about her illustrious and fascinating career.
"I could still remember arriving at Gombe National Park in Tanzania for the first time…" the primatologist recalled, "…And going along Lake Tanganyika, looking up at the valleys and hills, wondering how I am going to find the chimpanzees. In the first few months, I didn't get close to them; as soon as they saw me, they ran away. They'd never seen a white ape before. And that's what I was: a white ape."
Goodall was the foremost of the Trimates—the three female researchers who were sent by the venerable anthropologist and archeologist Louis Leakey to scientific expeditions in Africa in the 1960s to study the behavior of hominids (great apes) in natural environments.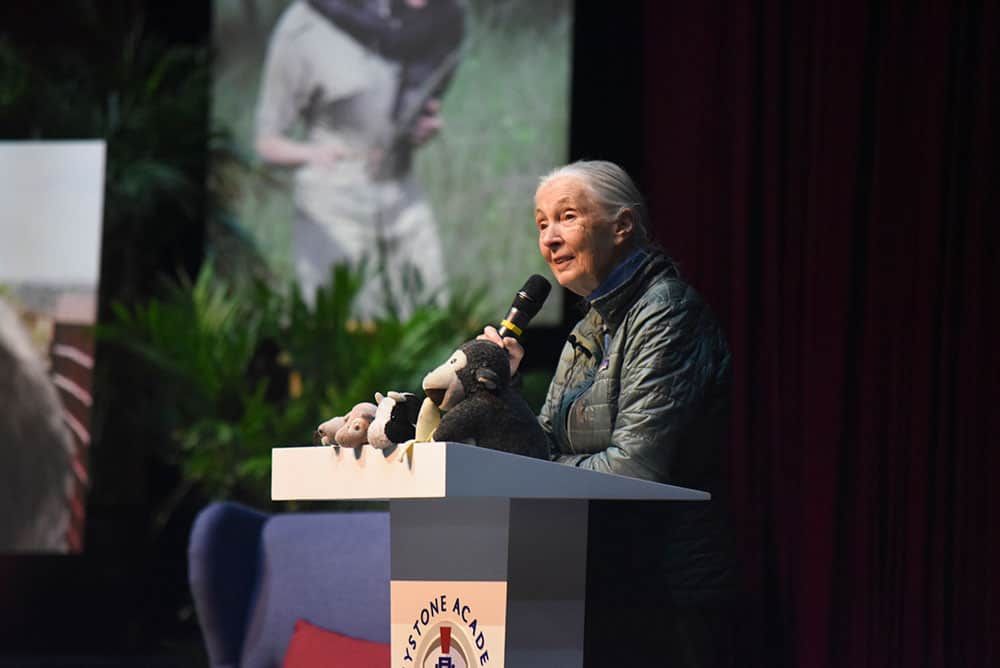 Goodall spent over six painstaking months of observation to be assimilated into a chimpanzee group that lived in Gombe.
Goodall's groundbreaking research into chimpanzees and her subsequent discovery that the species can use tools put her in the headlines and shook the scientific community at the time. Many people, according to Goodall, told her that she should "dream about something [she] can achieve." However, she had a powerful advocate: her mother Margaret, who briefly accompanied her during the initial stages of research in Gombe.
"If you really want something, you have to work awfully hard and take advantage of every opportunity. But don't give up," Goodall recalled her mother's most important piece of advice. "That's the message I've told young people around the world, and particularly in disadvantaged communities."
Her message has continuously reverberated around the world, inspiring adults and children alike. Keystone's Head of Primary School Catherine Copeland compared Goodall's timeless message to today's "growth mindset."
Copeland said Goodall and her scientific endeavors formed a vital part of her childhood and growth as an educator. So when Keystone confirmed Goodall's visit sometime in September, Copeland tried to hide her jubilance amid the preparations. But her emotions just flowed when she was finally able to reflect on the visit of her "personal hero."
"I jumped and called my mom and sister," Copeland recalled. "When we had our induction, I asked the teachers, 'If you could invite one person in the world for dinner, who would it be?' Dr. Goodall is the person I would…," she stopped, teary-eyed, "…The person I would like to meet."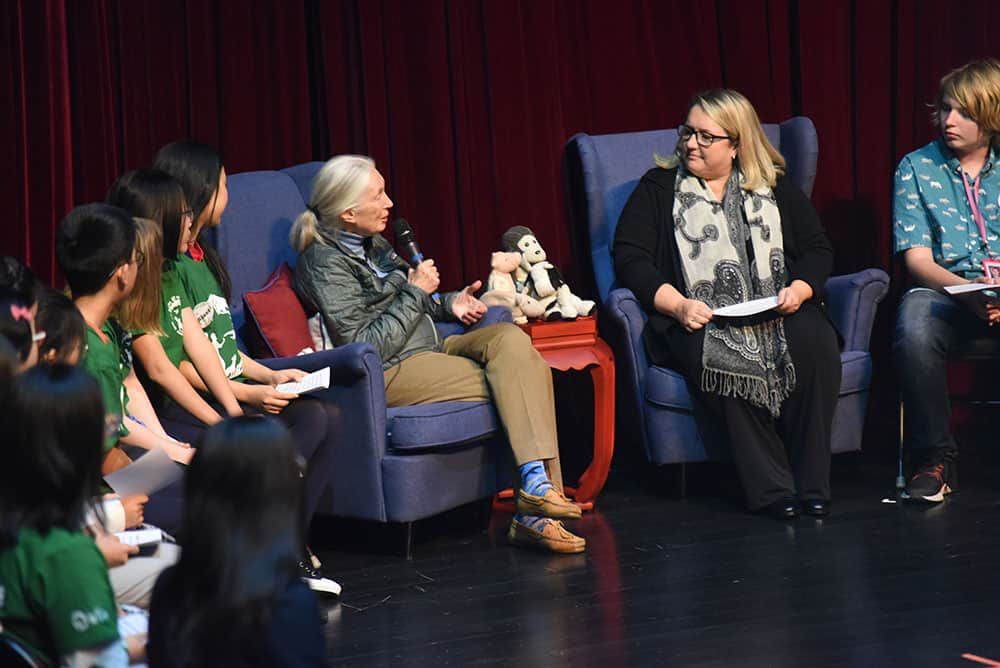 Copeland moderated the question-and-answer session of Goodall and 15 Roots & Shoots students in Beijing
A Role Model of the Youth
Every two years, the influential conservationist returns to China to speak at engagements or meet with young members of Roots & Shoots. Her trip in 2019 coincided with the 25th anniversary of the Roots & Shoots China chapter. It also served as a run-up to the commemoration of the 60th anniversary of her work in Gombe.
Aside from being an environmental activist who travels almost all year round, Goodall is also an accomplished author who has written several memoirs and children's books about her life and career. Among those publications, Keystone sixth-grader David Shao finds My Life with the Chimpanzees the most inspirational as it motivated him to read more about the animal world. At the age of 11, Shao already has a two-inch-thick compilation of his research into various animal species.
During the visit, the young Roots & Shoots member put on the organization's signature green T-shirt and brought some of his research materials. He waited pensively and patiently for his turn to meet Goodall to ask this burning question: How did she have a bond with the baby chimpanzees? Was it similar to raising her own son in the rainforest?
And he got the answer, right from the scientist herself, who was seated nearly five feet away from him during a question-and-answer session:
"If you're somebody who's looking after an orphan baby chimpanzee, there's no difference. They're just like a human baby."
"It was a very satisfying experience for sure, but I don't know how to describe the feeling!" Shao said. "I also wanted to tell her that many people in China are actually trying to help the environment. Many also care about the lives of animals."
For David Shao, Jane Goodall's visit to Keystone has inspired more young people to become interested in helping the world
While many other students in the audience missed Goodall's responses to their questions, some were satisfied with listening to her witty, concise, and inspirational remarks.
"Jane Goodall is someone who I've looked up to for a very long time. I've been a member of Roots & Shoots for three years and it is a great way for me to express my love for the environment," said Nurrania Alfian, a Grade 8 student from the Canadian International School of Beijing (CISB).
"My heart stopped when I first saw her. It was just unbelievable for me to finally be able to see her in real life" eleventh-grader Nicole Partridge from Yew Chung International School of Beijing said about presenting to Goodall in person. "The only difficult part was I just got nervous, because this is Jane Goodall I'm talking to. I told her, 'You're a role model.'"
Flying as an Eagle
Goodall's influence on youth is undeniable, but the scientist has always referred to her mother as the source of her inspiration.
"I wish mom was alive to know how many people have come up to me and said, 'Jane, I want to thank you for you told me, 'Because you did it, I can do it too.'"
Goodall posits the role of females in evolution is "to look after children," enabling them to become more patient and understanding. But these qualities, as she remarked at her speech with the Beijing Women's Network, are not only limited to women. She referenced the philosophy of a Latin American tribe to stress her point.
"'Our tribe is like an eagle: one wing is male, the other wing female. Only when the two wings are equal will our tribe fly.' And I love that because [the lines are now blurred] and women have male qualities and males of female qualities. But we need both."
It wasn't always easy for Goodall, though. The acclaimed 2018 documentary Jane, which highlights her amazing scientific pursuits amid the criticisms she faced early in her career. For example, many people at the time discredited her discoveries because of her gender and her "cover girl with nice legs" appearance.
But guided by her mother's advice to not give up, Goodall overcame the issues by using them to advance her research.
"The legs thing is quite funny, actually, because if somebody's told today, 'You only became famous because of your legs,' that's really insulting and disgusting, right?" she said in reference to the documentary, which was screened at a separate event by the British Chamber of Commerce in China (BritCham).
"When people said, 'She only became famous because of National Geographic covers and her legs,' I thought, 'Well, if that's the case, give me money to do my research. Thank you, legs!' They were pretty good legs, aren't they?" Goodall joked, showing her lighthearted perspective into the issue.
Girls in Tanzania, on the other hand, face the challenge of a lack of education, according to Goodall. When Roots & Shoots started there in 1991, only two out of the 12 founding high school student members were girls.
"Many women in Tanzania didn't go beyond primary school. They didn't get educated and fell out of school during puberty," Goodall explained. "They didn't understand what was happening."
She added that the young men at the time were attracted by the huge amount of money from poachers and cartels, while women became "concerned about orphans, street children, and animal welfare than fighting poachers" because it was simply dangerous out in the field.
"That's where Roots & Shoots can come in and play such a powerful role in educating people," she reiterated. "A lot of what we perceive as cruelty that is [actually] cruelty is due to people who don't understand. And that's what we have to work out—to help people understand animals have personalities and minds."
People at the Heart of Conservation
Roots & Shoots is present in about 60 countries, including China where it has 20,000 student members "from kindergarten to university and everything in between," Goodall said. Keystone Academy became a new member school of the organization in May 2019, allowing it to host the conservationist in the first leg of her tour of Beijing this year—and her 16th visit to China as of yet.
The Keystone Environment and Sustainability Committee, led by Director of Faculty Chad Fairey and Primary School Science teacher Leah Newey, the Keystone Performing Arts Center team with Director Michel Ouimet and Drama teacher Karen Bailey Summers co-organized the visit while the Primary School Department oversaw several fundraising activities for Roots & Shoots.
One of the organization's conservation projects is for the white-headed langur, a critically endangered monkey species endemic to the province of Guangxi in southern China. At the time when this article was published, Keystone has raised RMB 10,000 from the different events organized in the run-up to Goodall's visit.
For the first time in Keystone history, a group of students, including 5 from International School Beijing (ISB) and 30 from Keystone, planned, engineered, and delivered a live broadcast of this event. Students brought together equipment from both schools, including two Tricasters and 9 cameras, to cover the event. The program was then streamed live to venues throughout Keystone and to other Roots & Shoots schools.
"Opportunities such as this are critical to learning in the modern age of communications, and having students from different schools collaborate to deliver a program like this makes for the best of authentic learning. Students are beyond enthusiastic. They are dedicated and passionate about the outcome," said Eric Johnston, faculty supervisor and founder of SMS.
Thirty student members from the Keystone SMS, together with its founder Eric Johnston (second photo, standing) worked together during Goodall's visit to Keystone, operating video cameras and theater equipment (first photo, inside the PAC control panel)
Head of Primary School Catherine Copeland said Goodall's visit also gave students a chance to connect many environmental topics they learn in the classroom to the world outside of school. She also believes that Goodall's concept of putting the community at the heart of conservation, which improves the lives of people, animals, and the environment, strongly relates to Keystone's values.
"Community is a concept that we promote here at Keystone. The more that we collaborate, the more that we work together, the more that we understand each other, the more that we celebrate differences—these help us stand out and succeed in our academic and community pursuits," Copeland said.
Reaching People's Hearts
"Anyone who has heard her speak, or heard her story, has been mesmerized by her life's work and moved by her philanthropic legacy," actor Leonardo DiCaprio said about Goodall in a profile he wrote to honor the conservationist, named as one of TIME Magazine's 100 influential people of 2019.
Her influence also reached The Simpsons, which released a special episode featuring the scientist in her full Gombe exploration outfit. Even Lisa Simpson looks up to Goodall as her "personal hero." The primatologist's advice to the curious girl?
"You might get lucky if you work really hard. And don't give up."
That same message encapsulates the theme of Jane Goodall: The Hope, an upcoming National Geographic TV special on how the scientist has overcome the obstacles in her life and career. It will be released in 2020 in time for the 60th anniversary of her adventure to Gombe.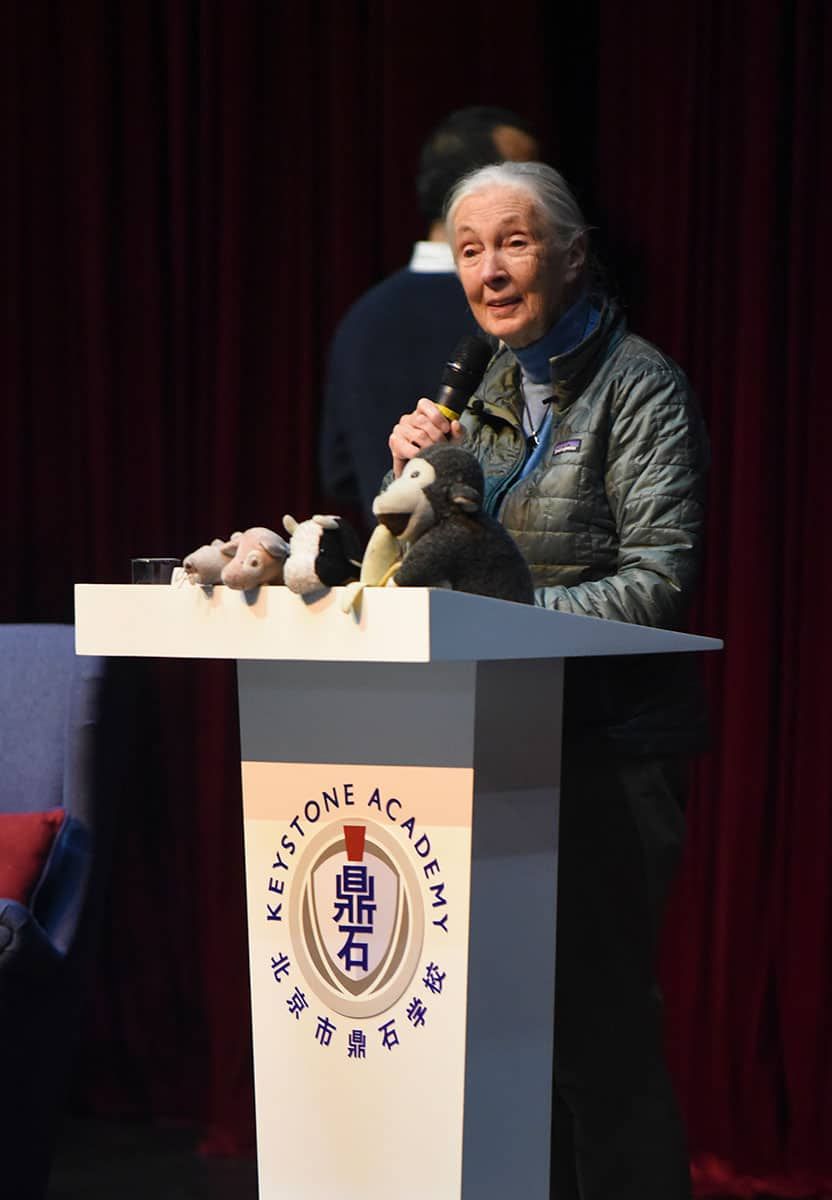 "If you really want something, you have to work awfully hard and take advantage of every opportunity. But don't give up."
In many of her engagements, Goodall has noted she uses "stories to reach people's hearts," rather than being "confrontational and aggressive," which "don't get [you] anywhere." Her stories have indeed touched the lives of many, including Kester Yu, a Filipino conservationist who flew to Beijing from Manila just to see the conservationist.
Although smiling and attentive, Yu looked visibly nervous during the screening of the Jane documentary at the BritCham event. Later at a question-and-answer session, he got a chance to tell Goodall how she has inspired him to take action and set up a conservation society for the endangered turtle species in the Philippines. In the end, he asked a simple question:
"Would it be OK if I give you a hug?"
"If you're brave enough to run up here," Goodall replied.
Not only Yu was able to hug her, but she also showed him how it's done the chimpanzee way. He went home with an experience that would reinforce his actions for environmental conservation.
"I didn't know if she'd even say yes or if I'd just make a fool of myself," Yu recalled of the experience. "Just seeing her in person was already a dream come true, but what more a hug? And I didn't just get a hug; I got two hugs. I felt honored because she saw me more than just as a human but also as a chimpanzee. I was more than happy, more than excited, and extremely overwhelmed."
The Indomitable Human Spirit
To Goodall, people like Yu, the Roots & Shoots members, and all who don't give up and tackle what seems impossible have the "indomitable human spirit." Everywhere she goes, she brings Mr. H. to serve as a reminder of that unshakable attitude in life. The stuffed monkey was a gift by Gary Haun, a blind magician whose story has inspired Goodall so much that she named the present after him.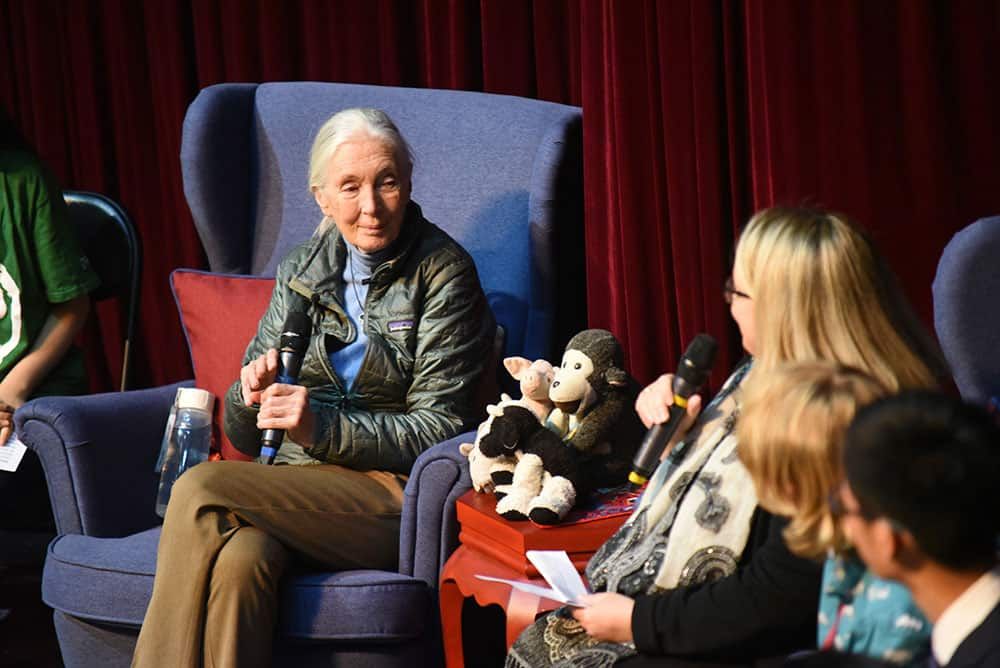 The blind magician who gave Goodall Mr. H. (center) almost 30 years ago thought it was a chimpanzee. But the conservationist loved the gift and the story of its giver
The UN Messenger of Peace continues to travel around the world to spread her message of hope that many people wonder if this is her current big adventure. But the octogenarian says she is ready to go elsewhere, sounding confident and optimistic.
"My next great adventure is the stage of dying. So, when you die, it's either nothing, which, in this case, you'll find there's nothing, or something beyond the alignment of this planet, which I happen to believe. Can you think more of any exciting adventure than discovering what's beyond, if there is?"
But in a truly Jane Goodall fashion, she reiterates she will never give up.
"I will never let chimpanzees go extinct while I am alive! You…," she says loudly, "…and Roots & Shoots are going to help these animals!"
"You all have that same indomitable spirit. Let it out in the world to make it a better place. I would like all of you who care about our future to join me in saying, 'Together we can! Together we will!"
Words byAndy Penafuerte III
Photos:Zheng Liu, Mark Elshout, Eric Johnston, Amelie Wan