The American Overseas School of Rome is proud to celebrate 75 years of academic excellence on 15 October 2022 with alumni from over 17 countries and our wonderful AOSR families. We hope that you will join us in honoring this milestone with us on 15 October. Celebrate our rich history as Rome's most exclusive, non-denominational American-International School.
1946 – A Post-War Need for an American-British School
American and British diplomats at the end of World War II founded (A)OSR. As recounted by one of the first students of OSR still in contact with us, a group of 14 wives (including her mother) had researched all options and found that local 'International' schools were too strongly religiously affiliated. With no viable options, they voted to create their own.
"On August 10, 1946, at a pivotal meeting at the Quirinale Hotel, demand already so high that the group's organization and staff plans were well underway, the group, now dwindled to five wives spearheaded by Sylvia Horowitz, a founding member of the New York City Downtown Country School and wife of UNRRA official Louis Horowitz, knew whatever else they accomplished that without a school house there was no hope of a school. The wives by now had discovered that given post-World War II Rome bureaucracy, space for a school was an impossibility. Estelle Stern, another of the five remaining wives, convinced her husband, war correspondent Michael Stern, to ask the Rome Area Commander Brigadier General Charles Dasher to allocate U.S. military space. Stern promised Dasher that in return the school would take military personnel children, now arriving in substantial numbers, thus saving the army the expense."
Extract taken from the memoirs of Margaret Stern "Origins of OSR".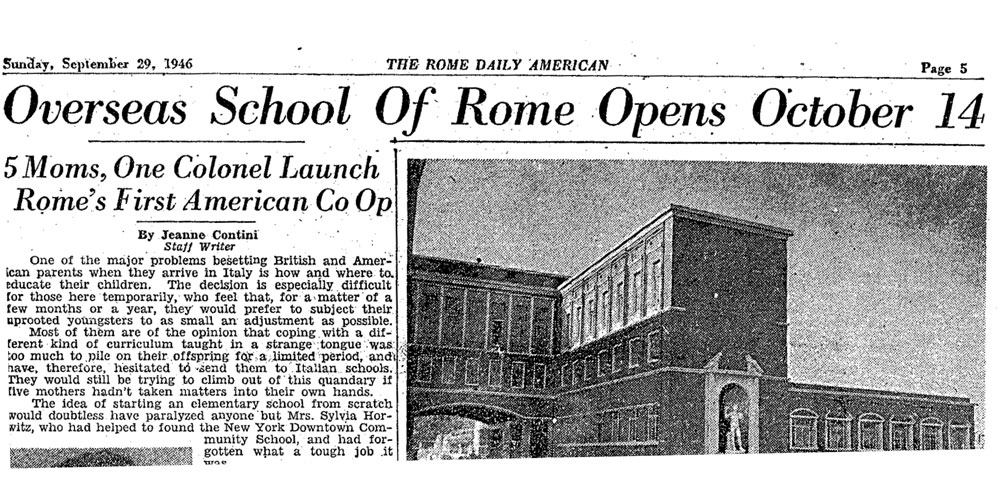 The first class was held on 14 October 1946 with a handful of students in the Nomentana area of Rome. At that time, we were simply called the Overseas School of Rome (OSR). Soon after we became a household name to all the diplomats and military personnel that were on a mission here in the Eternal City.
Their efforts and leadership made OSR the first international school in Rome. By offering an American-British curriculum and a truly international community and environment, AOSR is international by design.
OSR Incorporated in 1947
OSR was officially recognized as a school by the Italian government in 1947. This recognition was achieved by the following dedicated parents:
Sylvia Horowitz, the wife of UNRAA (United Nations Relief and Rehabilitation Administration) official Louis, with son Paul in 2nd grade.
Stern with son Michael also in 2nd grade and daughter Margaret in Kindergarten.
Marian Nadzo, the wife of Guido Nadzo, also with UNRRA, had three children Tonia, Stefan and Nicholas enrolled.
Mary McGurn, wife of Barrett McGurn, a foreign correspondent for the Chicago Daily News also with three children.
In later years Madeleine Brown Fabris recounted that she had been interviewed by no less than ten of the mothers.
OSR Becomes AOSR
Fast forward to the 1970s, when US government policy changed, allowing only American diplomats and selected U.S.-based international organizations to send their children abroad.AOSR was renamed the American Overseas School of Rome (AOSR). As such, AOSR continues today as one of two official schools serving non-diplomatic dependents in Italy—the other being the American British School-L'AISI in Florence. TO serve our international and Italian community, AOSRwelcomes all qualified students interested in experiencing a rich and diverse education at any grade level!
AOSR has continued to grow into a learning institution that serves both local and international families, offering curricula based on the International Baccalaureate Program (IB) and Advanced Placement Program, together with our American Diploma in high school.
AOSR History Wall
See a digital version of our history wall that is being unveiled for the 2022-2023 Academic Year and summarizes only some of the amazing accomplishments that OSR first and AOSR later achieved in its 75 years of academic excellence in Rome.
We're proud to be part of Rome's history for seven and a half decades and look forward to what the future holds.