"The future belongs to those who believe in the potential of their dreams, and the potential of their dreams rests upon their experiences and upbringing at school."
Upon enrolling at Kingsley International School at the age of 13, I had no idea of the life-changing adventure I would be embarking on in this fantastic institution. On my first day, I remember vividly the breathtaking view of the school's spectacular infrastructure from afar. It appeared grandeur, prominent, and simply fantastic! The scenic background of the high hills, green trees, and the luscious landscape further highlighted the location of the school. I was amazed beyond belief at the sheer scale and size of the school; It was so well-built in fact, that as soon as I arrived in front of it, I felt waves of motivation to be the best student I can be at this great institution.
Spectacular Facilities at Kingsley Elicit Deep Emotions
The facilities at Kingsley International School were extremely convenient and useful, as students are able to utilize these facilities for their own personal development and other needs. The school features many academic facilities such as the library where students are able to read or revise for upcoming tests or exams. Students are also able to use the music room, where they're able to practice musical instruments and further improve their musical abilities. Alongside academic facilities, sports facilities are also accessible all throughout the school.
Facilities such as basketball courts, fields, ping-pong tables, gymnasiums, swimming pools and so much more. With so many of these facilities being available to students, their knowledge, kinesthetic ability and drive to learn more will surely be impacted positively.
To be able to focus in class and flourish, however, it is necessary to have a well-balanced, nutritious, and healthy meal every day. Kingsley never fails to give their students the best of the best in terms of food. The meals that I have had at Kingsley are simply delicious and appetizing! Every time I've had lunch, I feel a surge of adrenaline that kicks in, and that always pushes me to continue learning for the day. In the beginning, I was skeptical about the food and chose to not consume it. However, after trying it, I instantly regretted my decision of not purchasing it earlier! The meal plan is extremely worthy and enticing as it includes a variety of dishes from many different cuisines such as Korean, Chinese, Japanese, Malay, Indian, & Western styled meals.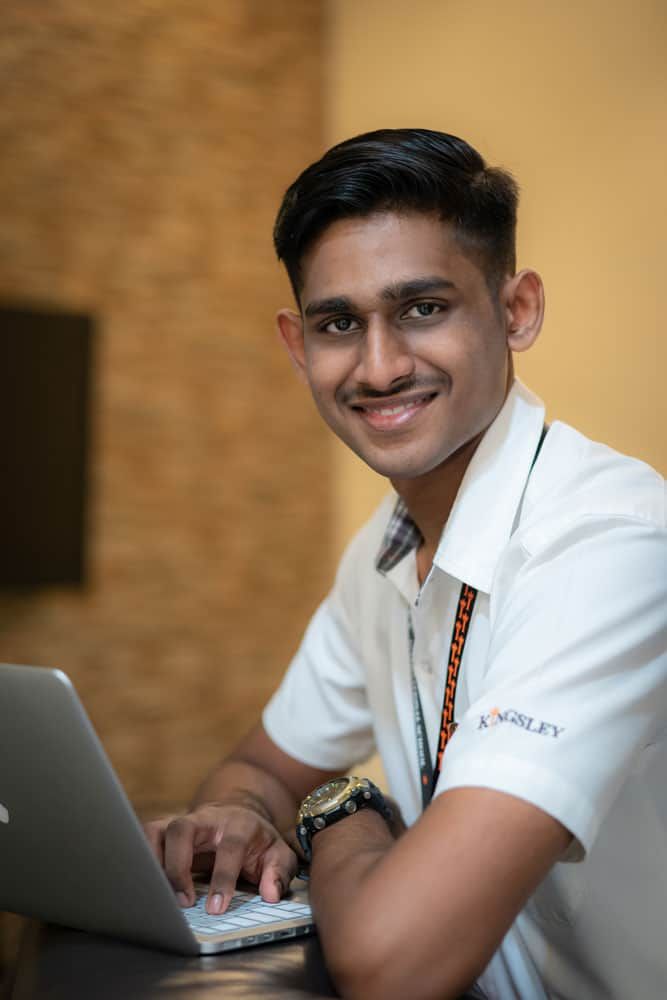 The true journey, however, begins in the classrooms, where I discovered the great ingenious teachers and dedicated students of Kingsley International School. The mere privilege to attend such valuable classes, and to partake in many interactive school activities were astonishing! To put it into a concise manner, Kingsley's environment will transform you into the most capable and strongest version of yourself. Kingsley is a beacon for growth and positivity, as bullies are basically non-existent at the institution. This harmonious & safe backdrop paves a way for students to stride forward without any negative external disturbances. Ultimately, as students go through such a prosperous environment, they are gradually moulded into better people, which will then allow them to make our world a better place.
The Right Environment Elicits The Right Mindset
With the right environment comes the right mindset, and with the right mindset comes success. This is a simple but crucial principle I've learnt at Kingsley. As I was in the perfect environment, surrounded by responsible teachers and determined peers, I began to mature as a person. This foundation solidifies every student's ability to maintain academic, curricular & social excellence. Kingsley is indeed an institution that pushes its students steadily through exam-oriented schedules, competitive tournaments, social events, school projects, and much more. Due to this preparation, students develop an innate ability to learn and improve at an even faster rate. As a result, students acquire useful skills and valuable traits throughout their schooling years in a shorter period of time. I have had so many memorable experiences at Kingsley, and there are so many more opportunities for me to grasp. I am grateful to be a student at this prestigious institution, as I believe that I have become a better student and a better person from my upbringing at school.
Are you looking for the school of your dreams? Are you trying to unlock your fullest potential as a student? Eureka! Your solution is here. Kingsley International School, Truly Like No Other.
My experience at Kingsley International School has made me reinforce this quote:
"Intellectual growth should commence at birth and cease only at death."

Albert Einstein