In this special feature, we bring you to one of the recognizable spaces in Keystone Academy: the East and West Lecture Halls. These venues have hosted numerous academic meetings, student events, and parent education sessions.
More than just being a place where people exchange thoughts, the Lecture Halls also communicate a more profound story. Our Grade 11 student Jack He takes you on a guided tour of the halls in his first article for our Student Insights column.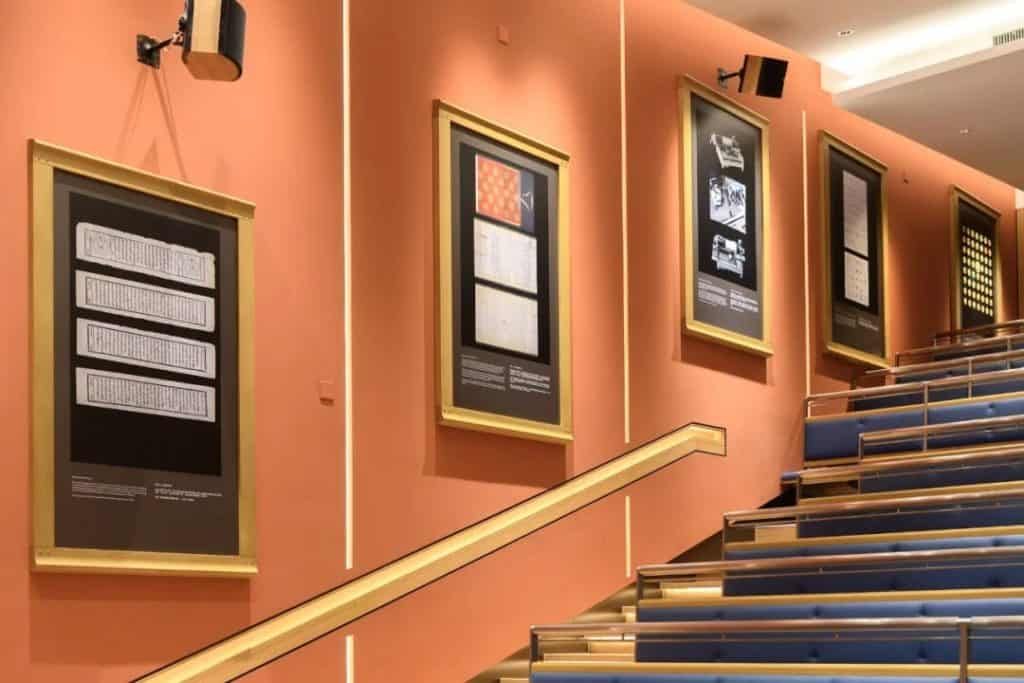 How often do our environments catch our attention? A pragmatist might only see useful aspects of spaces. However, why do we need to decorate and furnish places, and surround ourselves with meticulous design and art?
Universities such as Yale and Oxford employ graceful architectural language, but it is not for show. A deeper look suggests differently. In his book Distinction: A Social Critique of the Judgement of Taste, French sociologist and philosopher Pierre Bourdieu said: "Every interior expresses, in its own language, the present and even the past state of its occupants."
When British furniture designer Luke Hughes first visited Keystone Academy over six years ago, he felt the campus featured monotonous buildings. This is no longer the case. Keystone tapped Mr. Hughes to redesign and reimagine several public spaces in the school. Mr. Hughes and his eponymous furniture and design firm have been involved in more than two thousand design projects worldwide. Some of his most notable projects involve interior design at the University Library in Cambridge and courtroom furniture in the United Kingdom Supreme Court.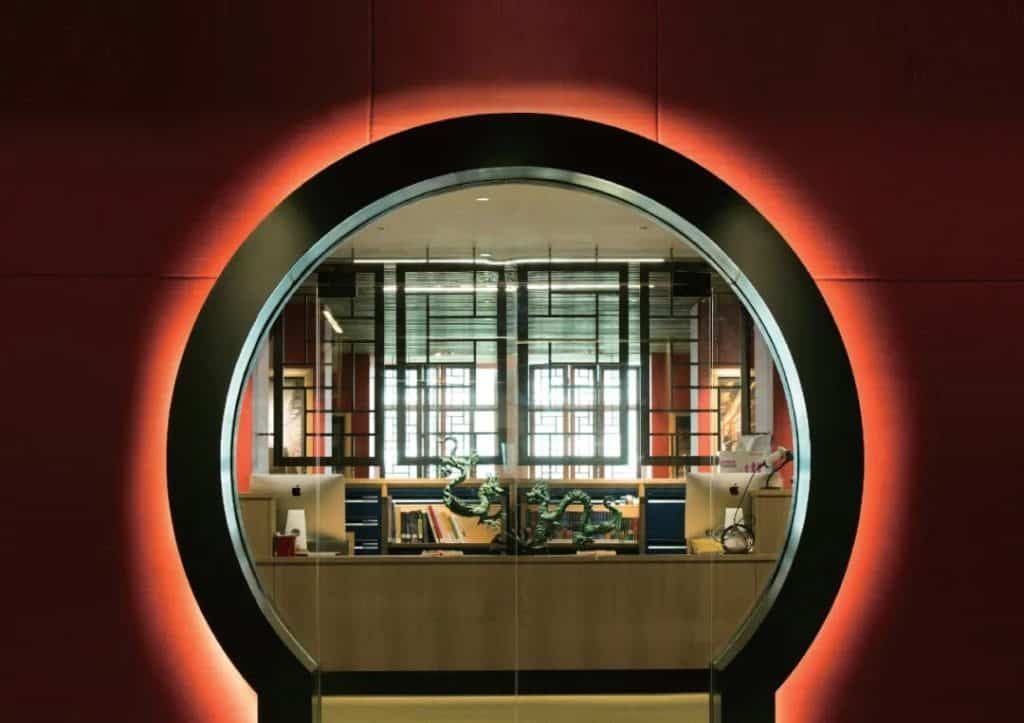 He previously led two major projects at Keystone: redesigning the High School Library and the Primary School Black Box Theater. The High School Library now features a moon gate with a pair of sculpted doorknobs. These invite avid readers and visitors into an intellectual haven. Its interior is brought to life by abundant natural sunlight, diverse literary collections, and Eastern- and Western-influenced décor. The Primary School Black Box Theater may have a dimly lantern-lit entrance, but its passageway brings a mysterious quiet ambiance inspired by traditional hútòng (residential alleys). This provides an exceptional experience for younger students who have not been to a hútòng.
Colorful References to Culture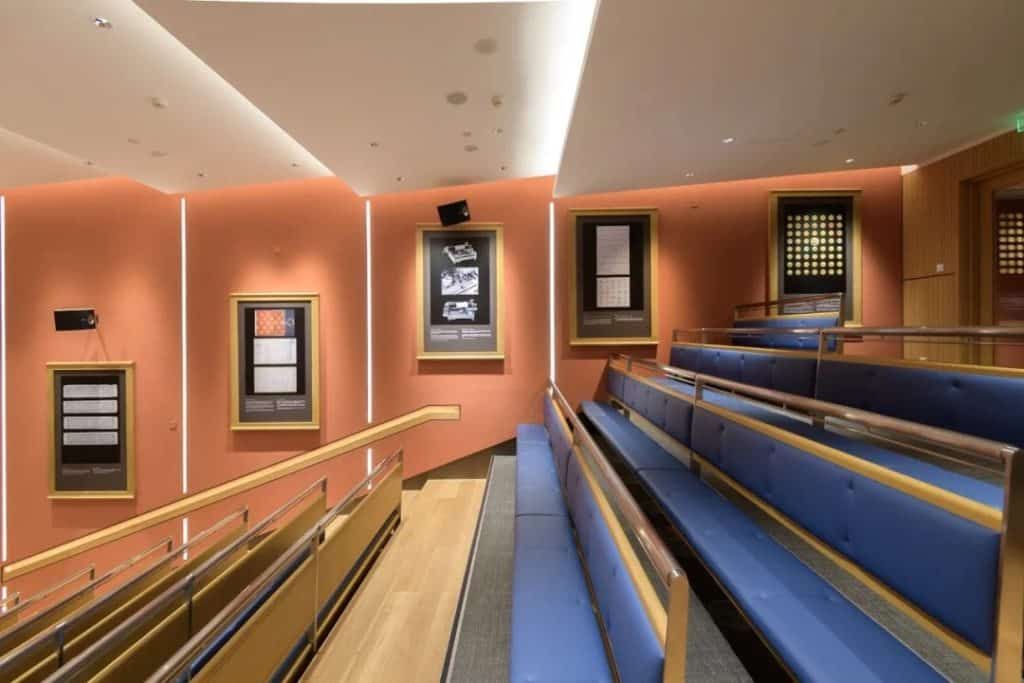 Now, the East and West Lecture Halls have seen a complete transformation. To make them more functional, visually and figuratively, their design needed a makeover. Sightlines were impersonal and awkward due to the giant pillar in the center of the halls. Voice projection was hindered by subpar audio technology. Airflow was trapped inside the room. Mr. Hughes and his design team have addressed these issues.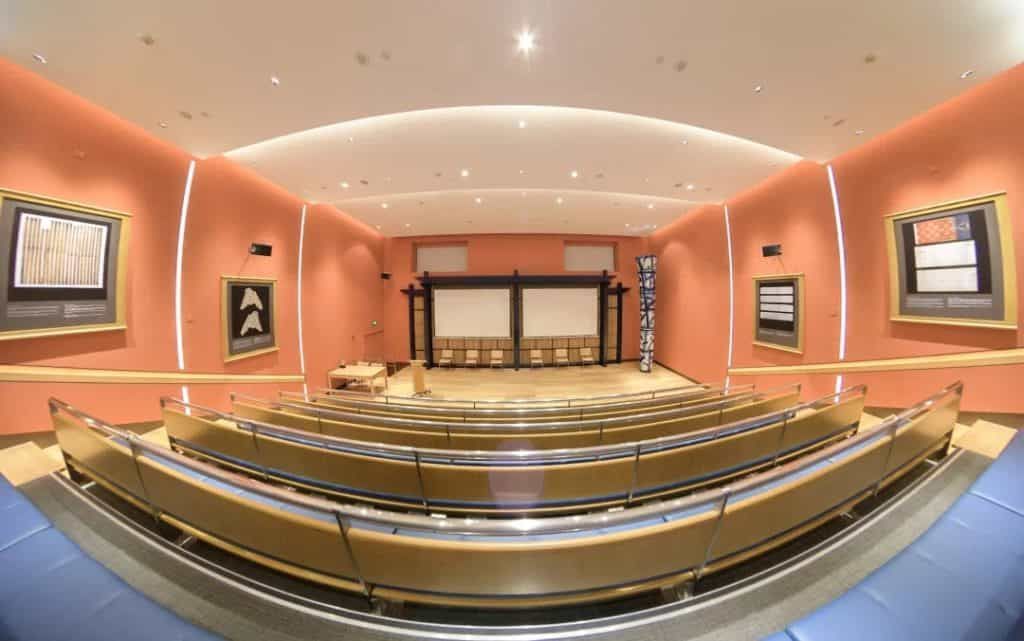 For room acoustics, the team applied resonant absorbers on walls so a speaker's voice will project to the audience instead of the ceiling. This also ensures that people in one lecture hall will not hear noise from the other. The hall entrance has a double door and acoustic treatment to minimize noise from the outside corridor.
The ventilation system is also changed to allow a constant flow of fresh air. Benches are now used so that each hall can seat up to 250 adults, with an additional 60 standing spaces at the back.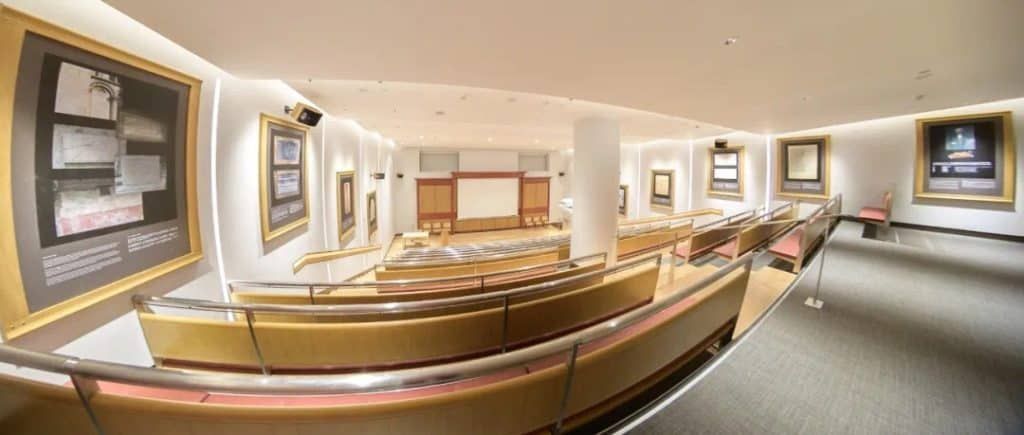 As seen in Mr. Hughes's previous work, technicality merely serves as the rudiment of an idea communicated through intricate design and aesthetics. The overriding story of the lecture halls has become a representation of Keystone's identity as a world school. One hall is influenced by Chinese and Asian elements, the other western and the rest of the world.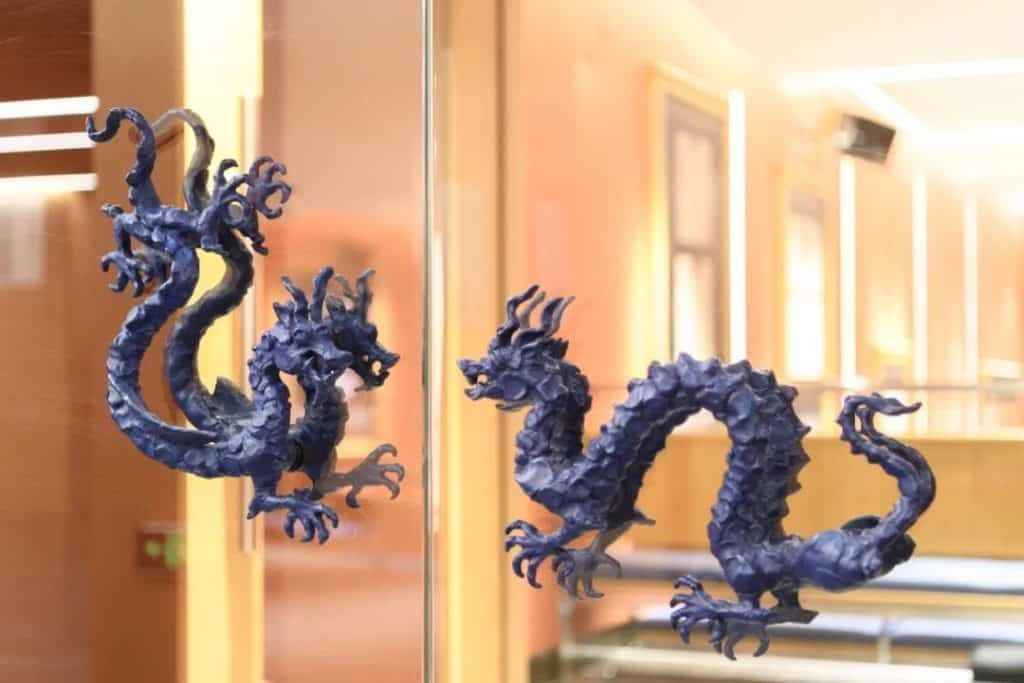 Each hall has a pair of two bronze dragon door handles—one Chinese and one Welsh. Not only do these welcome visitors into a space of discourse and learning, but they also speak to the converging worldviews of two different cultures. In Welsh folklore, these mystical creatures embody courage and success; in Chinese tradition, they signify tranquility and nobility.
Meanwhile, the two ceramic pillars designed by ceramic artist Felicity Aylieff also contribute to the story of internationalism. East Hall's piece is blue and white covered in traditional Chinese designs. West Hall's column, which is yet to be installed, speaks in more contemporary terms and displays colorful references to pop culture.
Sharing Ideas Over Space and Time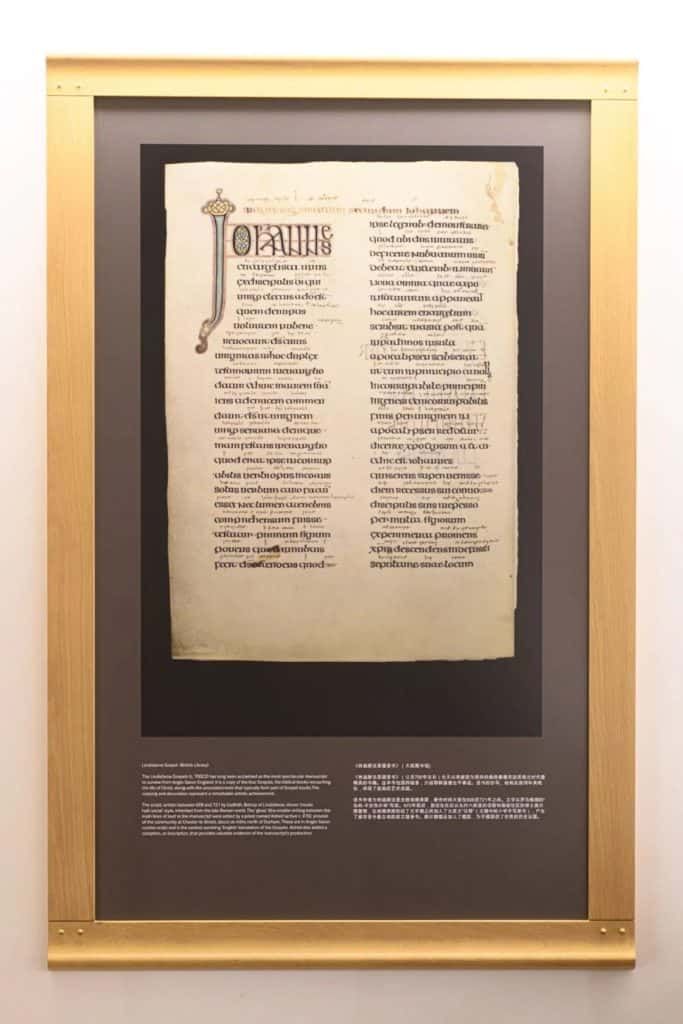 However, the most thought-provoking new feature in the lecture halls is a curation of images from Writing: Making Your Mark, the landmark exhibition of the British Library. Twenty framed, high-quality pictures of written artifacts are displayed on the side theater walls. They convey a message which is deeply human: no matter the languages (Chinese, Arabic, or Greek), or writing systems (alphabetical, proto-writing, or logographic), or media (bronze, clay, or computers), the desire of humans to communicate ideas over space and time has evolved throughout history. One of the earliest recorded pieces of writing known as the cuneiform script was found in Mesopotamia, but unique writing systems had also developed independently in China and Mesoamerica in the same era. This speaks to the necessity and spontaneous invention of writing among civilizations more than 5,000 years ago.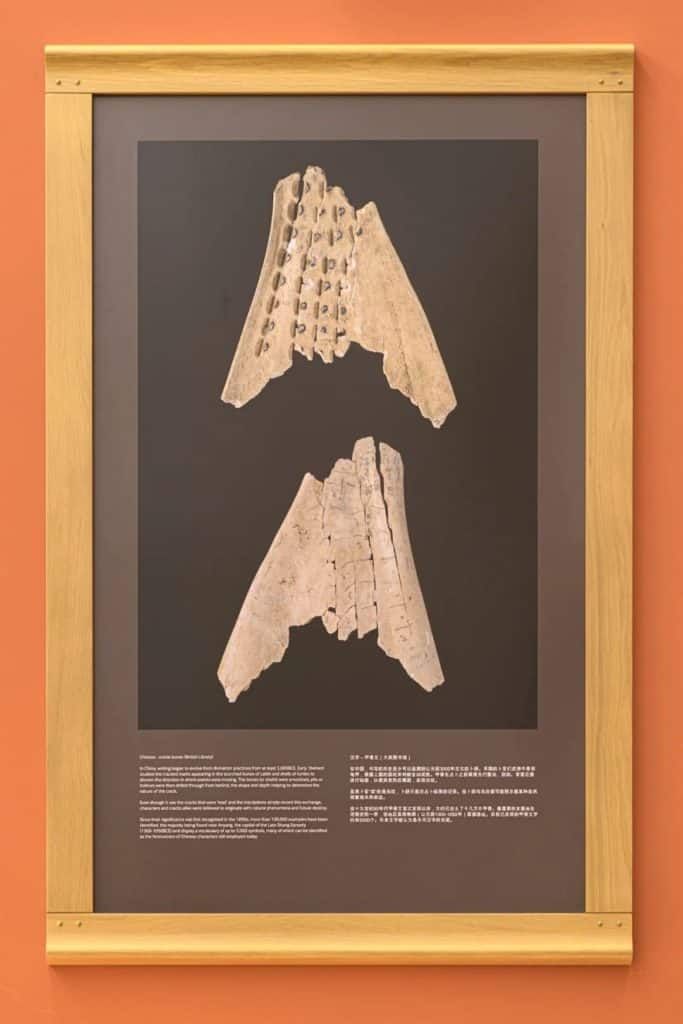 Why are humans the only known species with a written language? Some scholars have said the development of agriculture required humans to keep track of seasons, crops, and food allotments over extended periods. On the issue of time, Mr. Hughes believes that writing is closely tied to the universal concept of impermanence. Civilizations have always been in pursuit of permanence, but Buddhist and Stoic teachings establish impermanence as fundamental principles of existence.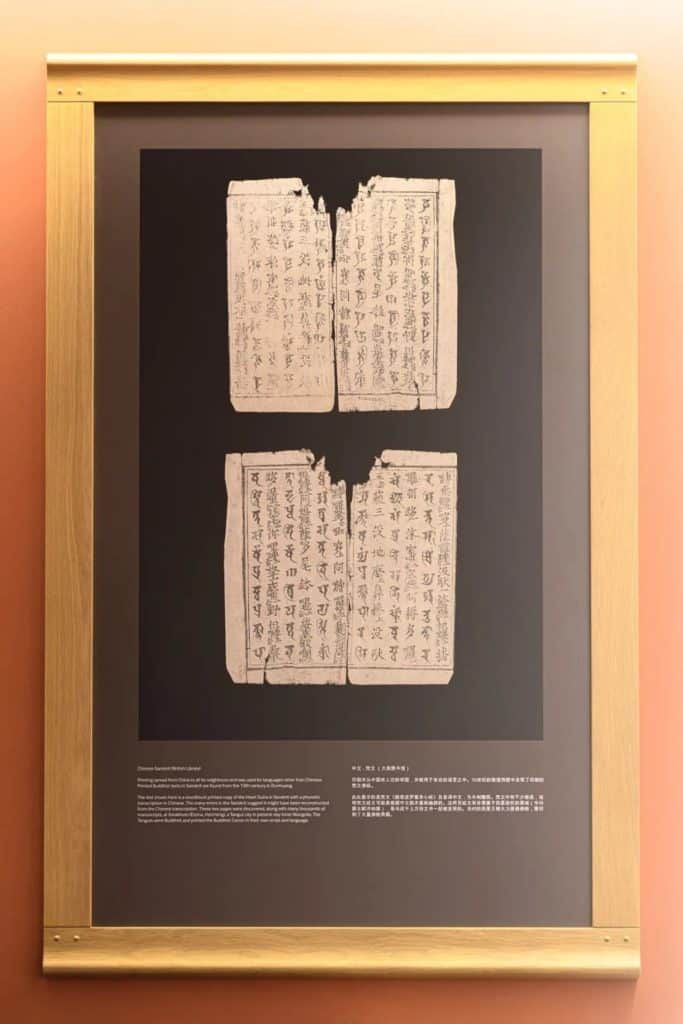 Impermanence leads to loss but also breeds transformation and growth. Writing and language are changing before our very eyes. Some writing systems have been abandoned, some repurposed, and new ones have emerged. In Egypt, for example, cuneiform and ancient Egyptian script are replaced with modern Arabic. Cursive writing is being used for formal occasions or personal communication, while everyday English writing is now primarily done in the print style. New dialogue systems, like emojis, have emerged through the rise of texting and online communication.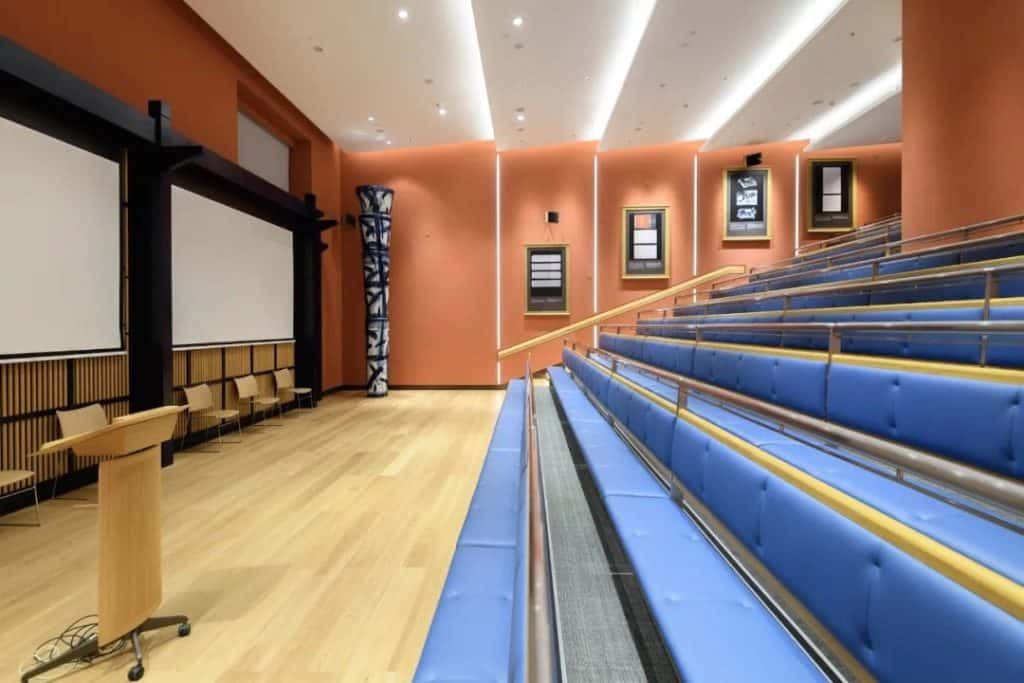 Something that has remained, however, is the desire to record and communicate thoughts and ideas. Keystone's Lecture Halls are a space for just that. Writing is a way to document your thoughts. Likewise, lectures and speech are ways to organize and vocalize your opinions. These artifacts encourage contemplation. Take for example Mr. Hughes's favorite artifact, a cuneiform clay prism from Assyria in 630 BC that documented King Ashurbanipal's accomplishments. However, the text most likely glorified the king as a perfect ruler. The highly subjective historical piece suggests the personal nature of writing. It reminds us not only to scratch the surface when reading texts from the present or the past, but to also dive into the writer's world and assess the record from multiple viewpoints.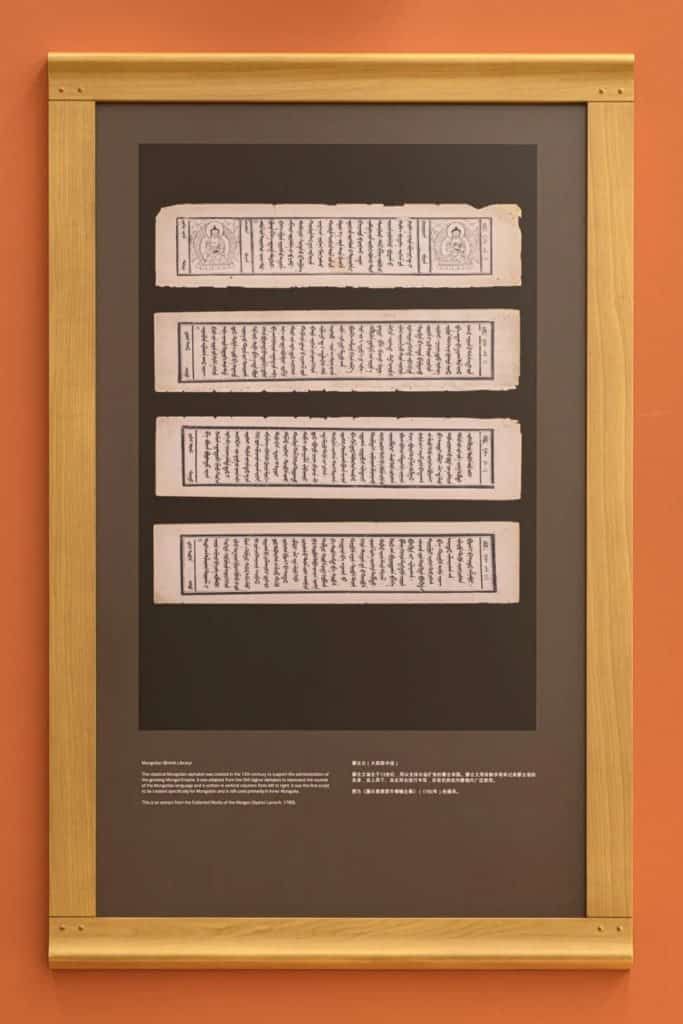 The Keystone Lecture Halls bring to life and communicate the values of a world school, an inclusive community, and a culture of knowledge. They express a set of values that promote the pursuit of knowledge and a global mindset. One step at a time, Keystone will replace the old with the new and develop a culture as unique to the school as writing is to humans.
---
Text by Jack He (Keystone Grade 11 Student).