The field of science, technology, engineering, and mathematics (STEM) has gathered steam in recent decades, especially after the world entered the digital age. However, a huge gender gap in this area persists as women still account for "a small minority of the world's researchers." This imbalance often begins in education—the lack of it, or how it is shaped by cultural stereotypes and notions about the role of women—and continues in workplaces and other social settings.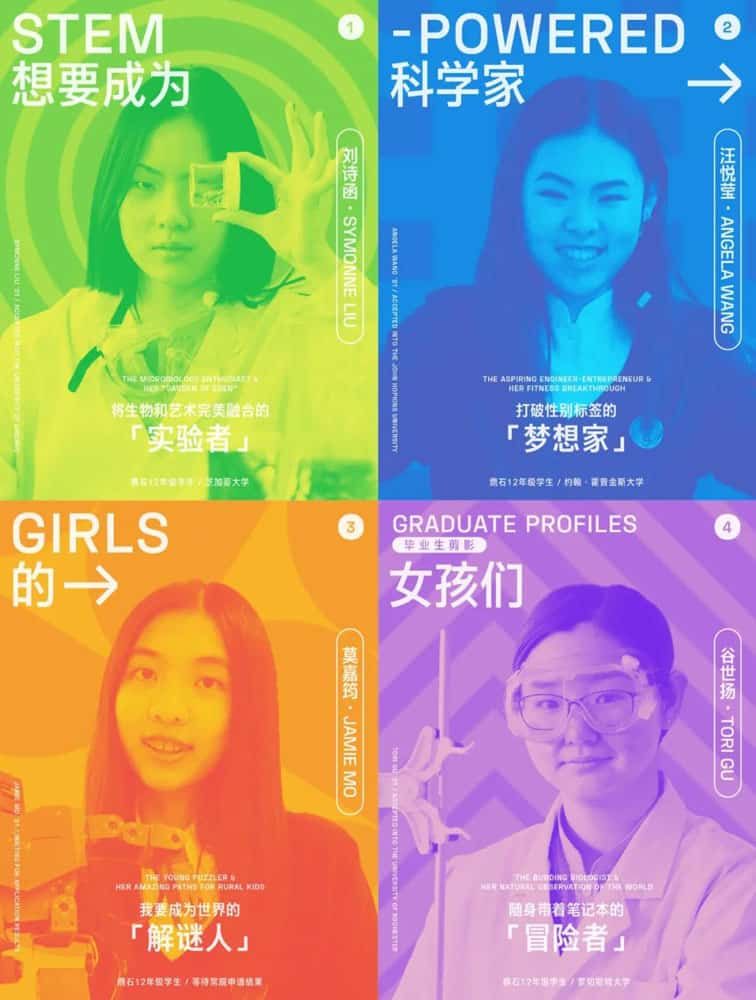 Young girls around the world who are immersed in STEM education are actively challenging constructs and breaking biases to make way for their peers and other people impacted by the issue. Such is the undertaking of four members of Keystone Academy's Class of 2021, all of whom are being driven by their growing knowledge of the field and enlightened by the strength of their cultural identity. We introduce Keystone's STEM-powered girls: Symonne Liu, the microbiology enthusiast; Tori Gu, the budding biologist; Jamie Mo, the young puzzler; and Angela Wang, the aspiring engineer-entrepreneur.
Microbiology enthusiast Symonne Liu welcomes everyone to her "Garden of eden"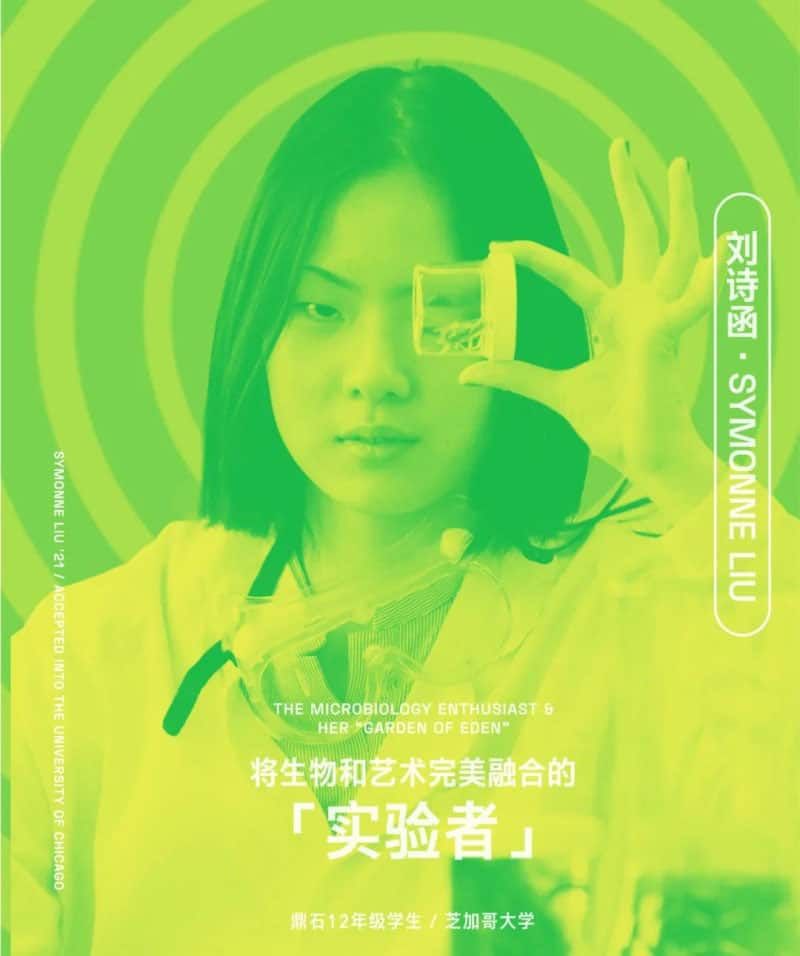 It was very late in the evening, and yet Symonne Liu's bedroom was still buzzing with activity, quite literally. She had the liveliest roommates ever: thirty-six fruit flies, each nestled in a test tube. She had recently snuck them into her "lab," disguised as a room of a 17 year old, while her grandmother was glued on the television downstairs, watching a program that touted the benefits of traditional Chinese medicine.
One peculiar herb that her nainai has always raved about is the caterpillar fungus, a medical mushroom formed when a parasitic fungus germinates in living larvae of various moth genera, consuming and mummifying them in the process. Symonne has wondered about the efficacy of the so-called divine elixir that could cure illnesses. Grandma supported her claims with either ambiguous Chinese philosophy or the television host's ebullient spiels.
Unmoved by the hype, Symonne enlisted the help of the hissing crew to uncover the mystery behind grandma's favorite snake oil. She published her findings in her Extended Essay (EE) for the Higher Level Biology course in Keystone's International Baccalaureate (IB) Diploma Programme.
In her "lab", Symonne divided the hissing crew into two "families" nicknamed Anna and Bob and spoiled them with a generous breakfast of freshly mashed bananas for 27 days. Only the Anna group, though, was given bananas coated with ground caterpillar fungus. Interestingly, that same family lived two days longer than the ones deprived of the fungus.
"It seems the herb wasn't snake oil after all," Symonne mumbled after reaching her eureka moment.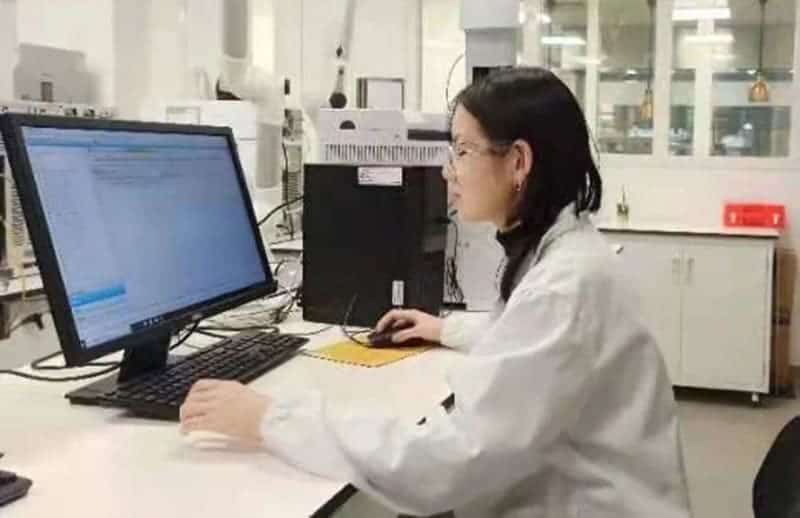 She has had many similar instances since her first dive into what she calls her "Garden of Eden"—the world of microorganisms made visible by a light microscope she received from her parent at an early age.
For a curious girl, this microcosm was a sight so splendid that she chaired a primary school biology club to introduce writhing life forms to her peers. When she was away from the microscope, Symonne zoomed out her view to their family garden, watching or occasionally joining her mother plant flowers. There, insects were her playmates, and blooming shrubs and grasses were their playpens.
Symonne's childhood moments in nature have led her to a major hobby and current niche, bio-art, or artworks produced by natural life processes or through using living matter, juggling it with laboratory explorations, especially during her time at Keystone. She once experimented on slime molds placed on a petri dish with two pinches of cereal grains. To her surprise, the mold slithered randomly across the heaps, leaving behind a yellow trail that resembled a yin-yang symbol. She likened the process to the "natural pattern of life" that challenges the "existing linear pathway" of human thinking.
"What's wrong with a squiggly curve?" she wrote in an essay, reflecting on that test she did during the distance learning period in 2020. "When people decide on their life journeys, many will choose the shortest route—the straight line between points A and B. Don't we all love quick wins? But by always picking the simplest path, we lose the infinite possibility of alternate opportunities."
Symonne herself had a detour just before starting middle school. After completing traditional education at her primary school, she transferred to Keystone in Grade 7, struggling to move from the traditional curriculum to the International Baccalaureate mindset. Back then, Symonne doubted the inclusion of martial arts as a class. Later on, she understood how the class strengthened not only a student's body but also their cultural identity, leading her to muse on teaching martial arts as a hobby.
Over the years, Symonne has breezed through the twists and turns of a new learning method in a new community, producing impressive works or taking on reflective experiments in the process, just like her moldy yin-yang test. Between 2018 and 2020, she came up with a striking collection of bio-artistic productions to comment on social issues.
In her "The Shadow of shadow" installation—where a waxy, blue grime drips from traditional shadow puppets hanging above a large bathtub—Symonne criticized the commodification of Chinese culture by the globalized society. Her "Xyue" sculpture—a depiction of the lunar cycle showing moon phases made of soiled tampons—alludes to the "natural miracle" of women's fertility while challenging the "shame culture imposed by the patriarchal society."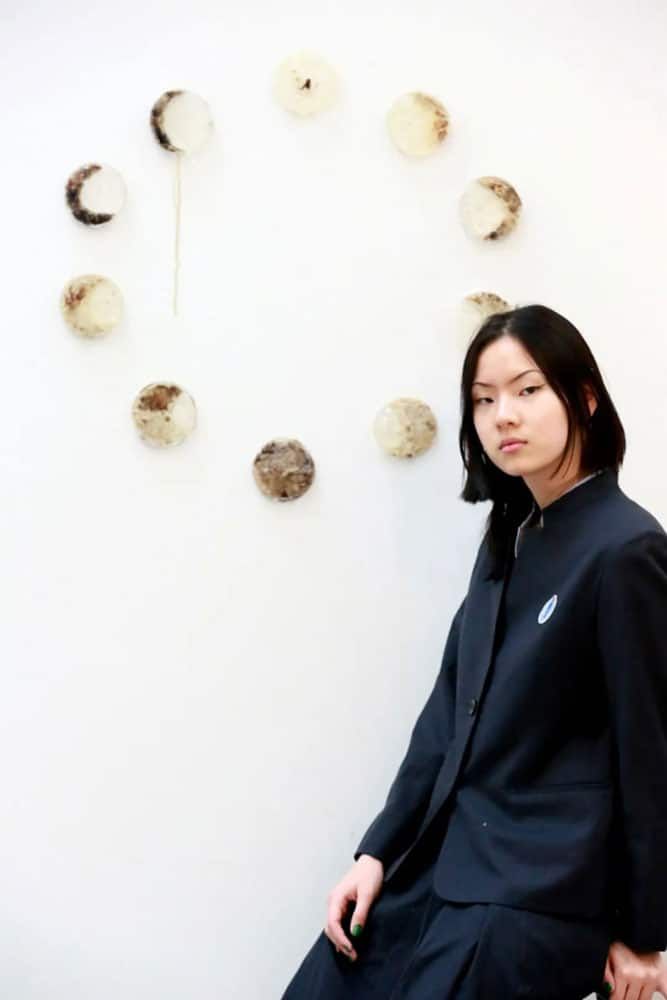 One of the recent co-curricular projects that she and fellow Keystone friends worked on was the "Living Gaoyao," a thin film with organic substances targeted to soothe inflammation in knee joints. They attempted to find a long-term cure for arthritis, a condition that has hassled Symonne's very own grandma despite trying various treatment options, including TCM. Their pursuit won them a gold medal at the 2020 International Genetically Engineered Machine (iGEM) Competition.
"My ambition is to dig into small organisms for a big cause," Symonne said. "In the future, I want to study if genetically engineered bacteriophages can defeat multi-drug resistant bacteria to save the world from growing antibiotic resistance." She will continue this aspiration in her biology studies at the University of Chicago, where she feels confident about linking her passion for microbiology to genetics, medicine, and other research fields.
Symonne has already made great strides toward that ambition—even back at their home in Beijing. She actually rushed downstairs after that test on the caterpillar fungus to inform grandma she was successful. With a smug grin, nainai said, "I told you so." But Symonne paused and responded with a smirk, "No, my roommates told me so."
Budding Biologist Tori Gu learns about the world from observing nature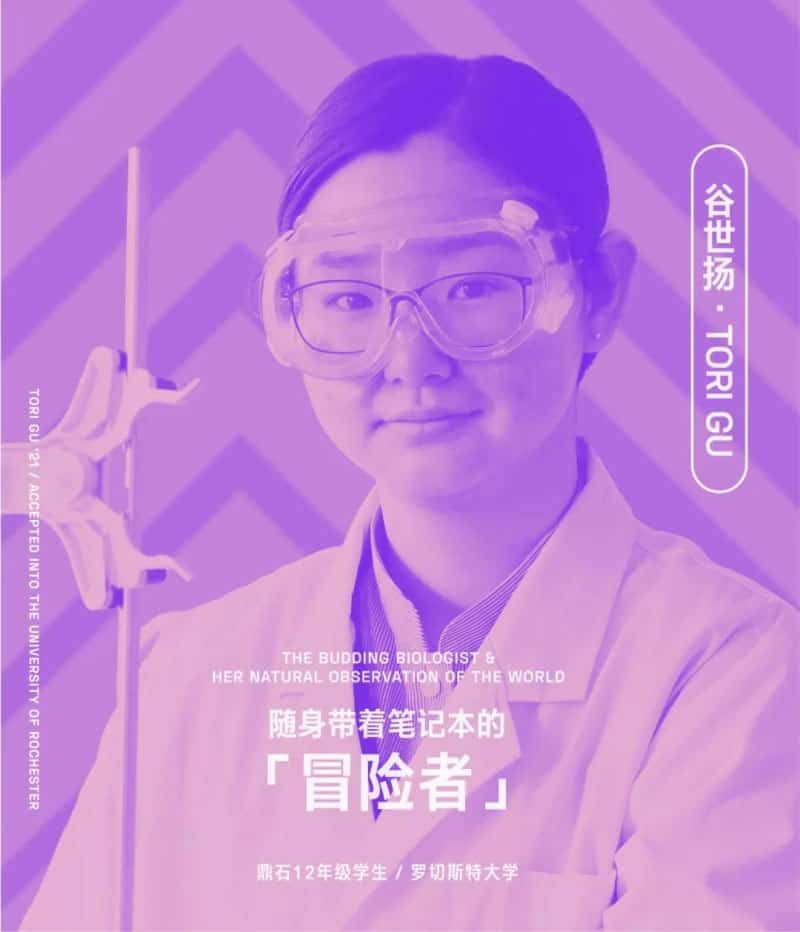 Tourists strolled across a trail at a koala sanctuary on Phillip Island in Australia, adoring the marsupials that were seemingly observing people. As they proceeded, a sweet, camphor-like scent lingered over the path, so strong and familiar that it stopped the student traveler Tori Gu in her track.
Some months earlier, Tori went on a four-week student exchange trip to Bogota, Colombia. Her local host family had a sprawling finca (ranch) that teemed with exotic plants, including a strange yet fascinating tree with blade-like leaves and bunches of white spikes that smelled like camphor. Those clumps were flowers of the invasive species locally known as el arbol de la corteza de papel—Tori's host brother explained in Spanglish—and that locals used their aromatic seeds to relieve nasal congestion. She procured some fragrant leaf samples and glued them onto some pages of her journal.
"I knew it was the exact smell," Tori gushed. "But the feeling was so different," because she recognized that tree, or the broad-leaved paperbark, in its native place in Australia, thousands of kilometers away from where she had first seen it.
Tori's almost-worn-out notebook was filled to the brim with stories like this, and even a plethora of specimens—from plant samples to short messages written in various languages by the random people she had met in her travels around the world. There was one memorable page from her home turf at Keystone: a pinecone seed that "[hints] at the magic of nature."
The school's tallest pine tree ushers students either into the Middle School library or toward the quadrangle. Tori rarely noticed it until she volunteered as a teaching buddy in Keystone's Summer Archway program in 2019. Upon hearing of a theory about germinating pine seeds—that they needed to be burned first—she investigated on her own. She succeeded in growing a palm-sized pine tree on her first attempt, using seeds germinated in water, but was clueless about how it happened. Although her next trials were fruitless, Tori noticed that pinecones shut underwater but reopened when dried up.
To unravel that mystery, Tori has collected a jar full of seeds to experiment on for a paper, a bucket list item that she wants to write alongside her biology studies at the University of Rochester in New York.
"Biology is about observations … [as much as it attempts to] explain things," Tori said. "I like to discover things, especially those that we think are so usual—for example, why muscles move in a certain way. It fascinates me how our thoughts can be converted into action."
Her curiosity about life's mechanisms began in childhood. At two, she wondered if her tummy would burst if she kept on eating. Her three-year-old self initially wanted to become a dog simply because she would be able to "run around without worrying about work—and there's food all day."
Yet on those endearing occasions, Tori was exposed to nature such that she would spend afternoons looking at greenery or playing with bugs, eventually inspiring her to be a scientist. As she grew older, her focus shifted to human physiology while retaining that penchant for observing plants, but not insects. Now at 18, Tori aims to be a doctor, and possibly a volunteer for Médecins Sans Frontières.
Tori has already met virtually with several newcomers and upper-level students from her college, some of whom have informed her that she can take on a double major. She has since decided to pursue biological science and forensic science, with a minor in Spanish, and sign up for a student-led first aid team. She previously shared her first aid knowledge with Keystone dorm proctors in an emergency first response training just before the Spring Festival break in early 2021.
In her four years at Keystone, Tori joined numerous activities outside her interest in biology. She served as a dorm proctor upon her arrival in Grade 9 and was promoted to head proctor two years later. Alongside dorm duties, Tori joined the Global Issues Network (GIN) Conference committee thrice (from Grade 9 to Grade 11), interned for Inspire Citizens, and became part of Keystone's Round Square executive board (both in Grade 10).
She also traveled extensively for co-curricular reasons in between those years: first to Canada (in late 2018) and India (October 2019) for Round Square's global conferences. She also went to Colombia (February 2019) for a student exchange where she quickly picked up Spanish, attended an international youth conference on media in South Korea (May 2019), and briefly volunteered as a student teacher in a primary school in Australia (June 2019) during her summer break.
Tori considers these trips as her stand-out Keystone experiences as they have "opened a whole new world" where she has "[found] common grounds with people who you might perceive as so different from you."
Between March and May 2020, she and her Peruvian classmate Medaly Retamozo partnered with a local school in Lima for a remote English teaching program for students affected by sudden school closures. Tori built upon this foundation, and her medical aspirations, to launch a summer project on educating more Peruvian students about preventing transmissible diseases. She presented her strategies in a virtual gathering of high schoolers accepted into the Global Public Service Academy's (GPSA) Global Pandemic eCOURSE & Response in July.
"Getting to know about the world is a great thing," Tori said about her pursuit of biological studies, and the sciences in general, as they are "objective stuff that does not change regardless of who you are."
Tori has closed her scruffy but jam-packed journal as she prepares for her move to the United States. Her fresh gray-covered notebook awaits newer contents to accompany the opening message on its first page: "Tori Gu, Hakuna Matata ("no worries")."
Young puzzler Jamie Mo created amazing paths for rural students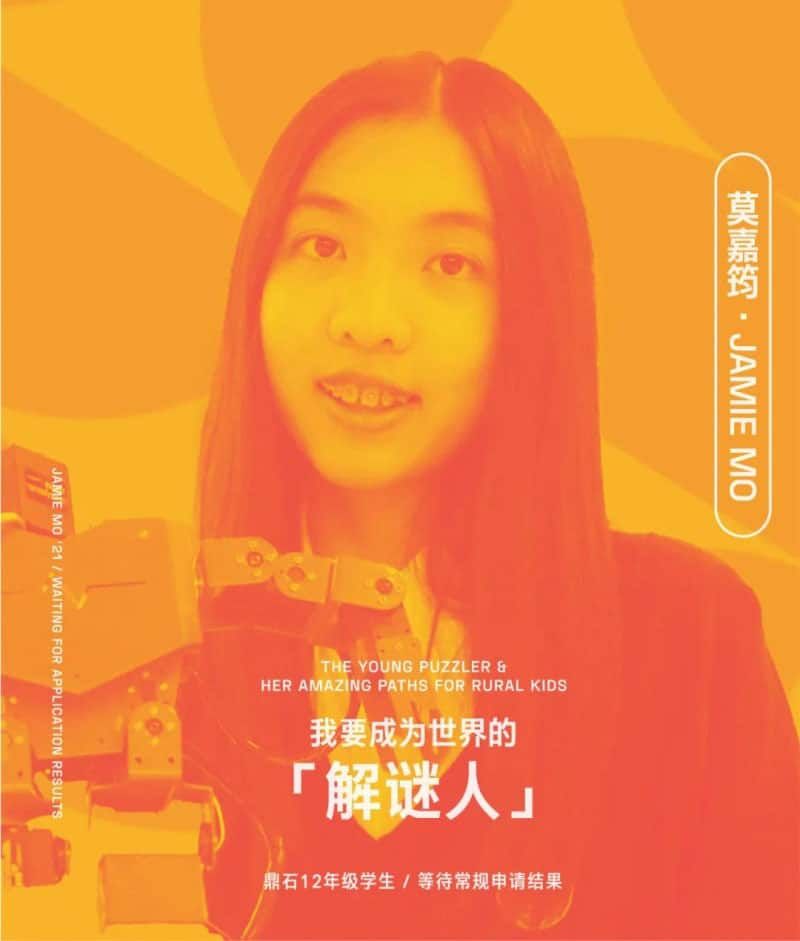 Jamie Mo spent several hours sketching a series of shapes and lines on pieces of paper. The designs looked jumbled at first, but when she transferred them to her computer, the pattern became clear: it was a trail. But what lay at its end?
"There were presents," she said proudly, explaining it was for a scavenger hunt for the birthday party of a family member. The then sixth grader digitally designed printouts and cards that substituted letters hinting trail stops, while others sported symbols, secrets, or shared memories unique to the holder.
Jamie has always looked forward to occasions like this to bring her puzzle-making prowess into play, and to celebrate, of course. This amazement began in kindergarten, when she once figured out a way out of the very first maze she saw in a children's magazine. It even inspired her to hand-draw her own labyrinths.
As Jamie moved to primary school, her appetite for puzzles grew such that she ate hard sudokus for breakfast. But when Jamie was not solving puzzles, she would spend her free time at Peeka Book, a community library just across from their family house. It gave the young puzzler her "best childhood experience," listening with other kids to stories read by volunteer librarians and reading picture books, inspiring her to do the same with other children.
"I wanted to bring education to more," Jamie said of that chance, "just as how the four teachers in my family encouraged me to explore the world and pursue my passion."
She participated in a teaching service organized by the library. On her first volunteer effort in Jiangxi province in 2013, the then fourth grader slept on a bed of six tiny, dilapidated desks in a room where moths fell from the ceiling. She saw first-hand the impact of poverty on children and understood their ardent wish to be taught by people "willing to [share] knowledge and glimpses of the outside world."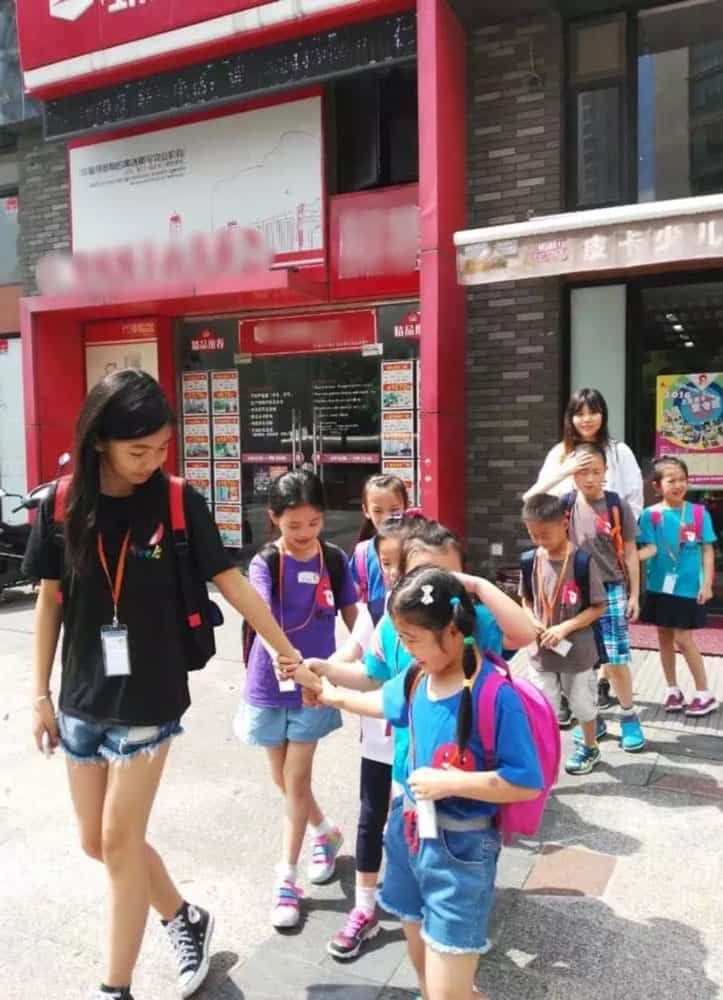 Jamie has since gone to rural schools in Anhui, Shanxi, and Hebei provinces. She improved her craft every year, moving from teaching basic math and English to more activities such as crafting and storytelling, all of which she developed during her volunteering experiences at Peeka.
Her endeavors progressed further as she entered Keystone's middle school in 2016. At school, she reveled in challenging yet reflective math classes; outside classrooms, she used that learning to devise scavenger hunts and puzzle games for friends and families on various occasions.
In that year, the then eighth grader stumbled across The Code Book: The Science of Secrecy from Ancient Egypt to Quantum Cryptography by British physicist and author Simon Singh. That book revealed to her the broader world of cryptology, a domain several levels more perplexing than mazes or sudokus.
For Jamie, "the more puzzling puzzles become," the more she felt joy. She knew cryptology could galvanize her passion, so she actively engaged in the subject while at Keystone and discovered its wide-ranging applications in computer science. She later realized how computer codes have the potential "to turn what exists only in my imagination into reality."
She spent the summer holidays of 2018 and 2019 joining workshops and online courses on cryptology offered by various American colleges and learned computer programming. She attended the prestigious FIRST Robotics Competition (FRC) for high school students. Its interdisciplinary nature weaved perfectly into her various passions—engineering, programming, merchandising, photography, creative writing, and digital designing. She brought home her enjoyment and new ideas and founded Keystone's very own FRC club.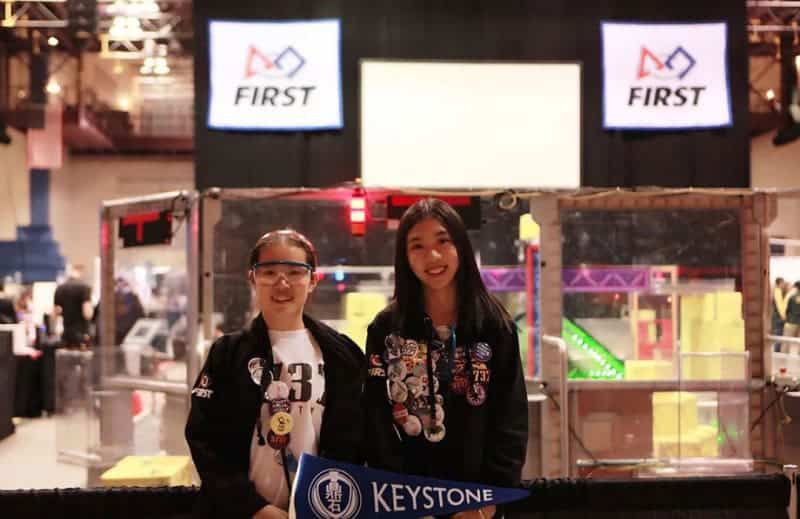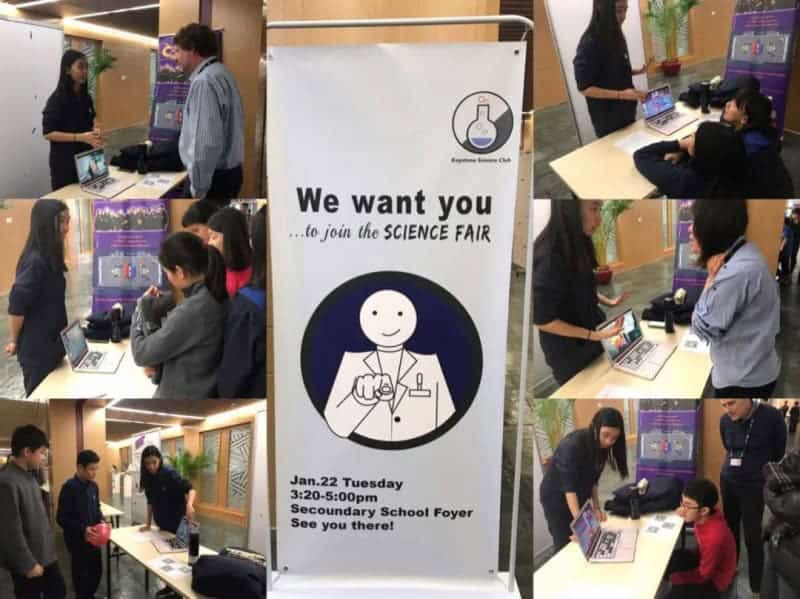 Throughout her experiences, Jamie noticed that only a few girls engaged in cryptology, programming, and robotics, especially in Beijing. She believes a "historical stereotype" has discouraged girls from taking on the path of science, technology, engineering, and mathematics (STEM), "but I hope the cycle can soon be broken so each individual can bravely pursue their own passions with fun instead of concerns."
Jamie has drawn on her journey to raise STEM education awareness, bringing robotics simulation games when teaching her students. She and her Keystone friends also made a series of video lessons on basic robotics and its application in real life and sent these recordings to various rural schools.
"I saw how these children desired new knowledge, cherished our relationships, and gave me warmth," Jamie said, "which inspired me to record these precious memories." She wrote Paths, a novel that recounts her stories with her students since 2013.
As Jamie developed her knowledge of robotics and programming, one would think a Higher Level Computer Science course would best suit her IB Diploma Programme journey. She had considered that but eventually went for the equally tough Higher Level Mathematics: Analysis and Approaches, Physics, and Economics courses. It was a "satisfying choice" because they were "prerequisite knowledge" for her further exploration of computer science in college. Jamie has received an offer from the University of Waterloo in Ontario and, at the time of writing, is waiting for the results of her other applications.
"Computer science is a discipline shaped precisely by problem-solving processes," Jamie said. "The world is one gigantic puzzle formed by distinct challenges or smaller riddles that billions of puzzle solvers approach with perseverance, logic, and creativity every day."
"I hope to continue on my paths," she continued, "so I can deliver an accessible form of education that will enrich the minds and warm the hearts of many children across the globe." She has been doing just that ever since the first scavenger hunt she designed for a birthday celebration.
The participants counted their steps toward the end of the trail, all hurrying to unveil Jamie's surprises. Their eyes brighten upon reaching the destination, feeling moved and grateful for the process of reminiscing their amazing moments with the young puzzler—the "mischief manager." Of course, they got their presents.
Aspiring Engineer-Entrepreneur Angela Wang charges toward a fitness breakthrough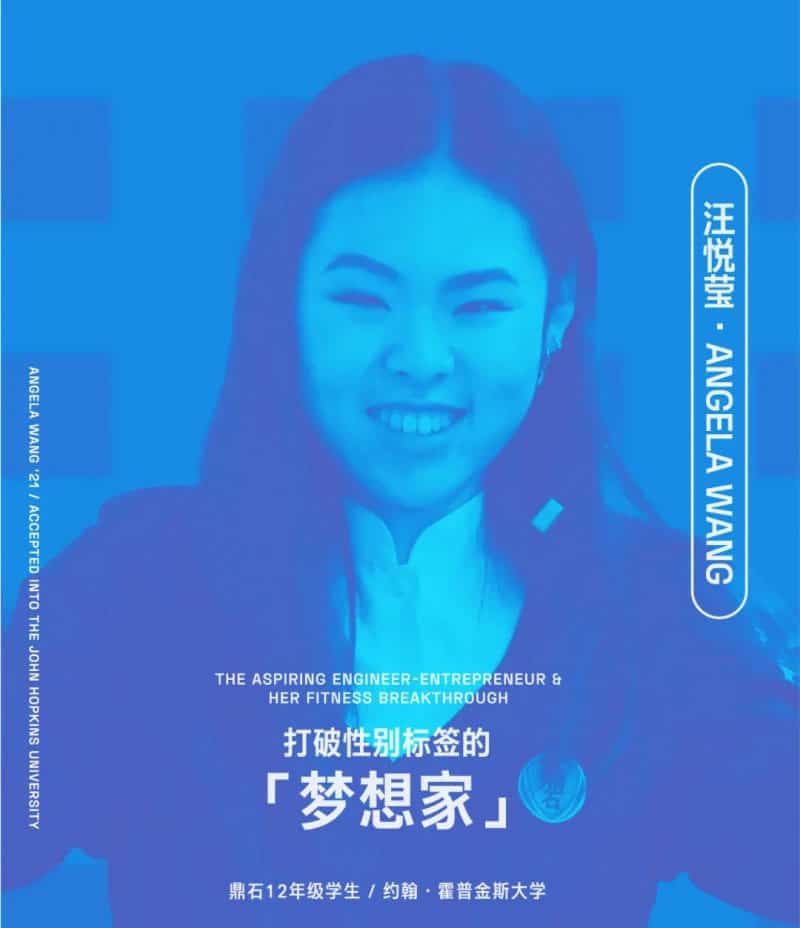 "One… two… whoooo…"
A high-pitched exhale resonated across a small gym as Angela Wang dropped the barbell on the floor. Being the only girl in the free weights area, Angela boomed a puff that broke the monotonous grunts of the male bodybuilders.
"Hwooosss…"
Angela raised the fifty-kilogram barbell with a sibilant, forceful inhale, looking triumphant even if her lower and upper body muscles tensed under pressure. The more they felt sore, the better; she needed that to strengthen her thighs and core to support her in dancing jazz and hiphop.
There is another hefty challenge to the eighteen-year-old's fitness journey: "a culture that discourages women from lifting weights." Some people around her even joke that she will end up looking like She-Hulk.
"But I embrace such a unique identity," she wrote in an essay, "because it signifies my fitness aspirations and personal ambition to rock the engineering industry as a girl."
Angela has set her sights on becoming an engineer-entrepreneur whose products "bring substantial health benefits to the consumers." One of her promising ideas is a set of safe, versatile, and accessible AI-powered training equipment that calibrates the physical parameters of different users. This goal powers her drive to learn biomechanics under the mechanical engineering program of the John Hopkins University in Maryland.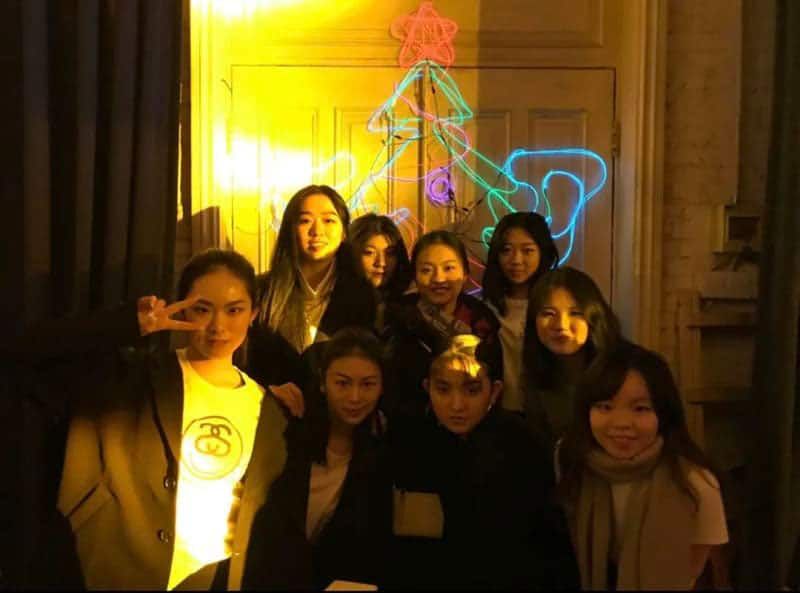 She has long been fascinated with how the human body maintains balance especially under pressure, just like weightlifting, or even on a roller coaster, her favorite machine. During a trip to an amusement park in the United States, the joyrider tired herself out on roller coasters with varying heights, body positions, and motion.
"Then it clicked," she said, "that my fascination with human body mechanisms and roller coasters stems from my curiosity for complicated mechanical structures." This is also why she relishes the intensity of working out or the vigor of jazz and hiphop dancing because they give her an adrenaline rush akin to a roller coaster ride.
Her interest in mechanics solidified further after she was introduced to Lego in 2017, just before she entered Keystone's middle school. Angela and her older sister—a Lego enthusiast—constructed together a model of the robot WALL-E, the titular character of the popular animated film.
The fun experience brought out Angela's inner engineer such that her bedroom has since become a workshop full of various Lego structures, including a mini Empire State Building and foot-long models of the 1967 Ford Mustang GT and the Porsche 911 RSR. She patterned these cars after the famous vehicles in her favorite film franchise, the Fast & Furious series.
Angela has even imagined herself as a cast member, especially during dance workshops where she has repeatedly channeled the racers while looking at the studio mirror, stomping and pivoting on jazz-funk beats. For her, these movements were liberating, especially as she had been told before that her "body proportion would restrict [her] from becoming an accomplished dancer."
"Like Letty's [one of the protagonists] pursuit of speed as a female racer," Angela continued, "my growing determination to smash stereotypes in STEM as a machine-obsessed girl is unstoppable."
As preparation for her studies at John Hopkins, Angela chose Higher Level Mathematics, Physics, and Economics courses in the DP and participated in activities related to mechanical designing.
In the summer of 2020, Angela had her first taste of creating her own industrial prototype when she apprenticed with a product design engineer for a tools invention project. She re-envisioned the traditional electric kitchen mixer by adding a brush as an auto-cleaning function. Her mentor, however, dismissed the concept because "it was risky financially." But Angela countered him, sketching her vision and explaining how the new gadget could employ the same rotation mechanism for both the mixer and the brush to minimize costs. Although Angela could not complete the product due to limited time, she found herself "empowered to voice my dissent from traditions."
Angela felt a "qualitative leap" in high school as she devoted more time to herself, mainly by improving her physique in the gym several days a week or joining intense dance camps during summer and winter vacations. This decision might have meant losing bonding time with friends or the chance to participate in many co-curricular activities on campus, but Angela understood well that her energy was limited and that she wanted to spend it on fulfilling pursuits.
When the coronavirus pandemic struck China in early 2020, the then eleventh grader juggled her distance learning studies at Keystone with a massive fundraiser for front-line hospitals and affected communities in Hubei province. She co-founded the Yuema Charity Foundation and collected almost RMB 230,000 (about USD 35,000) from various donors around the country in just three months.
"When you have an idea that you truly like and you want it to happen, then start doing it now," Angela said. "No matter what that is—building structures out of Lego, growing vegetables, or volunteering—if you don't act, it will remain an idea."
At John Hopkins, she aims at joining courses and research activities to investigate the interface between robotic and human kinematics and strengthening the viability of her goals, including her smart fitness equipment concept.
Angela readies herself for her next roller coaster ride after Keystone. For now, she lies next to her Mustang mini-model in her bed, preparing to call it a day. But her bedroom that looks like a Lego workshop is still lively as ever, as she replays in her mind the breathtaking scenes from Fast & Furious for the hundredth time.