Anti-racist protests have roiled the United States in recent weeks. The killing of George Floyd in Minneapolis on May 25 has ignited huge demonstrations against police brutality and against the scourge of racism. Solidarity marches have also taken place in other parts of the world. Anti-racist proponents are expressing a powerful message. It is easy, and absolutely right, to agree with their feelings, and philosophy, if not with every one of their actions. Only benighted white and other supremacists think differently.
When we consider the horrors of racism, we often go straight and sometimes exclusively to bias against black people. This is understandable, as the colonial racism against black and brown people that led to slavery, and the domination of countries and continents, was widespread and cruel. It still persists in various forms to this day. However, racism assumes many guises, and is in essence, in my opinion, based on an irrational fear of difference which leads to a misplaced sense of superiority. Racism, xenophobia, prejudice, and discrimination all overlap, and are not exclusive to one particular color.
You will remember these sentences below, from a letter that I wrote to all of you on February 7, when the coronavirus pandemic was still an epidemic:
We are in the middle of a serious situation, of that there is no doubt. But it is not the first like this. Many of you remember SARS and were directly or indirectly affected by that. I was Head of School at the Hotchkiss School during the h2N1 (sometimes called swine flu) pandemic of 2009, which affected mainly Mexico and the USA, and in which about 20,000 people, perhaps more, died.
It is important to remember these histories. One reason is that it is often hard to imagine the return of spring in the bitter cold of mid-winter. I mean that literally, and metaphorically. It is hard, therefore, for us to imagine that this period of danger and uncertainty will end. But end it will.
Another reason is to realize that complex and difficult situations like this one are not uniquely Chinese. I mentioned h2N1 above. I do not recall the kind of virulent xenophobia and downright racism then that is now being directed against the Chinese by some, in certain countries. This is disgraceful, in both senses of that word – wholly unacceptable, and totally lacking in grace.
Since then, pandemic related incidents of racism and xenophobia have multiplied alarmingly, against many different groups. Around that time, in early January, one of our graduates from last year's Class of 2019 was a victim of xenophobia, the dislike of strangers or foreigners. Cindy Liang completed her education here in our second graduating cohort. She is currently completing her first year at Queen's University in Kingston, Ontario. On January 5, just after returning from the year-end Christmas break, Cindy and her roommate hung some Chinese couplet posters from their door to honor the coming Lunar New Year. Soon after, these were ripped down by some local students, who laughed as they ran away. The incident was dealt with thoroughly by the university administration. On January 31, the Queen's Journal ran a full article on what had happened, including this:
Liang said she's grateful to Residence Life for their handling of the incident, as well as to the Commerce Office for their added support. Moving forward, she said she feels students and faculty can "shoulder more responsibility in [discussing] how diversity really benefits a community."
She said she also feels that minority students have a significant role in dealing with acts which may be racially motivated. She urged them to ask for help from the resources available to them when they need it, rather than coping with the pain alone.
"We should tell students who are not born in Canada to cherish their identity, or be proud of themselves. When you need something, go and ask for help instead of crying in your dorm or complaining with others," Liang said.
Cindy's father Jing, a friend, wrote to me about what had happened, and his daughter's response, on February 4:
In this incident, the fear is a normal human response. But what most impressed me is the words Cindy using in the incident report and the interview. She emphasized the words of shared core values, community, diversity, and inclusivity many times. Her expressions came from her heart without any hesitation and falsity. These words awake people's empathy powerfully!
I believe Cindy's rational and decent behavior came from Keystone's education. The core values and the mission of Keystone shaped the characters of Cindy and other students in the school to make them a real person who loves people, cares the world, has decent behavior, elegant taste, and rich knowledge.
Thanks Keystone!
This was not the end of anti-Chinese feelings, however. A few weeks after the couplet incident, a leader of an important student organization participated in a 'Coronavirus Themed Party', an event in very poor taste indeed. To its credit, the university administration again examined this, and consequences resulted, with the student leader issuing a public apology. Cindy responded with a letter to the Queen's Journal on February 7, which included these sentences:
However, Mr. M…. made a public apology and resigned as soon as possible. I personally appreciate such behavior. This is an action that meets a gentleman's standard. There is an old saying in China: "Knowing shame is almost courageous." It means a person who is aware of his mistakes and has been rehabilitated. He is a brave person. I believe this incident is a valuable life treasure for Mr. M….
Finding the truth requires not only wisdom but also courage! We should realize that the fight against viruses is not just a matter for the Chinese government and people. It is actually a common task for all mankind! Expressing sympathy and support to the countries and peoples that have suffered from disasters, even simple handshake and light hugs, have tremendous power and emit a great light of humanity!
I feel proud of Cindy. To repeat her father's words:
Cindy's rational and decent behavior came from Keystone's education. The core values and the mission of Keystone shaped the characters of Cindy and other students in the school to make them a real person who loves people, cares the world, has decent behavior, elegant taste, and rich knowledge.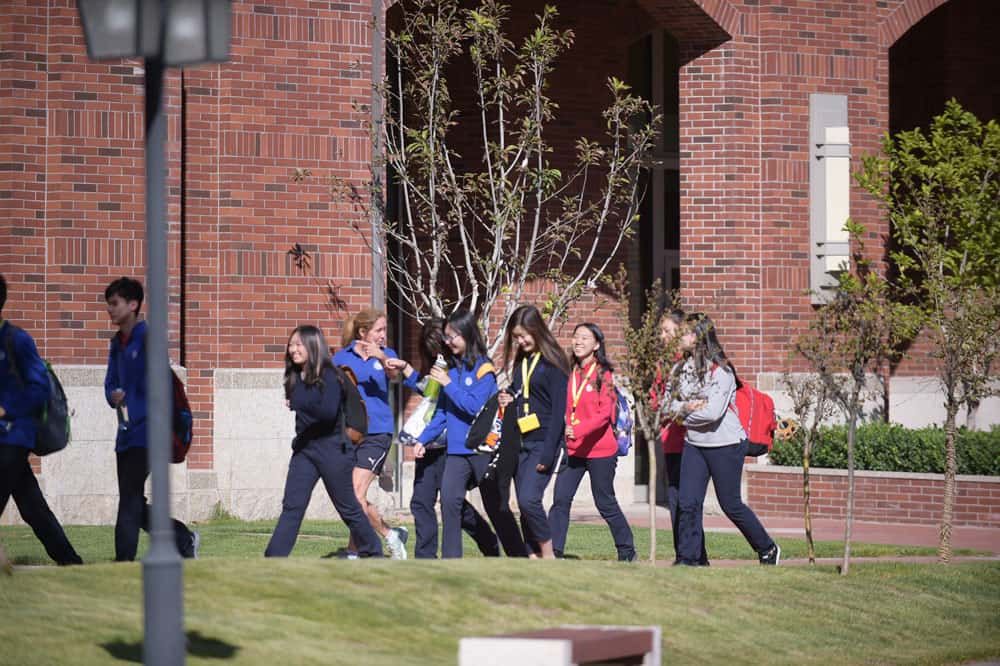 The measure of a really fine school is to be found in its graduates: how they think and feel; how they behave and act; and what they are like as people, as human beings. I aspire to graduate many more students like Cindy from Keystone. She already has many others like her, in our small but growing number of alumni, including the members of the Class of 2020, who are about to graduate on June 20.
To return to my beginning. I do not wish to suggest in any way that the horror of a death from police brutality is anything like the same as ignorant student xenophobic behavior. These are two incidents of quite different magnitude.
What is worthy of comparison, however, is how such acts are resisted. I am comforted by the fact that so many, many people, in so many places, are standing up against racism after the killing of George Floyd, and others. And I am comforted that an individual Keystone graduate stood up, using the foundation of our five values, against xenophobia in her university community.
With warm regards,
By Malcolm McKenzie – Head of School @ Keystone Academy