Hello! We would like to invite you to a free webinar we'll be hosting this month on 'Making your results count'. We will run the webinar on 3 different days so you can select the date that works best for you. During the webinar, we will help you think about what happens if your results are not as good or as bad as you expected.
Our webinars will be hosted by three of the U.K.'s leading educational experts:
Carmen Dare, B.A. (Exon.), M. St. (Oxon.), College Principal, Greene's College Oxford
Guy Nobes, M.A. (Oxon.), Head of the Guidance Department, Marlborough College (and author of 60 Successful Personal Statements)
Matthew Uffindell, M.A. (Oxon.), Dip. Ed. (Exeter) and Greene's Senior Tutor (and author of Greene's 'Top 5 study tips for A level English revision)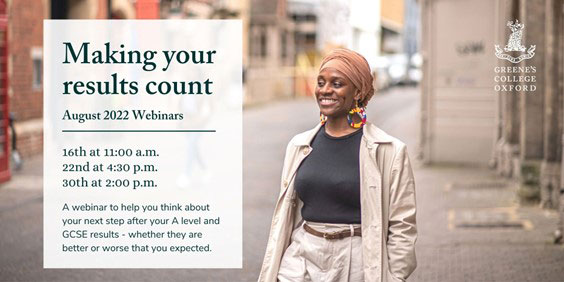 All you have to do is register by clicking on the date of the webinar you are interested in. If you are under age, please ask your parents for approval before attending.