This year was as noteworthy as the last, if not more. We worked on our performing skills during class lessons and in activities, Year 3 and 3 played their recorders and violins at the weekly Wednesday Primary lunchtime concerts, Year 7 played at International Day and, in recent MTB performances, Year 8 and 9 performed at the annual Soccer 7s Football tournament.
We have taken our music-making to the wider community – the Concert Band provided festive music on the Boat Lagoon boardwalk last Christmas (live video) and have also invited musicians to work with us. The Desford Colliery Band joined our Cantamus Choir, Secondary Singers, Parent's Choir and Concert Band for a stunning concert in Term 1 (watch here) and who knew the refectory was an ideal place for rocking during lunchtime with the Australian Army Band (live video)! We had musicians from 7 FOBISIA schools fly in for a weekend of wind band music which involved students working with Monte Mumford and Ian Wilkinson.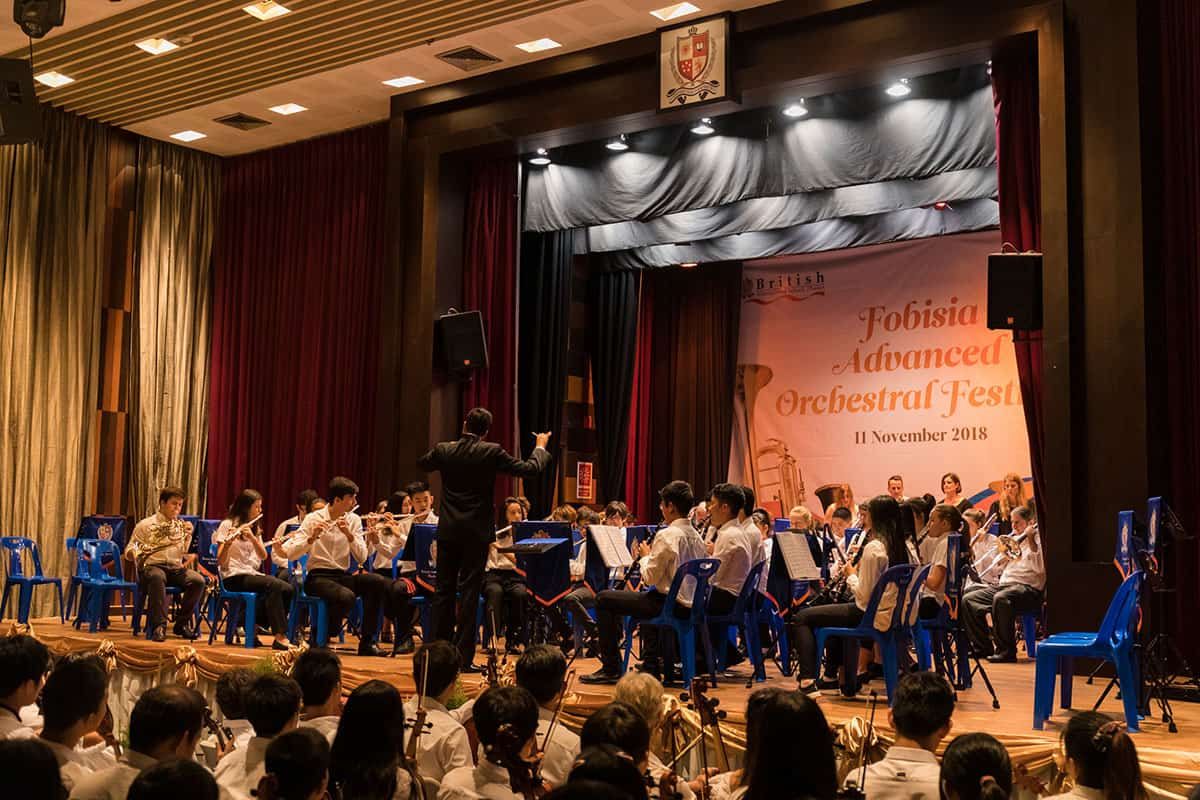 Meanwhile, IB and IGCSE Music students have continued to be the bedrock of all that we do and we are so grateful that they can entertain the school community whenever asked!
Watch LIVE from BISP Phuket: FOBISIA Advanced Orchestral Closing ConcertAs usual we have had musical productions across all Key Stages. KS1 and Year 3 gave resounding performances of Animal Rumble Jungle (watch here). KS2 stunned us with their version of Disney's Aladdin – so lovely to have a live band for young performers to work with (photos here). Last but by no means least, we loved staging Hairspray – what talented performers we have – BISP veterans and those new to the stage, and it was great to include some of our High Performance athletes in the cast as well (highlights video)!
Perhaps the one event that stands out as a huge community success was our collaboration with the Immanuel Music School from Khlong Toei in Bangkok. The generosity of parents, students, teachers and the wider community in funding the participation of these talented students in the FOBISIA Advanced Orchestral weekend was amazing (photos here). The students from Alice Smith school and BISP were so lucky to work with these students and Jonathan Mann – we really hope to maintain this partnership in the future.