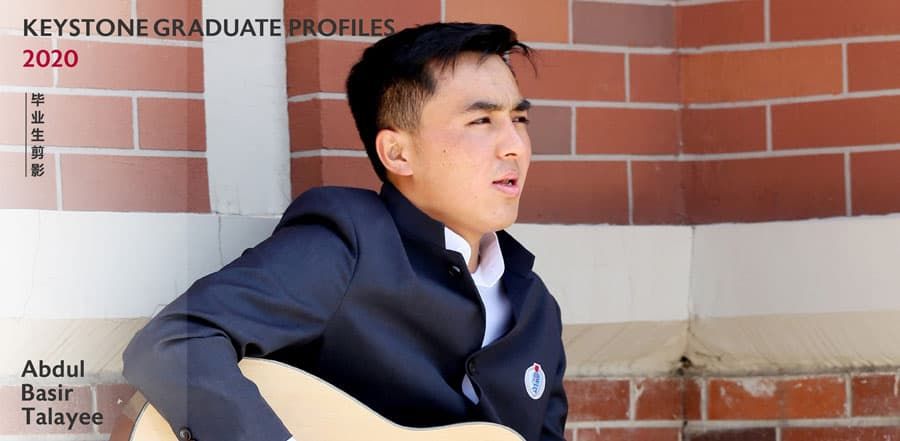 An act as simple as opening the doors for others—literally—makes Abdul Basir Talayee feel so overjoyed. The warm-hearted and compassionate Afghan student at Keystone Academy has a daily habit of doing random acts of kindness because it does not take too much of his effort and time. Instead, it brings him more energy.
Basir is so enthusiastic about sharing his life story during his Character and Community presentation, a project that wraps up his senior year at Keystone, that it has taken him roughly a minute to explain that anecdote of opening doors before moving on to the moments where he has exhibited compassion and respect, two of the five Keystone shared values which have resonated so strongly with him.
"Everyone is good and everyone deserves goodness, and I've always felt proud of doing something for a higher meaning," he says. "I am from Afghanistan, a country that has been involved in a war, but I want people to know that my story is totally different."
A Big Dream
Among the many international students who attended Keystone's second Global Issues Network (GIN) Conference in October 2019, quite a few teenagers captured the attention of Koen Timmers, a world-renowned Belgian educator and one of the Global Teachers Prize nominees in 2018. But one of the young attendees from Keystone, Mr. Timmers said, "set the bar pretty high" by aiming big: to become a president.
That was Abdul Basir Talayee, who was the conference's committee leader for the topics of gender inequality and water scarcity. He focused the discussions on how water shortages in less-developed countries affect or violate women's rights.
Basir instantly connected with Mr. Timmers over lunch, telling the speaker that one of his former teachers also vied for the Global Teachers Prize. That small talk led to Basir's sharing of his "big dream" of helping his home country Afghanistan, and how that aspiration led him to Keystone Academy.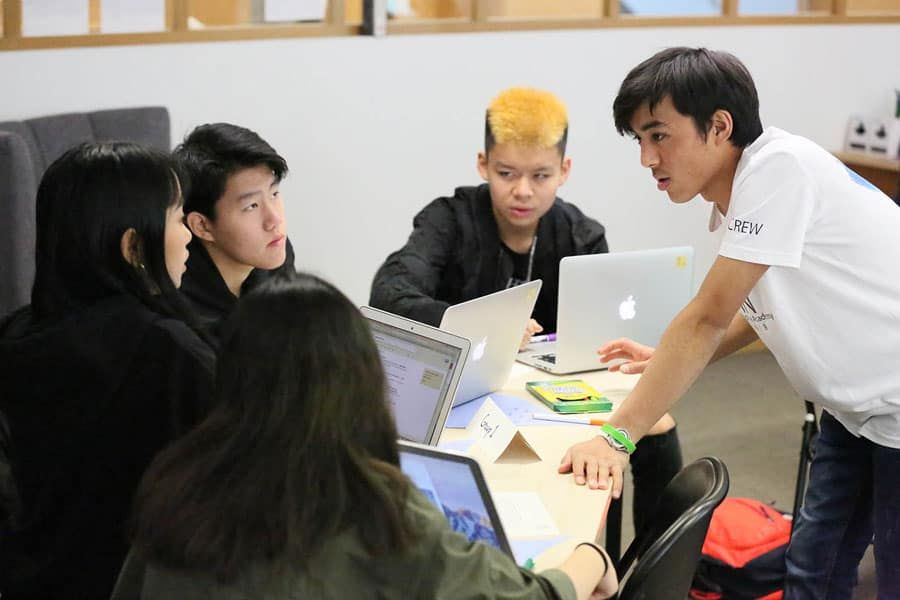 Basir spoke with students from other international schools in Beijing about water scarcity and gender issues during the GIN Conference.
Born in the province of Ghazni in central Afghanistan a year after the 9/11 attacks, Basir spent his childhood in a relatively placid village without knowing that a war had been ravaging other parts of his country. When he moved to Kabul for his primary school years, all he saw was "a totally destroyed city" as US military forces were driving rebels out of the capital.
"I was taking the bus to my school when a military vehicle roughly 60 meters away from us was bombed," Basir recalled. "The bus lurched forward, its windows shattered, and all I could hear was my own scream. As I ran home crying with drops of blood on my school uniform, I wished for only one thing: a place where I could study in peace."
Basir pondered over the ways he could continue learning while helping his fellow citizens. At first, he thought of being a scientist to invent a machine. "But that cannot solve all of our problems," he said. Then he set his sights on becoming a writer. "But my stories cannot feed the people." Finally, he composed his ideas and ruminated on being a leader—the future president of Afghanistan. "And my projects will focus on two things: education and women empowerment."
Basir grew up in a family where his mother was the breadwinner, an uncommon sight in a country where women are supposed to tend the home. Although Mrs. Zamera Sharefee did not have the chance to get a proper education, she understood its importance and made sure her five children would be literate to have a better future. Her lead informed Basir's understanding of the role of women in the community, that "if you empower [them], you empower their families and then the entire society."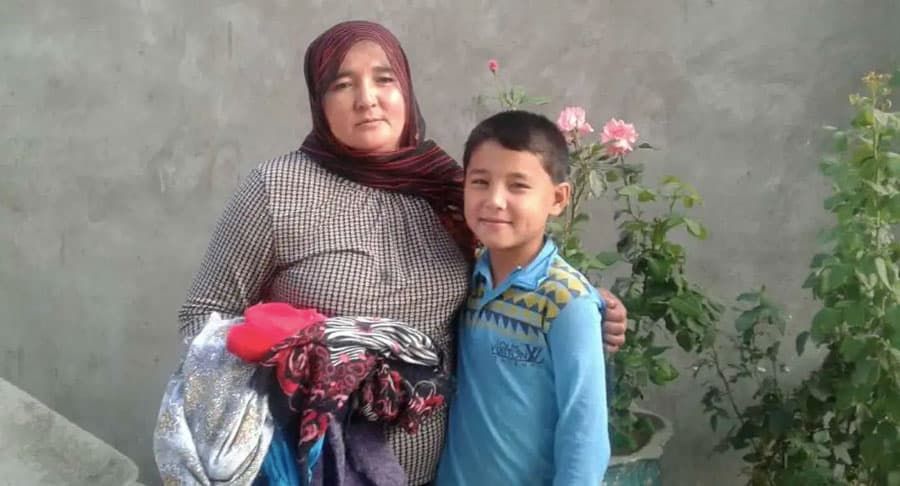 Basir's mother, Mrs. Zamera Sharefee, and his youngest brother, Abolfazal
Sometime after the bomb attack, a still shell-shocked Basir implored his mother to buy a computer so he could apply to schools abroad.
"It looks like you've gone crazy!" he recalled his mother saying, "But I don't have much money now." Mrs. Sharefee, a cleaner at a private school in Kabul, could only just make ends meet, but found a way to buy a laptop on loan—a second-hand one that cost 12,000 afghanis (about USD 185 / RMB 1,320 in 2016), an amount that was four-fifths of her entire monthly salary. But still, Mrs. Sharefee bought it, under one condition: "Make sure you don't play video games!"
Even if Basir could do so, power rationing in Kabul was commonplace and internet data connection was expensive. And so, he would prepare his application letters under candlelight and, when he was online, would try to decipher school websites using a translator app. He narrowed his selection down to the boarding schools that offered him a full scholarship: two in the US and Keystone in China.
The Journey to the East
"Dreams make your life more interesting," Basir said of his aspiration, referencing The Alchemist, a novel that he has read four times already. Its protagonist, Santiago, ventured out to Egypt from Spain to find a treasure after having a recurring dream, but his experiences on the way proved to be more worthwhile than the treasure itself. Basir loved the story and even saw himself in Santiago. But their difference? Basir journeyed further to the east—to China.
After some deliberations with friends and family, Basir settled on the grant from Keystone, which came first among the three schools that offered him a full scholarship. He remembered how the supposed 30-minute admission interview by Keystone Dean of Admission and Institutional Research, Rachael Beare, extended to an hour.
"She showed a lot of interest in me and listened to what I said," he added. "I have had hundreds of moments with people who listened to me. But the level of understanding of Ms. Beare was so different."
Basir was resolute in his decision to go to China, despite having no idea about the country at all. His parents and former classmates urged him to move to the US instead, because they thought it would be easier for him to get a college offer there. But the courageous teenager saw China as an adventure of a lifetime, and a chance to "explore a culture that others were ignoring."
In Beijing, meanwhile, Ms. Beare was moved by Basir's "determination to honor his mother's sacrifices" and his efforts to bring out the potential of his country. Keystone conferred upon Basir a full need-based scholarship, one that would not only provide him access to quality education, but the capacity to enjoy it as well. In addition, his presence at Keystone would help expand the awareness of Chinese students of the world around them.
Gaining admission and applying for a scholarship was already a long shot for Basir. On the Keystone side, obtaining his student visa turned out to be even more painstaking, with Ms. Beare considering it one of the biggest challenges she has dealt with at Keystone. Although it "[seemed] impossible" to bring him to China, "Basir never lost faith and never stopped believing that it could happen," Ms. Beare added.
It did happen. In November 2017, Basir came to China as the first Afghan high school student in recent memory, according to the Embassy of Afghanistan in Beijing. He brought with him a heart full of hope and excitement, a skill in English just enough for saying basic phrases and questions, and a jacket so thin that he nearly froze before reaching Keystone. Upon his arrival, he received a warm welcome from Head of High School Dr. Diana Martelly, and teachers.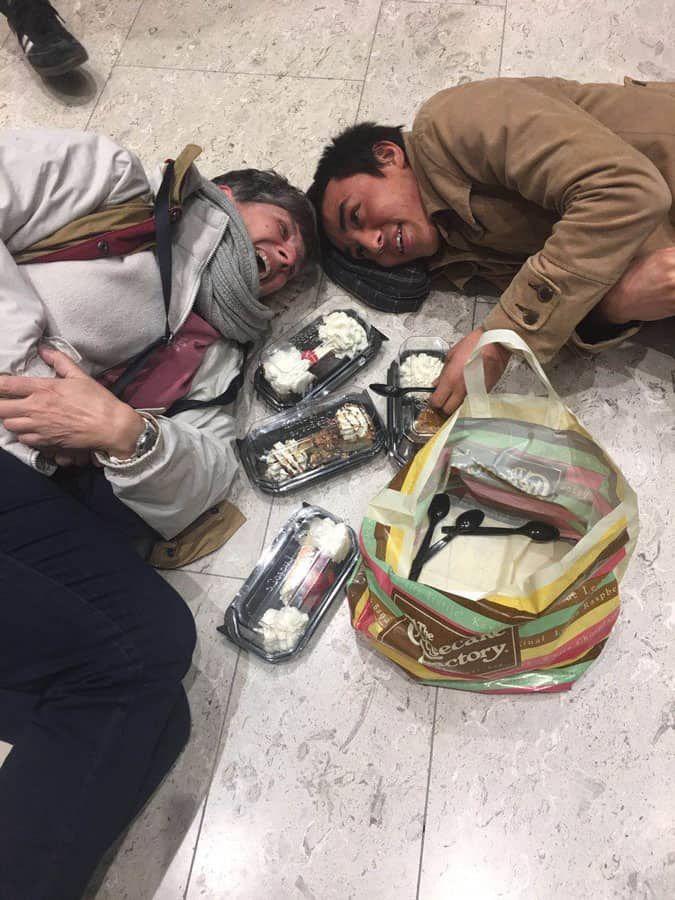 Dr. Diana Martelly and Basir acted out a drama sketch while in a branch of The Cheesecake Factory in Wangfujing. This was Basir's first time to eat an American-style cheesecake.
Many of the Keystone people with whom Basir has connected in the past three years have seen the rapid development of his personality and skills. In Afghanistan, he was a boisterous boy; at Keystone, he has let loose that lightheartedness and brought smiles to whomever he was with. Back home, Basir could communicate in three languages: in China, he added two more. Not only has his English improved hugely during his time at Keystone, his Chinese also sprang from nothing and became something that connected him closer to many people.
Chinese teacher Cao Shujuan saw how Basir strove for understanding their lessons by practicing and engaging with her outside the classroom. Even if "he was not the fastest learner," Ms. Cao said, "he is a student with the most solid foundation."
In the Chinese New Year breaks in 2018 and 2019, Basir was invited by a couple of his Keystone peers to homestays in their hometowns, which allowed him to explore the culture and cuisine of his host country. And over those two years, he traveled to seven provinces in China.
Basir stayed in Beijing in the Chinese New Year break in 2020, as the then-novel coronavirus began spreading across the country. The unexpected event gave him more time to bond with his teachers who lived on campus during the online learning program at Keystone.
Dr. Martelly helped Basir make the most out of the self-isolation period. She biked with Basir and others on the outskirts of northern Beijing, taught him to play the guitar, and they watched inspirational speeches and movies together, among many activities. In one of their bonding moments, Dr. Martelly played John Lennon's "Imagine" and it became an instant hit to the teenager who had never heard of The Beatles and their massive songs. On one frigid February afternoon, Basir belted the song's memorable chorus out so loud that his neighbor from the opposite tower, Hilda Man, lead learning specialist from the Keystone Center for Student Development (CSD), overheard him and sang along afterward. Ms. Man even refers to him as 'Basir Lennon.'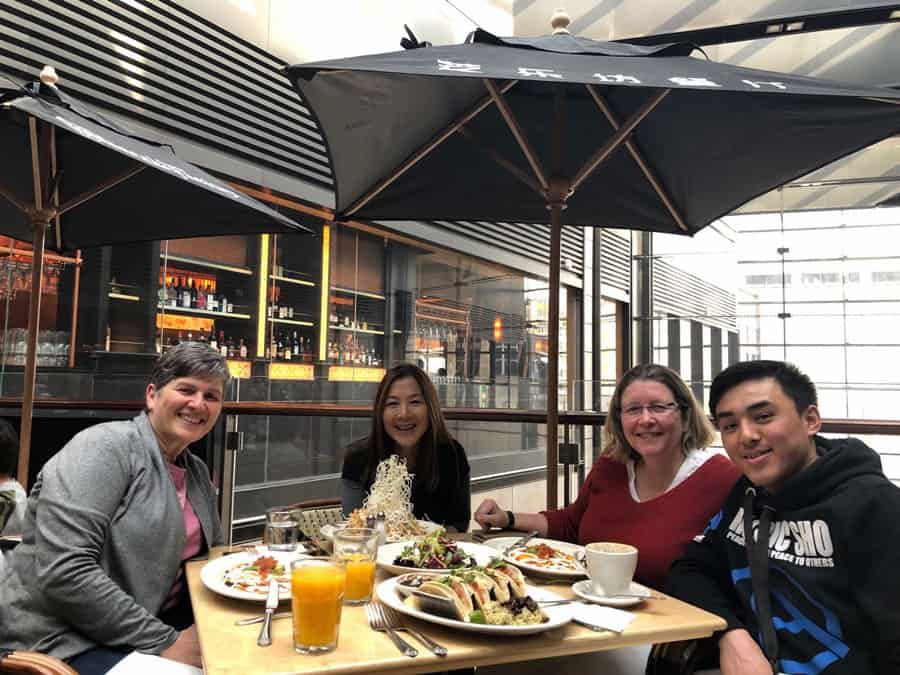 Dr. Martelly, Hilda Man, and Sandra Clark-Guillotel (from left to right) helped Basir improve his English skills
"A Brave Man Stands for Women"
At the beginning of his senior year at Keystone, Basir worked on his Extended Essay (EE) on feminism in which he compared the letter read by Afghan writer and activist Noorjahan Akber to a select audience in the US in 2018 with the speech delivered by British actress Emma Watson at an event on gender equality at the United Nations headquarters in 2014. Basir astutely wrote that both women were "representatives of the modern fourth wave of feminism," and that they rightfully "reflected the power structures" in place in their respective countries. But their views, he noted, were "fundamentally dissimilar" as they were born and raised in different realities: Akbar and the Afghan people are in a state of war, while Watson and parts of the rest of the world live in peace.
Basir also recalled in his essay the arrival of Watson's movement, HeForShe, in his school in Kabul in 2015. One of its programs, he said, centered on encouraging young men to be "good partners and supports for women, and help them have the same opportunities men have." Its slogan remained etched in his mind: "A Brave Man Stands for Women."
In a country whose traditions are perched on fundamentalist religious beliefs, "feminism" has a pejorative connotation and being a "feminist" can trigger prejudice. But Basir saw the feminist movement as breaking the current notions about the gender roles in his society, and that men should be part of this action too.
He has viewed his childhood observations of his mother's efforts and their life in a war zone as his motivation for working to attain gender equality. And by studying at Keystone, he has achieved more milestones for this endeavor, with the help of his teachers and friends.
In one of his many actions while at Keystone, Basir shared his knowledge of applying for scholarship programs abroad with his three younger sisters. As he was the first child in the family to study and live overseas, Basir utilized his Keystone experience to help his sisters write application essays and get ready for the demands of studying abroad. They all succeeded: Adela is now a first-year university student at College of the Atlantic in Maine, Nadira is preparing for her junior high school year at George School in Pennsylvania, and Rahila is a rising tenth grader at Dublin School in New Hampshire.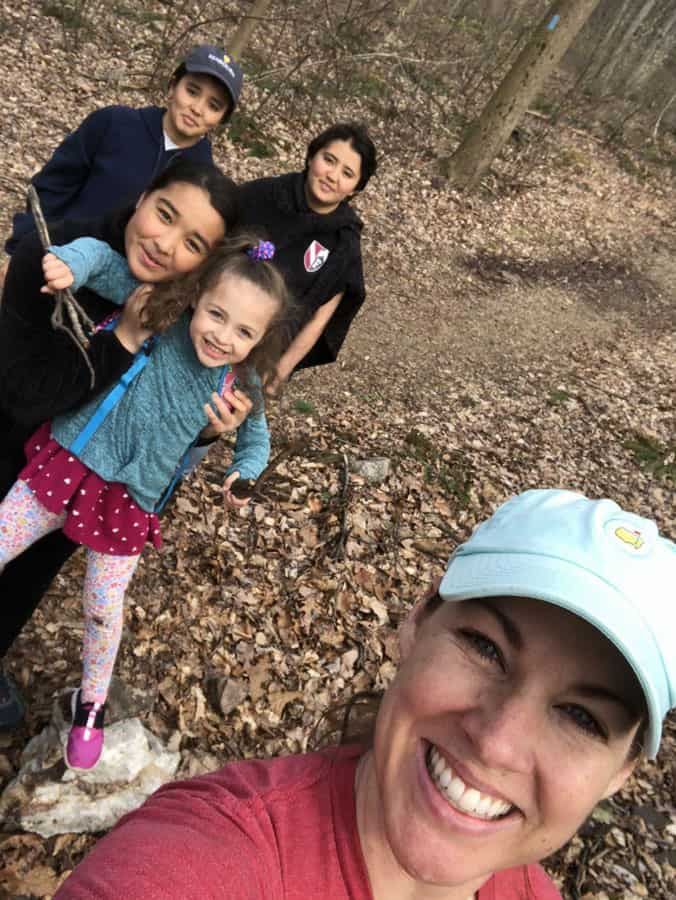 Basir's sisters currently live with Kelli Sanchez, Keystone Dean of Students, in Pennsylvania, US as their schools closed during the pandemic
Meanwhile, Basir traveled back to Afghanistan during his summer vacation in 2018, to launch a program to allow school-aged girls to play soccer in a safe space. He brought home the sport and leadership knowledge from his high school soccer team and Creativity, Activity, and Service (CAS) experiences, and event management skills that he developed in the Keystone boarding program and other activities on campus.
After hearing Basir's initiative, his sister Nadira felt thrilled that the only question she had was: "When?" All of his sisters threw their support to their older brother's "brilliant plan" because it was "a dream come true" for them, however risky and challenging it was.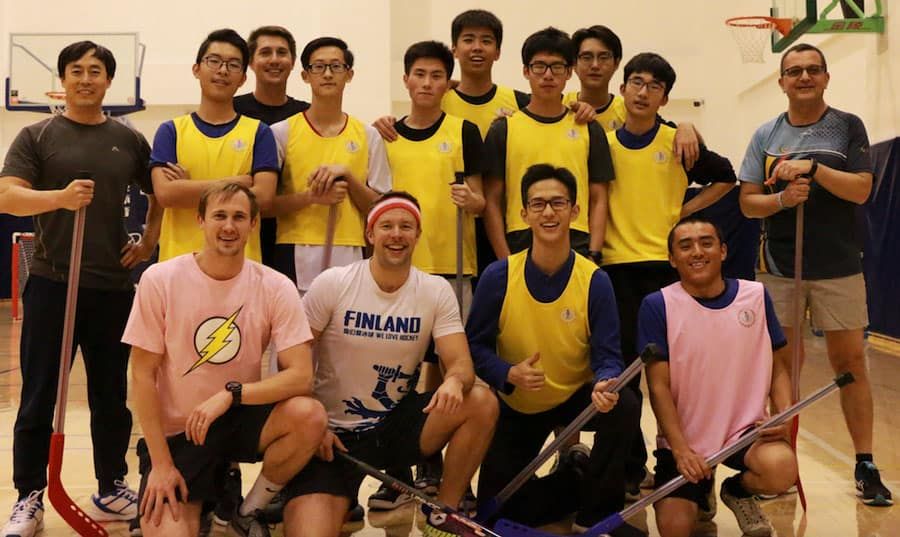 Keystone PE teachers Andy Thompson and Aki Mustonen (sitting from left to right) were Basir's soccer coaches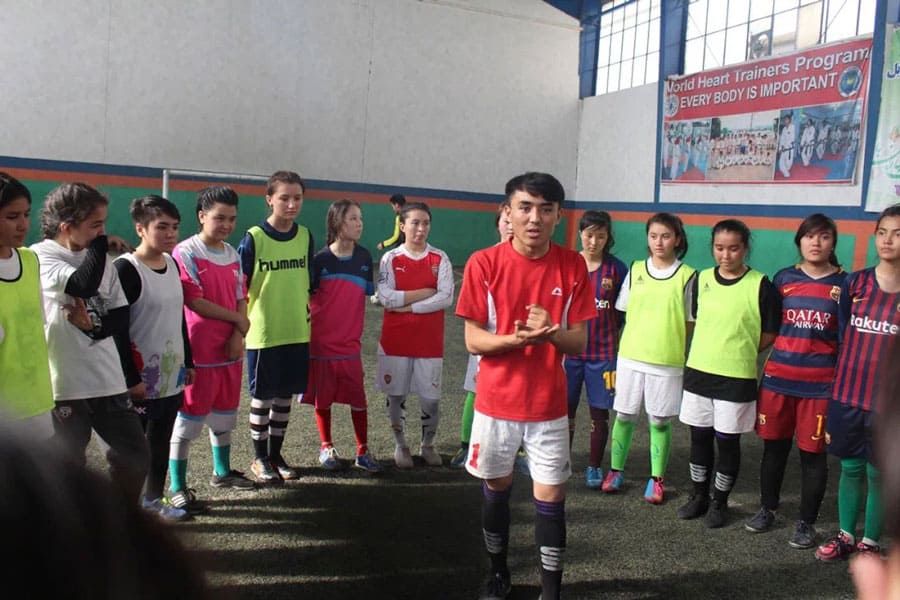 Basir brought the soccer lessons and experience from his Keystone soccer team back to Afghanistan
Basir's fellow senior student and best buddy from Keystone, Carlos Key, who was admitted to Columbia University for next year, initially balked at the idea but realized that his friend would still proceed to help his community. This was one of the many stimulating conversations and exchange of life experiences that the two teenagers have had over the past year. And many times, Carlos was moved by his friend's story of survival and triumph over so many adversities.
But it is not only overcoming struggles that the two teenagers have talked about. They both worked on their college applications together. And for Carlos, Basir's funny stories and uninhibited laughter are enough to wake him up at the breakfast table. Beyond this, they have also worked together in many extracurricular activities, such as the GIN Conference in 2019, whose unifying thread was about uncovering the passions of young people.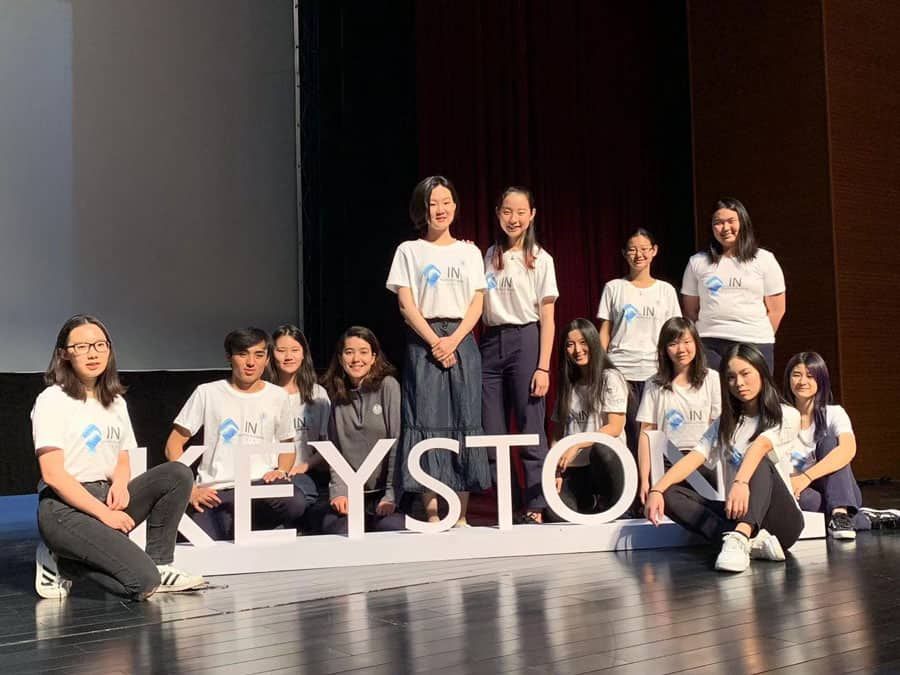 Basir was also part of Keystone's first GIN Conference in 2018.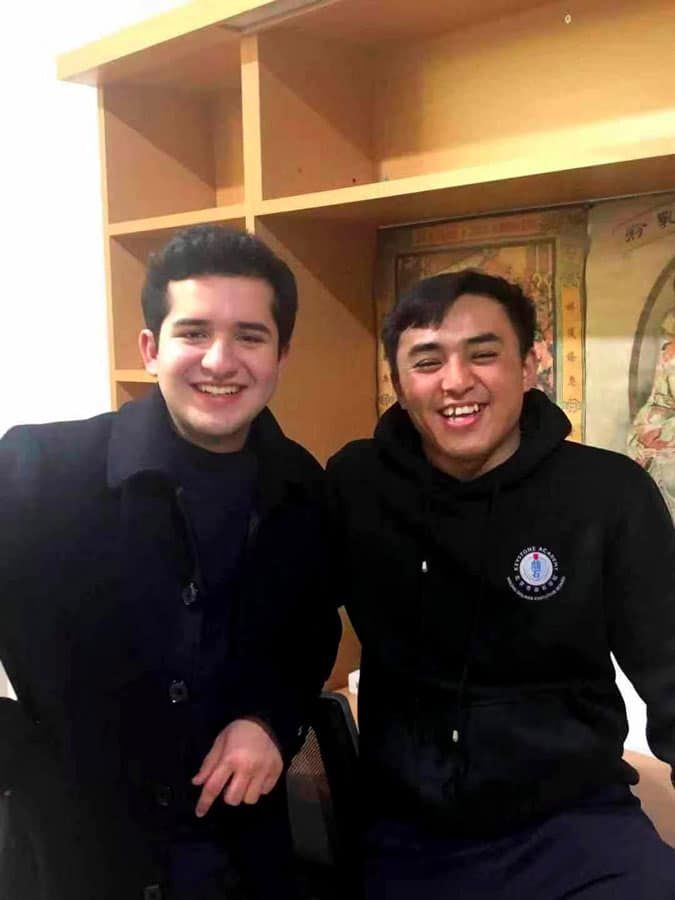 Basir and his best buddy Carlos Key
While Basir helmed the committees on gender inequality and water scarcity, Carlos ran around the event halls, taking photographs of the sessions. During lunch, Basir sat together with the event speakers, including Koen Timmers, at a table and shared his ongoing initiatives. The Belgian educator, as mentioned earlier, was impressed by the depth of Basir's story and aspirations, adding that Keystone has given him and many other students a perspective that "education needs to be global."
"Once you are able to wrap around your head about the fact that we are all having different ideas but we are all the same, then you will be a very good president," Mr. Timmers said. "And Keystone gave him the right foundation for that."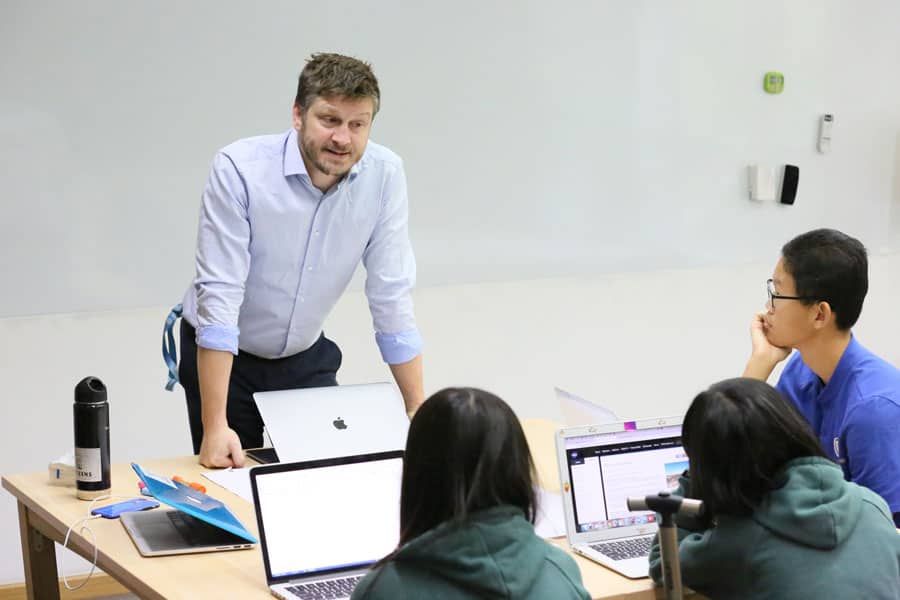 Belgian educator Koen Timmers said Basir "set the bar pretty high" during Keystone's second GIN Conference in 2019
Basir has set his sights on bringing home the lessons he has learned in China and the "unique experience at Keystone" so more doors will open for many Afghan children. He sees himself as a "role model" who will inspire many young people to continue dreaming big.
What Matters Most
Basir spoke breathlessly and looked nervous when he delivered his ten-minute Character and Community presentation speech in April 2020, during the time when senior students were allowed to return to school after three months of learning online. In this presentation, the final project for the Keystone Diploma, Basir tried to summarize the recent four years of his life in a nutshell and presented his memorable photos in a six-slide PowerPoint deck.
"Everyone is good and everyone deserves goodness, and I learned that from Ms. Martelly," he spoke proudly, while Martelly was watching him from a distance. Basir has always looked up to her as a teacher, mentor, and mother figure combined, and saw how she treated the people around her with kindness.
"And so, I asked myself, 'Why can't I be like her?' Everyone has a good side that we should appreciate," he continued.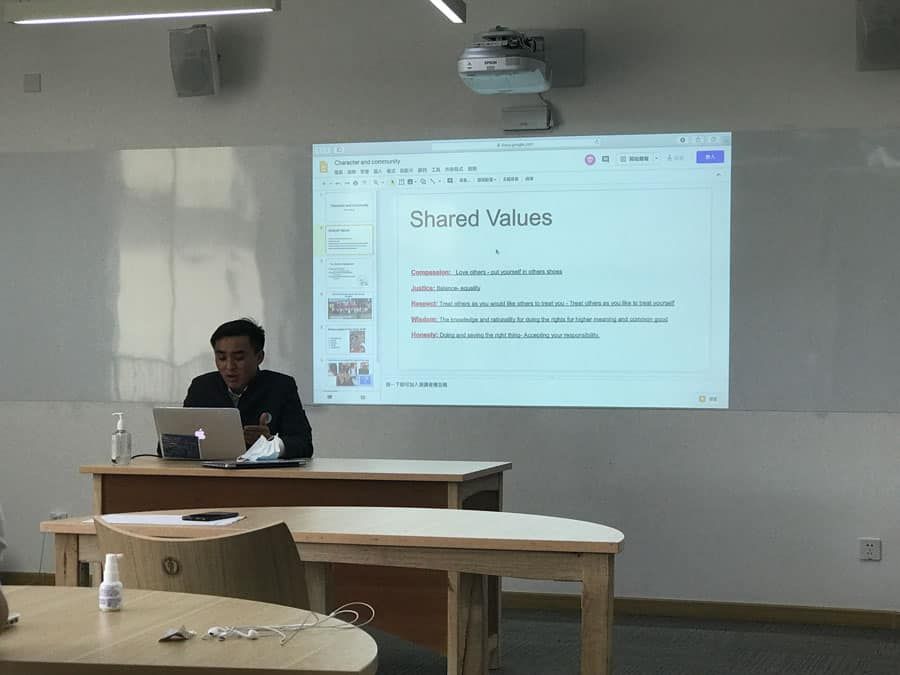 "I've always felt proud of doing something for a higher meaning," Basir said of his soccer program for Afghan girls
Dr. Martelly has always tried to see Basir's optimism and pureness, despite the times when he had become so stubborn that she almost gave up on him. She knew stubbornness so well because she herself was called stubborn by her grandmother during her younger years. But later on, the grandmother would applaud her closely related good side: being persistent. And so, that very quote referenced by Basir came from her own experience.
"It doesn't matter whatever personality a person has," she says, "as long as they use that trait to be able to do something good for the world."
Some days before the presentation, Dr. Martelly gave her "last few lessons" to Basir by watching together with him "The Last Lecture," a rousing speech by the late American computer science professor Dr. Randy Pausch. Among the many life lessons the professor shared, it was his idea that "If you wait long enough, people will surprise you and you will see that goodness in them" that the Keystone teacher found indispensable. She wanted Basir to know that as well.
Dr. Martelly also knew from the very start that the big dream of the Afghan teenager was to become a president. But for her, "It doesn't matter if he becomes a president."
"He told me he wants his country to become better," she recalled, "For him, it means being in a position where he can make it happen. But as long as Basir stays focused on what he wants to achieve, and I'm sure he will, he will get there and it won't matter what or who he is. He'll discover that by himself."
The Afghan Pathfinder's Next Stop
Basir and Dr. Martelly were together when the student received an email from one of the universities he had applied for. He did not even want to read it alone, and when he opened it…
"I could not believe my eyes!" Basir said with hearty laughter. "Yes, I made it!"
It was a full scholarship offer from Northwestern University in Qatar. All of Basir's hard work, writing 18 personal statements until late amid his Keystone schoolwork, paid off in significant ways. Dr. Martelly witnessed the teenager's academic struggles and downbeat moments, but she has held him up and reminded him of his big dream.
Soon after, Basir shared the good news with his teachers, telling them that he "couldn't fit in my skin from happiness," and that NU-Q would now have its "Afghan moonman."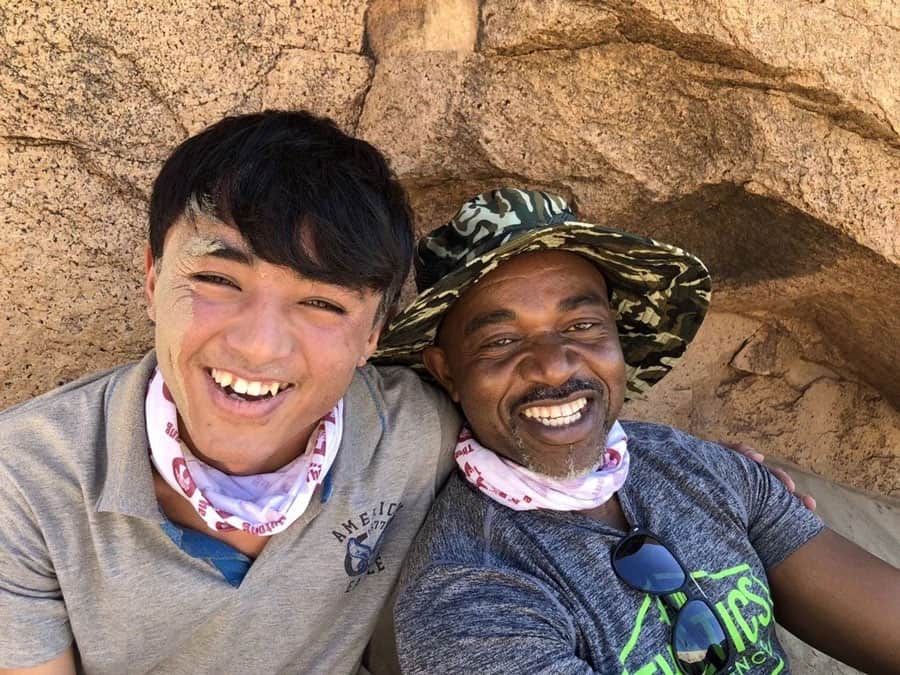 Basir bonded with almost all of his teachers, including Mr. Nehemiah Olwande, his advisor and English teacher
"You have always contributed something to my learning, academically or personally, and it has changed my life," he wrote. "I couldn't be ready for the next stage of the journey and my current success without you. I am so lucky that I had all of fantastic and compassionate teachers like you by my side."
As of writing, Basir has yet to decide which subject to major in, but he looks into studying a combination of business and journalism, with a minor in politics. And all of these interests come back to his ideas over five years ago: create something useful, write stories, and lead people to a better life.
While he is preparing for the big move—another journey, but this time, to the west—a group of teachers in the Keystone community have banded together to continue helping Basir, such as raising money for his living allowance and buying him daily necessities.
Basir is moved by all the efforts of love, and acts of compassion that he has received from his Keystone family. "I have grown so much in the past three years and have always practiced our five Keystone shared values. And all of my acts in the future will be guided by our shared values. They will stay with me forever. And I will keep on passing them on no matter where I will be."
For the young Afghan pathfinder who has lived in a war zone, he finally found that safe place for learning that he had been wishing for. Now, another door has opened—in the Middle East—and Basir is off on another journey.
"I am going to pursue the greatest education possible so that I can create the greatest change possible in both Afghanistan and the world," he said.