From the northern city of Zhangjiakou to Beijing, travelers go down to a scenic yet perilous Badaling Expressway that overlooks gorgeous mountain landscapes. Keystone Academy student Bryan Xu has vivid memories of the five-kilometer zigzag road, especially the times when he felt terrified of taking that path whenever their family would return home from a short holiday.
On one trip when Bryan was eight years old, his parents told him about another mode of transportation in the area: the nearby Beijing-Zhangjiakou Railway whose one track section traverses a steep uphill slope. The boy was captivated by the thought of trains crossing a path where even camels struggled to travel.
Eight years on, that childhood memory inspired Bryan to track down the marvels behind the engineering of the first railway designed and built solely by the Chinese. It became the subject for his tenth-grade Keystone Capstone Project, an independent research in a topic of Chinese cultural history that students identify as their own particular interest.
On the Right Track
Ninety-two tenth graders delivered their Capstone Projects virtually on May 27, a few days before they formally returned to campus. This year's presentations, the first to be done entirely online in five years, covered diverse fields that relate to the arts, development, and society of China and their connections to the world.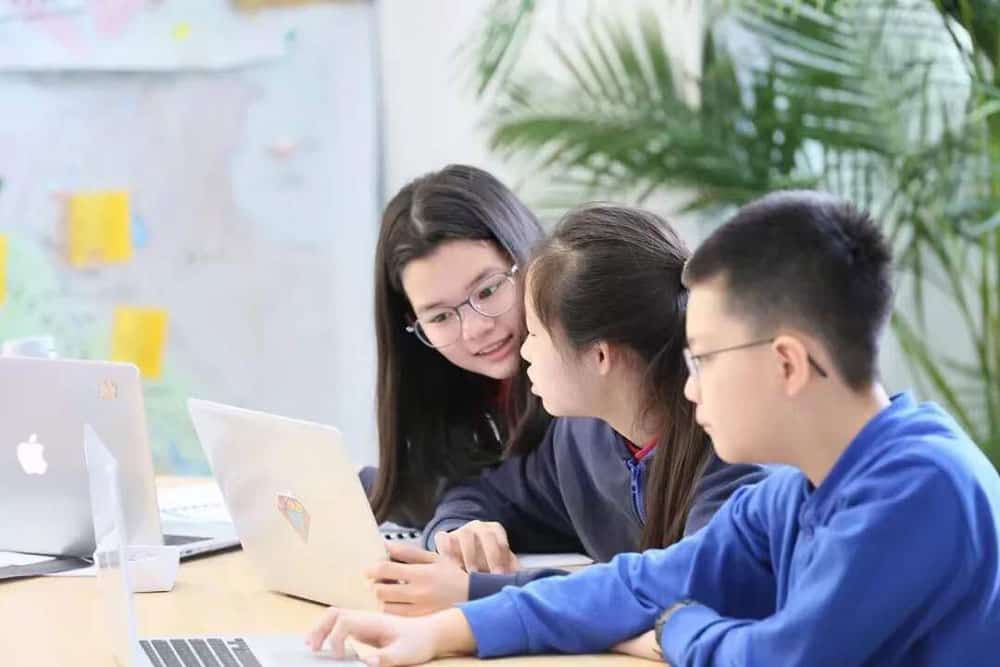 The Capstone Project allows students to delve into Chinese culture and history while simultaneously preparing them for the rigors of independent work required in the Diploma Programme. The project also concludes the Humanities-oriented program called China and the World, which links the Chinese Civilization and World Civilization courses, and Keystone's Middle Years Programme (MYP).
Associate Head of School and Dean of Curriculum Lili Jia says the Capstone Project and the program it is built upon demonstrate the strength and uniqueness of Keystone's Chinese Thread curricular framework.
"Keystone Academy is a school belonging to China. We firmly believe that China's status on the world stage is decisive," Ms. Jia says. "The China and the World program allows our students to have a profound understanding of the history and traditions of China and the world, and, at the same time, lead the action in the global financial, political, and cultural fields. This unique program also stimulates their love for learning and respect for their national traditions, tolerance of cultural differences, and the pursuit of academic excellence."
Ninth graders who were already back to school watched the live broadcast of the presentations in different classrooms transformed into forums. At the Economic Development room, Bryan shared his research into how the Qing-dynasty engineers led by Zhou Tianyou, or the Father of China's Railroads, constructed the Beijing-Zhangjiakou Railway despite having limited industrial capability. Besides, Bryan noted the leadership of Zhou and how the Qing pioneers inspired the future generations of railroad engineers from China and the world.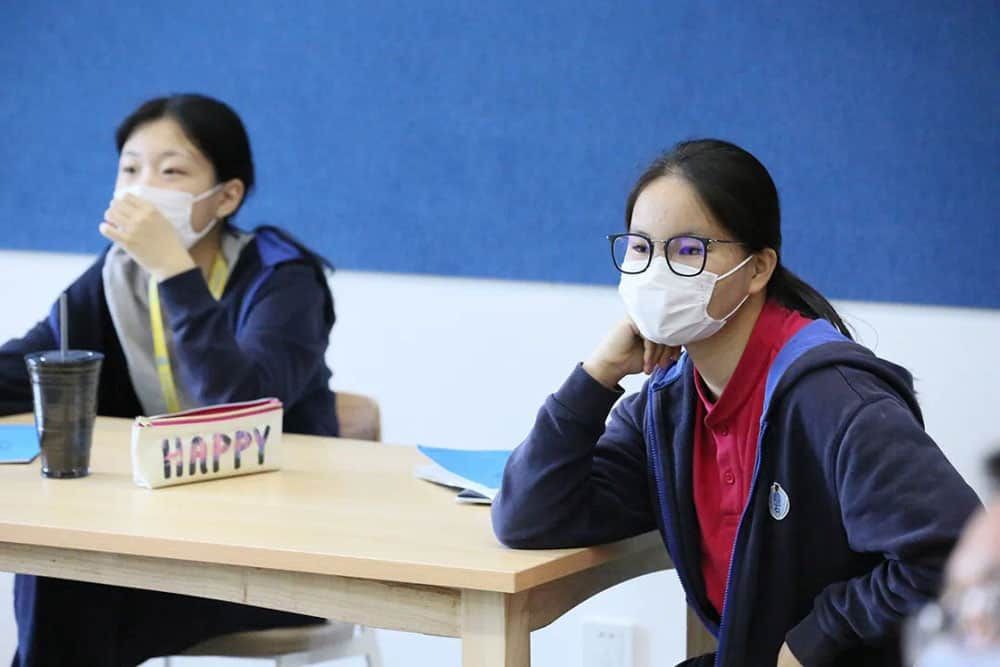 At the Human and Nature forum, Michael Chang talked about his comparative study on the similarities and differences between western and Chinese alchemy in the 13th century. He had been wanting to investigate a topic in the sciences, not only because of his long-time interest in the discipline but also as a preparation for his two high-level science courses in the Diploma Programme.
Michael pointed out that while both forms of medieval alchemy had strong philosophical bases, the Chinese side followed the core idea of Taoism, that elements follow natural rules. At the same time, its western counterpart arose from the tenets of Greek philosophy, that everything is made from the four basic elements (air, earth, fire, and water). The innovations and discoveries that medieval alchemists had achieved, as Michael learned, had had a considerable effect on the attitudes, philosophy, and technology of Chinese and western societies.
Upon finishing his presentation, Michael felt relieved as he ended his MYP with what he called a "big step." He was proud to say that his project "has laid a theoretical foundation" for comparative research on Chinese and western alchemy, and "on ancient Chinese and western scientific thoughts."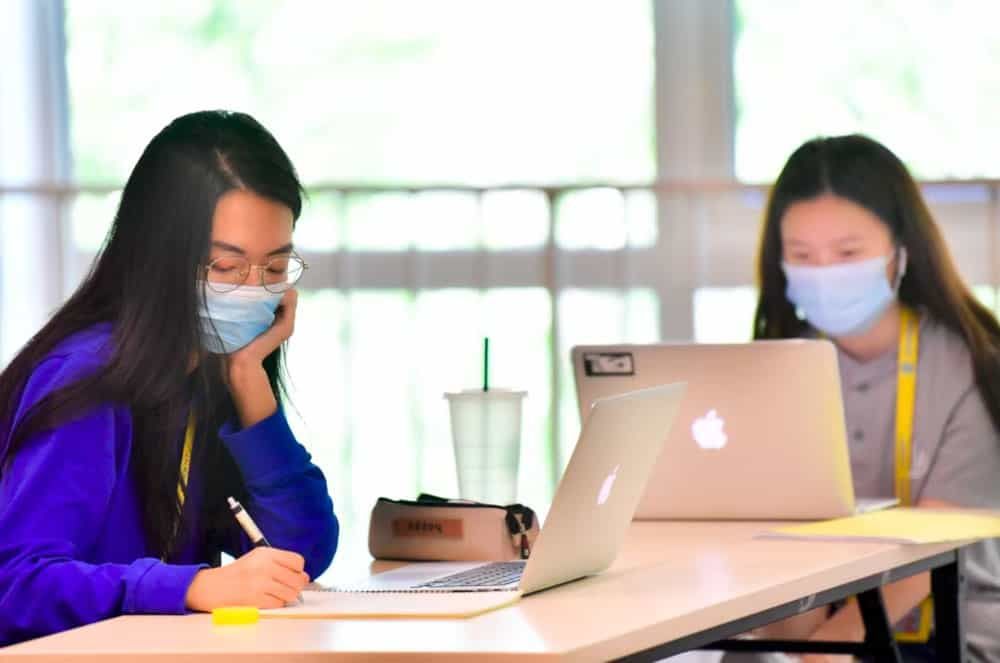 Humanities teacher Cara Li said the trend in this year's Capstone Projects was that many students strongly linked their research topics with their childhood interests. Toby Huang, also a Humanities teacher, said students made efforts to make their essays more well-rounded by integrating perspectives from researchers and scholars around the world.
Mr. Huang told his students during the preparations that once they put up an in-depth academic paper in their native language, it would be easier for them to tackle the much more demanding Extended Essay (EE) and other written requirements in the IB Diploma. For Ms. Li, another crucial part of the Capstone Project allows students to embrace their heritage while simultaneously identifying concepts unique to Chinese society that could help them work with peers around the world in solving global issues.
Understanding Identity
Among the 19 forums of the Keystone Capstone Project this year, six were done in Chinese. Meanwhile, thirteen were delivered in English, including those attended by Bryan and Michael. This was the first time that English was used extensively in the presentations. Humanities teacher Andrew Scott said the projects became another opportunity for Chinese students to develop their second language skills. Teacher Florine Keja also saw how students showed passion for their topics and demonstrated strong research skills.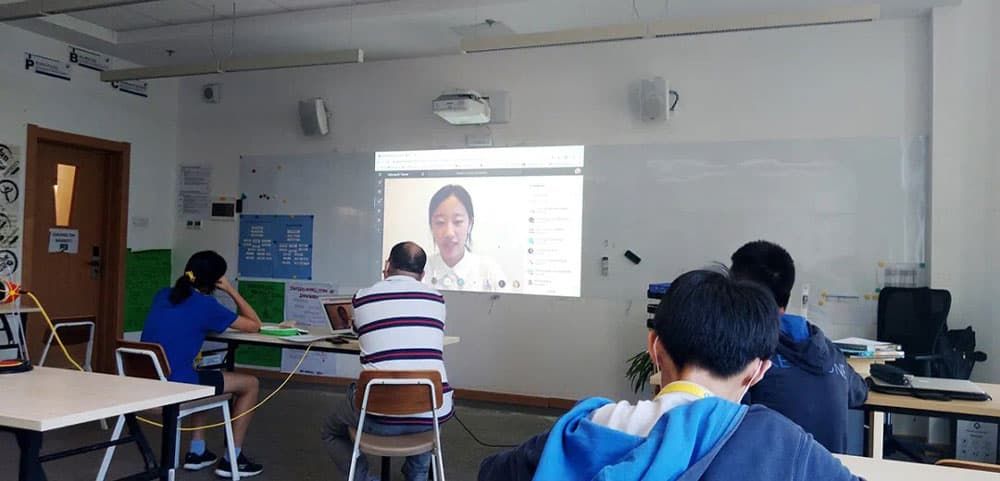 Selina Ma joined the English-language Philosophy forum and shared her comparative analysis of how two historical artworks show the philosophical notion of human origins and its influence on culture. Her case studies were the Italian Renaissance painting The Birth of Venus and its Neoplatonic idea of eternity and beauty, and the Ming dynasty sketch of Chinese mythological figures Fuxi and Nüwa that conformed to the concept of yin and yang.
Her initial idea centered on her interest in the visual arts and art aesthetics, but she narrowed it down after consulting with her Chinese Civilization teacher Yuanching Huang. Ms. Huang recommended that she dig into the role of aesthetics in influencing cultural perspectives.
In the process, Selina encountered historical materials that had not only introduced her to the "thoroughness of the thinking of ancient Chinese scholars," but also widened her understanding of her identity.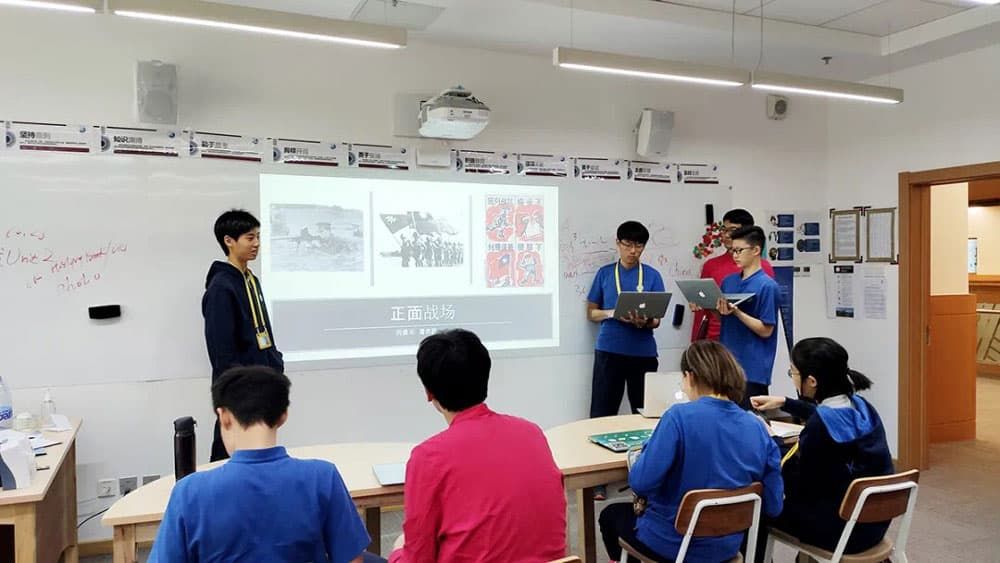 "Chinese cultural vitality has remained vibrant throughout the eras," Ms. Huang said of the Chinese heritage. "The past has never been very far away, and today we initiate the future of newer generations. So when we look at the past, we should be thinking about what we inherited and what adjustments we can make so our legacy will live on."
The Philosophy session's proctor, Humanities teacher Jeffery Heitmann, said there were many highlights in the presentations, but what made them more engaging was the insightful selection of examples from different cultural heritages. Aside from this, he said watching the presenters reinforced his idea that "students are capable of incredible insights."
"It made me realize, once again, how little I know and how vast the world is regarding knowledge and information," Mr. Heitmann added. "Students have constructed understanding and knowledge for themselves and that is a very rewarding and rich experience. And that is what we strive for here at Keystone: to help students construct meaning. That is powerful. Further, it was such a pleasure to listen to histories of China, to learn about different ideas and art from this country that I am not so familiar with. It was fun and interesting."
The End Is the Beginning
Bryan, Michael, and Selina all mentioned that the data-gathering part for their respective projects had been a challenge as it happened during the online learning program and quarantine periods. Mr. Toby Huang and his colleagues addressed this through daily guidance and by providing them with a wealth of online resources. He added that the pandemic also allowed the tenth graders to reflect deeply on the concepts of "shared human destiny, global village, and economic globalization."
"The end of their Capstone Project presentations is more like a beginning. There is a series of problems behind their topics. When we talk about 'global awareness,' we do not just look at it as an abstract concept. Instead, we provide students with real examples and situations so they can look at the world with a developmental perspective and let them continue thinking about the connections between history and today," Mr. Huang explained.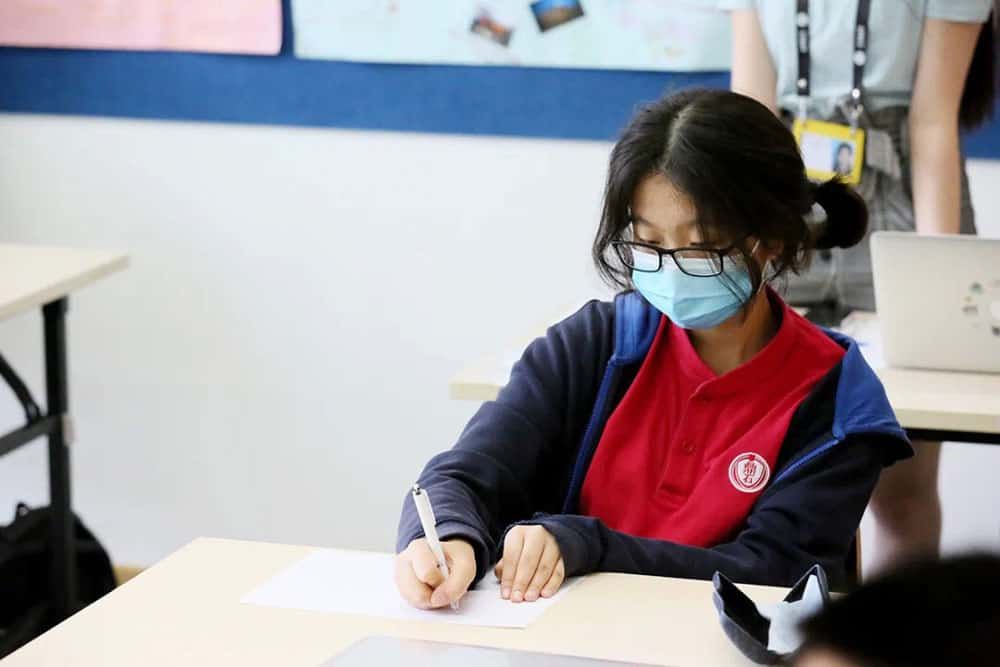 Other teachers commended the tenth-grade presenters for their accomplishment, with Mr. Scott saying the high benchmark they set "shows what can be achieved and what to strive for." Mr. Heitmann, meanwhile, noted the opportunity for students to change the present.
"Our world is an unlimited conception of what we can be," he said. "We are energized by imagination, and creativity can change the direction of progress and of what we can become. Do not ever stop creating, trying, hoping, and acting on your ideas and dreams. Do not doubt, rather, dare to know."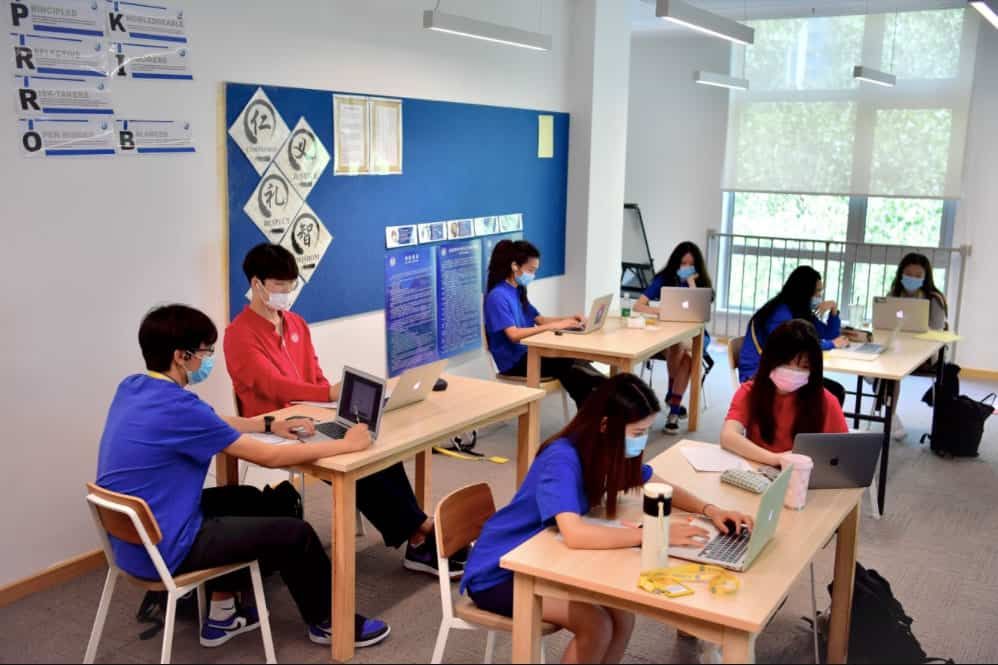 Bryan, Michael, and Selina were all amazed at how they completed their Capstone Projects amid an unusual learning situation. Now with a solid academic essay under their belts, the three students give their pieces of advice to their ninth-grade peers who will do their own projects next year.
"Face the challenge and don't be afraid to look wider into the array of subjects that you can choose from," Bryan said.
Michael felt good that many in his ninth-grade audience showed a keen interest in his project and hoped that the students learned different research methods from him.
"The process was challenging but worth the effort and time," Selina said, "Because at the end of the project, I've learned a lot from my topic, and I believe that it has inspired many students and teachers."