The Keystone Academy Class of 2021 is moving forward to the next stage of their academic journeys, celebrating their resilience, growth, and success in high school amid the pandemic.
Head of School Malcolm McKenzie referred to the cohort's unique graduation stole, whose golden fringe was derived from the hulless barley, to symbolize the hope that the class would "grow, mature, and harvest with bravery and resilience, regardless of difficulties in life." He also shared his appreciation for their contributions to Keystone "so far".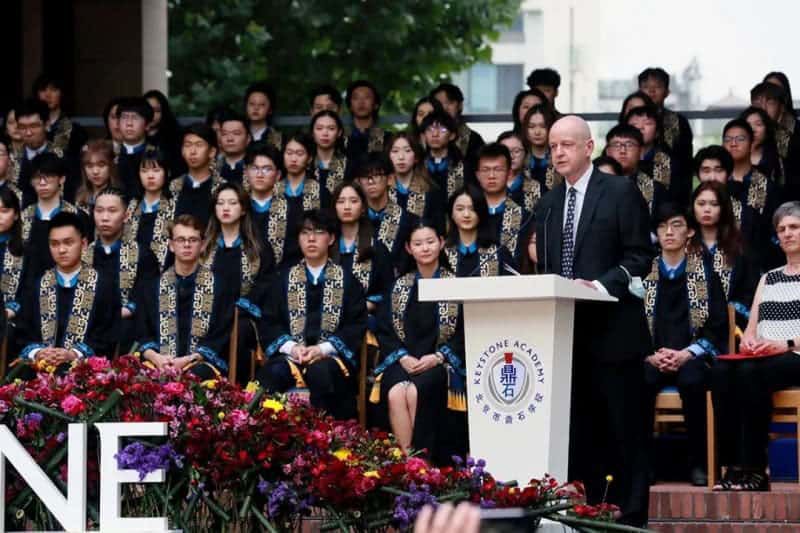 "I say 'so far' deliberately, because 'so far' has been a relatively short period of time, the few years that you have been in our school," Mr. McKenzie expressed. "You are just now starting the next phase of your lives. You have many more years of contributions to make to Keystone, the wonderful school that has nurtured you."
A Forest Emerging from an Individual
On the graduation day on May 22 (Saturday), Class of 2021 representative George Qiao shared his address where he marveled at whale fall, a phenomenon when the remains of the gigantic marine mammal fall slowly into the ocean floor, providing sustenance to various aquatic organisms and thus becoming an ecosystem for decades. The process strikes Mr. Qiao not only because of its "poeticism and magnitude" but also "the life, the forest emerging from an individual animal" whose primary source of nutrition comes from tiny krill and plankton.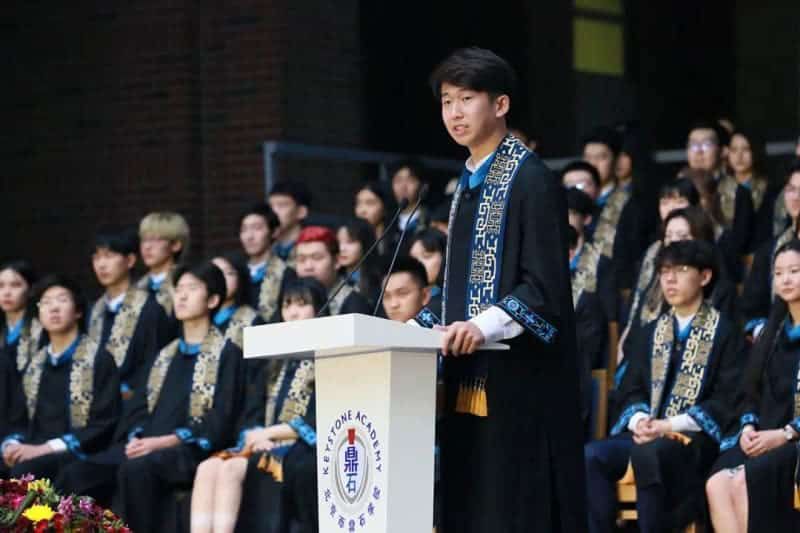 "Imagine we take increments of practices every day, digesting these small pieces of lessons and takeaways, [just as how] whales digest millions of krill in each meal," Mr. Qiao remarked. "These may seem negligible in the short run … but if we take those incremental steps to arm, to enrich ourselves every day, each of us can become a giant in our own fields and can provide equality and nutrition to our ecosystem."
Mr. Qiao invited his classmates to "think about the forests" they are about to plant in the future, and how those worlds will benefit more people so "they may be able to share from our growth and become giants."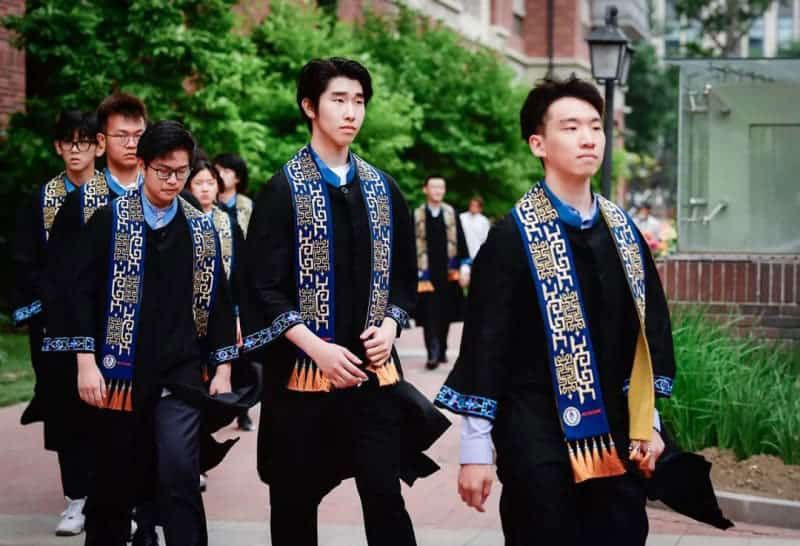 "There is so much space in there waiting for us to fill in after we dive into the greater oceans," he continued. "This ceremony should not be the end of anything but rather, the start of everything, a new life, a new way of living, a new person."
Heading into a New Chapter
Keystone's fourth graduating cohort has been described by the outgoing Head of High School Dr. Diana Martelly as the "Resilient Class of 2021" who have all persevered throughout the pandemic. Individuals and Societies teacher and Grade 12 Leader Rachel Hopkins, who spoke on behalf of the faculty, recalled the cohort "was ready to take on the challenge" when they began the Diploma Programme in 2019, but encountered a different reality later on.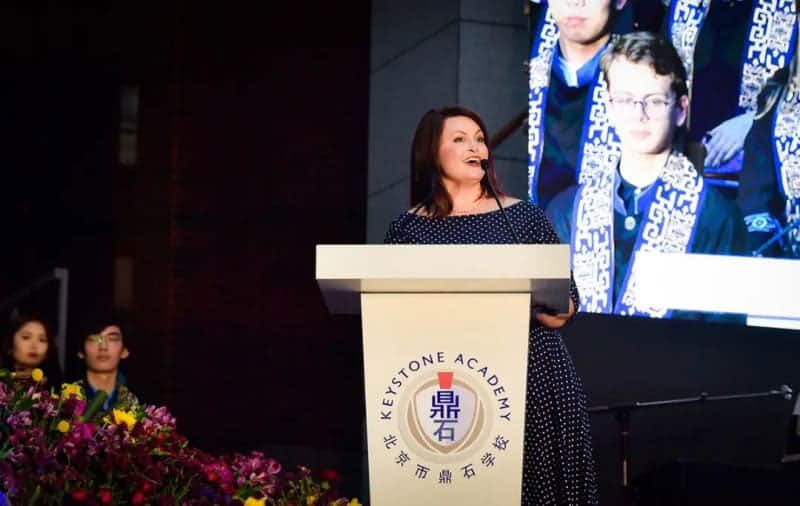 "The new challenge came … [and it] was having to live in the virtual world," she said. "Think about it: there was no history lesson you could look back on to see how to do this. You may have thought, 'I don't want to do my classes online. How do I do this?' And although those questions continued in your mind, you still persevered. You created a new pathway for yourself. You never gave up."
Ms. Hopkins urged the new graduates to keep going through this new chapter and "use those challenges to make your success meaningful" and "surround yourselves with people who will support and encourage you to be the best version of yourselves." More importantly, she reminded the class to "inspire others" while remembering to laugh, finding joy, creating memories, and being happy despite the stresses in life.
"As you leave Keystone, don't forget the memories that you have made here [and] take those life lessons and go into the world with full confidence to take on whatever challenges," she added.
Saying "Ever Better"
Before the graduation day, the outgoing class and the incoming seniors congregated at the Keystone Archway as a rite of passage. There, 76 members of the Class of 2021 passed on a white rose to the new seniors to express a solemn transfer of leadership.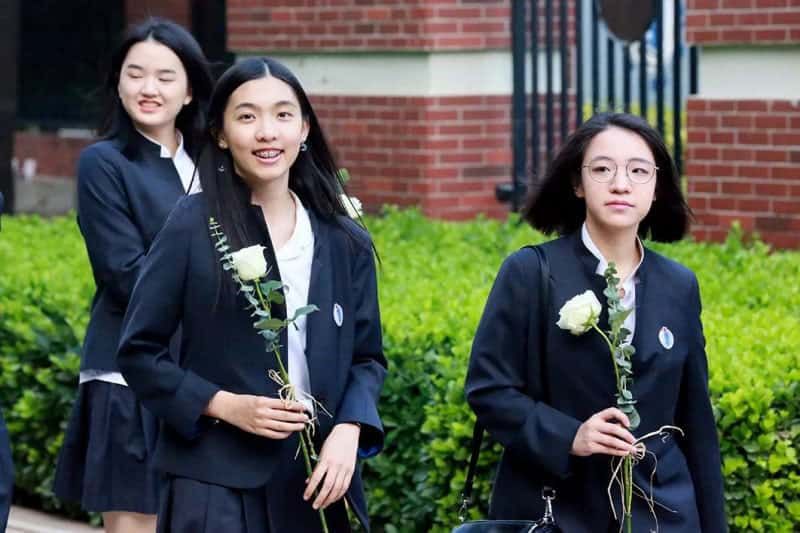 Speaking on behalf of the Class of 2021, student leader Tori Gu thanked her Grade 11 peers for the support and trust over the past years. Ms. Gu had been a dorm proctor, a member of various student committees, and a Keystone representative to global student conferences. From these experiences, Ms. Gu has learned to "stop worrying [because] it does not get you anywhere."
"You can't be perfect… no way!" she gushed, "however, you can become better at things. But here's something essential in leadership: [having] courage—the courage to disagree, to speak up, to share voice, to forgive others, and more importantly, yourself."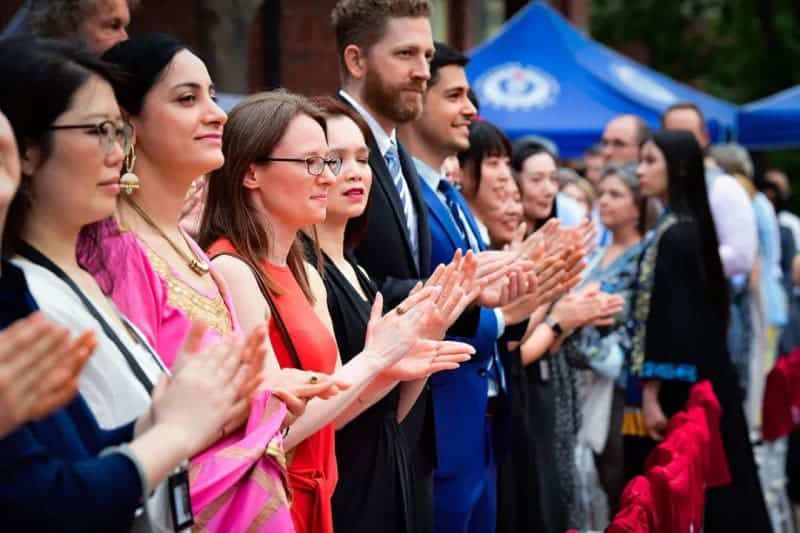 "There's another important part," she continued. "Learn to be the leader of yourself. First, learn how to lead yourself, then you will be just fine leading others. Everyone has different goals, dreams, and plans for the future—so it is unfair to compare when we are all on different journeys. Instead of that, let us encourage each other to move forward on our own paths."
"Before we move on, I would like to share with you a Latin word that I am fond of—meliora, or 'ever better'," she said.
Being a Teacher
"I want all of you to be teachers, teaching others about life and how best to live it, whatever career you choose," Mr. McKenzie told the Class of 2021. "This is a capability that Keystone has given you, and that you will pass on to others."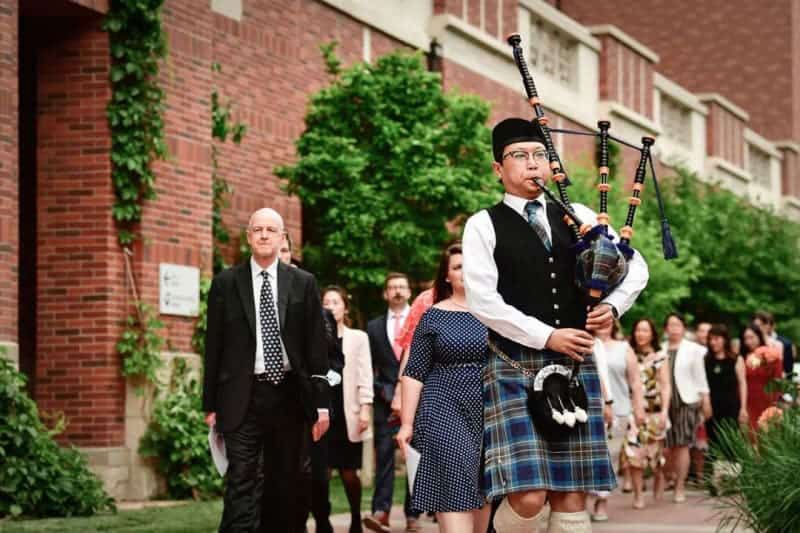 Mr. McKenzie referenced his vacation volunteer job in the landlocked country of Lesotho in the summer of 1973, just after he completed his freshman year in university. Before returning to South Africa, he and Jo Pini, the German doctor setting up healthcare clinics in mountain villages in Lesotho, went on a five-day trek to the Maletsunyane Falls with their guide named Khotso. The two trekkers brought saddlebags of camping supplies while the guide traveled only with a frayed blanket, hard bread, and unripe peaches he obtained along the way.
"This remarkable man taught me, in just a few days, a great deal about life," Mr. McKenzie said of Khotso, who "traveled lightly, communicated quietly, [and] listened carefully" during the journey.
"He humored his two clients with wisdom and curiosity, and he was open to the opportunity of learning from us. He loved the wild landscapes that we traveled through. He knew his place in these landscapes. We learned our own place in them from his humility and his experience. He exemplified self-reliance, and passed this on to us. Above all, he kept us safe, in the stream of his knowledge and the cascade of his care."
Mr. McKenzie shared the anecdote to remind the graduates of the unconventional ways of teaching and learning as they go beyond Keystone.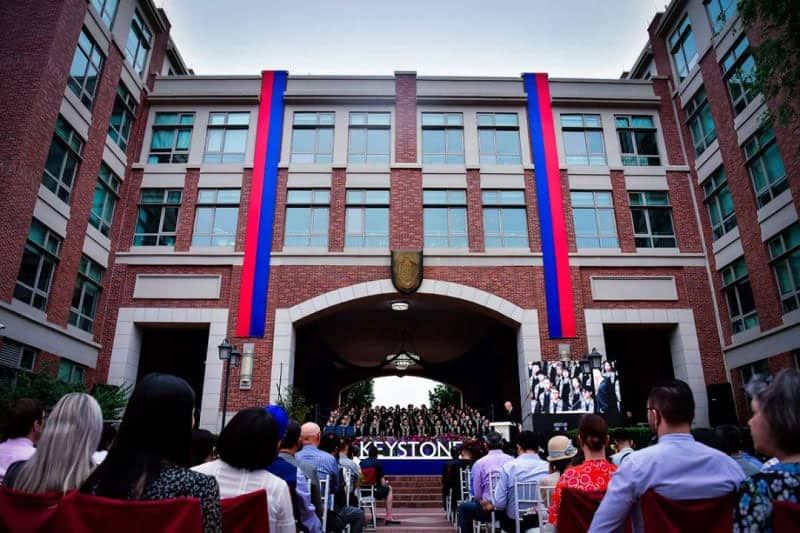 "So far, as I said at the start, you have done well, remarkably well. But you still have so far to go," he said. "Learn along the way from those whom you meet, especially those who might at first seem unlikely teachers. Live our Keystone values in your lives, and you will teach others without even knowing it."
"If you take me seriously, and Be A Teacher, of and for life, you will be going to bat for your school and for all of us, yourselves included, for the rest of your lives," Mr. McKenzie said.