It is one o'clock in the afternoon and while many students are taking their lunch break, eighth-grader Mandy Zhao remains in front of her laptop to talk to someone. It's not her teacher nor a classmate but a Grade 2 student from Wuhan. The two children chat online and play word games via a video conference platform.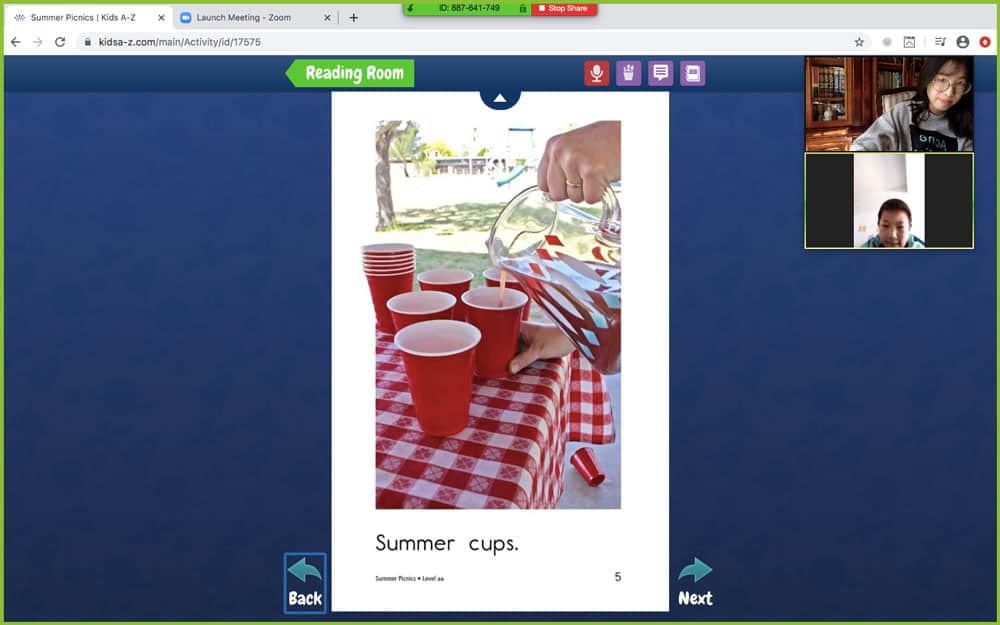 The activity, which Ms. Zhao does alongside her day-to-day online learning program at Keystone Academy, is the part of the Shoulder to Shoulder Public Service Student Grant (肩并肩公益助学) initiative by Keystone parent Cindy Huang and an educational institution. Now, a total of eight Keystone students are volunteering to teach English to schoolchildren living in the outbreak-hit areas in the province of Hubei.
Since starting the activity on Valentine's Day, Ms. Zhao has taken turns with a classmate in teaching the student, who has "become more optimistic after having this class."
"His English ability isn't as great yet, so it takes us a long time explaining some new words. However, we learned to be patient to help him memorize. And aside from this, I chat with him and tell him we will always be with them to overcome the difficulties they face there."
Defining Actions During a "Massive Experiment"
As many as 372.3 million school-aged children and youth are impacted by due to the COVID-19 pandemic. Three-quarters of that—or 276 million children—are based in China.*
In mid-February, the Chinese Ministry of Education launched an online learning platform and began broadcasting primary school classes on public TV to address the disruption in education. Educational institutions that have resorted to using the internet and mobile applications are taken aback by technological limitations and time zone differences.
The reception to this "new normal" has been mixed, with many parents venting on social media and saying online learning programs are "too tiring and frustrating." Others are concerned about the effects of too much screen time on their children's eyesight. Meanwhile, some international school teachers say they struggle with "hidden workloads," technological hurdles, and student accountability issues while ensuring quality learning still takes place.
Despite these issues, Keystone Academy Head of School Malcolm McKenzie believes that everyone has a role to play in the "massive online learning experiment" across the globe. In his letters, Mr. McKenzie has continuously reminded the Keystone community that "we all need to be flexible as this crisis continues to work itself out."
"As members of a fine school, our behavior influences others, in ways big and small. What we do and say, and how, stretches through our extended community, and beyond. Our families look to us for guidance and wisdom. These actions define us every day and will do so into the future," Mr. McKenzie says to his colleagues.
Break Out of the Outbreak Instability
People on the many affected sides of the current pandemic are unsettled by the uncertainties or grapple with constant chaos. But Chinese teacher Jinghui Du believes the crisis doubles as a "rare opportunity" for deep reflection and growth, especially for students.
Ms. Du, along with three more Chinese Language and Literature teachers in the ninth grade, set up a special course where they analyze The Plague by the French-Algerian novelist and journalist Albert Camus. In a reading guide, Ms. Du references her classes' previous literary lessons regarding the "shackles of life," which students summarized as "poverty, disease, environment, ideas, and politics."
"At the time, none of us thought of the plague because it happened in the distant past. But today, we have become witnesses to a pandemic caused by the novel coronavirus," the guide goes. "We cannot travel nor breathe freely. The coronavirus has trapped us firmly, and some lost their lives because of it. Now, how should we face it? How can we break free?"
Saying she feels being "in a state of war every day," Ms. Du adjusts the content of her classes to match the rhythm of the crisis. This encourages students to participate in the discussions as some of them pay little attention to the news coverage of the pandemic.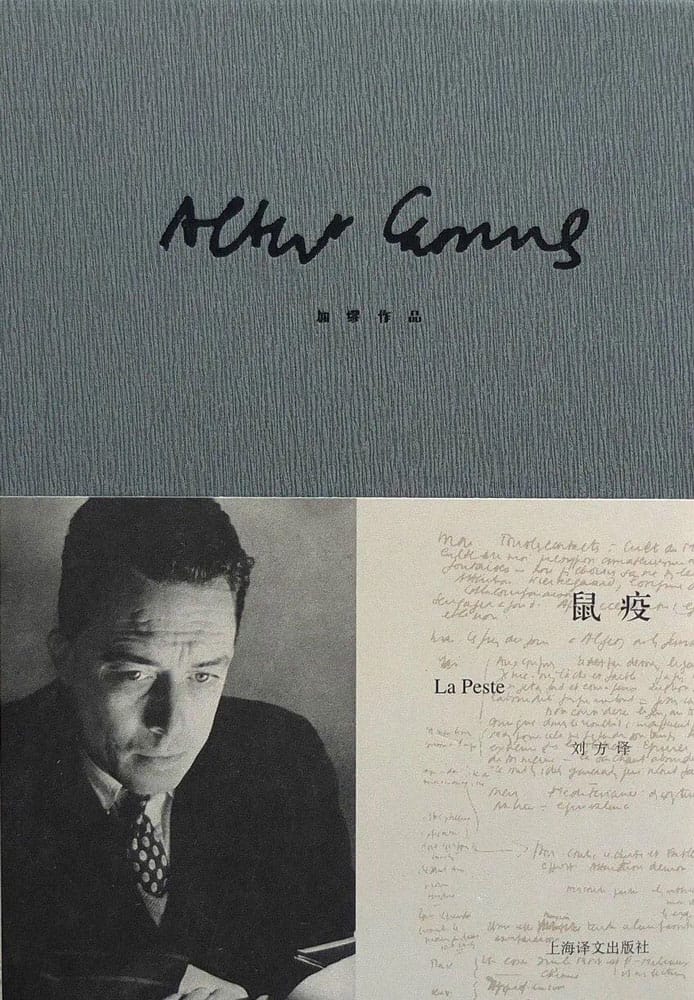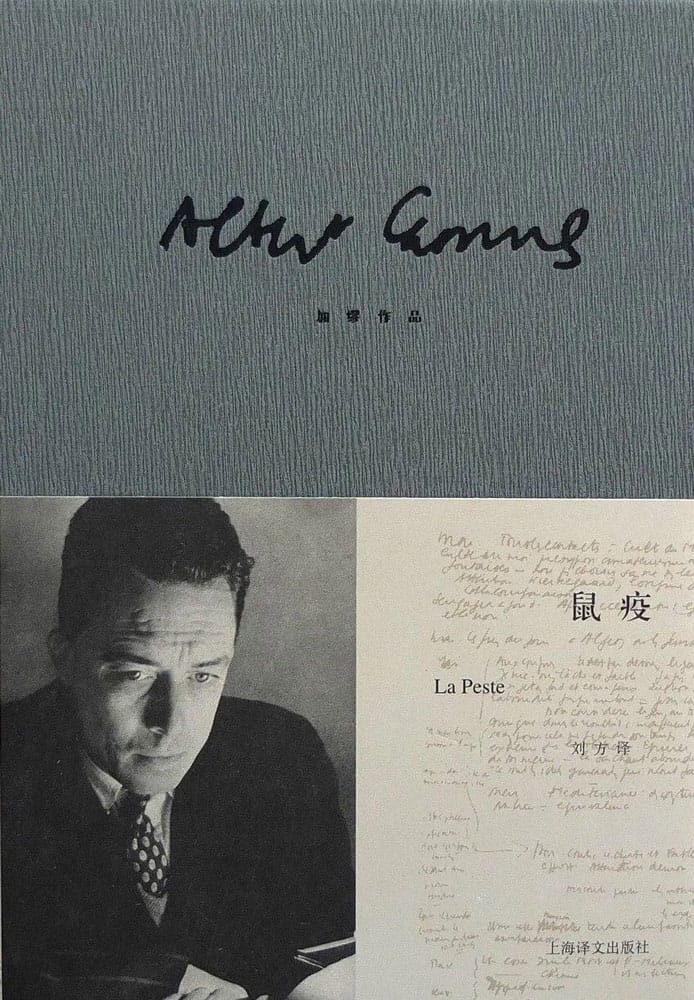 Ms. Du asks her students to take note of the passages that not only touch them but also ring true to what is happening, so they can discuss them in the online class. One student, for example, has reassessed the image of heroes of the crisis: that they are not like the Avengers who have superpowers, but they are the ordinary people who risk their lives or make sacrifices to save others.
Ms. Du says she has seen the growth and the change in the disposition of her students since starting the literary activities. To gauge the understanding of students, Ms. Du asks them to design posters that connect outbreak images to philosophical sentences in The Plague. Ms. Du has also asked her students to compose a short novel inspired by their reflections.
"It is necessary to encourage students because they are not on the sidelines of this event. If you don't guide them and let them stay at home, it will become a 'new disaster,'" she says.
Online Connections, Real-Time Experiences
Keystone Physical Education teacher Aki Mustonen conducts his online classes while away from Beijing. In one session when he asked his students how they manage their workload, his advisee Ella Jiang told about a service initiative she has been doing while juggling her e-classes at Keystone.
The ninth-grader volunteers for Free English, an online platform initiated by five other peers from another international school in Beijing. They use a video conference app to teach English to Wuhanese youth.
Although Ms. Jiang says her English ability "isn't very good," she still thinks it is her chance to help the children in the center of the health crisis. So far, she feels the challenge of teaching online, given that her student is not responsive. She has sought help from her advisor Mr. Mustonen about engaging classwork, and "it did work" for her young learner.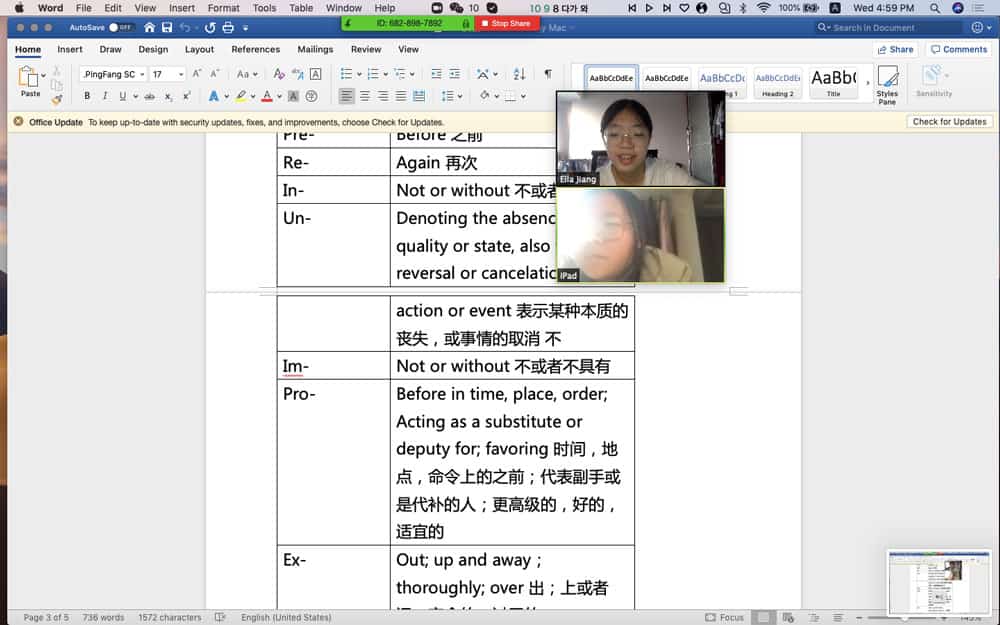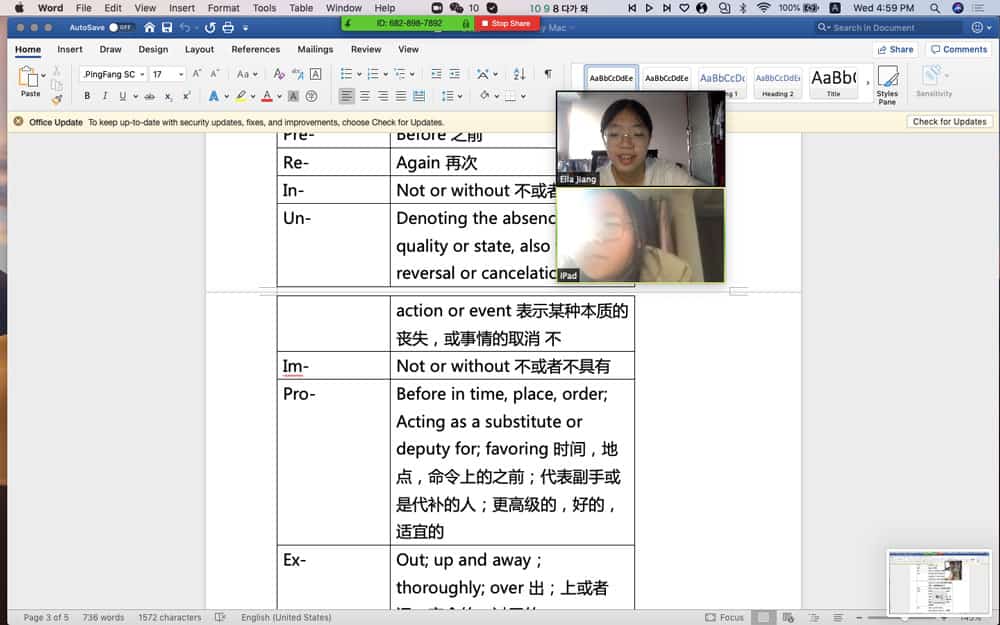 Ms. Jiang says this opportunity has shown her the difficulties and the rewards of being a teacher. Not only it helped her discover ideal teaching methods, but her volunteer work also allowed her to exercise patience, refine creativity, and develop problem-solving skills.
"And online teaching made me review all the knowledge I've learned at school! I feel excited," she gushes. "Had it not been for this situation, I will not have begun this amazing journey. I really discovered a heart for teaching."
"This is a great example of the Keystone shared values of compassion—on 'acting with a generous spirit and making a positive difference in the communities in which we live and learn,'" Mr. Mustonen says about his advisee. "I believe that this is a special experience and start of a lifelong journey for Ella, and something that she will further discover along the way."
Getting Creative and Staying Healthy
Aside from service-oriented actions and literary analyses, creative activities abound in the digital classrooms at Keystone. Fifth-grader Lily Pan feels overjoyed to introduce "Anti-Epidemic Hero" who bravely battles the coronavirus threat with her protective gear, medication, and 75% alcohol.
The primary schoolkid shared the artwork for an assignment in English teacher Katie Herring's class. Ms. Pan says "Anti-Epidemic Hero" is her way to recognize the "hard work and impressive courage" of the medical workers stationed at outbreak-hit areas in China.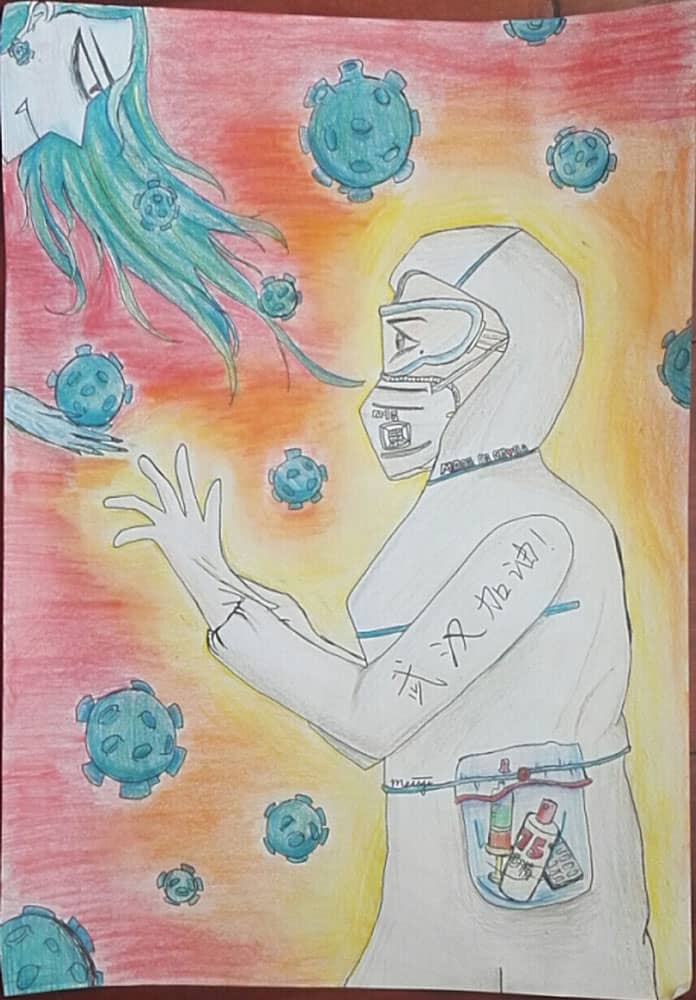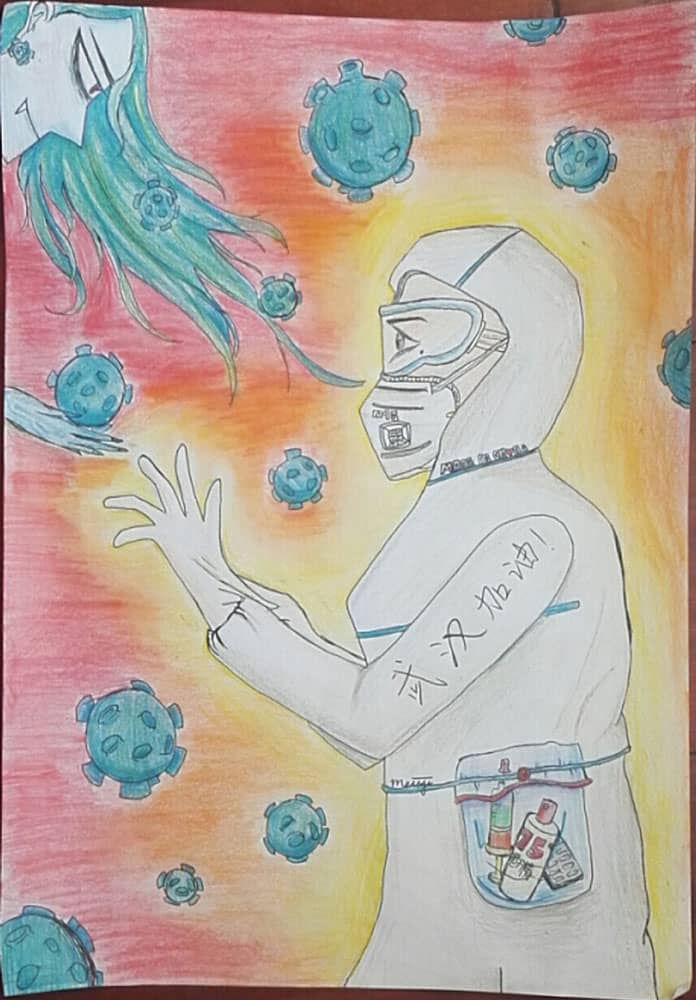 In the class of Chinese teacher Emily Huang, a "healthy competition" has just concluded. The poster contest titled "A Healthy Life Starts with Me" aimed at encouraging students to visualize the new words they have learned while maintaining a healthy lifestyle. And speaking of staying fit, sixth-graders are following a fitness program template as part of a home physical activity plan.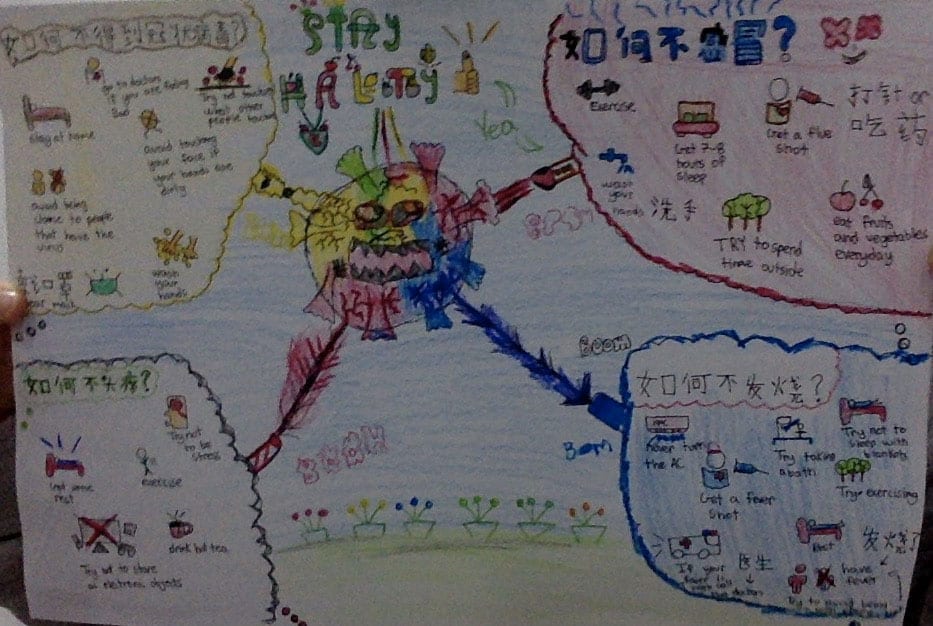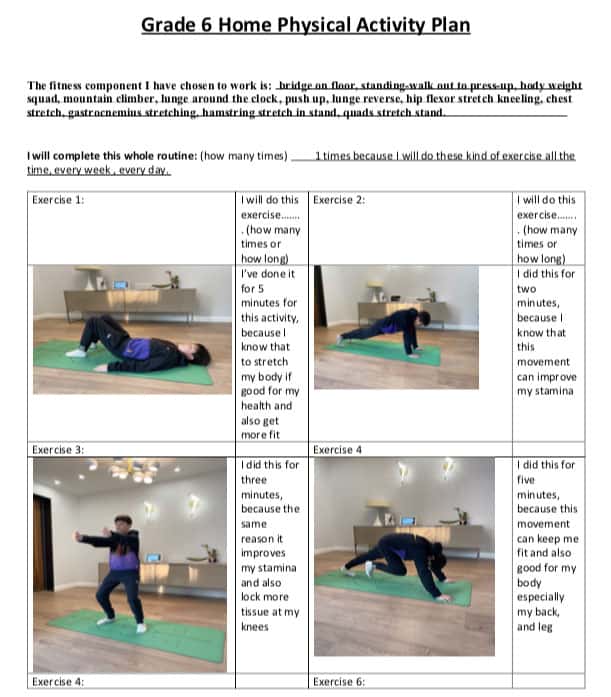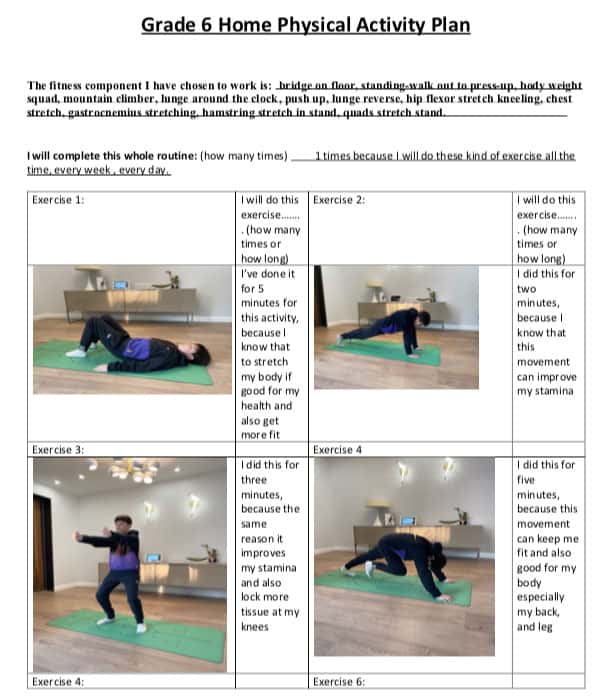 Keystone teachers are also utilizing various online applications to keep day-to-day learning fun for students. Primary students of Mathematics teacher Thomas Fassler get a chance to build their own 3D object—making it easier for them to visualize math concepts. Mr. Fassler says the Tinkercad site integrates technology with the math curriculum, and it holds appeal for youngsters wanting to explore, create, manipulate, and play with objects in space.
Meanwhile, PE teacher Phil Farrol uses Microsoft Teams to send homework for his Grade 10 students. When Mr. Farrol faced a minor difficulty, his student Kevin Zhang helped him out with a seemingly simple task: to take screenshots of a class activity. This small action by Mr. Zhang became an essential resource for the class, given that some students also had technical issues in the program.
In the class of Individuals and Societies teacher Florine Keja, students get creative using FlipGrid, where they react to lessons and prompts through video recordings with emojis, text, and gifs. They also use Pear Deck where students interact with presentation decks by adding sketches or drawings. Ms. Keja says she wants her students to "express themselves clearly and properly provide feedback to their peers."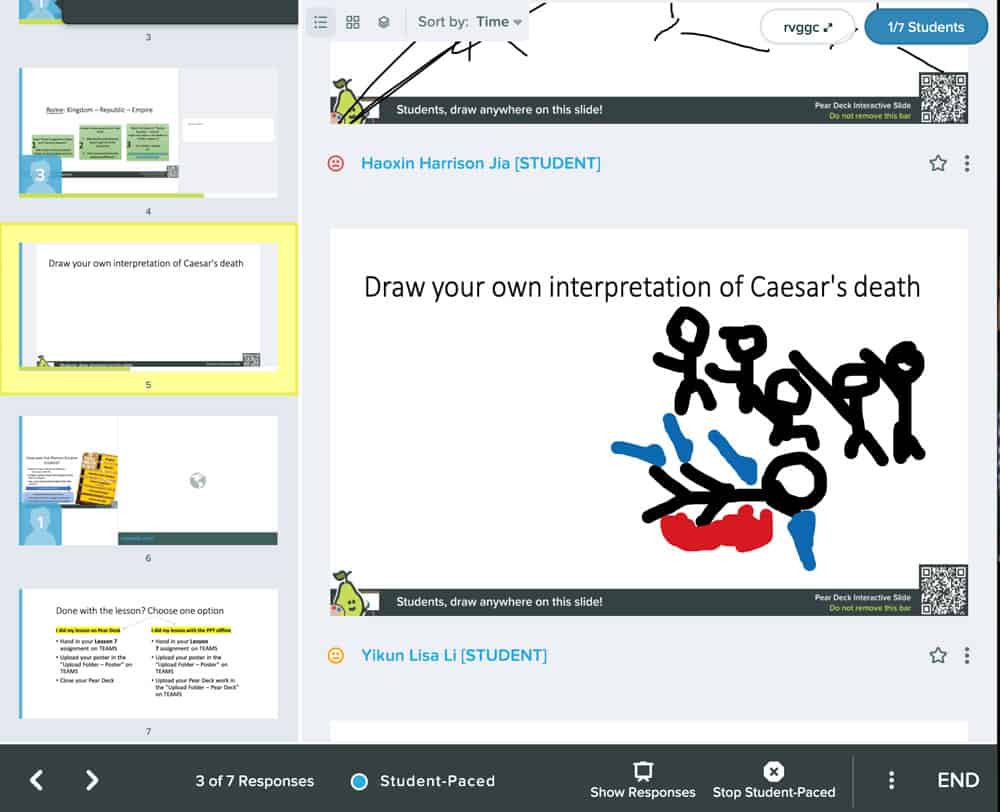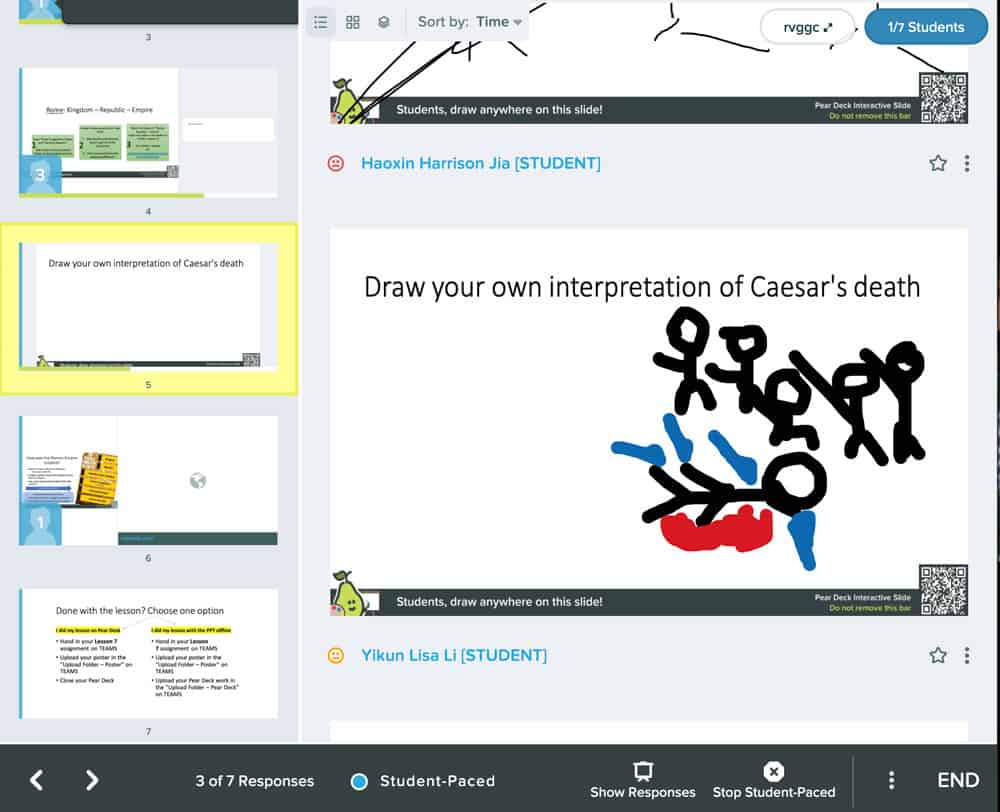 Giving Students a Sense of Normalcy
Six weeks on in the online learning program at Keystone, Primary School teacher Katie Herring says she has learned new technical skills that will benefit her class and teaching practices in the long run.
Although she misses the "face-to-face and individualized conversations" with her students, Ms. Herring tries to give them a "sense of normalcy and calm" through reading the books that they have started in the fall—with her recorded videos as a guide. The films "[are] not an assignment to submit, just a time to relax and connect with their teacher, their classmates, and a familiar story, simultaneously."
Chinese teacher Qiongqiong Feng believes it helps students when teachers find ways to give a sense of security and stability no matter what circumstances they are facing. Currently, her online classes make use of four separate platforms for connection, assignments, reminders, and feedback. Ms. Feng says these methods are some ways to offer convenient, prompt, and stable means of communication to a successful online classroom.
Student-teacher Mandy Zhao feels glad the Keystone online learning program allows her to do more independent thinking and research, while making it possible for her to help others remotely.
Among Ms. Zhao's special moments in her online class, the most meaningful has been the time her student showed a view of his mother and the activities they do at home. For her, this small peek into a family's life amid the health crisis evokes a feeling of stability and compassion. This experience also makes her mindful of her Keystone teachers who "are always enthusiastic and passionate" during the online classes.
"I want to meet with my student face to face in the future," Ms. Zhao says. "Seeing how much he has gained through this process motivates me to continue and do better. And I also learned that online teaching does not affect the teachers' passion for delivering knowledge, even if we are in different parts of the world, we are still connected."
*UNESCO data as of March 12, 2020
Photos: Mandy Zhao, Ella Jiang, Lily Pan, Emily Huang, Maureen McCoy, and Florine Keja