As an intellectual hub, it is part of the mission of Concordia International School Shanghai to facilitate interesting conversations between thoughtful people. On Monday, January 22, the school hosted a very special Concordia Presents event with author and activist Ishmael Beah. Beah, who has dedicated his life to speaking and advocating on behalf of those affected by war and violence, read from his book A Long Way Gone: Memoirs of a Boy Soldier and shared his experiences as a child soldier in Sierra Leone.

Ishmael Beah is UNICEF's first Advocate for Children Affected by War, and his memoir, published in over 40 languages, was named one of the top 10 nonfiction books of 2007 by Time Magazine.
Beah joined Concordia as part of the CISSMUN (Model United Nations) conference which was held concurrently with Concordia's first Global Issues Network conference, GINAsia 2018. The CISSMUN x GINAsia 2018 conference welcomed over 1,200 students and teachers from international schools around the world. The theme of this year's conference was A Place to Stand, and many of the committees, topics and keynote addresses focused on the role of young people as global changemakers.
World Renowned Folk Painter Joins Concordia as Artist in Residence.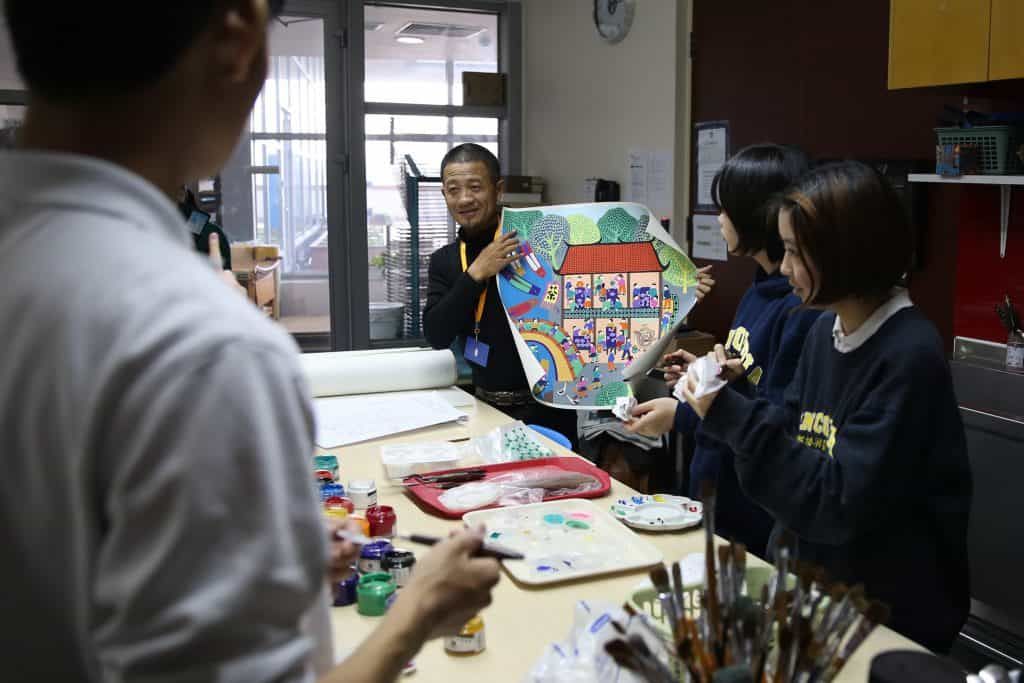 This past fall, Concordia was proud to have internationally renowned Chinese peasant painter Lu Yong Zhong as artist in residence. Lu worked directly with teachers and students in the classroom, sharing the history of Jinshan peasant paintings and demonstrating techniques used to create this important form of Chinese folk art. From Nov. 29 – Dec. 8, a number of Lu's original artworks were on display throughout the campus, and on December 5, Lu invited the community to an interactive art experience, where participants were able to create their very own Chinese peasant paintings.
Lu Yong Zhong is a member of the Shanghai Artist Association and is a Shanghai Intangible Cultural Heritage bearer. Lu has devoted himself to the creation of peasant paintings, and has held individual exhibitions of his work in China, Japan, India, and Europe. His works have been widely collected by museums at home and abroad.