Jane Kang, a veteran Yew Chung International School of Beijing educator, shared with us how the Year 3 Learning Community improves both lesson planning and execution as well as her own teaching.
Year 3 Learning Communities at the Yew Chung International School of Beijing are transforming the educational landscape of the school. Designed by master education space architects at FNI, the space's unparalleled adaptability provides students with the resources to pursue learning in their own way. For teachers, the learning space not only diversifies their teaching and lesson planning options, but also gives them valuable opportunities for professional growth.
Please introduce yourself
My name is Jane Kang. I've been in China for 12 years and in Beijing at the Yew Chung International School of Beijing for 9. I've taught in a variety of positions here at the school, including Year 3, Year 5, Year 6, and the Character Education section. Before moving to Beijing, I was in Inner Mongolia for three years teaching at a private school there. I'm originally from the US where I taught in South Carolina.
Why did you decide to get involved in the Year 3 Learning Community project?
When our Co-principals first proposed the idea to the staff last year, showing us the designs of the space and introducing the pedagogy to us, my interest was immediately piqued. I earned my Master's degree at the University of Illinois Urbana-Champaign in new learning and new literacies, so this environment was very much in line with my area of expertise and interest.
What is the impact of the LC framework on collaborative and team teaching?
Traditionally, at the Yew Chung International School of Beijing there are two teachers and a group of students in a single classroom. It's a very closed-off environment, with a single corridor running between classrooms. You can't do much because of all the walls. It's also harder to find time to talk to colleagues because of all the closed off spaces. In our new Learning Community, we have a large collaborative teacher space where we're constantly talking about both long-term and short-term lesson planning, lesson feedback, ways to improve, etc. Thanks to this very open environment (with walls that can close at times if needed), we can create a lot of different groupings of students and teachers, big and small; there's not that confined area anymore.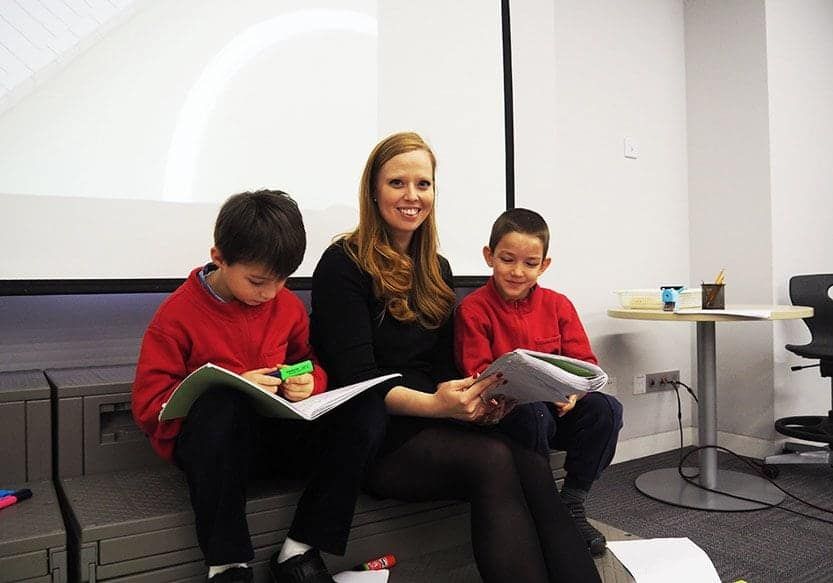 How has the LC enhanced collaborative teaching?
One great example of how the space has enhanced our ability to employ collaborative teaching is a project we did about a month ago on ancient civilizations. We broke students from the entire year level into different interest groups with teachers taking each group into different areas of the community. The students conducted research together and prepared an exhibit-style project, turning the whole learning space into a museum. Students then toured the museum space. There were exhibits on ancient Egypt, Greece, and China; this couldn't happen in a traditional space. Besides the space, this particular project, among many others, is enhanced by our collaborative teaching because students receive the insight of all the Year 3 educators working with them.
What new forms of collaboration have Year 3 teachers been able to experiment with this year thanks to the new space?
Collaborative teaching has existed at the Yew Chung International School of Beijing for a long time in the form of co-teaching (one English-speaking and one Chinese-speaking teacher). In the Learning Community, we're built upon this existing model to utilize not just two but seven teachers, six co-teachers plus one EAL specialist. While sometimes the collaborative teaching is the original two teachers, sometimes we'll use two English speaking teachers, two Chinese speaking teachers, etc. The Learning Community allows us to base lessons on student needs and the vision of the learning objectives instead of just language.
What are the key benefits of collaborative teaching for students and teachers?
For students, I think access to so many different educators is the greatest benefit. Each educator will have different insights into either the lesson objectives or what the student needs. They might see something that another teacher didn't see at a specific point in a lesson. While each student is assigned a pair of co-teachers as their primary teachers, if a different educator has clicked at a specific moment with a student to meet a certain learning objective, the student is able to learn in an even more effective way.As a teacher, what I like most is that I constantly have the opportunity to see other educators in action; I constantly have the ability to get better through observation. In a traditional classroom setting, I'd have to make an appointment to watch a class to watch them teach. It becomes a greater ordeal, bringing a lot of pressure, which can affect some teachers' teaching. In the Learning Community, we're always watching and supporting one another. We then can talk about the lessons we've taught and meet in our collaboration space to give feedback and discuss ways in which we can improve. It's equivalent to having constant professional development throughout the day.
What is a collaborative teacher?
I think a collaborative teacher is someone who is very reflective and open to change and improving their skillset. It's someone who is willing to say when something didn't go as planned and what can be done to improve it. Finally, it's someone who is willing to talk with other teachers and share ideas about actual teaching strategies, lesson planning, and student needs, and who is willing to put in the time and effort to effect change.
What are your personal tips for effective collaboration? How do you get the most out of your formal and informal collaboration with other teachers?
I think it's having a growth mindset rather than a fixed one; you need to have the mentality that you can change, you can get better, and that there's always next steps. I think anyone in any profession can get stuck in one way of doing things, but if you are able to switch your mindset just a little bit to be open to new ideas, these will improve your teaching skills dramatically.Additionally, not being afraid to say when something hasn't gone as planned, whatever the reason, and asking advice. Know that you have a wealth of information around you from your colleagues; all you have to do is ask for it!