We are proud to announce the 1st Global Loyalty Program Card in Malaysia called Cashback World. Kingsley is the first education partner in Malaysia which has national and international visibility in more than 50 countries.
Kingsley is not only a school, it is much more, it is part of a closely-knit community in the Klang Valley. Communities help each other and support each other; with this philosophy, we have embarked to help our school community, in saving and to ease financial constraints through this cashback program.
What is the Cashback World Card global loyalty program?
Kingsley's parents will be a part of the gigantic shopping community in the world. By using this card, our parents will receive Cashbacks on daily necessities such as food, fuel, cloth, travel, and many other essentials and needs. Our parents will become part of this community for a lifetime for free. They can start saving money with up to 5% Cashback and collect Shopping Points that they can redeem in more than 50 countries Worldwide! These are the benefits of this efficient customer loyalty program.
Kingsley's parents register for free, by scanning the QR code provided or through a link. They can then use this app to start their shopping at any time anywhere, whether they shop offline or online. They will be part of the 15 million proud members shopping globally in over 50 countries.
Offline / Online shopping platforms include Zalora, Lazada, Booking.com, Agoda.com, Trip.com, Nike.com, and hundreds of other partner websites with myriad food stores offering delicious fares.
The Cashback World shopping benefits include up to 5% with purchase prices automatically credited to the shopper's personal profile at cashbackworld.com every time a purchase is done. Once MYR 40 (approx. USD 9.95) have been accumulated, the funds will be transferred to the shopper's private bank account. Shoppers also receive Shopping Points when making purchases from online and offline Loyalty Merchants. Cashback World shoppers can redeem their accumulated Shopping Points at participating Loyalty Merchants.
We invite you to be part of the Maple Leaf Kingsley International School with a Cashback World community program. ML KIS offers the Cambridge International Curriculum from Nursery to Year 9 students while the Cambridge IGCSE Curriculum is offered to the Year 10 and Year 11 students as well as GCE A Level to Year 12 students. Ranked as the Best 10 International Schools in Malaysia by ELITE EDUCATION global magazine in the USA and the Best International School in Malaysia by World School in Europe, we await to see you soon!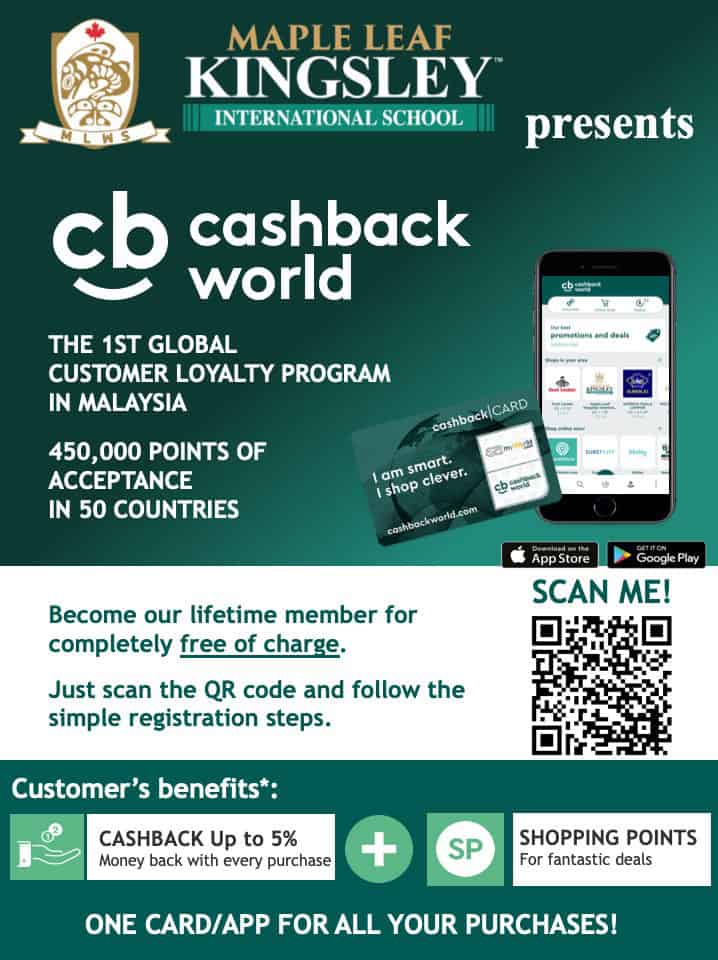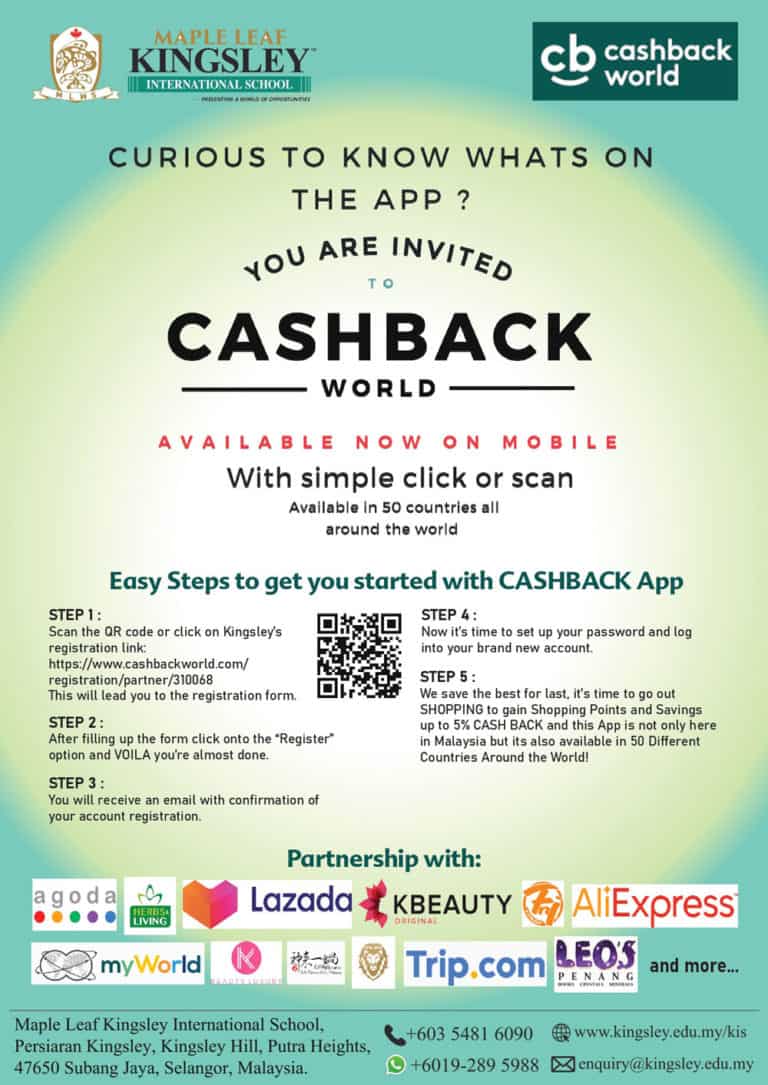 For further queries, please contact:
Maple Leaf Kingsley International School
Persiaran Kingsley, Kingsley Hill, Putra Heights,
Tel: +603 5481 6090 / +6019 289 5988
www.kingsley.edu.my/kis
enquiry@kingsley.edu.my