Spark School is happy to announce a series of webinars we decided to have. This series intends to help you have a deeper understanding of what Spark School offers and how it can help you as a student and create a learning path that will allow you to have good academic achievements and follow your passions.
On our first webinar, held on 24th February, we will introduce British education, its meaning, and what it offers. We will debunk the myths and truths about British Education. We will focus on ten benefits of a British education in Romania, what it brings to you as a student and your future career. We will have an English transcript for this webinar. The host will be Ruxandra Mercea, Founder of Spark School and the guests Teodora Cleja, Transylvania College Alumni and Ciprian Ghisa, Accredited British Inspector.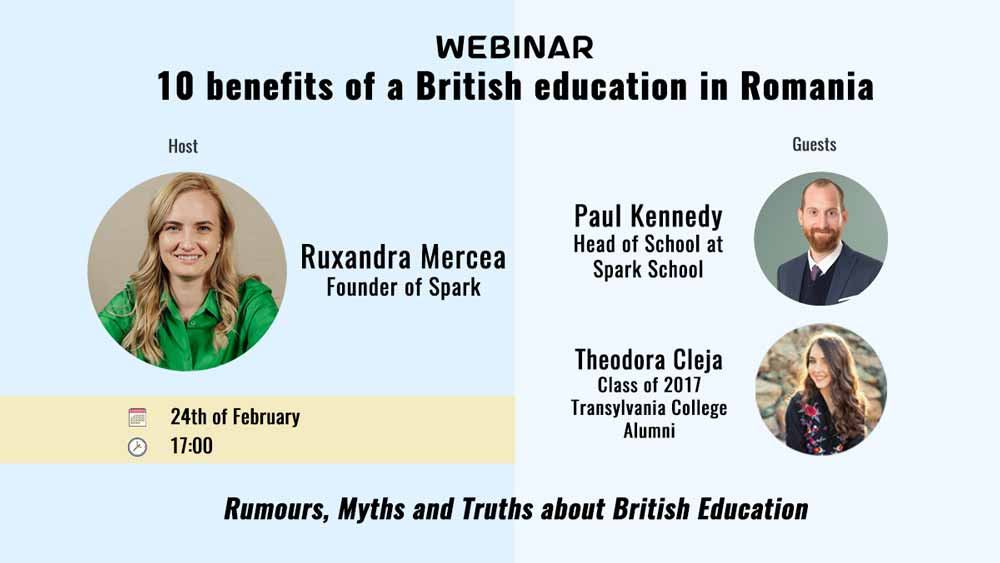 The Events page on spark.school has all the webinar details. In the future, it will have each webinar there.
We are happy to share our knowledge and experience on education in these webinars. We will have different guests, each a professional in their field.