Tweetaligheid is a difficult area to research, a dense forest of confounding variables, of which sampling, education levels, tasks used, variations in the languages themselves and different outcomes from different language combinations, are but a few. There is evidence, however, that expertise in more than one language provides cognitive benefits on top of increased opportunities. Findings in neurology have related language acquisition with structural changes in the brain that assist with executive functions such as cognitive flexibility, creative thinking and attention management.
Wat is tweetalig onderwijs?
Tweetaligheid bestuderen
Human behaviour and perceptions are mediated through our language; the codes that are unlocked when new languages are learnt help create a new level of perception. Leading Swiss academic and expert on bilingualism, Francois Grosjean, has shown how the bilingual child or adult is not simply the sum of two (or more) monolinguals; rather, he or she is the owner of a unique and specific linguistic configuration. The bilingual manages and manipulates attention to one language or the other, actively but often subconsciously. Their languages not only coexist; they interact to produce a complete system of its own.
Voordelen van tweetalig onderwijs
In de moderne geglobaliseerde wereld speelt tweetalig onderwijs een cruciale rol en biedt het duidelijke voordelen, vooral voor de jongere generaties.
1. Wereldburgers
Tweetalige mensen zijn van onschatbare waarde in de wereld van vandaag. Zij zullen merken dat hun kansen op de arbeidsmarkt groter worden en hun sociale horizon zich verbreedt. Hun betrokkenheid bij de wereld en de menselijke samenleving die wij bewonen, is rijk; hun geest is wendbaar.
2. Psychologische voordelen
Furthermore, their attributes go beyond simply translating words from one code to another; to know another language well brings subtle psychological benefits. These include the ability to see both sides of the story, to appreciate extended meaning and enjoy a wide range of conceptual understanding. Such attributes are good for the individual involved and crucially, help towards that elusive goal of international harmony. Bilinguals act as bridge builders, the go-betweens who can explain one culture to members of the other and act as intermediaries between the two.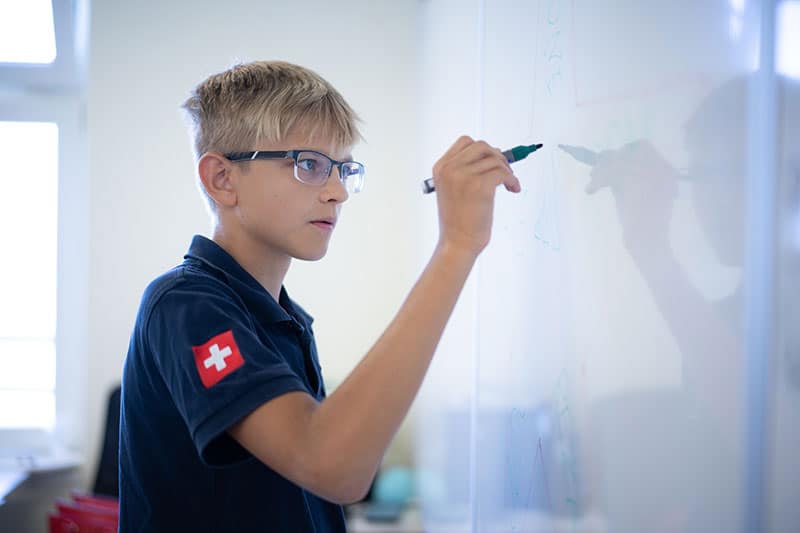 3. Taalvaardigheid
Internationaal onderwijs heeft bijgedragen tot een betere talenkennis. Naarmate gezinnen mondialer worden en meer jongeren voor studie en werk reizen, ontmoeten zij wellicht een toekomstige partner ver van hun geboorteland, wat leidt tot meer multiculturele gezinnen die in hun internationale huishoudens verschillende talen delen. Terwijl we geconfronteerd worden met de dominantie van één taal op brede gebieden van menselijke activiteit, met Engels als taal 1 of taal 2 voor veel, zo niet de meeste, van die studenten, is het fascinerend om te zien hoe dat ertoe leidt dat steeds meer versies van het Engels worden erkend. De populatie van wereldburgers die de voordelen van verschillende vormen van tweetaligheid delen, neemt toe.
4. Inzicht in culturen
On top of the functional benefits of language learning, bilingualism is about understanding cultures. With the creation of their unique language system, the bilingual is also making sense of his or her relationship to both of the cultures to which the linguistic code has given access. At the same time as managing their attention to this code, its vocabulary and its syntax, the bilingual will be paying attention to the cultural variants between the languages. They are constantly combining and blending aspects of the cultures they are living, making linguistic and cultural choices according to the needs of the circumstance.

Het resultaat is een "tussenruimte", zoals de habitat van de Third Culture Kids. Het idee van de Third Culture Kids is ontwikkeld om te verwijzen naar kinderen die opgroeien buiten het geboorteland van hun ouders (die vaak zelf expatriates waren). Zij gaan deel uitmaken van een derde cultuur in plaats van een cultuur die voortvloeit uit een eenvoudige mix van het thuisland en het gastland. Francois Grosjean wijst erop dat tweetaligen die in staat worden gesteld te zijn wie zij zijn en hun dubbele (of meervoudige) ervaringen te aanvaarden, leden van de samenleving zijn die van onschatbare waarde zijn en de kloof overbruggen tussen de culturen waartoe zij behoren. Dit is een belangrijke rol die het soort onderwijsaanbod speelt dat men aantreft in Instituut Montana.
Onderwijsstrategie voor tweetalig onderwijs
De tweetalige klas
The bilingual classroom is an inspiring place. Just seeing children's school-work on display, with captions and labels exhibiting proficiency in two languages, is mind expanding. But it does not happen by itself and the pure quality of instruction is critical – every child must feel happy and confident to be open to the challenges as well as the benefits of learning bilingually. Research into the bilingual brain is guiding teaching methods. It is understood now that these children use both languages to make sense of the world; they are very adaptive, deepening their understanding of the first language while acquiring the second; and the process has important positive effects on other aspects of cognitive development, such as attention management. The Bilingual Elementary section of Instituut Montana kan putten uit de lange geschiedenis van de school op het gebied van internationaal onderwijs, en uit de toewijding en deskundigheid van het personeel. Het onderwijs in de tweetalige klas vereist een grondige aanpak, met veel individuele beoordeling en voortdurende hulp. De kwaliteit van het onderwijs wordt bepaald door het gebruik van evidence-based instructieprincipes, zoals het modelleren en verbaliseren van de leraar, begeleide oefeningen en een snel lesritme om de betrokkenheid van de leerlingen te behouden.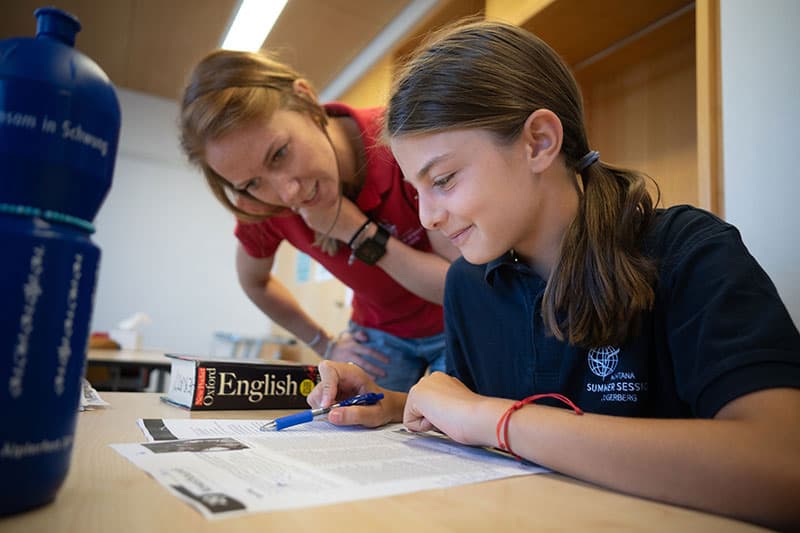 The Montana Elementary school classrooms are tucked away in a pretty corner of the magnificent Institut Montana campus. As soon as a new child arrives, their language needs are quickly assessed and appropriate support organised. It might be that the child has some skills but needs in-class support to benefit fully from the lesson. In this case, teachers deploy the integrative EAL (for English) or DaZ (for German) programme where support is provided by an additional teacher within the normal classroom following the standard lessons. If the child would benefit from more intensive language tuition, they receive help specially tailored to their needs. For half of the English or German language lessons, they work with an extra teacher outside the classroom so that they quickly learn the foundational skills to enable rapid progress in the new language and find the subject matter within their reach. For the other half they continue to participate in normal lessons so that they can interact with their peers. Peer interaction in the bilingual classroom takes on a special importance. One of the keys to language learning is motivation, and children who find themselves playing and forging friendships that transcend what would have been language barriers are very motivated. Social skills are finely tuned through the process of welcoming someone to the group and helping the new arrival to feel at home, whatever language gaps there might be. In this multi-lingual group of young learners, it is important not to hold up one language, and therefore cultural identity, as superior to another. Seeing one of the languages and its culture as the dominant one is counter-productive to the cultural harmony the bilingual classroom seeks to promote, even when the curriculum followed belongs to one of the languages. The Institut Montana Bilingual Elementary School follows the curriculum of its home country, Switzerland, but the balance between the two languages is scrupulously maintained. Teaching is distributed at 50% of the time for each language. Each academic year the groups change Class Advisors, swapping between German and English speaking, so there is a further balance in exposure to both languages.
Doeltreffendheid van het tweetalig onderwijs
Een stralende toekomst
Het lijdt geen twijfel dat het leren van een nieuwe taal de horizon verbreedt en een nuttige vaardigheid toevoegt. Bovendien brengt het grote cognitieve voordelen met zich mee die, ondanks het feit dat ze aan te veel variabelen onderhevig zijn om ze te kunnen onderscheiden, reëel en zinvol zijn. Op Instituut Montanaaan het eind van hun schooltijd op de basisschool, begroeten deze kinderen een wereld van mogelijkheden. Ze hebben de gevorderde vaardigheden in het Duits die de deur openen naar de academisch veeleisende Zwitserse Matura, die ze kunnen kiezen in het Duits of Duits en Engels. Ze kunnen de weg inslaan naar de Internationaal Baccalaureaat Diploma, a passport to universities all over the world. Or they can continue their bilingual studies at the Bilingual Secondary School while assessing where their ambitions might take them. Children coming together to learn, to play and to collaborate in a space where two languages are common currency creates a hybrid space with a culture that belongs to neither one nor the other. The bilingual classroom is a space for inclusivity, where a new light is shone on ideas about cultural identity. Its students will be the global citizens of tomorrow, broad-minded and insightful adults who are adept at sharing and discussing knowledge in a multicultural environment and totally at home in an international Zoom meeting. For these bright children, the future is bright.