Dwujęzyczność is a difficult area to research, a dense forest of confounding variables, of which sampling, education levels, tasks used, variations in the languages themselves and different outcomes from different language combinations, are but a few. There is evidence, however, that expertise in more than one language provides cognitive benefits on top of increased opportunities. Findings in neurology have related language acquisition with structural changes in the brain that assist with executive functions such as cognitive flexibility, creative thinking and attention management.
Czym jest edukacja dwujęzyczna?
Studia nad dwujęzycznością
Human behaviour and perceptions are mediated through our language; the codes that are unlocked when new languages are learnt help create a new level of perception. Leading Swiss academic and expert on bilingualism, Francois Grosjean, has shown how the bilingual child or adult is not simply the sum of two (or more) monolinguals; rather, he or she is the owner of a unique and specific linguistic configuration. The bilingual manages and manipulates attention to one language or the other, actively but often subconsciously. Their languages not only coexist; they interact to produce a complete system of its own.
Korzyści z edukacji dwujęzycznej
We współczesnym zglobalizowanym świecie edukacja dwujęzyczna odgrywa kluczową rolę i oferuje wyraźne korzyści, szczególnie dla młodszych pokoleń.
1. Obywatele świata
Osoby dwujęzyczne są nieocenione we współczesnym świecie. Otwierają się przed nimi perspektywy zatrudnienia i poszerzają horyzonty społeczne. Ich zaangażowanie w świat i społeczność ludzką, w której żyjemy, jest bogate; ich umysły są sprawne.
2. Korzyści psychologiczne
Furthermore, their attributes go beyond simply translating words from one code to another; to know another language well brings subtle psychological benefits. These include the ability to see both sides of the story, to appreciate extended meaning and enjoy a wide range of conceptual understanding. Such attributes are good for the individual involved and crucially, help towards that elusive goal of international harmony. Bilinguals act as bridge builders, the go-betweens who can explain one culture to members of the other and act as intermediaries between the two.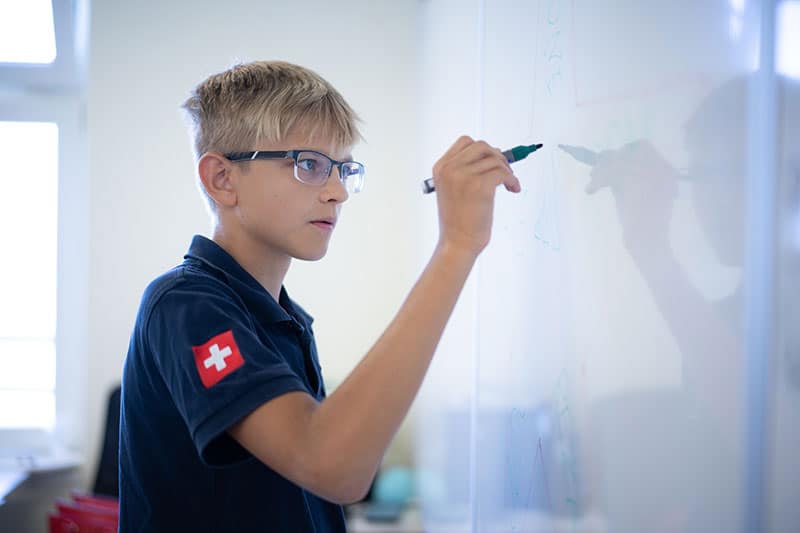 3. Biegłość językowa
Szkolnictwo międzynarodowe przyczyniło się do poprawy znajomości języków obcych. Ponieważ rodziny stają się coraz bardziej globalne i coraz więcej młodych ludzi podróżuje w celu podjęcia studiów i pracy, mogą oni spotkać przyszłego partnera daleko od kraju urodzenia, co prowadzi do powstawania coraz większej liczby rodzin wielokulturowych, w których w międzynarodowych domach używa się kilku języków. Podczas gdy mamy do czynienia z dominacją jednego języka w szerokich obszarach ludzkiej działalności, z angielskim jako językiem 1 lub 2 dla wielu, jeśli nie większości, studentów, fascynujące jest to, że skutkuje to uznawaniem coraz większej liczby wersji języka angielskiego. Rośnie populacja obywateli świata, którzy korzystają z różnych form dwujęzyczności.
4. Rozumienie kultur
On top of the functional benefits of language learning, bilingualism is about understanding cultures. With the creation of their unique language system, the bilingual is also making sense of his or her relationship to both of the cultures to which the linguistic code has given access. At the same time as managing their attention to this code, its vocabulary and its syntax, the bilingual will be paying attention to the cultural variants between the languages. They are constantly combining and blending aspects of the cultures they are living, making linguistic and cultural choices according to the needs of the circumstance.

W rezultacie powstaje "przestrzeń pomiędzy", jak na przykład siedlisko Dzieci Trzeciej Kultury. Idea Dzieci Trzeciej Kultury powstała w odniesieniu do dzieci dorastających poza krajem ojczystym swoich rodziców (którzy często sami byli emigrantami). Stają się oni częścią trzeciej kultury, a nie takiej, która wywodzi się z prostej mieszanki kraju ojczystego i kraju przyjmującego. Francois Grosjean zwraca uwagę, że dwujęzyczni, którym pozwala się być tym, kim są, i zaakceptować ich podwójne (lub wielokrotne) doświadczenia życiowe, są nieocenionymi członkami społeczeństwa, którzy przerzucają pomost między kulturami, do których należą. Jest to istotna rola, jaką odgrywa rodzaj oferty edukacyjnej, jaką można znaleźć w Instytut Montana.
Strategia nauczania edukacji dwujęzycznej
Klasa dwujęzyczna
The bilingual classroom is an inspiring place. Just seeing children's school-work on display, with captions and labels exhibiting proficiency in two languages, is mind expanding. But it does not happen by itself and the pure quality of instruction is critical – every child must feel happy and confident to be open to the challenges as well as the benefits of learning bilingually. Research into the bilingual brain is guiding teaching methods. It is understood now that these children use both languages to make sense of the world; they are very adaptive, deepening their understanding of the first language while acquiring the second; and the process has important positive effects on other aspects of cognitive development, such as attention management. The Bilingual Elementary section of Instytut Montana ma do dyspozycji długą historię szkoły w zakresie edukacji międzynarodowej, jak również oddanie i fachowość jej pracowników. Nauczanie w klasie dwujęzycznej wymaga gruntownego podejścia, z dużą ilością indywidualnej oceny i ciągłej pomocy. Jakość nauczania wynika z zastosowania opartych na dowodach naukowych zasad nauczania, takich jak modelowanie i werbalizacja przez nauczyciela, ćwiczenia z przewodnikiem oraz szybkie tempo lekcji w celu utrzymania zaangażowania uczniów.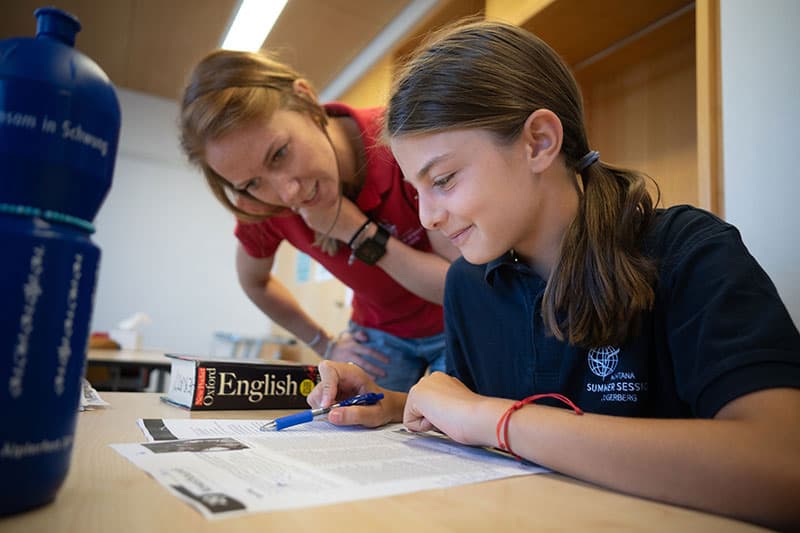 The Montana Elementary school classrooms are tucked away in a pretty corner of the magnificent Institut Montana campus. As soon as a new child arrives, their language needs are quickly assessed and appropriate support organised. It might be that the child has some skills but needs in-class support to benefit fully from the lesson. In this case, teachers deploy the integrative EAL (for English) or DaZ (for German) programme where support is provided by an additional teacher within the normal classroom following the standard lessons. If the child would benefit from more intensive language tuition, they receive help specially tailored to their needs. For half of the English or German language lessons, they work with an extra teacher outside the classroom so that they quickly learn the foundational skills to enable rapid progress in the new language and find the subject matter within their reach. For the other half they continue to participate in normal lessons so that they can interact with their peers. Peer interaction in the bilingual classroom takes on a special importance. One of the keys to language learning is motivation, and children who find themselves playing and forging friendships that transcend what would have been language barriers are very motivated. Social skills are finely tuned through the process of welcoming someone to the group and helping the new arrival to feel at home, whatever language gaps there might be. In this multi-lingual group of young learners, it is important not to hold up one language, and therefore cultural identity, as superior to another. Seeing one of the languages and its culture as the dominant one is counter-productive to the cultural harmony the bilingual classroom seeks to promote, even when the curriculum followed belongs to one of the languages. The Institut Montana Bilingual Elementary School follows the curriculum of its home country, Switzerland, but the balance between the two languages is scrupulously maintained. Teaching is distributed at 50% of the time for each language. Each academic year the groups change Class Advisors, swapping between German and English speaking, so there is a further balance in exposure to both languages.
Efektywność edukacji dwujęzycznej
Jasna przyszłość
Nie ma wątpliwości, że nauka nowego języka poszerza horyzonty i dodaje użytecznych umiejętności. Co więcej, przynosi ogromne korzyści poznawcze, które pomimo tego, że podlegają zbyt wielu zmiennym, aby je wyodrębnić, są realne i znaczące. Na stronie Instytut MontanaPo zakończeniu nauki w szkole podstawowej, dzieci te otwierają się przed nimi nowe możliwości. Posiadają zaawansowaną znajomość języka niemieckiego, która otwiera im drzwi do wymagającej akademicko szwajcarskiej matury, do której mogą wybrać naukę w języku niemieckim lub niemieckim i angielskim. Mogą wyruszyć w drogę w kierunku Dyplom Matury Międzynarodowej (International Baccalaureate Diploma), a passport to universities all over the world. Or they can continue their bilingual studies at the Bilingual Secondary School while assessing where their ambitions might take them. Children coming together to learn, to play and to collaborate in a space where two languages are common currency creates a hybrid space with a culture that belongs to neither one nor the other. The bilingual classroom is a space for inclusivity, where a new light is shone on ideas about cultural identity. Its students will be the global citizens of tomorrow, broad-minded and insightful adults who are adept at sharing and discussing knowledge in a multicultural environment and totally at home in an international Zoom meeting. For these bright children, the future is bright.