What are the Pros & Cons of the IB Programmes? Read this article and learn more about the IB from the experts from the Best IB Schools in the World!
The International Baccalaureate (IB) thanks to its international recognition and transferability, and to its rigor and breadth of study, has become a very popular choice among expats families seeking a well-rounded, international education for their children.
As a global-oriented program, the International Baccalaureate emphasizes intercultural understanding, caring, and enrichment. It includes four programs that focus on teaching students how to think critically, and it culminates in six rigorous subject exams. The IB aims to provide a challenging and comprehensive education that would enable future adults to create a better world through cross-cultural communication, understanding, and respect.
Despite its popularity, not all the students and parents are aware of the pros and cons of the IB programmes, check out the list below and make sure the IB is the right option for you or for your child!
What are the IB Pros?
What are the IB Cons?
IB Pros and Cons Infographic
Read What IB Experts say
What are the IB Pros?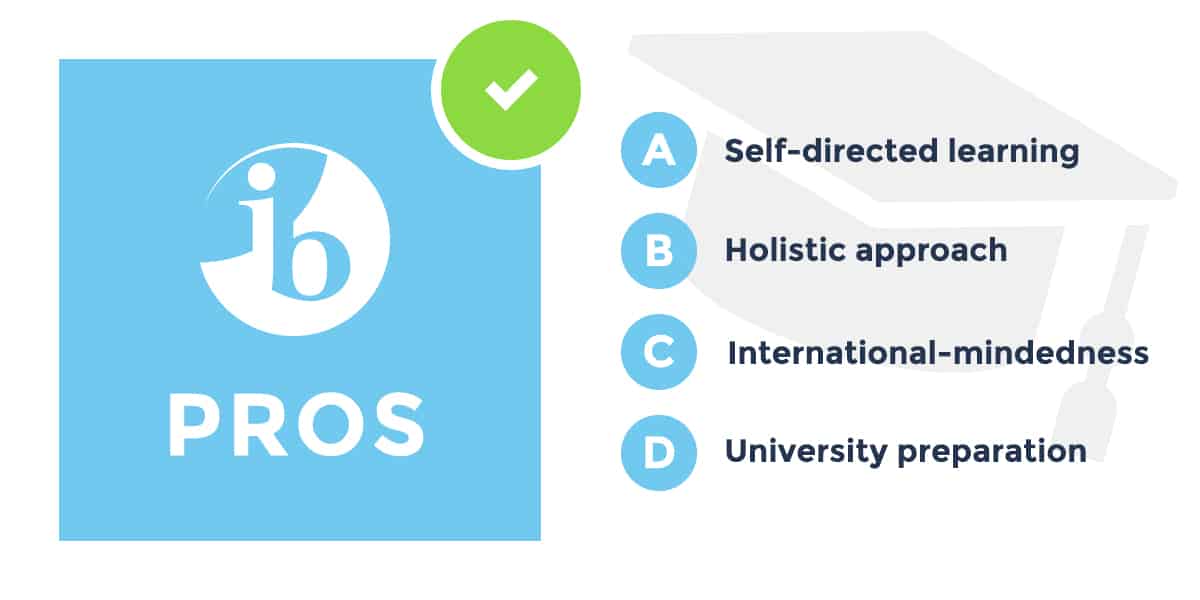 ASelf-directed learning
IB emphasizes independent and self-directed learning, by encouraging students to try different approaches to learning and to take responsibility for their own educational progress.
BHolistic approach
All IB programmes encompass all aspects of personal learning and growth and emphasize the development of active relationships at all levels (between the subject domains, the individuals, the peer groups, the communities and the world around them)
CInternational-mindedness
The IB prepares students for the 21st-century global challenges. It encourages students across the world to become active and compassionate and promotes respect and understanding of other perspectives, cultures, and languages.
DUniversity preparation
IB helps students to develop and master fundamental skills for university, such as critical thinking, time management, report writing, independent research, and excellent organizational skills.
What are the IB Cons?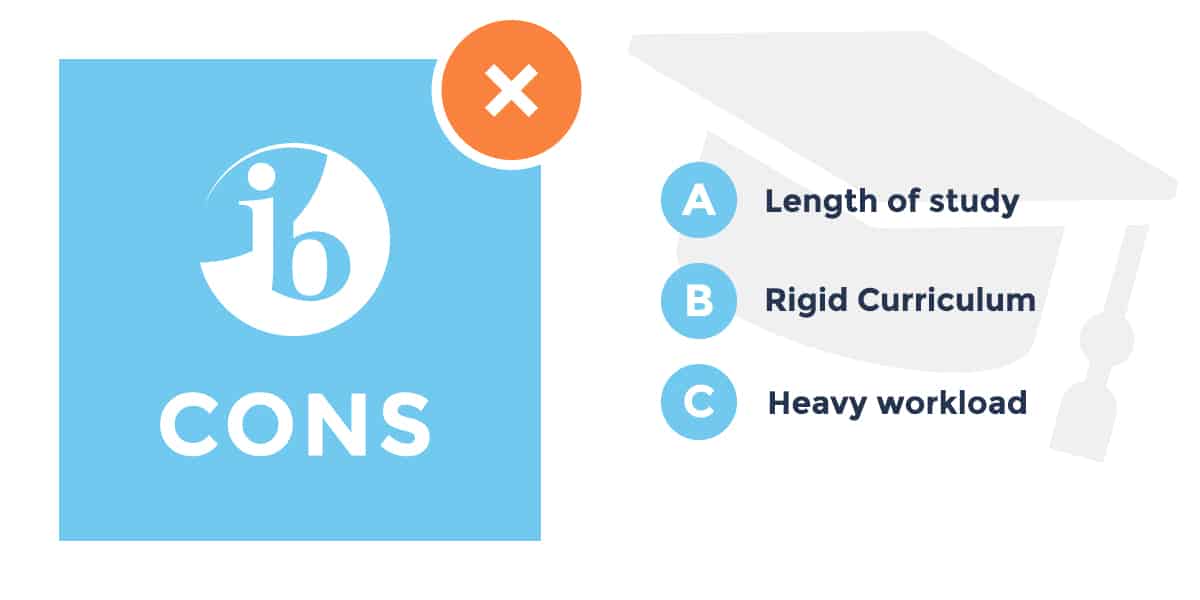 ALength of study
The IB requires consistent work and solid performance over a two-year period. The IB is a 2 years' commitment that ends up with one final exam about all the material taught from the beginning of the course until the end.
BRigid Curriculum
The IB provides an intense, highly rigorous curriculum requiring a very high level of work and study, a great deal of commitment, organization, and initiative.
CHeavy workload
As said, IB is a very demanding and content-heavy course, which makes students deal not only with coursework and assignments from the 6 mandatory subjects, but also with numerous essays, presentations, and projects from the three core components: EE, TOK, and CAS.
IB Pros and Cons Infographic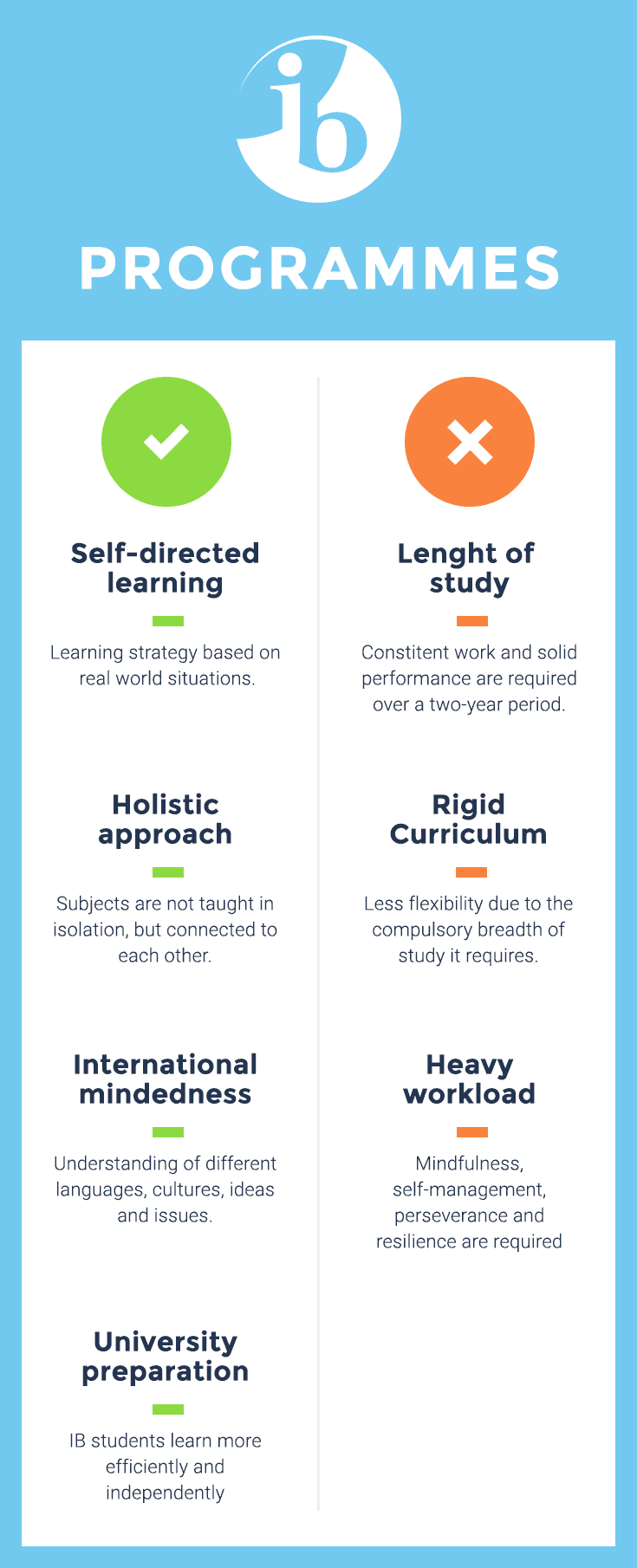 Read What IB Experts say
We asked some IB Experts
What are the main Benefits of the IB
, read below to find out what they say about this topic!
KIS International School
The IB doesn't just teach students content or knowledge, but it also teaches them how to learn and how to think. Learning is based on real-world situations which not only makes it more interesting but also helps children understand the relevance of what they are learning. Subjects are not taught in isolation, but they are connected to each other, reflecting on how the world works. Students are taught to think conceptually which allows them to apply their knowledge to various different situations. The programmes develop international-mindedness and encourage students to play a positive role in society. The global nature of the IB also eases the transition from school to school for students who move frequently.
The American International School · Vienna
IB World Schools works within a global community, creating opportunities for shared learning and collaboration with others. Through the IB, students are given a unique education that helps them develop strong academic, social, and emotional characteristics. They are also likely to perform well academically – often better than students in other programs and often more likely to be recruited by top universities worldwide. Because the IB also encourages a global perspective, students become very well-rounded, with an increased understanding of different languages, cultures, and globally significant ideas and issues.