我们的学生完全有可能在回顾这个世界范围内的在线学习实验时,说这是他们接受的最有影响和最有意义的准备。
在 维也纳AMADEUS国际学校, we are embracing this possibility and continually seeking to level up our performance.
那么,什么是 教育区别 look like in the AV online learning environment? We have engineered our program around the most contemporary educational theory.
这是一个基于复杂研究的非常简单的时间表。从本质上讲,一天的时间被分成几个学科领域,每天都有一个重点,整个部门的力量都在支持学习。屏幕时间是有限的,并且有运动和创造性的休息时间,这将我们的 "深度学习 "区块分开。家庭作业和反馈时间表是有间隔的,以便让教师提供详细的反馈,并促进积极的学习节奏,以便更好地保持。教师的支持时间也被安排好了;因此,帮助永远不会超过一封电子邮件或一个视频电话的距离。
AV在线学习项目确保我们的学生
减少屏幕和坐着的时间,因为健康成为一个优先事项。
由于学习和获取的结构块较多,任务转换量较少,因此学习时更有针对性。
更多地利用(和获得)教师的技能和知识。
所有的人都可以不受时区限制,轻松获得学习和协作。
从最新的基于大脑的研究中受益,并以优化其成功的方式进行学习。
到目前为止,来自家长和学生的反馈是非常积极的。其中,他们评论说。
"他们很了解我们的情况,所以他们相应地调整了教我们的方式"。
"尽管我们没有面对面,但教师使用技术来清楚地解释任务"。
"当我们需要帮助时,老师就在我们身边,帮助我们争取成功"。
"这使他们能够给予快速和深入的回应。保证他们(教师)在线并在这里提供帮助也很好"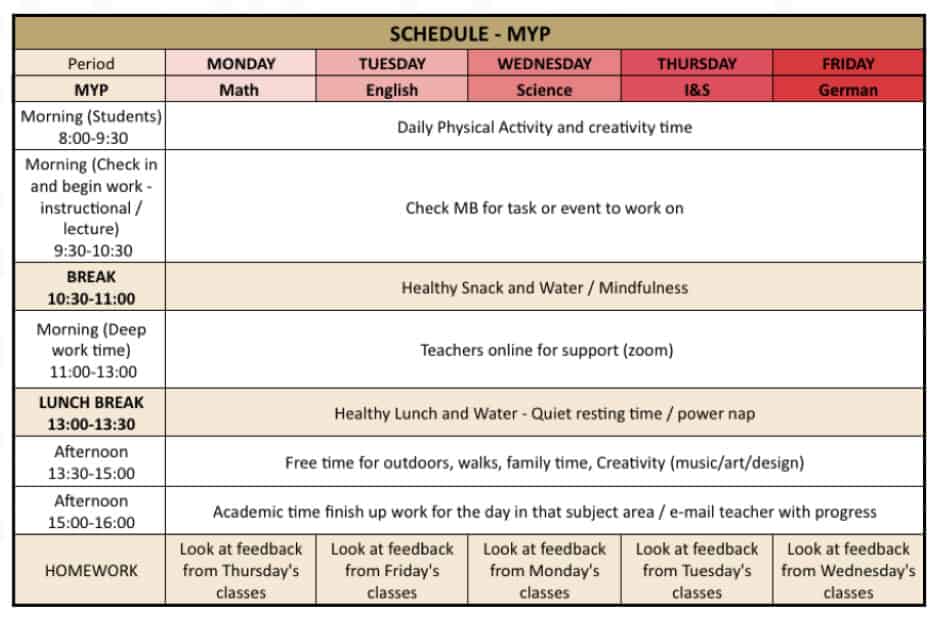 维也纳AMADEUS国际学校MYP学生在线学习时间表
To provide some additional context to our online learning program we draw upon Roddy & Lodge (2017). They identify four pillars for supporting student success in online learning. These include (i) sense of community, (ii) academic support, (iii) technology support, and (iv) health and wellbeing.
社区意识
我们每天都会以每日签到开始。如果这能实时发生,那就更好了,但无论如何,我们在班主任的协助下,以签到活动开始学校的一天。我们的寄宿团队还定期进行 "叙旧",以了解事情的进展情况。
As each day is structured into key learning areas, we also enable our teachers to develop a greater shared sense of community as they respond to their students' needs as a team. This adds to the sense of support the students feel as they can touch base during check-in and then work with a single focus in the knowledge that the entire department is there to support. We encourage teachers to set assignments that ask students to work together or that can be combined into something bigger once each student contributes their part. We also encourage the use of google hangouts for the students during their deep-work sessions so that they can support one another in their learning. This technology allows students to hang out virtually and provides an open platform for learning-focused interaction. Students have taken their own initiative to have their lunch breaks together online. Our student council is still having regular zoom meetings to support our AV student community and give feedback on perceptions of the student body.
学术支持
我们认为,支持主要来自社区,尽管有大量的(不可低估的)支持是在模式、学习计划的结构和支持它的工具中固有的。
According to Thistoll and Yates (2016), "clear assessment practices, including communication of deadlines and assessment requirements have been found to positively influence student engagement and course completion". We continue to use the Managebac platform for posting all student work and deadlines. Three former IB students created Managebac and we feel it is an excellent way for students to get an overview of all work and assignments and keep structure in the learning program in a familiar way.
Furthermore, we have integrated the principle of spaced repetition into the timetable. "Hundreds of studies in cognitive and educational psychology have demonstrated that spacing out repeated encounters with the material over time produces superior long-term learning, compared with repetitions that are massed together" (Kang, Sean H. K., 2016). We have a learning rhythm, which enables deep-work, followed by review, and consolidation two days later. This is repeated for each key subject area, which gives teachers the time and space to provide detailed and personalised feedback. This structure also ensures that there is sufficient time for focused attention (time to go deeper and follow one's curiosities) and meaning-making (teachers tie learning outcomes to relevant and engaging global, local, or personal contexts), all of which we know are essential aspects of the brain-based research into the learning process.
研究人员发现,实施基于大脑的学习的教师经常看到知识保留和学术表现都有所提高(Edelenbosch,2015)。Varghese和Pandya(2016)还指出,"基于大脑的学习作为自我持续的神经认知方法,走向了不掺杂任何杂质的学习乐趣,导致了'学习庆典'。因此,研究人员建议深入应用这种方法来进行有效的交易"。我们的系统以这些原则为指导,并寻求在网上复制这些原则。
该研究断言,基于大脑的学习是自我持续的神经认知方法,其目的是为了获得不掺杂任何杂质的学习乐趣,从而实现 "学习庆祝"。因此,研究人员建议深入应用这种方法,以实现有效的课堂交易。该研究断言,基于大脑的学习是自我持续的神经认知方法,其目的是为了获得不加掩饰的学习乐趣,从而实现 "学习庆祝"。因此,研究人员建议深入应用这种方法,以实现有效的课堂教学。
技术支持
Educational Technology (EdTech) support, was a major focus in our changes. Our parent and student survey, although very positive, included comments such as "perhaps give us one or two project/s to work on for the week, instead of a new one every lesson" and "back to back deadlines are a little complicated to manage". We took this information and developed a timetable with less screen time but more support for students. We now have virtual 'office hours' where students can get the help they need from their teachers relating to their tasks. We have had great success with Zoom online sessions, seesaw and Managebac. Students have created great submissions to demonstrate learning by using Gsuite, screencastify and iMovie. Our EdTech Coordinator also gives online tutorials to students to answer any tech questions or to explain new and different ways to create digital work.
健康和福祉
The cornerstone of our new program is wellbeing. One cannot sustain high-performance learning without health and wellbeing. We have integrated daily physical activity into our schedule to enable the continued development of physical literacy (Durden-Myers, Whitehead, & Pot, 2018) and have continued to make space for our mindfulness curriculum (the effectiveness of online mindfulness interventions is well documented in studies such as Bailey et al. 2018).
我们还引入了创意休息时间,以重新激发学生的活力。尽管家长和学生对我们第一周的在线学习非常满意,但反馈表明,学生有可能会有过多的屏幕时间。我们试图将其限制在每天不超过四个小时。我们相信,我们在AV的工作是培养均衡、健康和富有想象力的学生,我们的新时间表反映了这一点。
Finally, we are also offering online counseling to students and/or parents who are requiring some additional support during these times. These sessions can target a range of factors to support 'academic resilience', including those 5 Cs proposed in the work of Martin & Marsh (2006); "confidence (self-efficacy), coordination (planning), control, composure (anxiety), and commitment (persistence)." Within this support, our counselor is also sending out daily mindfulness activities and videos to encourage and further lift the spirits of our secondary students.
在 AMADEUS 已经迈出了第一步,创建了一个以学生为基础的学习时间表,不仅赋予学生权力,使他们在这个远程学习的时代获得成功,而且建立了新的学习技能和潜力,这可能是一个新的学习前沿领域。
通过 凯伦-鲍尔 (Head of Secondary) & 杰里米-豪斯 (学校负责人)。