这49名毕业生的 国际社会主义共和国 诺伊斯取得破纪录的成绩 国际学士学位文凭(IBD 今年的成绩,再次确认了ISR作为德国领先的国际私立学校之一的地位。
这在我们学校的历史上还是第一次。 国际社会主义共和国 graduates achieved an aver- age of 38 points, 5 points above the global average / One student attained a perfect score of 45 points – the highest possible score / 31 percent of graduates belong to the international top 3 % best list / 17 percent of graduates earned top grades – comparable to the Abitur grade of 1.0 / 65 % were awarded the prestigious Bilingual IB diploma / 12 nationalities make up the class of 2021/ And in the second year of Covid-19, three quarters of ISR graduates opt for renowned universities abroad.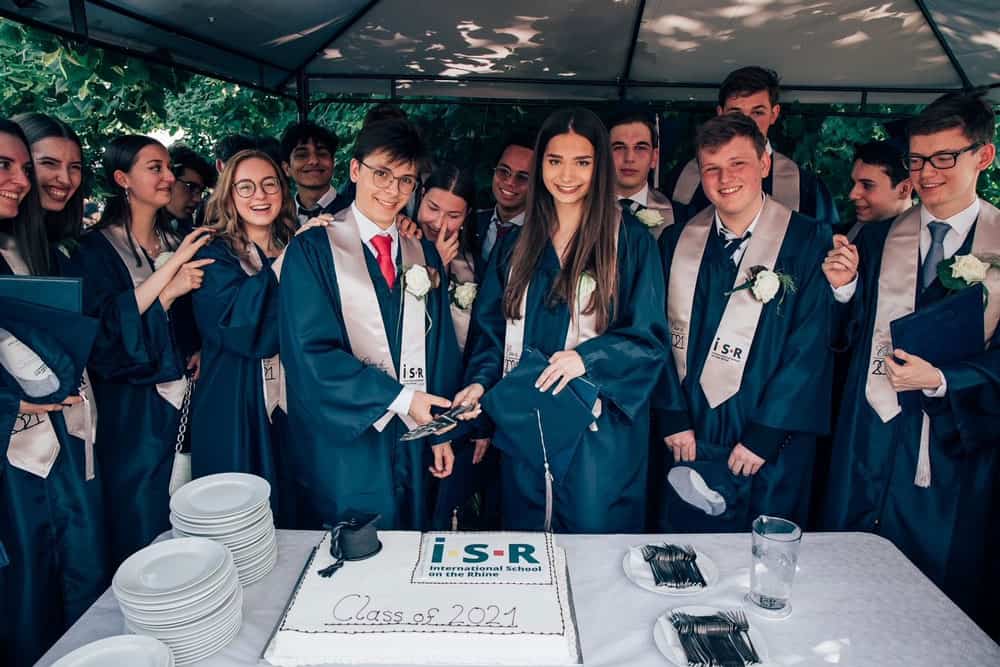 这49名毕业生的 莱茵河畔的ISR国际学校 诺伊斯和杜塞尔多夫的学生在今年的IB文凭考试中取得了破纪录的平均38分。在他们的 国际学士学位文凭今年的毕业生来自12个国家,他们的分数比全球平均水平33分高出5分。
"This record-breaking IB score deserves all the recognition because this time, the two most crucial school years before graduation, had to be completed under extremely difficult learning and examination conditions caused by the Covid-19 pandemic," says Emil Cete, Deputy Director and Head of Upper School who bears the responsibility of the IB preparations. Cete continues, "Besides the resilience and the determination to learn on the part of the students, this outstanding result is also due to the tremendous commitment of the entire teaching and administrative staff."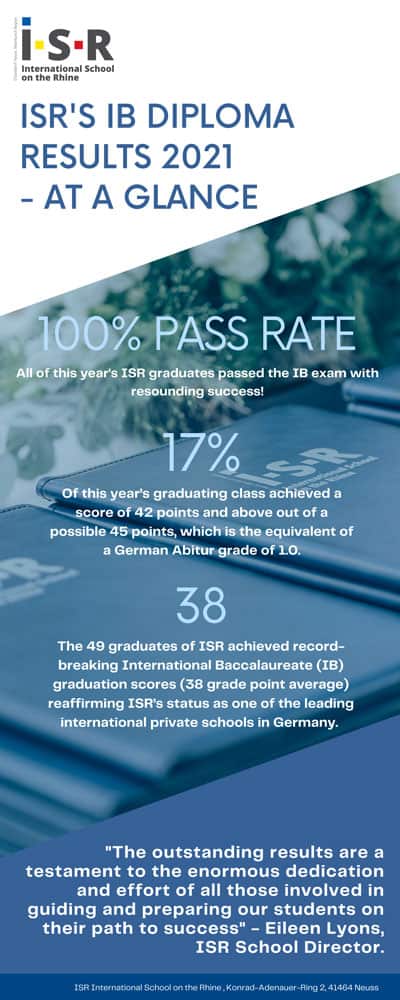 有了这个结果。 国际社会主义共和国 reaffirms its status as one of Germany's leading international private schools. Contributing to the excellent overall average is the targeted support offered to students according to their individual needs as well as intense guidance and support provided through our University and Career Counselors at ISR. The 38 point average in the IBD is the result of the outstanding achievement of the individual graduates this year. 31 percent of the class scored at least 40 out of a maximum of 45 points. This achievement – which is comparable to an average grade of 1.3 or better in the German Abitur – is usually only achieved by around three percent of IB students worldwide. In addition, 17% of the students in this year's graduating class passed their exams with an outstanding IB grade of 42 points or above, which is equivalent to a German Abitur grade of 1.0. "This comparison alone impressively underscores this year's excellent results," emphasizes Peter Soliman, ISR School Proprietor. One of our students achieved the top grade with an outstanding 45 points in his IB文凭 - 可以达到的最高分数。索里曼说:"在ISR,以前从未出现过IB文凭的满分。"此前,达到的最高分数是43分。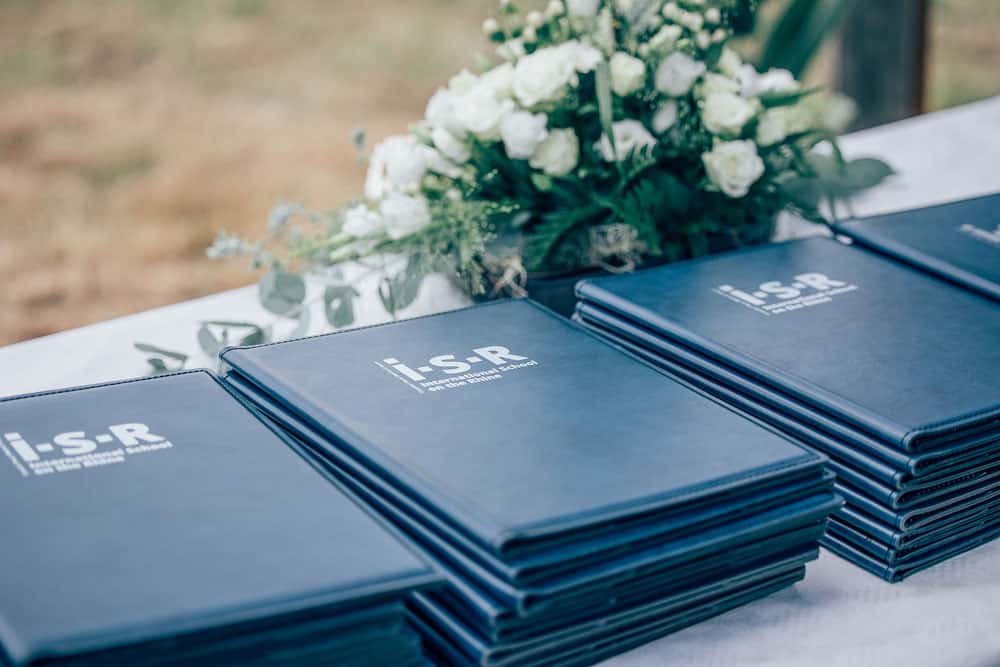 "出色的成绩证明了参与指导我们学生成功之路的每个人的非凡奉献和努力。由于这些辉煌的成绩,今年的毕业生有很好的前景进入世界上最好的大学,"学校主任Eileen Lyons强调说。 国际社会主义共和国.平均而言,ISR的毕业生每人收到四份大学录取通知。四分之一的毕业生将在德国学习,同样有四分之一的毕业生将在英国学习,还有一些将在荷兰学习。其他学习目的地包括美国、加拿大、西班牙、日本和瑞士的著名大学。
"Our graduates have once again shown that they are committed to their own success and that of their peers. The culture of achievement and recognition of excellence is in our DNA," remarked Lyons. Offers were received from King's College London; University College London; the University of Toronto in Canada; Keio University in Japan; St. Gallen in Switzerland; universities in the USA such as Boston University, Michigan State University, Purdue University, and from the University of Maastricht in the Netherlands as well as RWTH Aachen in Germany, among many others. Ms. Lyons states, "These university offers are a great vote of confidence in the high standard of the education offered at ISR. Many universities have had very good experiences with 国际社会主义共和国 近年来的毕业生,这增加了我们学校的优秀声誉。"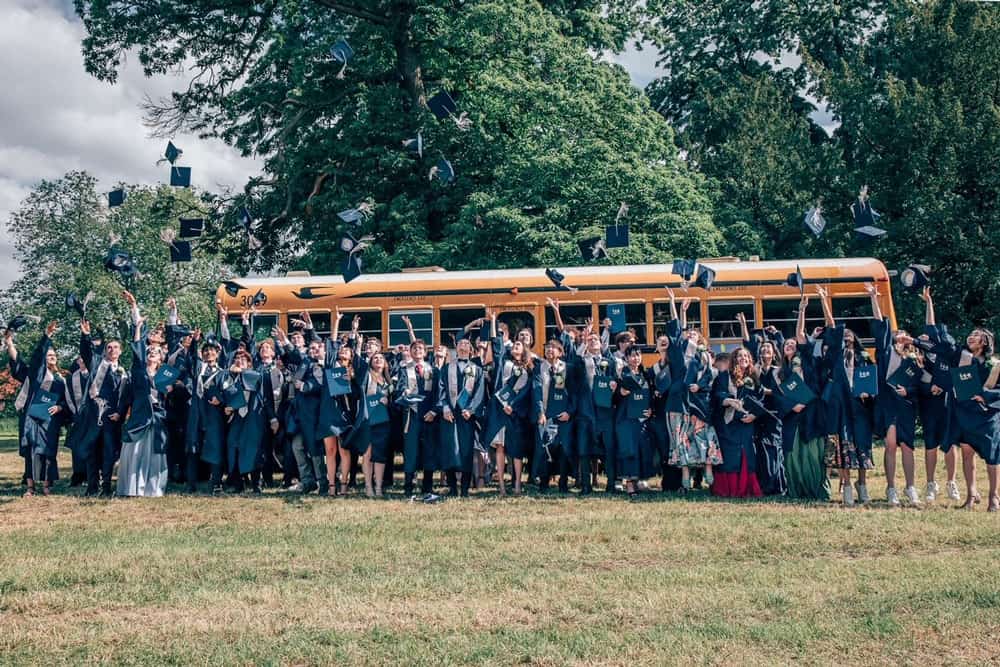 2021届毕业生的国际背景,以及国际大学的选择,突出了今年毕业生的另一个重要方面。65%的人获得了IB双语文凭。IB双语文凭在国际舞台上是非常有用的,并且受到高度重视,因为大学和未来的雇主都在寻找能够用多种语言交流的人。
"关于大学选择以及哪种学习课程适合学生的喜好、能力和职业规划的全面咨询是该校的一项重要服务。 国际社会主义共和国,"彼得-索里曼补充说。因此,在早期,学校的大学和职业顾问就开始为学生提供建议,重点关注他们的优势、目标和职业选择。整个大学申请过程受到密切关注和专业支持。
许多以前的学生在离开后的几年里,在进一步的职业发展方面向我们寻求支持。 国际社会主义共和国. Even in such cases, we are happy to help. Similarly, our active, constantly growing alumni network provides support to our former students.

Ulrike Wacker,ISR的大学和职业顾问之一