In line with the values of the International Baccalaureate (IB) and the school itself, students from Grades 3, 4 and 5 at KIS International School in Bangkok participated in a citywide event initiated by the UN to raise awareness of Sustainable Development Goal (SDG) 12: ensure sustainable consumption and production patterns. The initiative was managed by delegates from AIESEC, a global network of young leaders from around the world, university students, and graduates, spanning more than 124 countries with an emphasis on cross cultural sharing and building international understanding. Delegates who visited KIS hailed from 17 different countries and were here to support the UN mission that youth realise their part in creating a more sustainable world.

The delegates worked with the children particularly on the issue of food waste, inviting them to consider what responsible consumption was with regard to food. They discussed the huge amount of food waste in Thailand alone, and thought about what they put on their own plates through drawing plates of food. At the end of the session all the children took a pledge to be a 'Food Hero' and to take care that what they put on their plate was responsible consumption for their own bodies, but also for the world.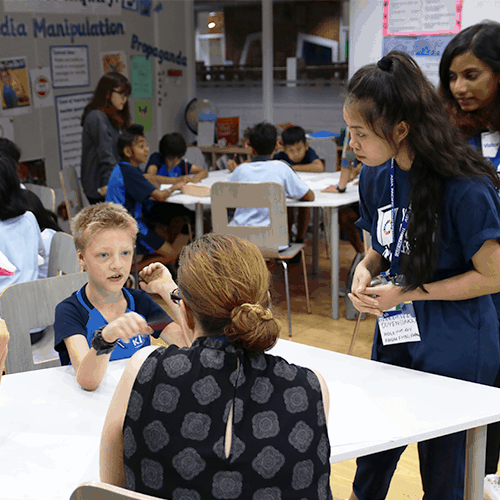 Students internalised their learning and committed do their part to support UN SDG 12 Target 12.3 – Halve per capita global food waste. Grade 5 students were able to share their ideas on sustainability, developed through their IB Primary Years Programme Exhibition, and the young leaders carried away with them one of the campaigns #daretocare #d2c to promote on their networks.
KIS
– Ms. Kirsten Durward, PYP Coordinator at KIS International School in Bangkok, Thailand