It is often said that we live in the age of exhilarated change within the social and material landscapes around us, as well as in the way we conceive of ourselves as individuals. One of the main objectives of our school is to provide an educational environment in which young people can respond to changes, technological, cultural, or others in a meaningful way. With the outbreak of the Covid-19 pandemic and the disruptions it has caused in the global job market, educational institutions and beyond, the changes to our society will no doubt affect us all quicker than we had imagined.
This summer, our second cohort of pupils completed their A Levels. Despite the challenges of the last school year, our pupils have achieved an outstanding set of results with 50% of all completed A Levels graded A*, and 85% of all entries marked A-A*. 99% of all our students achieved B-A* grades. The UK national average for A* grades at A Level this year was 14.3%. According to the latest Times Independent Schools League Table, these results would put us within the top 10 schools in the UK. After last year's exams cancellations and the upheavals in the results released this summer, this is an outstanding achievement – a testimony to our students' resilience and perseverance, our teachers' unwavering commitment, and a great deal of hard work all around.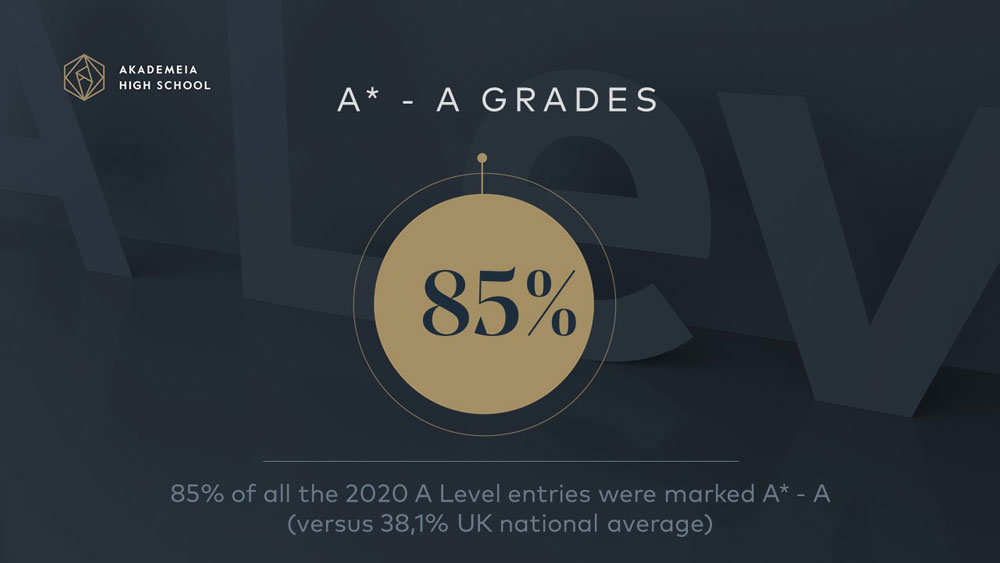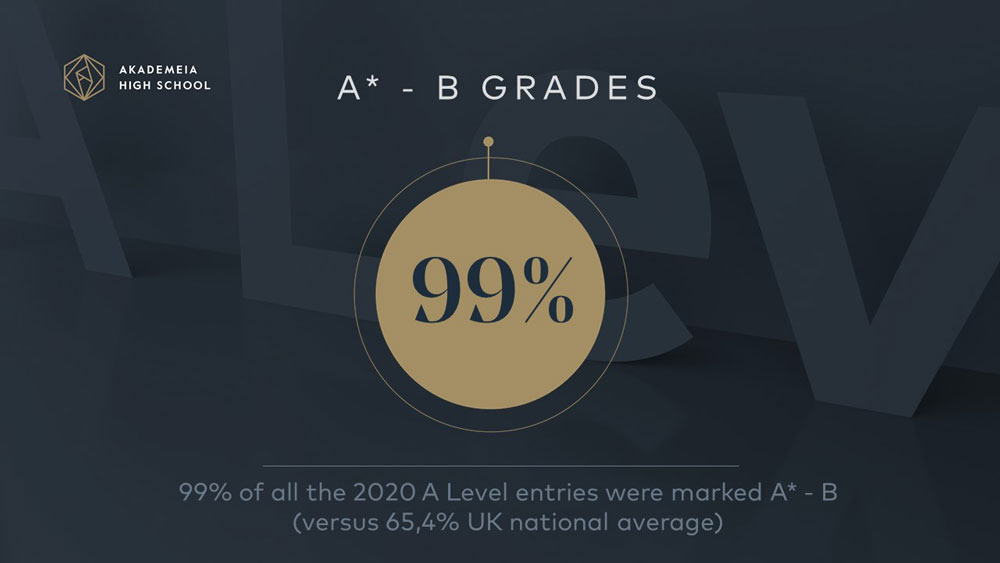 Those outstanding results mean that our graduates will be moving onto some of the top university degrees in the world. All of our UK applicants have fulfilled their university offers, including Fine Art, at Oxford University; Physics and Biological Sciences at the Imperial College London; Economics and Economic History at London School of Economics; and Computer Science at University College London, to name but a few. Seven of last year's graduates will study in Europe, including Psychology (University of Amsterdam); International Business Administration (Erasmus University, Rotterdam) and Design Academy Eindhoven. All departments have plenty to celebrate, as once again our results and university destinations show that Akademeia is equally strong across all disciplines. With the launch of the Higher Education and Careers Advice Centre, this year, we can ensure that our students will receive an even more comprehensive guidance and support in their university choices and preparation.