Op Lakefield College School, we believe in the importance of educating the whole person. Students are nurtured and encouraged to embrace who they are as individuals and they learn to connect with and care for their communities and environment. One of the many ways students grow and learn at LCS is through their interaction with nature and outdoor education. Time and time again, studies have demonstrated the positive impact the outdoors and outdoor education have on youth development, which is why outdoor learning is a key part of our curriculum. We believe that getting outside and in touch with nature is an important part of a holistic educational experience.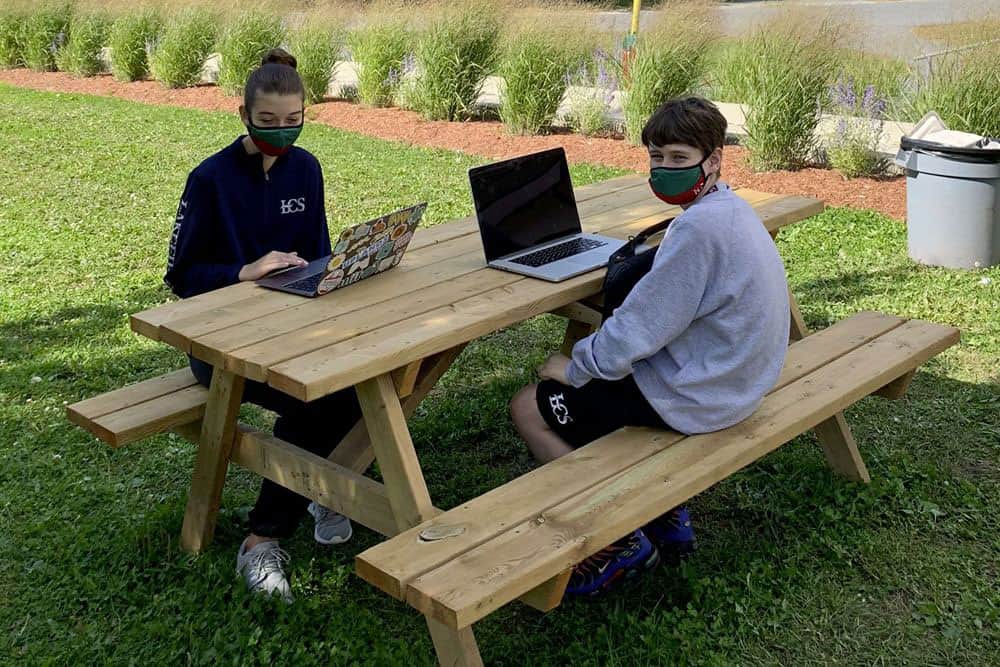 Nu, meer dan ooit, zijn onze 315 hectare campus en prachtige natuurlijke omgeving een van onze grootste troeven bij ons werk om een gezonde gemeenschap te behouden en studenten een uitzonderlijke leeromgeving te bieden.
Onze docenten hebben gebruik gemaakt van de bestaande buitenfaciliteiten en van onze verbeterde buitenruimtes met sociale zitplaatsen en recreatiegebieden om het leren in de klas naar buiten te brengen. Alles van beeldende kunst, muziek, wetenschap, aardrijkskunde en wiskunde wordt gegeven door middel van innovatieve en authentieke leerervaringen in onze buitenruimtes:
De geografen van klas 9 gingen naar buiten om 3D-modellen van de aarde te maken en de lagen van onze planeet te verkennen terwijl ze hun kennis over platentektoniek toepasten.
Studenten kinesiologie maakten gebruik van het touwenparcours om meer te leren over motorische ontwikkeling en deel te nemen aan een teambuildingactiviteit van onschatbare waarde.
Studenten wetenschappen van groep 9 plukten bladeren op de campus om kwalitatieve en kwantitatieve waarnemingen te doen.
Rechtenstudenten verrichtten groepswerk aan onze picknicktafels in de open lucht, waarbij zij zowel persoonlijk als met studenten op afstand werkten.
Hybrid and remote students also enjoy the benefits of learning outdoors with programming designed to get them outside. As our students continue to learn and connect together, our beautiful natural campus has provided an enriching and safe space to do so.